Browsing articles in "Furniture"
FF1 indoor lounge chair has been designed by two Belgian designers, James van Vossel and Tom de Vrieze. It's a very strong chair if you checkout the video at the bottom of this article. It's a green chair made out of only 1 square sheet of synthetic felt, therefore no material loss (except of course the drilled holes), no wood or metal involved in this chair design. Don't worry about the strength, the structure is self-supporting, the additional flax rope bonds the chair aesthetically beautiful.
FF1 stands for Fox and Freeze1, the company name, we must admit these guys are pretty creative to transform a plain square surface into functional product by twisting and twisting it like a scarf. The result is a highly functional and strong object, literally practicing form follows function.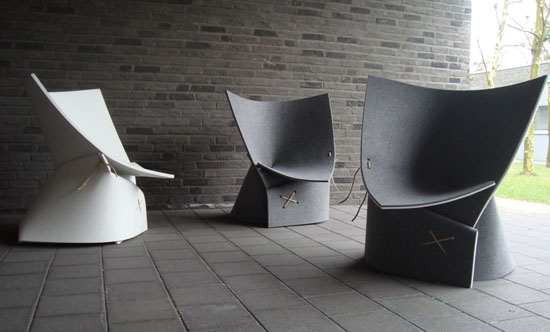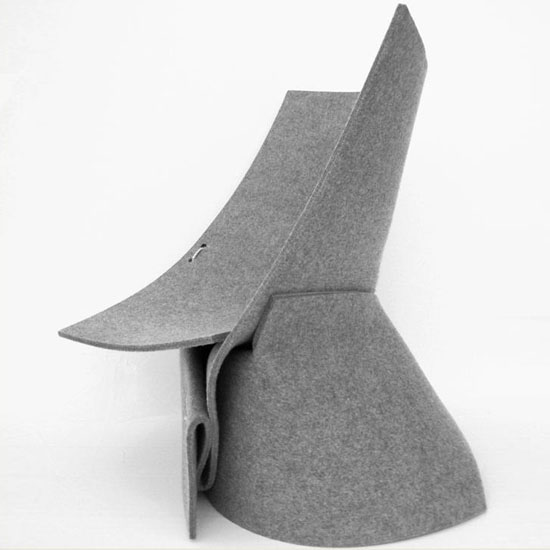 Being sustainable is becoming easy with the various eco-friendly products coming out today and the Oenophilia Bamboo 8-Bottle Wine Rack is just one of them. Constructed using the sustainable material, bamboo, having this at home will not only hold your wine bottles at home but also will make you feel good about yourself using a product made of sustainable material, therefore causing less harm to the environment. [Click here for more details about the Oenophilia Bamboo 8-Bottle Wine Rack]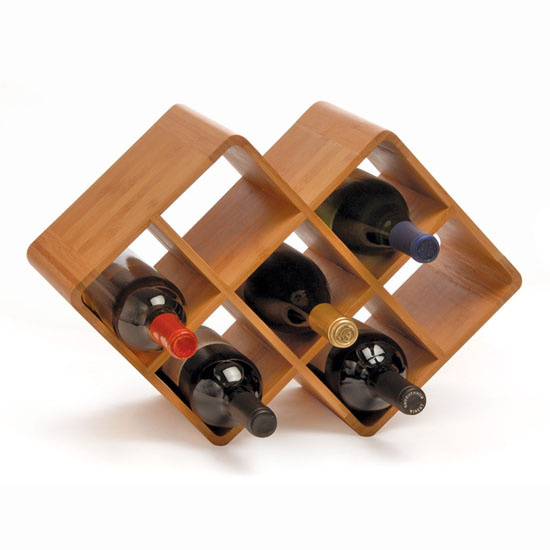 The Endy Series of furniture pieces is a product from a timber's end. In case you are not yet aware, the most sensitive part of a timber are the ends and to protect them, these ends are painted in various colors. Afterwards, these colored ends are then removed and toss to trash. This incident is unknown to us end users.
Good thing, Shay Ve Ben of Studio Ve comes with a furniture series that make use of these discarded timber ends. The Endy Series of furniture pieces are made to emphasize the usefulness and beauty of then considered as waste timber ends. The furniture pieces of the Endy Series all come clean and simple, as they are joined with glue and wooden pegs.
We have received Glove chair in our inbox last week. In this design cardboard panels, originally used as bicycle packaging, are re-used. The material has been folded and sowed together to create a glove shaped chair. On the seat the original illustration of the bicycle has been kept intact to accentuate its origin. No upholstery is applied, although it might be possible.
The aim of this design is to create a modern unconventional shaped chair from a slender material. One panel is applied to create the seat while another panel is used to create the back and bearing construction. A straight unfolded panel is applied to stabilize the structure in longitudinal way. The whole construction is fixed on a base also made of cardboard.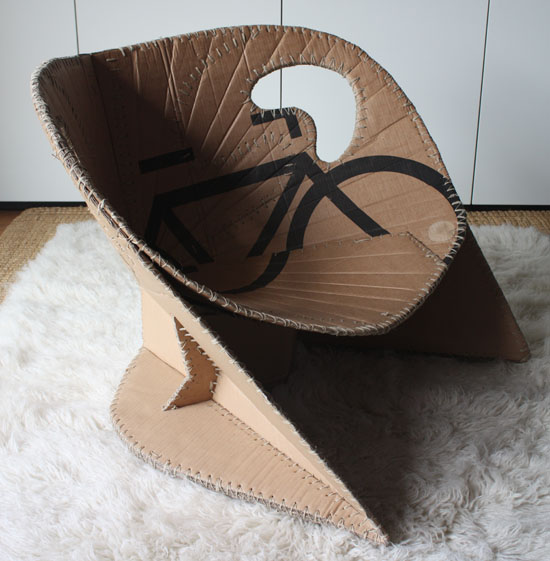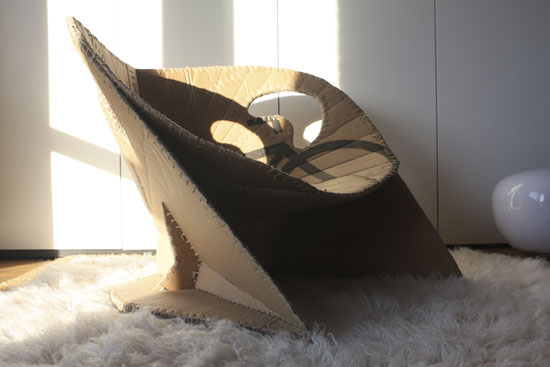 Not very often we can find beautiful hand-made furniture pieces these days, it's a good thing we spot these modern stools by Wood'Insane Design. Designed and developed by Renaud Dancie, these classy stools are perfect for any modern contemporary interior décor. Using recycled materials that he collects from the Bordelaises forest, each of these furniture pieces is manufactured and created by Renaud himself to ensure perfect accuracy and precision. It's a small and young company but with big ambition, how can you not love these stools?
If you are interested, furniture from Wood'Insane Design is available in 3 designer boutiques of Bordeaux (BOB CORNER, Atelier 29 and WAN) and Hossegor (31st Avenue).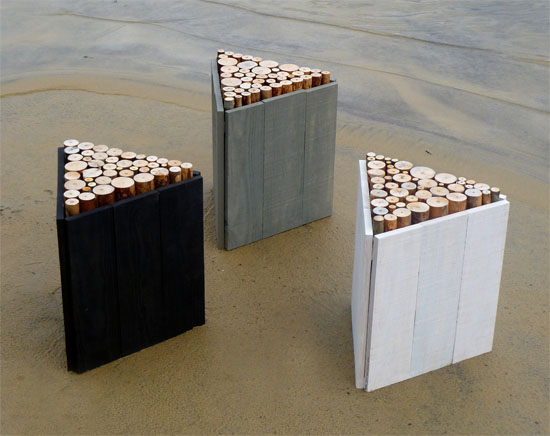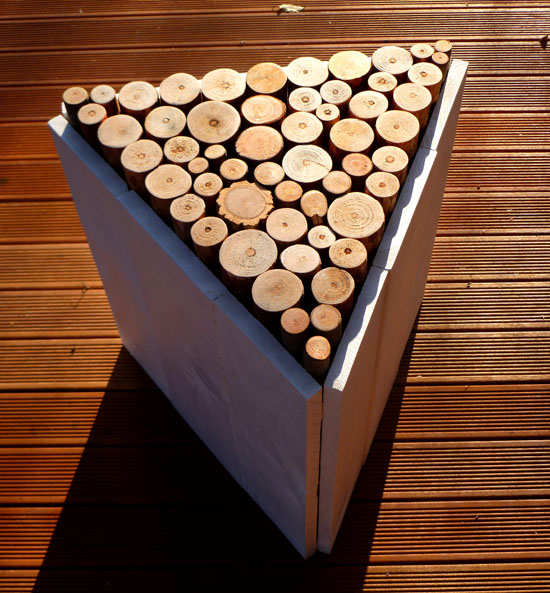 We all need to save on cost when it comes to building our furniture pieces and the Sustainable Mail Bookeand Storage Shelf by Dor Keenan is a great example of cost saving piece of furniture. Because of the earth friendly mind of young designer Dor Keenan, the mail bookeand storage shelf is created made of recycled building mailbox.
Each of the mailbox unit creates an individual space working as a functional storage for many users. With Reduce, Reuse, and Recycle as important part of his design, Israel graduate Dor Keenan was able to recycle the Plexiglas of his old mailbox and have it as the useful shelf of his creation.
A shelving system with a hexagonal design is very rare and we at IGreenSpot find the Cracked Shelf System a unique one. It has the hexagonal type 8 design that made it a unique shelving system. This shelf system will surely stand out in every home the moment they are placed alongside with those traditional shelving system with the classic horizontal or vertical design. The design of the cracked sheld created an asymmetrical look, which make it even more stylish and catchy. The shelf is made of rectangular pieces of wood modules and these modules can be combined in any formation or direction seamlessly.
If you find the design is perfect enough for the most artistic human hand, this is because from its general shape to the smallest part of the shelf, all have been designed carefully using a trusted computer software. The shelf has the 1.5 mm thick steel that serves as the connector. These steels are laser cut and folded with the help of CNC machinery.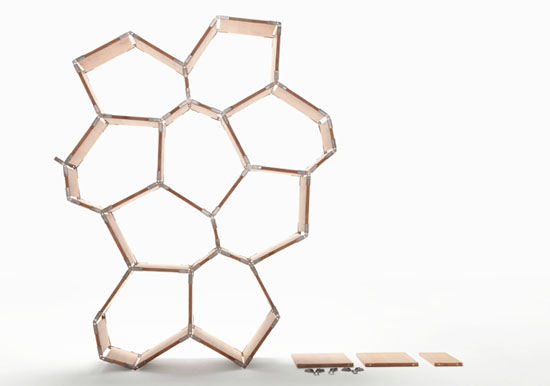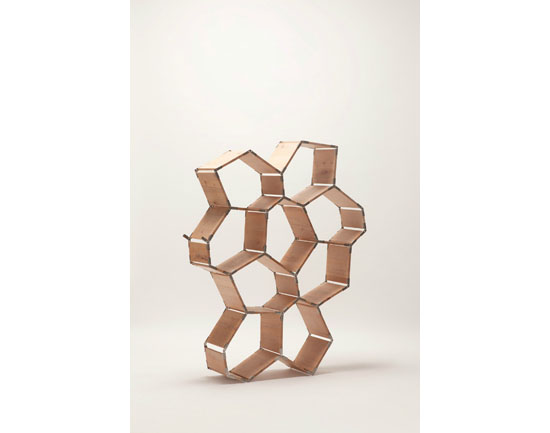 We now have a lot of eco-friendly furniture widely available in the market, one of them is Rewrite Desk by Iannone Design. The desk is a useful piece of furniture that will fit in perfectly with the saying "old meets new". You might wonder why it fits, simply because, the desk is a brand new furniture piece with modern design but is made of reclaimed materials. Meaning the materials used to complete the desk are old. [Click here to get more details about Iannone Design Rewrite Desk]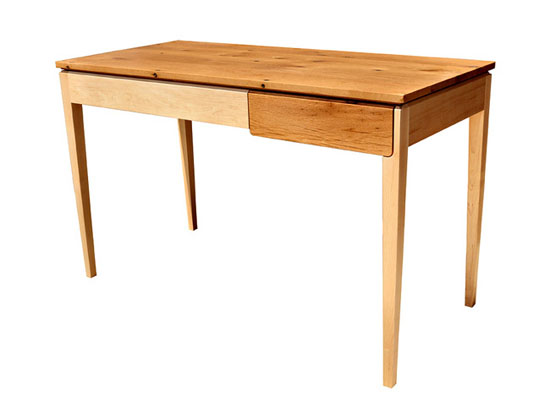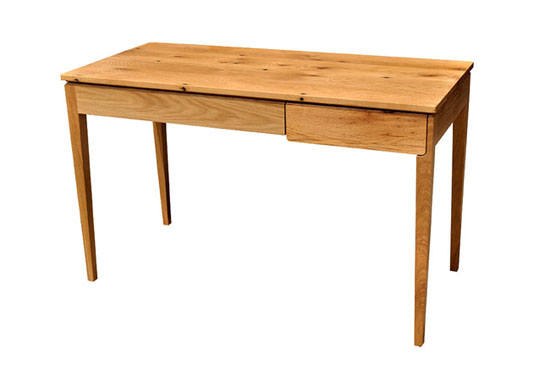 Even at his young age, David Joseph Goteiner shows his love for the environment and takes some of his precious time recycling those old traffic signs. He transforms them into useful furniture pieces. David shared his wonderful projects to IGreenSpot and we are excited to feature them here.
David is a sophomore student at UC San Diego and has a passion for design and sustainability. At his very young age, he has contributed so much to his community and of course to the environment. His designs have emphasis on simplicity and comfort.
Space is becoming a problem for every home especially for homes in big and crowded cities, that's why the idea of creating space saving furniture design like the Ludovico by Claudio Sibille was born.
With the Ludovico, you can definitely maximize the space in your room or home whilst maintaining your home's contemporary and elegant interior design. The furniture's concept is very simple. Ludovico is a storage type of furniture with four drawers in it. Within the furniture lines, the designer has custom designed two chairs that fit in it.
If you are not using the table and the two chairs, you can put the table on top of the cabinet, while the two chairs can be inserted on its designated lines. After doing so, you will only see a single furniture and that is the storage cabinet with the chairs creating ab image of four more little drawers.
Our Recommended Partners
Advertise with us
Archives