In the current climate in which we live, green living is even more important than ever. People all around the world are constantly trying to invent new ways in which we can enhance our sustainable way of living and thus, ensure a future of quality for those generations who survive after us. We strive to do exactly this – bring to you the best ways in which you can live sustainably, with consistent leading innovations and ideas. Everyday our ideas help thousands of people adjust their current lifestyle and improve their way of living.
Our readers have no specific demographic, which means that no matter what age, class, race, or nationality you are, the problems the earth currently faces affects everyone. Thousands of people from all walks of life use us, and our cutting edge ideas, to help them transform their way of life to become green. They are passionate about the earth and the quality of life for future generations and want to change their way of thinking and living. We have a high quality website which our readers trust, so by advertising with us you are also benefiting from the trust we have with our readers and the high-quality service and products they would expect us to provide.
There is currently a number of ways in which you can advertise on our website, so that you too can make a difference to these people's lives.
Banner Advertising – This way of advertising ensures that many people see your advert. It will appear as a banner on the green/sustainable living website, so you will attract all kinds of people who are all interested in the future. Thus it will notify customers of your product or service and provide reasons why it is something they will be interested in. These web banners can be monitored in real-time and tailored to the viewers more specific interests.
Our website statistics
1,500 – 1700 UV per day
2,500 – 3000 views per day
3,936 – Facebook fan page
159 Twitter Followers
617 Subscribers
Our available banner advertising options
1. 728×90 Header Banner for $500/month
2.300×250 Top Sidebar Banner for $300/month
3. 300×250 Middle Sidebar Banner $200/month
4. 125×125 Sidebar Banner $50/month
5. 160×600 Bottom Sidebar Banner $100/month
6. 300×250 Bottom Innerpage Banner $200/month
7. 468×60 Top Innerpage Banner $400/month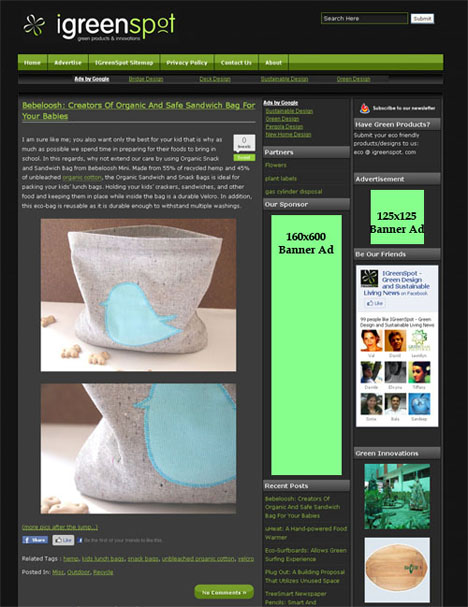 Sponsored post – These are adverts paid for by an advertiser. They are advertised prominently on the webpage, meaning that many thousands of people will see the adverts. You will provide us with the article and we'll review it to see if it meets our standard. We'll guarantee your post will stay for 6 months. Contact us for more information.
Giveaway post – These comprise of posts on the website which advertise products that are being given away, a great exposure of your product. These generally attract thousands of people with the promise of something to enhance their lives for the better – something that people visiting our website are looking for. Our rate for giveaway post is $100/post. We will stick the post for 3 days on the homepage.
Product review – Reviewing your product prominently on our website ensures that many people see the benefit of your products. It also provides a review at the hands of people they trust to tell them the truth when it comes to improving their quality of life, thus making it more likely that they will look more closely at what you have to offer. There's no charge for product review, but we have the right to refuse to do a review if we think your product is not  related to our content. If you could send your product internationally, please contact us to get our address.
Job posting ad (Beta Test)  – In this current climate of unemployment, advertising jobs on our website can lead to many thousands of people looking at your offer of employment, and thus at your website and what you have to offer. This is especially applicable if you are looking for someone with a concern for the future and for the earth who is passionate about green living.
You can also contact us to discuss about your advertising campaign further : advertise [at] igreenspot.com