Browsing articles in "Food and Drink"
Cedar Sake Cup Set is made of old cedar trees with a wonderful narrow grain, which results in a bentwood low-conduction vessel that keeps cold sake cold and hot sake warm. This is a great storage instead of using those thermos that uses steel and glasses that tends to harm us an our environment. Unlike this Cedar Sake Cups, which is very earth friendly and super safe to use. To complete the set, include the cedar sake bottle, which is sold separately to enjoy your sake completely. With its sleek and fashionable design, no one will ever ignore the cedar sake set.
A water purifier, air purifier, and a humidifier in one is what the Oasis brings. The Oasis works by naturally filtering the water into clean drinking water, and the water that are not drunk will be given to the plant which will be the one to cleanse the air and balances humidity. The concept maybe quite simple, but if you come to think of it, it is actually a clever idea especially for today's trend when it comes to clean and green living. Designed by Yura Lee, the Oasis is perfect for contemporary homes especially those that are in an urban areas.
In most places, waste disposal is one of the serious problem people are facing. Countries normally do not have enough places to dispose off their garbage. However, this problem can be totally already with this new food waste processing unit called the Drog. This product can convert daily trash into compost, and eventually can be used in growing plants, and what's good about it is that, the processing only takes 45 minutes. How I wish this product would be available in our place as soon as possible, so that I will not have to dispose off my garbage to somewhere else.
Grilling is one of the favorite dishes I have. I usually use the traditional grilling process with the use of a fire. This may sound unfriendly to the earth but I swear the taste is exceptional. However, Helios is now here to help us continue our love of grilling but in an eco-friendly manner. Helios is a griller with a reflective solar dish that will allow sunlight to focus onto a solar receptor and will transform it into a usable energy. In addition to that, if the weather is not nice enough and still wants to grill, the product has a retractable plug that serves as an alternative source.
During summer, party is almost everywhere every now and then. Since the Kegstand can be rented, returned, refilled then rent again, this is the best way to keep our surrounding clean. The keg can be filled with ice that made the college student enjoy more on their cold beer, and when the party is over, there's a plug that allows easy drainage. What hinders the college students to rent a Kegstand is that , it is too heavy for them to carry. For that reason a wheel and handle has been created for easy transportation going to and from the party place
Many of drinkers are not aware of being sustainable especially if they under the influence of alcohol. They just tend to put their empty beer tin cans everywhere, and the party hosts are the ones cleaning like hell. Well this will never be happening again, because Brenda Osorio and Rodrigo Ambriz found a way of eliminating those mess created during parties, and this the product called the drink sustainable design. It is a big cardboard with holes, wherein drinkers can put on their empty tin cans. In this way, it will be easier when cleaning because all they have to do is to get the drink sustainable design and throw it to the trashcan.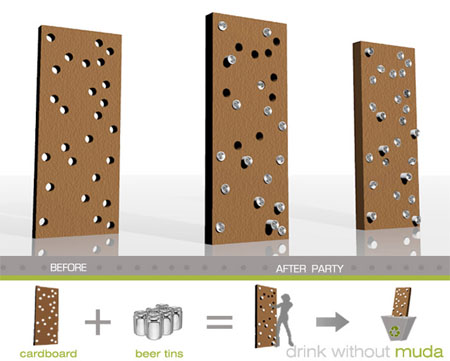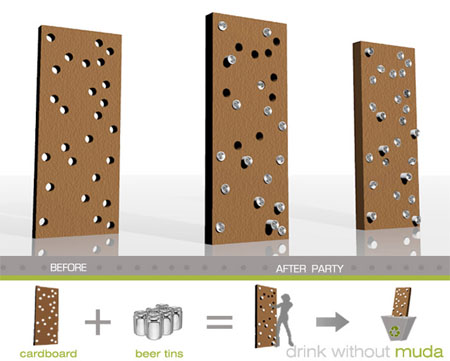 via EcoFriend
Buying something for our little ones is probably the most rewarding part of our lives as parents, especially if we provide them with something made of earth friendly material. This is what Bambu would like to introduce, as he creates a spoon and fork for babies made of organically grown bamboo. It is disposable and is perfect for traveling. The best part of it is that it is made of bamboo, meaning it is safe for our nature. As we all know, bamboo is has various uses from medicine to food to structural material to soil preservation. It is especially designed for our little ones hands, so there nothing to worry about. [Click here for more details about Babies Fork and Spoon]
Bags are already part of our daily lives as we use it in almost everything that we buy. People of today's generation, continues to look for ways in producing grocery bags that saves our mother nature, yet of the same quality. This is why Daylesford Organic has come to an idea of creating this cool elegant in design organic biodegradable bag as containers on their pasteurized and unhomogenized organic milk. Since it is biodegradable, it will help eliminate the overflowing landfills of plastics we currently have. Daylesford Organic milk in biodegradable container is not only good for our health but also for our earth.
Source : Daylesford Organic
Picnic is fun, but sometimes our lovely planet don't think so. Because after beautiful picnic day, you can see a lot of eco unfriendly litter is everywhere, plastic cups, plastic plates, utensils left behind by lazy picnickers. If you are a lazy picnickers, consider to buy bio-degradable picnic ware from firebox. This eco friendly picnic ware is 100 percent made of biodegradable cassava, should you choose to leave your picnic ware, it will disintegrate within a week if left standing in water, or decompose in a few months if left on a compost pile. It even returns natural starch back into the soil.
Source : FireBox
Oksana Bazanova is a designer that aware of the importance of creating environmentally friendly product. Inspired by the Japanese art of Origami, Bazanova has designed a disposable plastic cups and plates made of waterproof paper which you can fold by yourself when you need it. It's cheap, eco friendly, and stylish.
Source : YankoDesign
Our Recommended Partners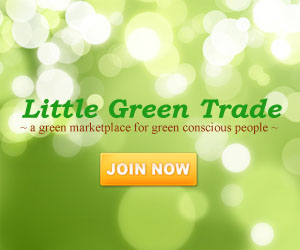 Advertise with us
Archives