Browsing articles in "Science"
We all know that sunlight is an endless source of energy and thus taking advantage of solar energy for our lighting need like what the Hanging Solar Garden Light is using will definitely help us reduce our electric usage and reduce carbon emission as well, which is good for the environment.
This garden light from Britta Products has the unique opaque cone lens that you will definitely like. The weatherproof cornet in each pack is just a mere indication that the light has the ability to withstand all kinds of weather making it able to last longer. [Click here for more information about the Hanging Solar Garden Light]
Nest Learning Thermostat is a household device than will automatically programs itself in a week, thus comfortable for you and lets you save energy. This device will let you feel comfortable without you changing the temperature constantly.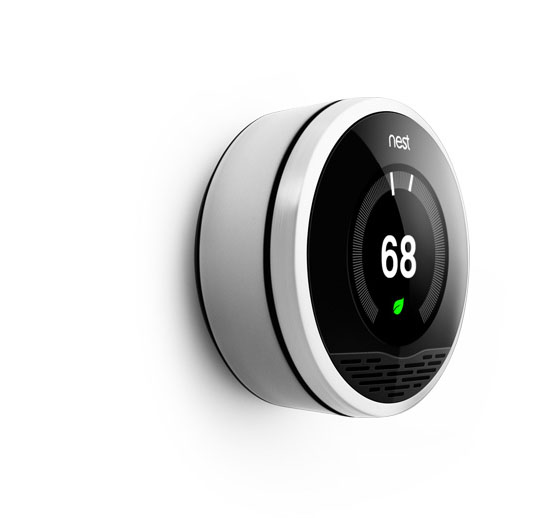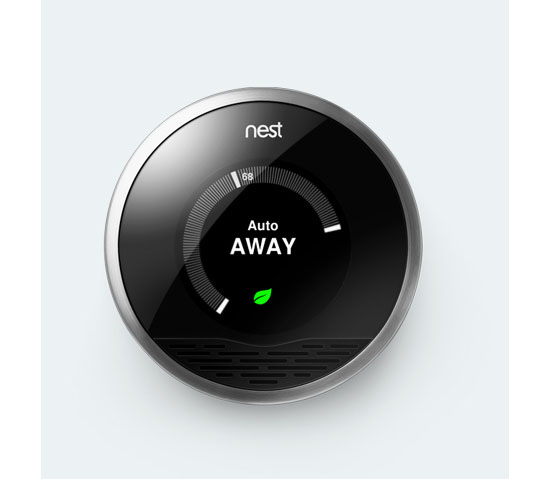 Since Facebook is now at its pedestal of success with millions of users worldwide, why not use it as a tool in helping save the environment? Maybe for a change, we can use Facebook for the benefit of the environment instead of just sharing funny videos and crappy photos with the help of BinCam, who have created a device in the form of a cellular phone that will entice you to recycle. This one of a kind device has a program attached to your trash can's lid and has the ability to snap photos by the time you throw in something and immediately uploads it to your Facebook wall. The program will then tell you how much money you were able to save on your recycling or food waste habits as well will compare you recycling habits with your friends. BinCam will also gives you online rewards if you continued to show your good recycling behavior.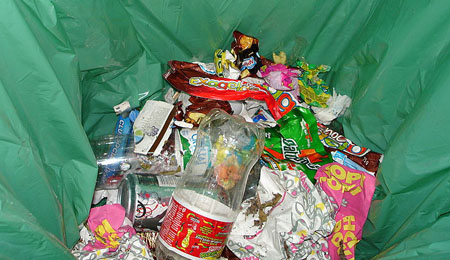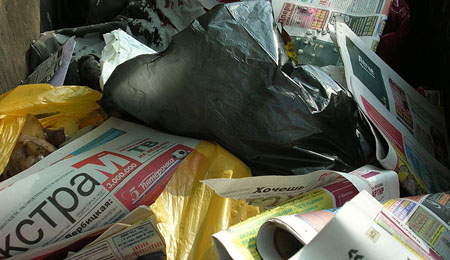 Outdoor lounging is fun and lounging in an eco-friendly fashion is even more fun. The MIT Soft Rockers is an outdoor lounging solution at first glance. However, this one of a kind rocker will not only allow you to lounge but also will let you recharge yourself and your electronic gadget with clean energy. The rocker collects solar energy at daytime through its solar tracking system of 1.5 axis 35 watt and stores the collected energy in a 12 ampere-hour battery. The rocker is stylish enough o be part of your landscape, as it has the leaf like shape with some catchy illumination.
Source: ARTS
We all know that incandescent lamps are now gradually pulled out in every store shelves and stands with the aim to eliminate environmentally harmful lighting solution. Because of the pullout, eco-friendly light bulbs particularly the LED ones are being installed. The 60-watt replacement LED Bulb by LSG or Lighting Science Group has features that show big respect to the environment making it an award-winning one. The bulb meets and definitely exceeds the L Prize's competition standards, which include a better than 90 watts per lumen performance. The bulb must also produce more than 900 lumens, uses less than 10- watts of electricity, last more than 25,000 hours, has more than 90 color rendering index, and has a color between 2700-3000 K. Included in the criteria is a consumer price of $22 for the first year, $15 for the second year, and $8 for the third year. With this product at home, every household will surely save a lot on their electricity usage.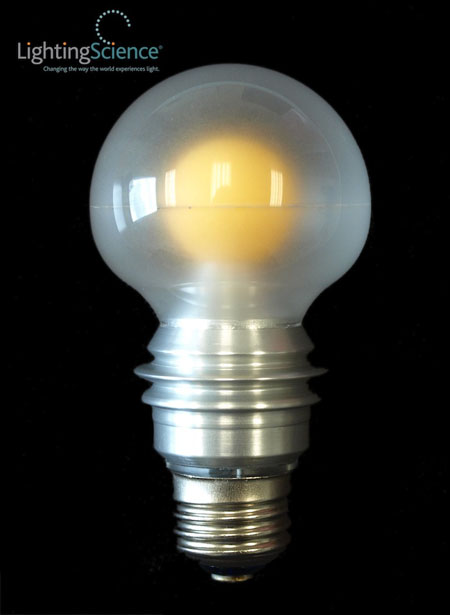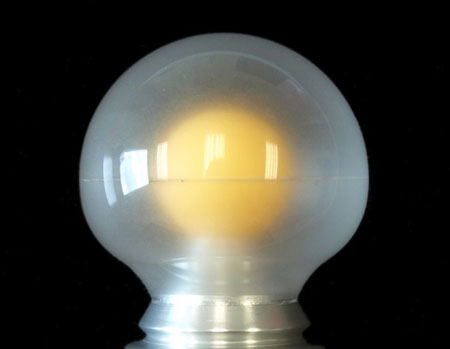 Source: LSG via Jetson Green
We have seen various designs already that shows care to the environment. However, only a few considers various sustainable resources of energy. If the design is solar powered, it can instantly be a useless item during winter. The Samsung Be concept is exceptional among those sustainable designs we have in the market. His one of a kind product has the ability to use every sustainable source of energy available. The concept has the hexagonal shapes joined with each other that collect solar power through the installed solar cells as well as wind power. However, if both sources were not available, one can make use of the kinetic energy and start rotating one of the modules that made the Samsung Be concept a useful product for all available sources.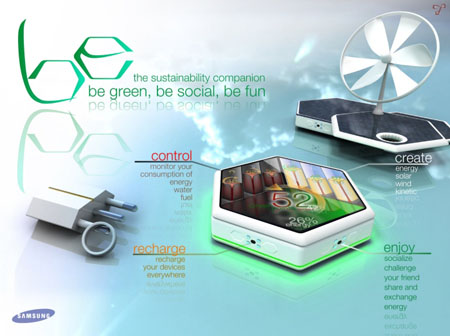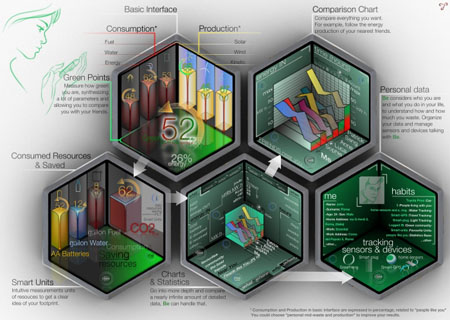 Having an eco-friendly lamp at home normally is made possible with the use of recycled materials, sustainably sourced items, energy saving bulbs. The Photosynthesis Lamp will make your way of saving the environment through home lighting system into a different level. As the name suggests, the lamp include the use of plants in creating a unique and energy saving lamp. This one of a kind eco-friendly lamp has the metal grid and the vine on its base will create a natural shade the moment it starts to grow. Using an energy saving bulb will complete your aim of having an eco-friendly lamp.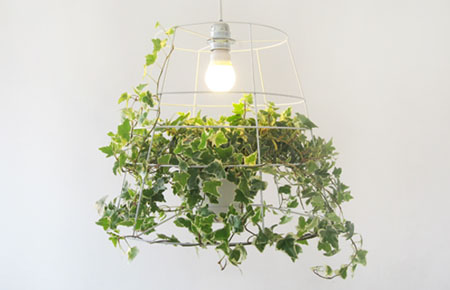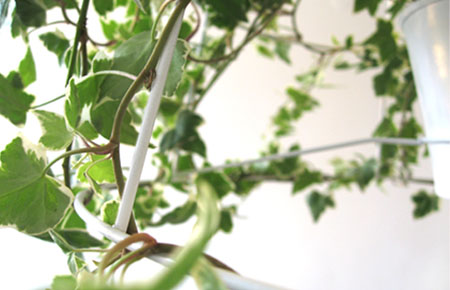 Biodiesel is a renewable source of energy and only a few knows about it still. Designer Ben Guthrie had made a step to introduce Biodiesel to people who want to help save the environment without compromising the comfort that they currently enjoy with life. They can still continue to drive their cars at a lesser cost and carbon emission and help keep the environment safe and clean. However, the Biodiesel machine available in the market today is expensive and the DIY on the other hand is messy. Unlike what designer Ben Guthrie has presented, it will allow green minded people to make their own biodiesel and live the eco-friendly life, without overspending and less mess.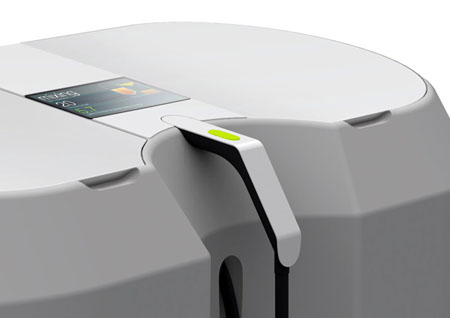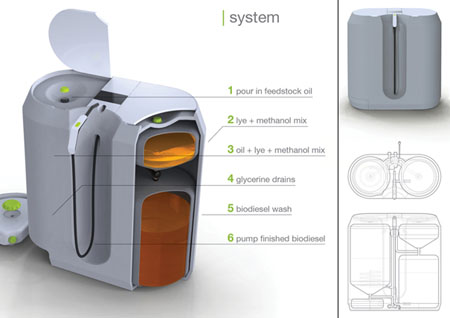 Keeping our food warm is important to retain its tenderness and taste. However, doing this will surely blow up our electric bill but not anymore today because designer Jess Chee has already designed the uHeat, a hand-powered food warmer. As the name suggest, the heat warmer will function with the help of your hands. Thus, it requires no electricity at all to take action, will lower down your electric bill, and most of all, will produce zero carbon emission. The warmer has the dynamo that start up by pulling the string attached to it several times, which obviously and eco-friendly way of heating our food. In addition, aside from being a food warmer, uHeat can also be your serving dish.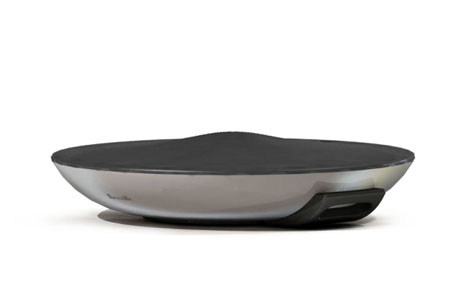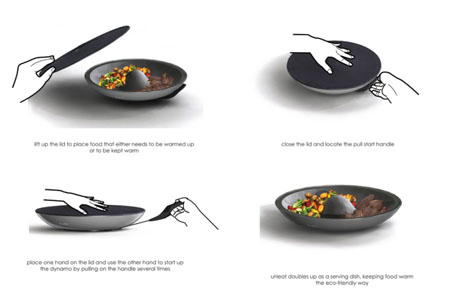 Wind turbines are known to eat huge spaces making it not ideal to be built in residential areas. However, this type of energy source is just another way of taking advantage of our sustainable source of energy, which is the wind. To make use of the natural resources we have while keeping the neighborhood safe, the Aerogenerator X design by London Architects Grimshaw in collaboration with engineers Arup was unveiled. This offshore wind turbine is designed for a British company Wind Power and has the ability to produce twice the amount of power produced by the company's current design. In addition, it also weighs half the weight of the current company design.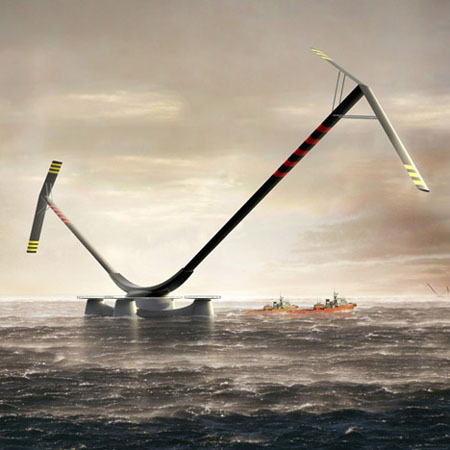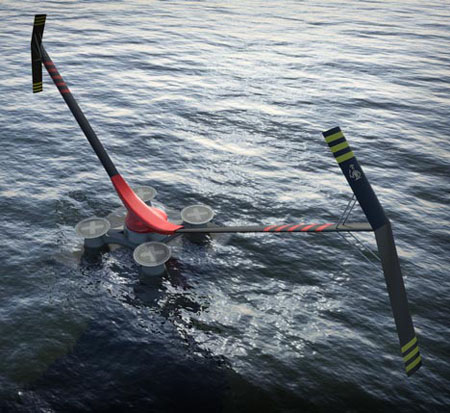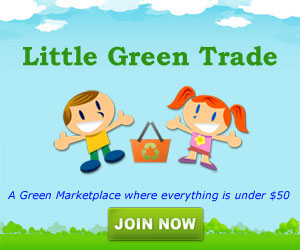 Our Recommended Partners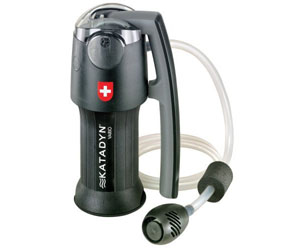 Advertise with us
Archives
Social Networks