Browsing articles in "Outdoors"
GoSun Flow has come into the market at the right time. With coronavirus pandemic all over the world, it's really important to maintain our hygiene, anywhere. Flow is a solar powered water purifier and sanitation system in one, it's the latest innovation from GoSun to help you to setup hand washing station, get clean drinking water, and have a nice warm shower, wherever you are.
With more and more people try to find the best way to stay safe COVID-19 pandemic, especially when they love outdoor activities, GoSun Flow is the answer. [Click Here to get more details of GoSun Flow]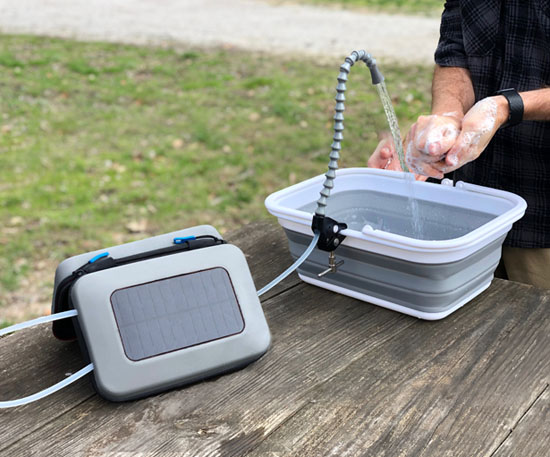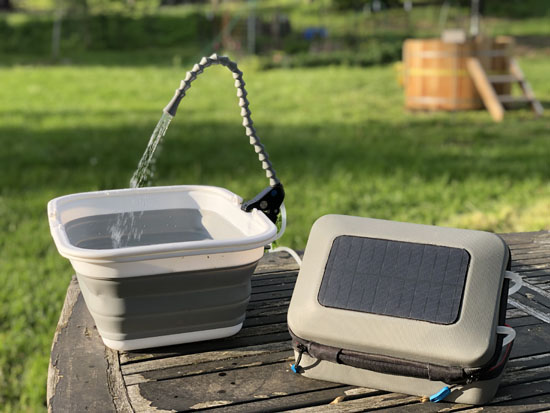 Made in California, this portable campfire is really amazing. You don't need go out in the woods to enjoy a campfire, you can actually enjoy it from your porch. Here's a portable campfire made from paper pulp and recycled soy wax, it eliminates that stinky smoke, finicky flames, and hard to kill embers. Measuring at 8-inch diameter and at 3-inch high, this portable fire pit delivers three to five hours of burn time. You can light it easily with just a match or lighter, then enjoy the glorious magic of fire on your backyard, beach, or campsite. [Click Here to get more details about this portable campfire]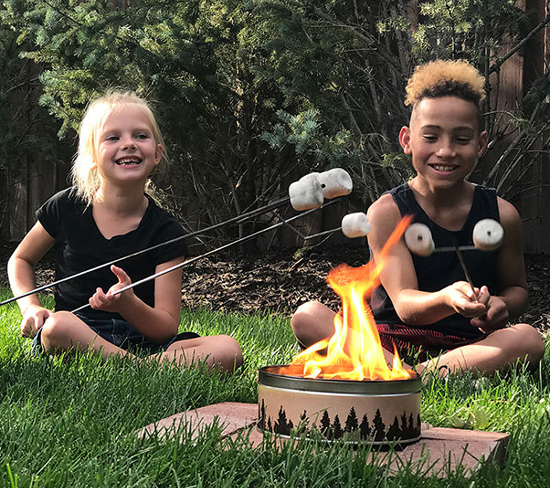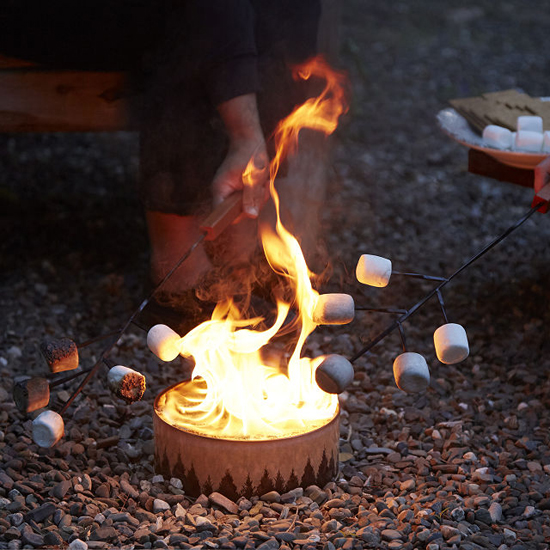 Turn your garden into a magical garden simply by adding this fairylight watering can, it'll sprinkle your garden with beautiful light. It creates a unique focal point in your after-dark garden, you would love it, your neighbor would love it, those cascade of tiny lights look like a magical showering light, even slightest breeze would add to the enchantment.
With pre-programmed timer, these LED lights would automatically turn on when it's dark. Set the cycle of 6 hours on or 18 hours off, this battery-operated garden light would delight in every season. [Click Here to read specs of Fairylight Watering Can]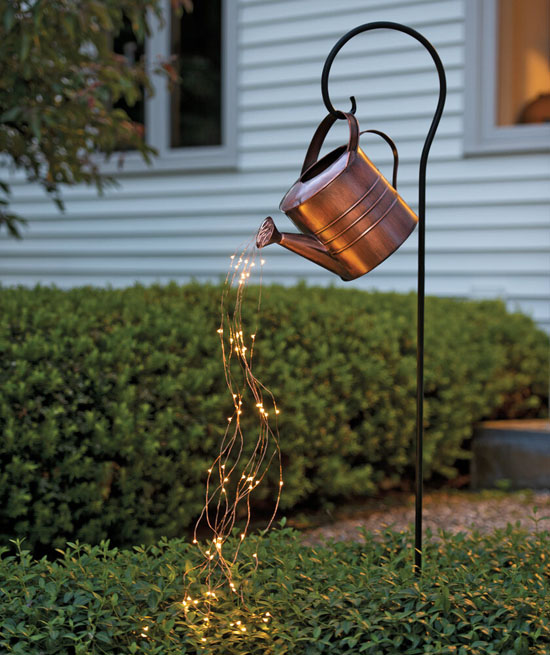 Have you ever seen Vincent van Gogh's Starry Night masterpiece? If you have, then you know the breathtaking glimpse of wonder in our starlit sky. Stephen Kitras, a professional glassblower, has crafted a cool glass globe that brings the magic of Gogh to life, in your garden to be exact. Using his artistry, Kitras draws upon painting's nocturnal palette and captures that swirling of paint in textured glass. This Starry Night Solar Stake would look awesome at night, it doesn't even use electricity, it is solar powered.
Once the evening falls, the magic happens. The solar powered light would illuminate the glass globe, creating awesome light in your garden or perhaps the pathway to your front door. Handmade in Canada, Kitras aims to produce affordable glass art objects to bring beautiful things around our home. [Click here to get more details of this Starry Night Glass Globe Stake]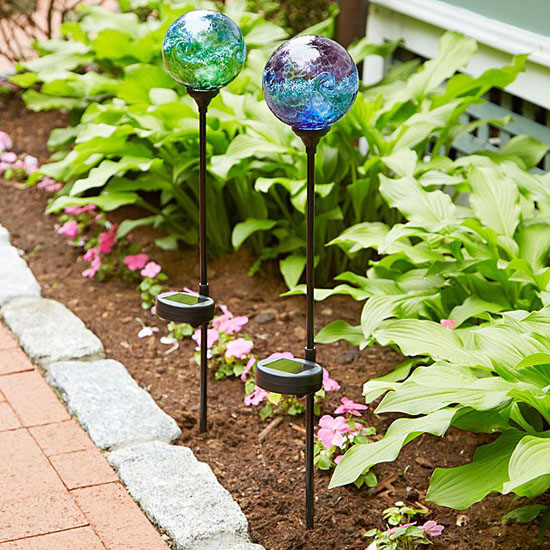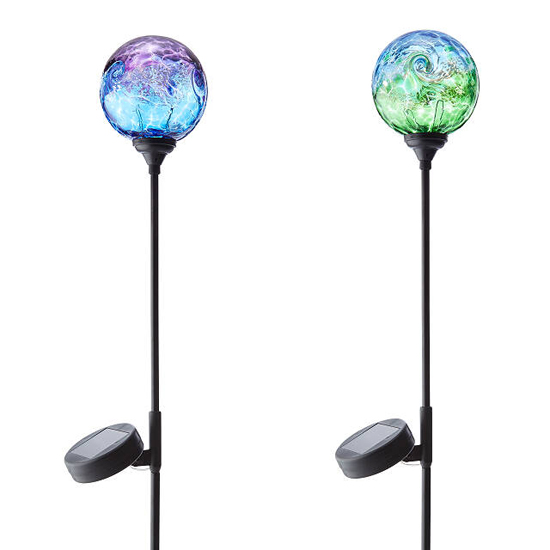 A smart use of space, Urban Hives are a concept project where small gardens can be established in parking lots. There are lots of large green areas slowly disappearing, including small gardens due to rampant construction of large real estate projects. These projects, in order to create living space sacrifice many old urban garden houses. Urban Hives is a project that proposes to bring back those gardens in parking lots. It consists of car-sized lightweight structure, raised above the car, and at the top, we can create urban farming and beehives.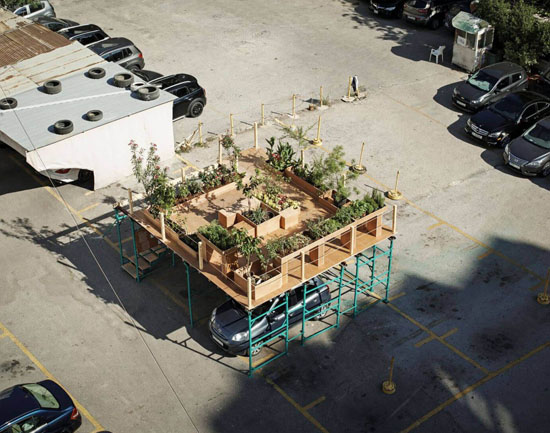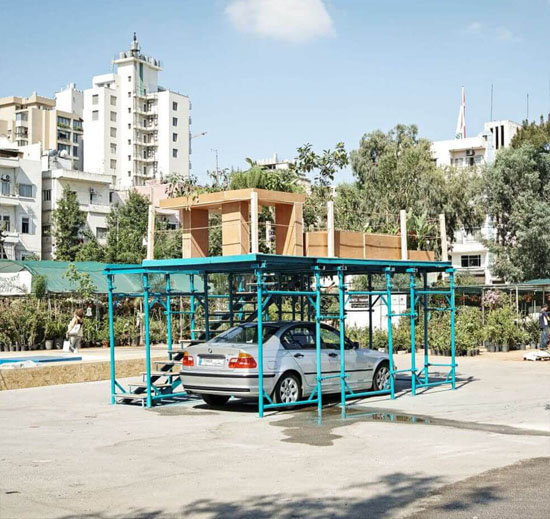 Sky-Pod is a new and truly unique hanging tree tent. Made from military grade materials and build standards the focus has been on total quality to deliver the best experience possible.
The product features a canvas fly sheet so give a warmer feel in cold weather and a cooler feel in hot climates. The Sky-Pod can be configured to suit any environment or purpose for example: when being used in hot climates our mosquito net fly sheet can be used, or if doing wildlife photography then our 3D camo fly sheet can provide a more covert look.
The product is fully porable and can be carried by one person and is designed for a ground based setup so there is no need to climb trees.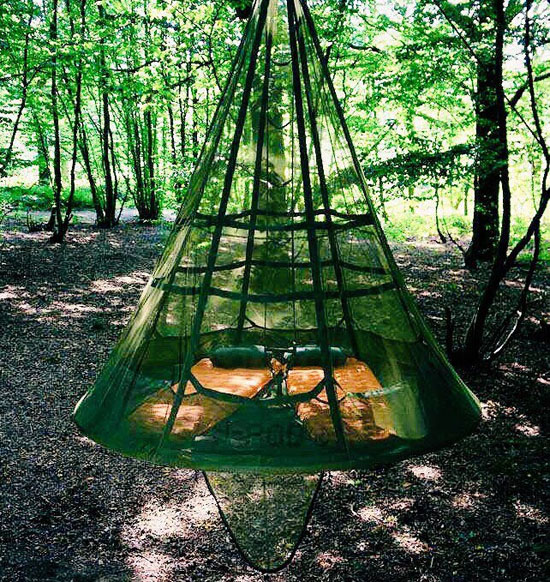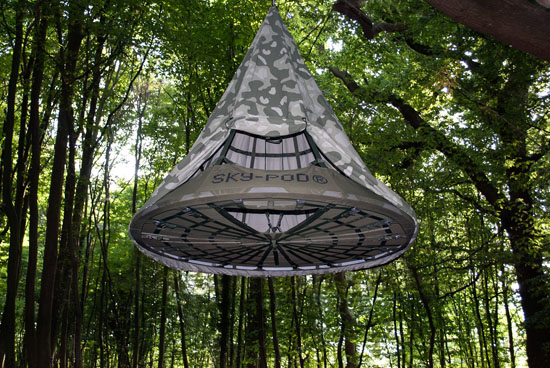 It's natural and sustainable, CasusGrill allows you to enjoy BBQ without the guilt of polluting the environment. It's 100% natural product and totally disposable instant grill, unlike those metal/plastic BBQ grill. Setting up is easy, this grill is ready to use in less than 5 minutes, giving you heat for up to an hour to cook your food, of course with nice and crispy barbecued finish, anytime, anywhere.
It is made of FSC-certified cardboard lined with naturally occurring lava stone. The grill is made of bamboo so don't worry, it won't get burned, and the briquettes are made of quick Oxilite bamboo charcoal.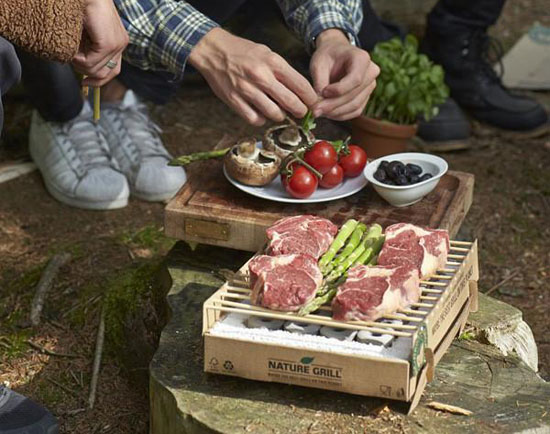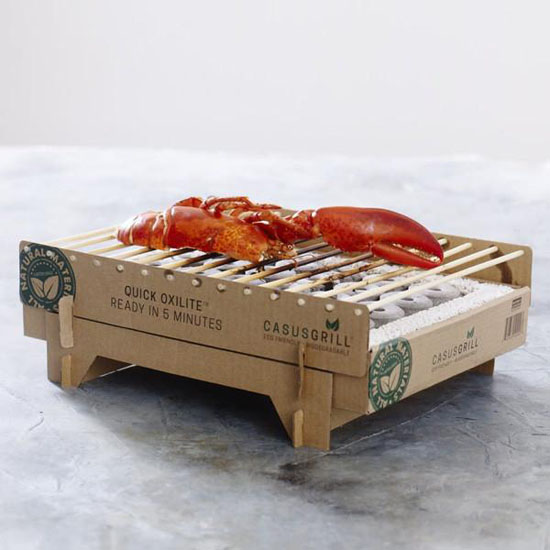 People who love camping usually have love for nature as well, that's why Homemade Natural Macadamia Fire Starters would be a perfect gift for them. It's an all natural fire starter set, any grilled/barbeque food would taste much better compared to using toxic chemical lighting liquid.
Handmade in Hawaii, these fire starters feature real macadamia nuts (whole/half) and dye free unscented soy wax. Do you know that macadamia nuts and its hard shells have high oil content? Well, that's why it makes sense to create camp fire lighters out of these materials. The merchant gives you options to order from all whole nuts, half nuts, all shells, or assorted. [CLICK HERE to get more details about these Homemade Natural Macadamia Fire Starters]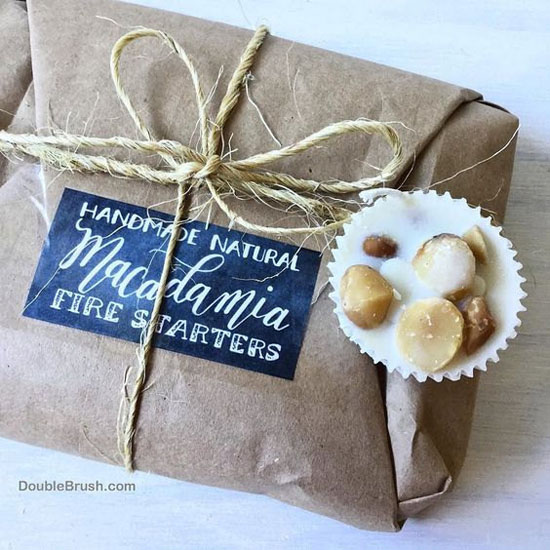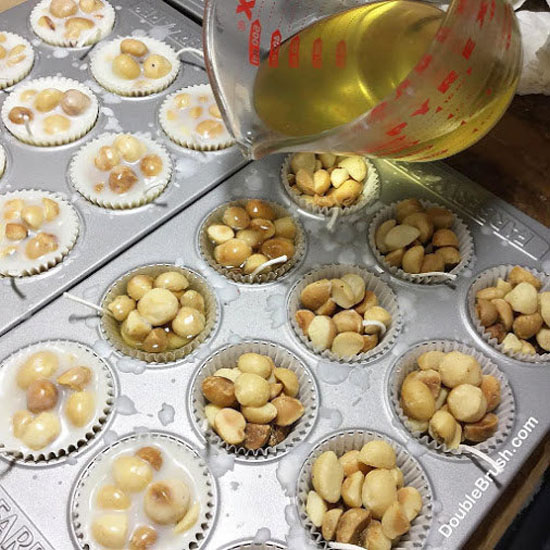 When you explore Paris, you probably see Uritrottoir outside the Fare de Lyon train station. It's a urinal planter, yes, urinal, a place where you can pee, legally. Public restrooms can be gross but it is also illegal to pee on the wall or public places. Uritrottoir can be translated as "pavement urinal", an eco-friendly spot to pee. It's not a container, it consists of two boxes that hold plants, completed with fertilized soil, the main area of the urinal sends your pee down to the odor-fighting dry straw that fills the lower box. Basically two boxes which are stacked on one another, the top for the plants and the bottom to contain your pee. There's a sensor that tells when the lower compartment needs to be sent to composting facility. Your waste is then composed and used as fertilizer for gardens, parks or even those plants that grow out of the top urinal.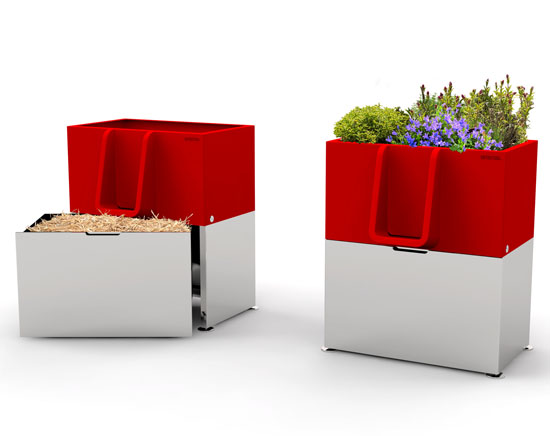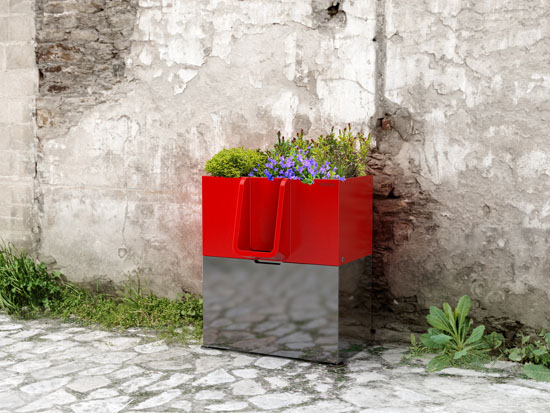 Keep your gardening tools nice and tidy near the garden with this space saving Gardenside Potting Cupboard. You can hang it on the wall, the front door opens flat, creating a potting station. It's a nice cupboard to keep your gloves, markers, twine, or any hand tools, it doesn't take much space since it can be mounted on a wall. Just in case you need to install this cupboard away from home but closer to your garden, you can purchase additional metal stand to hold it in style.
Keeping your tools and supplies near your lovely garden would save you multiple trips back and forth to the garage or shed. Since the door opens flat, it's a nice potting station to set down your cold drinks on a hot day or any tools. The wood material is treated with earth-friendly preservative, protecting it from freezing temperatures. [CLICK HERE to get more details about Gardenside Potting Cupboard]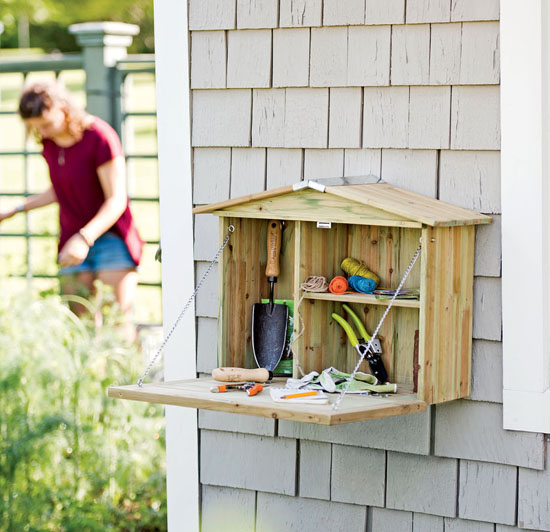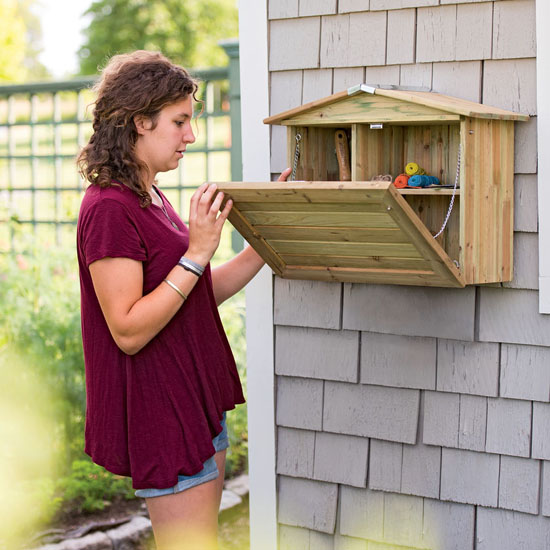 Our Recommended Partners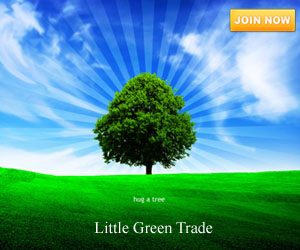 Advertise with us
Archives