Green architecture is growing and many architects including the Y Design, who is at present designing the Unit Fusion High-rise Residential Building Concept, embracing this practice to give their fair share of saving the environment. The said eco-friendly building concept will be built in Hong Kong and will feature 75 floors of studio, 1, 2, and 3 BR units. The building is a pre-fabricated type, therefore, we can expect a less carbon footprints during construction. The exterior finish of the building will also be made of pre-fabricated steel panels and glass panels.
Unit Fusion Features
Like any other residential units, the Unit Fusion will also present all essential features like the kitchen, bathroom or powder room, closet, balcony, and entry or façade. Each unit is modularized to allow its occupants to configure or arrange the unit according to their need. Each unit of the Unit Fusion will have a life cycle of 30 years and will be under maintenance every five years to ensure the high quality living condition it can provide to its residents.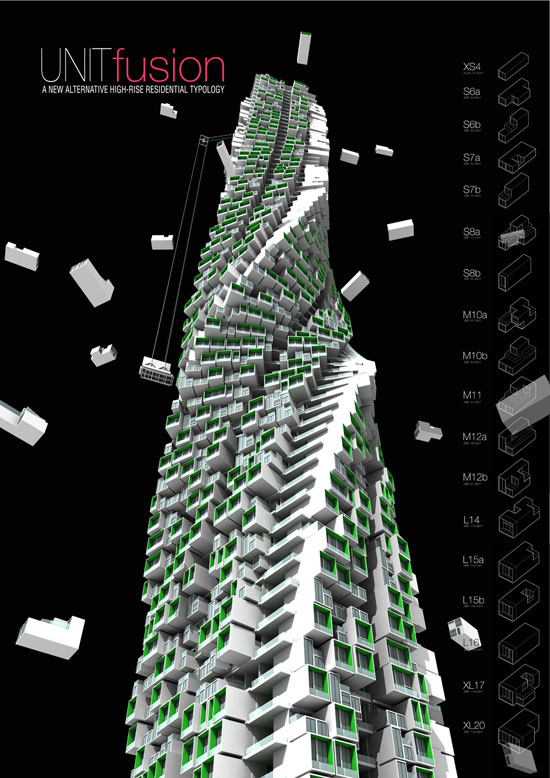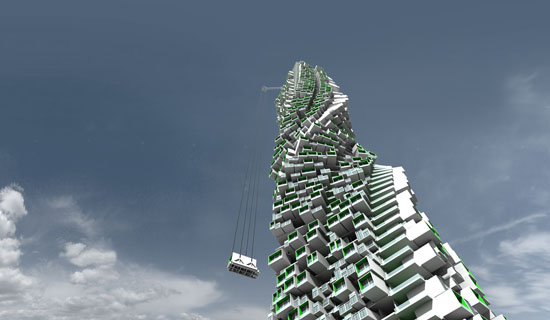 Unit Fusion Authority to Network its Occupants
A stronger social bonding in-between unit will also be improved and promoted every five years, for each unit will be relocated then. This will make each of the 1,960 unit to have six different locations throughout the tower within its 30-year lifecycle. Other than that, there will also be a plug in and out system designed for the re-allocation of the units within a 4-month period.
The Ability to Socialize
Creating a connection with each unit in the tower has never been easy with the public programs. Each floor of the tower will have sky-garden where residents can go there every time they want some fresh air or have a nice chit chat with their co-residents. Every five floors of the tower is a sky-lobby. The 3rd, 20th, 40th, 60th, and 75th floors of the tower will have four zones each wherein each zone will provide public service for the users. The zones will also provide high dynamic connections to every pedestrian between floors. Therefore, the occupants can possibly conduct a social fellowship and physical community through various activities of their choice.
The moment the Fusion High-rise Residential Building Concept will come into fruition, inhabitants in this tower will surely enjoy the phenomenal living experience.