Browsing articles in "Interior Design"
Are you a proud U.S citizen? Do you love United States of America so much? You can proudly hang this reclaimed wood USA Wall Art in your home. It's a map of United States that tells beautiful stories.
This wall art is also a beautiful gift for home owners who love traveling to different states. They can customize each part of the map with some accessories as tokens to remember their adventures. As a green conscious person, you can relax knowing that this art piece is made of reclaimed wood sourced from recycling centers, factories, and building sites. It's a unique sculpture and decoration that features unique layers of paint with different stains and scratches. [Click Here to get more details of this USA Map Wall Art]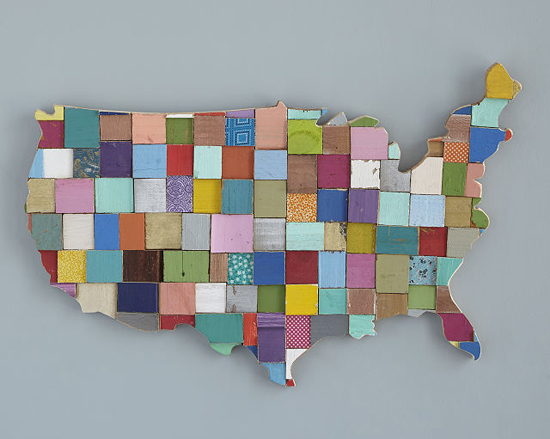 AIRSAI Floating Plant Holder offers a mesmerizing view where your plant floats and brings magic in the room. It's a tranquil contemporary décor where you can cultivate your favorite plants while providing modern touch to your home or even office. It would get everyone's attention, this plant holder rotates at 360-degree thanks to its magnetic levitation. Once the power is turned on, you'll see the magic where your plant floats.
The rotation feature means that your plants would be nourished with 360-degree of sunlight exposure. It helps to maintain healthier plants while floating mid-air in style. [Click Here to get more details of AIRSAI]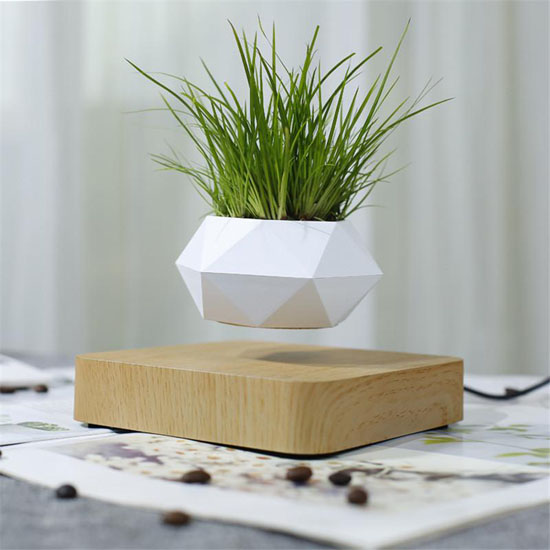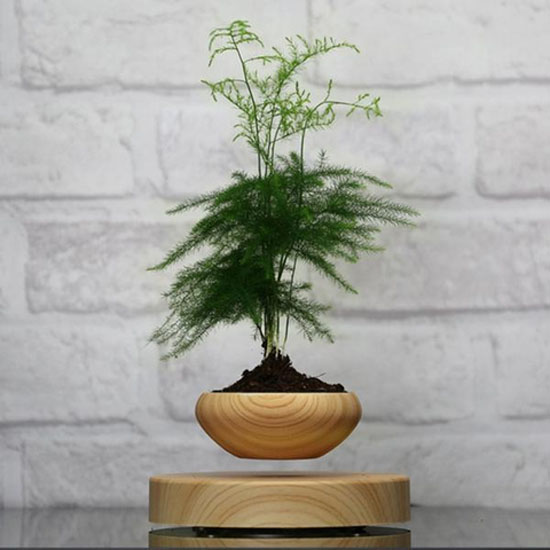 It's simple yet this Metal Tree of Life Wall Art can become the focal point of any room. The details are amazing, it might surprise your guests that it is made of recycled metal barrel cover. The tree sculpture itself represents fertility of the earth, bringing life from the roots to the sky. Just like a tree, branches, and its root, family grow to different directions yet their roots keep them all together. Each wall art is constructed of a 55 gallon recycled steel barrel cover, using only a hammer and chisel to create all those beautiful details. It's a beautiful work of art that you can hang above your fireplace, the front of your house, above home bar table, etc. [Click Here to get more details of this Tree of Life Metal Wall Art]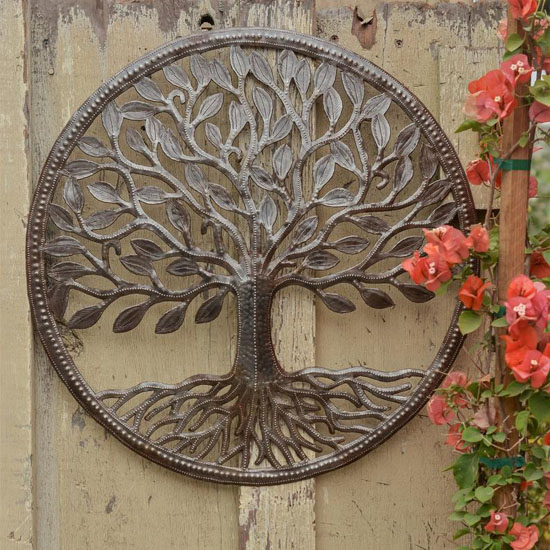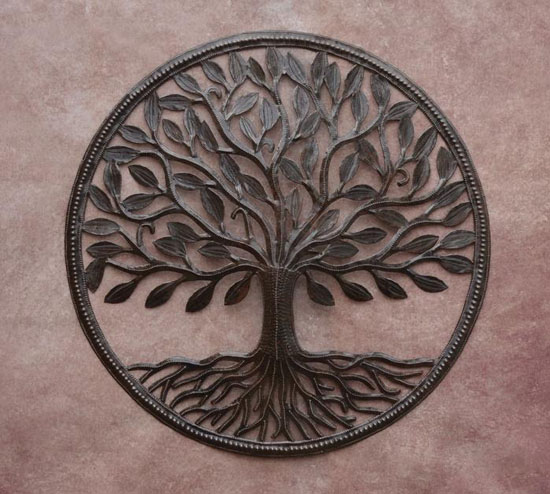 Do you love mountains? Ryan Leake has made an attempt to bring that mountainous adventure to your kitchen through this unique Mountain View Knife rack. It's a handmade piece that brings a taste of wilderness to your kitchen, handcrafted from scratch, this wooden knife rack is cut to resemble mountain range. It looks really cool on your kitchen wall while holding your knives, it's a beautiful decorative accent. Underneath this wooden rack, there's a powerful neodymium magnet that holds your kitchen knives in style. All your knives will be up and out of the way, making them easier to find and safer to reach instead of kitchen drawers. It's a perfect gift for a chef who has love for mounted adventures at heart. [Click Here to get more details of this magnetic knife rack]
This slice wood art would become a family heirloom for years to come. Made to order, there's no better way to display your family tree than on a tree. You can send your genealogy chart to the seller, and it will be engraved into a basswood wood slice, harvested from a sustainable forest. This is not just a cool family tree but also a beautiful, personalized piece of art that would become a conversation starter for any home. Just in case that you don't really know your family tree, you can choose to write your main family name along with some engraved motivational quotes. There's a sawtooth hanger that is mounted at the back for easy hanging. Since this piece comes from wood slice, it's truly unique and features slight natural flaws and might not be perfectly round. [Click Here to get order information of this Personalized Family Tree on Slice Wood]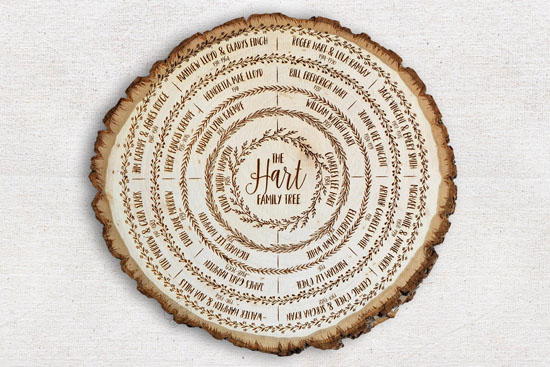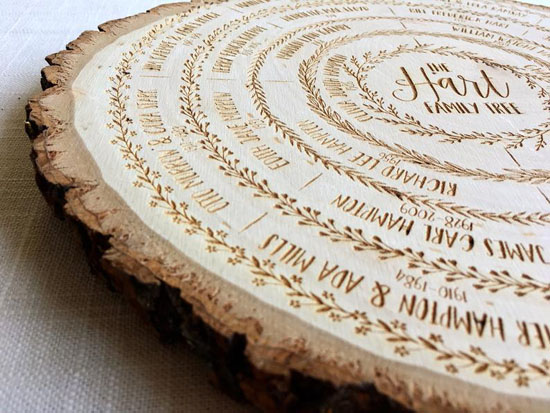 For the love of wine, you should enjoy it on this gorgeous Nori Side Table that is made from recycled oak wine barrels. Even though it's recycled from old wine barrels, yet this side table looks like brand new with nice vintage touch. It has a shelf and cool iron accents, the spacious top allows you to also place a vase or a showpiece, or any decorative item. Just in case you already have a set of wooden furniture, this piece would complement each other, the medium pine finish makes it look really stylish. It's rustic, sturdy, and well built end table, you will get a lots of compliments from it. [CLICK HERE to get more details of this wine barrel end table]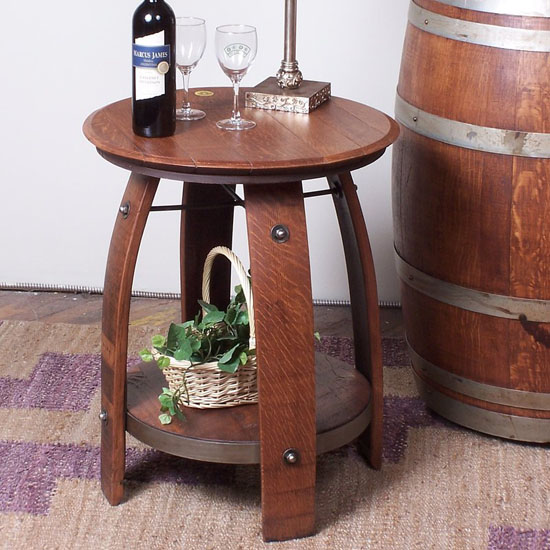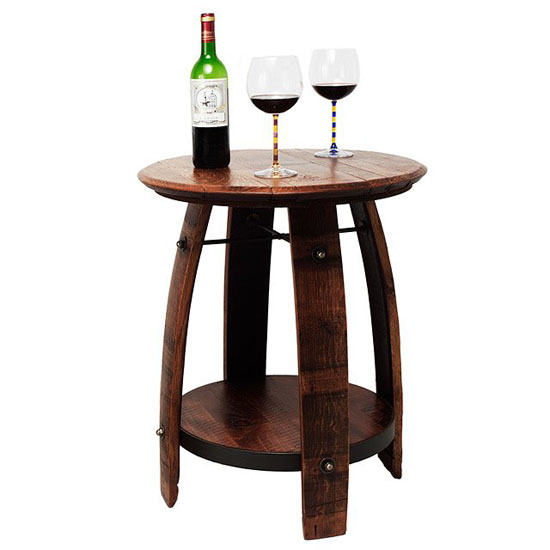 Solid construction, this reclaimed wood outdoor bench is hand crafted from unused railroad ties, this shorea wood is very old, some even 100 years old. Yes, this dense wood has been proven to stand the test of time in the outdoors, it's nature's wonder. It's so simple that it is attractive, even though it's built for the outside, some customers would have it in the house. Due to its nature, Each bench is unique, it has its own characteristic natural distressing marks, a beautiful accent piece for any patio, garden, or as decoration. Place it anywhere for eco-friendly seating. [CLICK HERE to get more details of this reclaimed outdoor bench]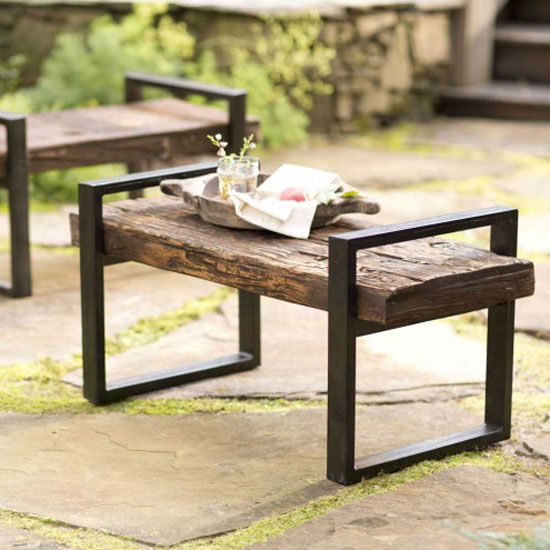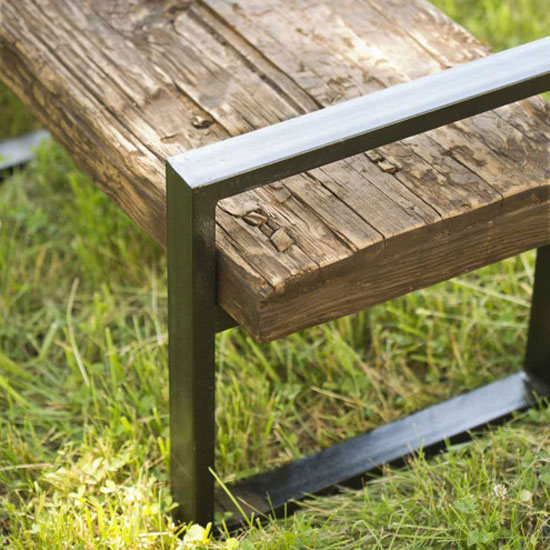 Beautifully crafted with attention to details, Reclaimed Fir Wooden Console Cabinet adds rustic touch to your existing décor. Thanks to reclaimed fir wood as its material, this cabinet boasts vintage aesthetic appearance. It is designed with two swing-out drawers and an interior shelf, a nice and practical storage as well as display. It maximizes your narrow space due to its slim 10-inch profile, you can also place it in narrow spaces.
Crafted in China, this cabinet would be perfect for an entryway, but it would look great in anyplace, especially in the living room. However, since this furniture piece is a heavy item, you might get charged extra for the shipping, but having this beautiful cabinet in your home, it's totally worth it. [Click Here to get more details about Reclaimed Fir Wooden Console Cabinet]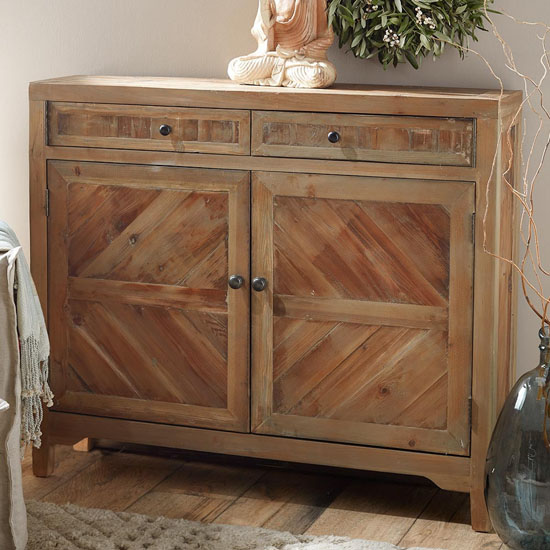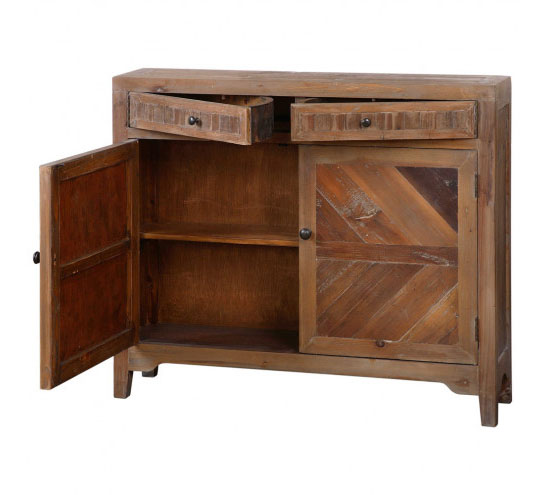 Using responsibly sourced Mango wood as its frame, this mirror gives your bathroom or living room a unique style. Made in India, the wooden frame is beautifully segmented and combined, creating a natural looking mirror perfect for both indoor and outdoor décor. The wood that is crafted for the frame is rescued from waste, mango trees, which are no longer produce fruit are usually cut down on plantations. Well, it turns out, this waste trees can turn into a beautiful wall mirror frame. There's a wire hanger at the back for you to hang this mirror on the wall. [CLICK HERE to get more details about this beautiful Oval Mango Wood Mirror]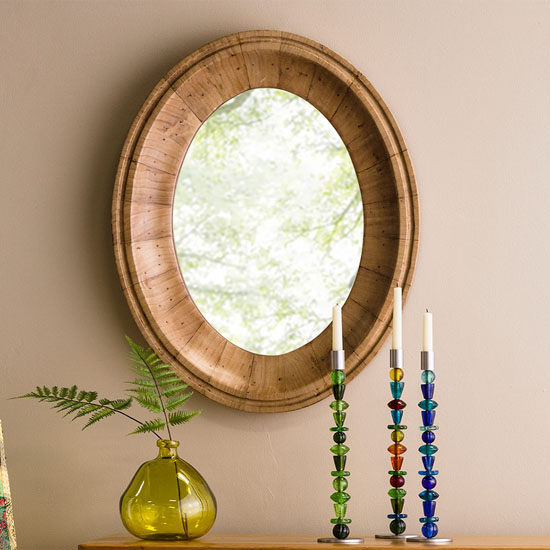 You can enjoy a little nature in your house through EcoQube. It's an aquaponics system where you can grow flowers, herbs, or house plants indoor while using these plants to also clean aquarium water naturally. You can maintain clean water and a healthy habitat for your fish through this system, EcoQube offers a self-sustainable ecosystem where you don't need to change water of your aquarium or filter replacement. What you need is to feed the fish and add water every two to five weeks to compensate for evaporation. [CLICK HERE to get more details about EcoQube]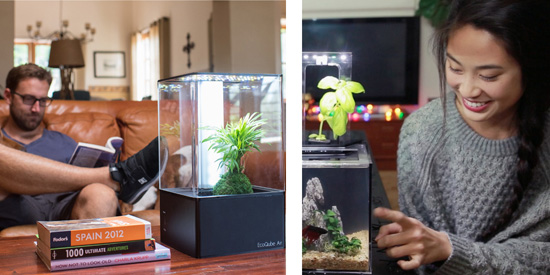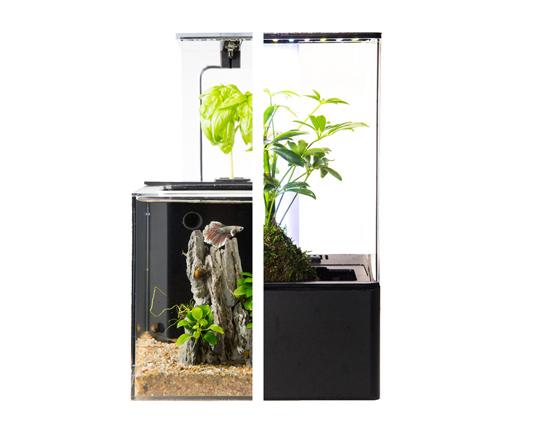 Our Recommended Partners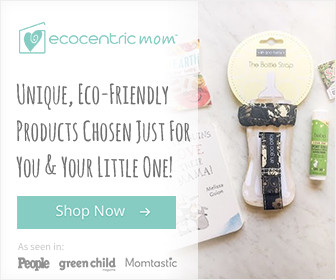 Advertise with us
Archives