Browsing articles in "Food and Drink"
Serve your guests a good food on this beautiful Bamboo Melamine Platter. It features inviting Chinoiserie motifs, it's a beautiful motif with a serene white and blue village scene on a fresh white background. This platter comes with painted bamboo frame. It's definitely unique and unusual compared your traditional platter, the size is perfect for serving cheese and crackers or fruits. This platter is shatterproof and dishwasher safe, you should purchase multiple items to get a set of beautiful platters when you often host a dinner party. [CLICK HERE to get more details about this beautiful bamboo melamine platter]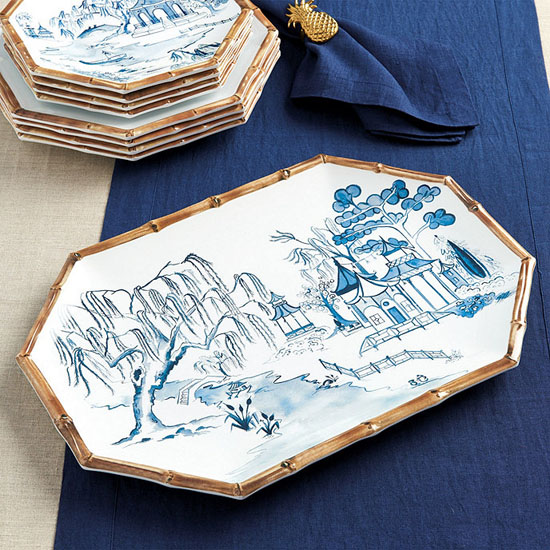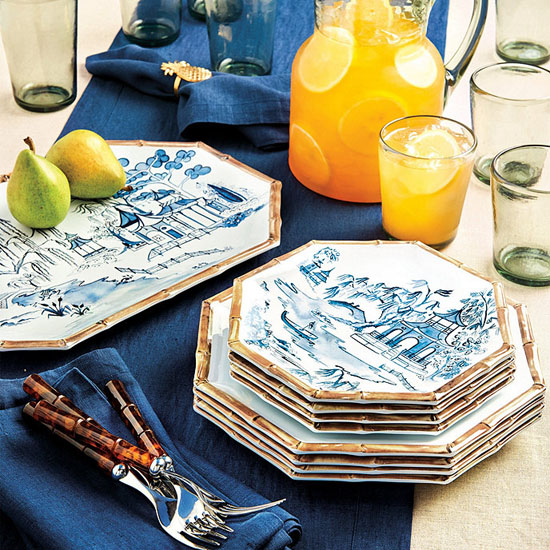 This is a cool snow ski wine rack that would become a conversation starter. You don't have to be a wine connoisseur or a professional skier to appreciate this beautiful piece. Each wine rack is handmade in Millbury, MA by Michael Bellino and of course using reclaimed skis, that's why your wine rack might have different colors and patterns. Each one will be unique and different.
Display your wine in a stylish yet eco-friendly way. All those bottles can be stored on their sides to maintain the wine's integrity. All those reclaimed skis are unique due to weathered from use, it's a creative way to recycle all those old and unused skis into something that is useful. [CLICK HERE to get more information about this Snow Ski Wine Rack]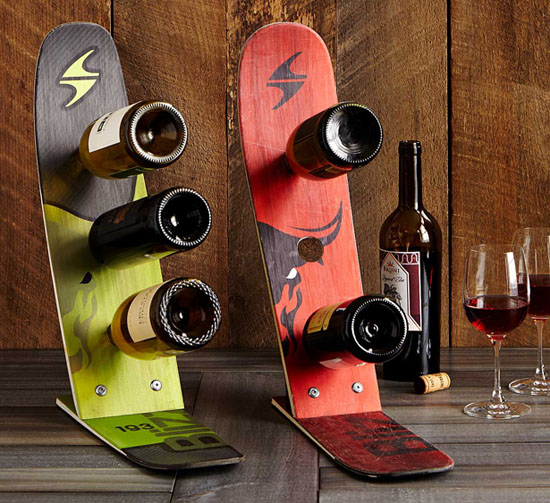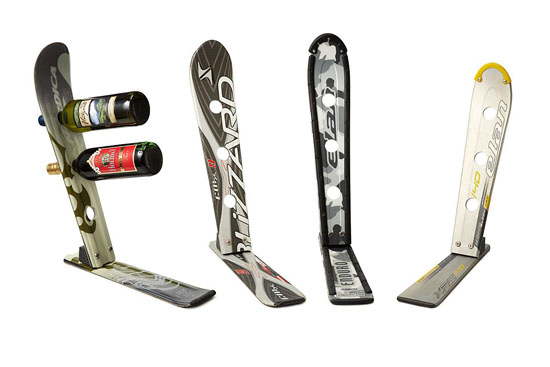 There are many people who still don't have any clue about the harmful level of our plastic waste. Recently, a study revealed that plastics make up about 50% to 80% of shoreline debris, if you think this doesn't affect you, think again. Plastic debris poses a danger for wildlife, most marine mammals might become entangled in plastic bags and even worse, ingestion that cause death due to blocked digestive track that would starve the animal. Did you hear that a pilot whale have died after swallowing 17 pounds of plastic waste?
FinalStraw offers world's first collapsible and reusable steel straw to reduce the use of plastic straw hence reducing plastic waste.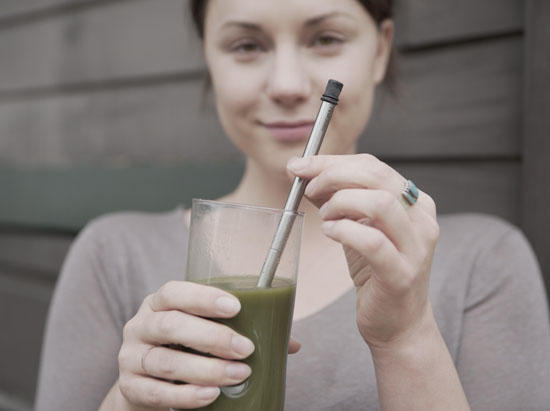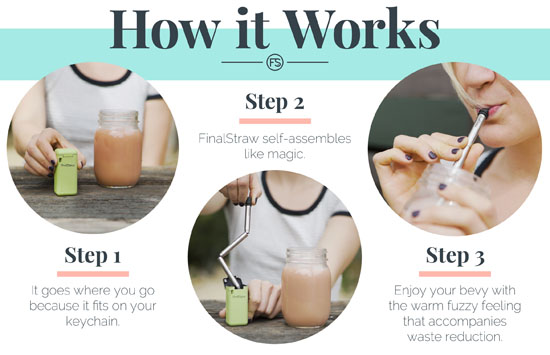 DROP BY DROP is Pratik Ghosh's final year project at the Royal College of Art and Imperial College London. This project wants to remind us not to take water for granted, why can't we learn from history where ancient civilizations could prosper and perish through overusing and exploitation of water. DROP BY DROP is a plant based water filtration system, inspired by the lives and struggles of people in the forests of Central India to get access to water and beliefs around it. The second inspiration came from Biotic Pump theory by Anastassia Makarieva and Victor Gorshkov from the Petersburg Nuclear Physics Institute in Russia.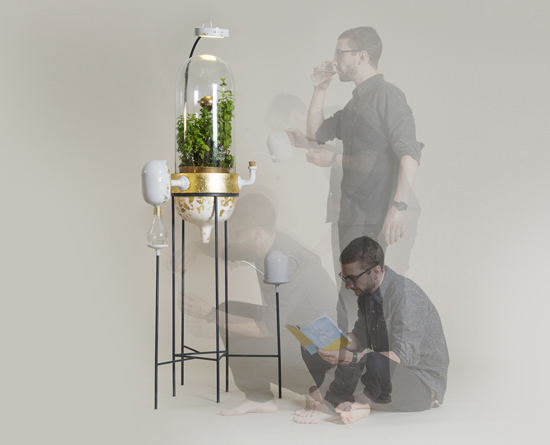 It's natural and sustainable, CasusGrill allows you to enjoy BBQ without the guilt of polluting the environment. It's 100% natural product and totally disposable instant grill, unlike those metal/plastic BBQ grill. Setting up is easy, this grill is ready to use in less than 5 minutes, giving you heat for up to an hour to cook your food, of course with nice and crispy barbecued finish, anytime, anywhere.
It is made of FSC-certified cardboard lined with naturally occurring lava stone. The grill is made of bamboo so don't worry, it won't get burned, and the briquettes are made of quick Oxilite bamboo charcoal.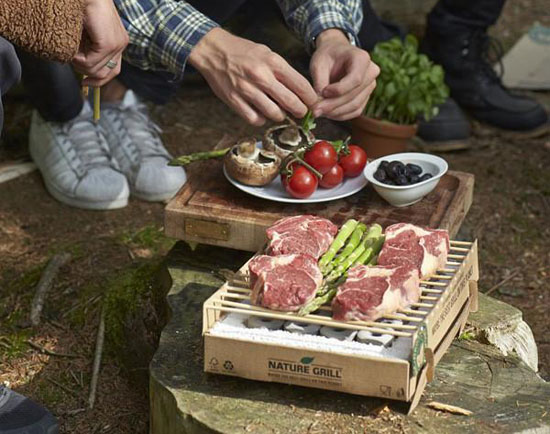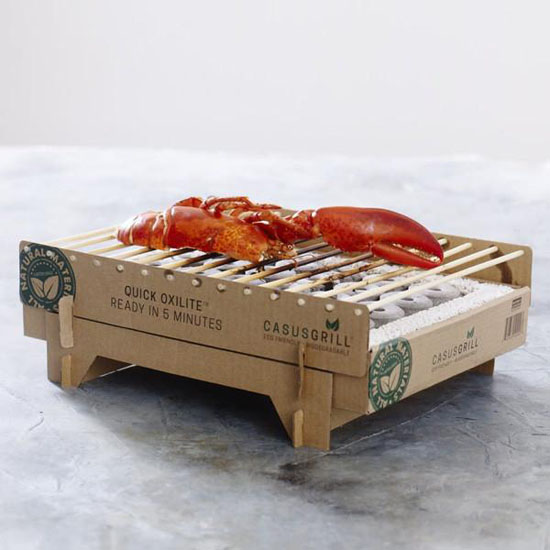 Take advantage of your food waste, Worm Farm Composter transforms any vegetable scraps to valuable fertilizer. The composter features modern and attractive design, you can place it in corner of your kitchen or near garbage bin, it's really easy, no fuss and no mess. Worms would do all the work, it turns your food scraps into nutrient-rich fertilizer, it's a nice green project to teach children about the environment.
Once the process starts, you can add up to 0.5 pound of food scraps per day to the composter (you need to purchase the worms separately). This amount is about an average food waste for a family of four. You need to also remember that 68-degree F is the ideal temperature for the composter.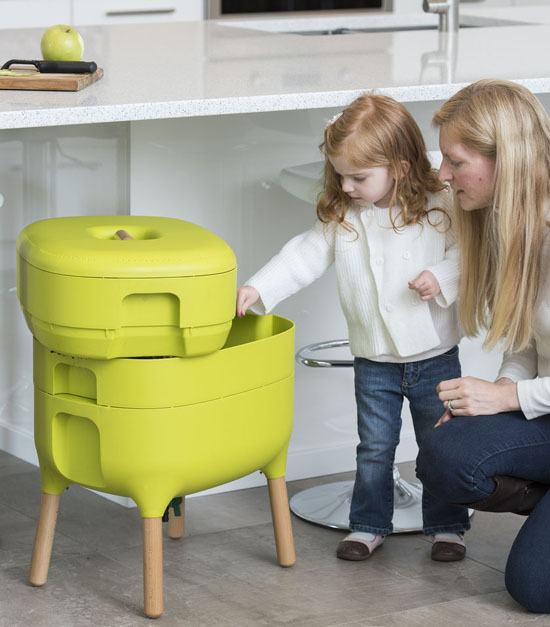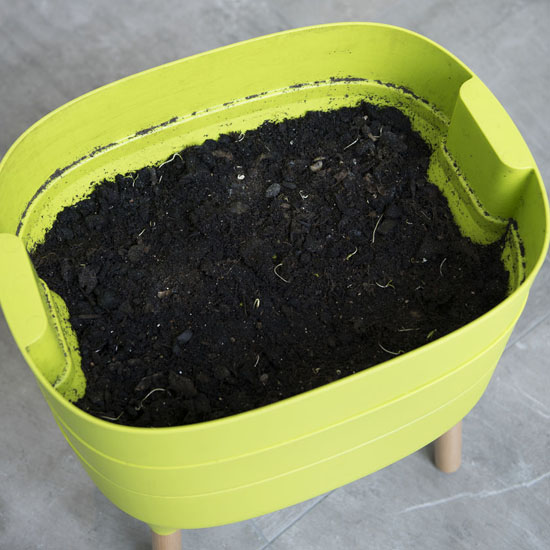 Carry your wine with you in a safe VINE Insulated Stainless Steel Wine Bottle. This wine bottle or wine growler can hold up to 750ml, a perfect traveling companion for a beach party or dinner party. You can safe yourself from carrying breakable glass bottle, no more pouring wine from a cardboard box. Each bottle carries EcoVessel's signature TriMax Triple insulation technology, it will keep your wine at the perfect temperature for hours, allowing you to enjoy your first sip to the last in great satisfaction. Enjoy your drink the way it was inteded, the technology maintains ideal temperature up to 36 hours.
It's a nice gift for anyone and yourself, thanks to premium 18/8 stainless steel, BPA, and liner free, this bottle maintains true taste of your wine. It's been designed with secure and leakproof top. The sophisticated packaging also comes with brush and funnel, nice isn't it? [Click Here to get more details about this recyclable Vine Wine Bottle]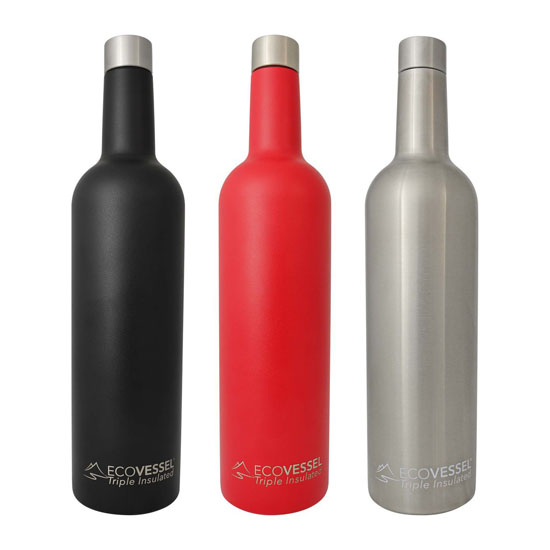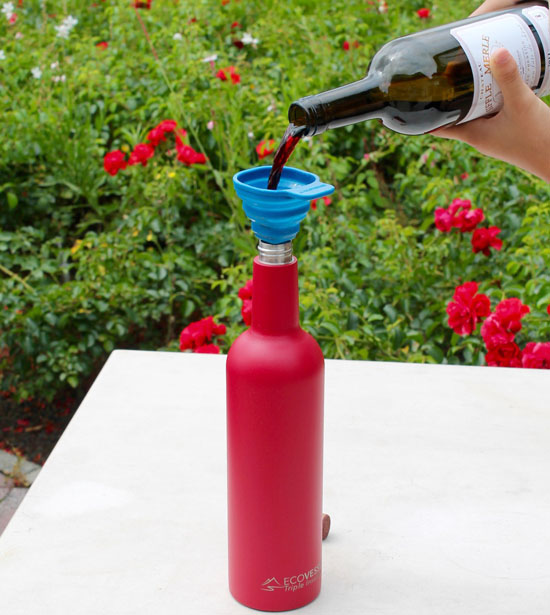 From : EcoVessel
We all know that glasses are non-biodegradable ones, thus not safe to be in our landfill and so, recycling it and giving new life to them like this wonderful eco-friendly Green Pressed Glass Wine Bottle Divided Serving Platter is probably one of the best things we can do to reduce glasses landing in our landfills. Available from Cypress, the platter is obviously made out of recycled glass bottle.
Since it is made of glass, it is surely will look like brand new one and classy enough to be on your dining tables. The platter measures approximately 13 inches by 3.5 inches by 1.5 inches, which is not too large to occupy too much space on your dining table but surely is spacious enough to hold your favorite dishes.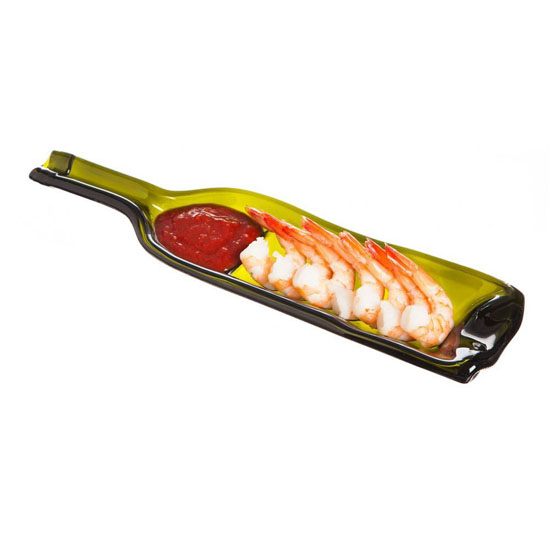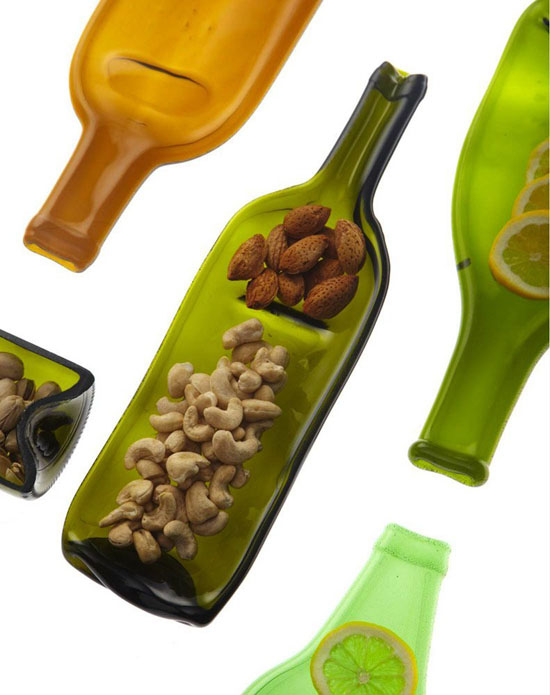 Talking about re-using a vintage film reel, take a look at this creative creation: Vintage Film Reel Wine Rack. We would have never thought that you can use a film reel as wine rack, not to mention it looks really good while doing it. When you want to create classic home décor, especially classic Hollywood décor, this vintage decoration would make the room comes to life, just roll the camera!
Cleverly re-purposed classic film reels make it perfect wine rack, an ideal gift for celluloid and Sauvignon Blanc lovers. You would love the attention to detail where each reel is accompanied by a vintage MGM movie, the name of the film can be read on the enclosure card nested inside the box. [Click Here to find more details about this vintage wine rack]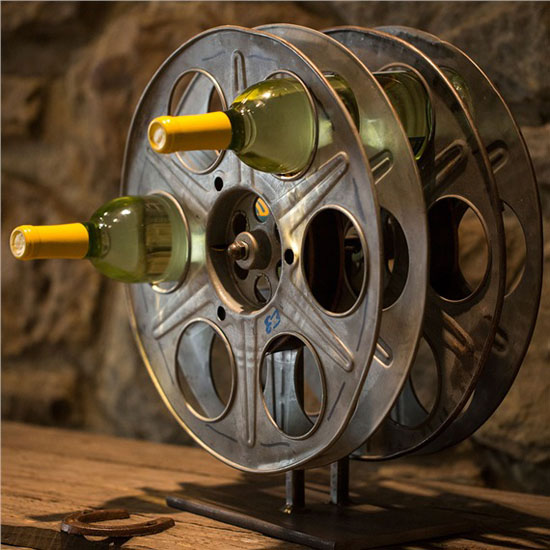 In this world, when we want to consume food of our choice, we search tips to make the food last longer. We are concerned about seasonal fruits and vegetables that are not available for the whole year. For example, in summers, we want Oranges and Strawberries etc. In winters, we want water melons, pomegranates etc. Due to technology, we can now enjoy all fruits and vegetables throughout the year. We can apply various tips to keep our food safe for long terms.
Many underdeveloped countries use old methods to store food for long terms, for example using herbs, salt, spices and vinegar etc. Several women who know home chores also adopt these methods to store food. Advancement in technology has helped to use various preservatives to store food. We have seen refrigeration, defrost and preservation strategies in successful homes of developing and underdeveloped countries. Some interesting tips are the following, which will help you a lot in preserving your favorite foods for long time durations.
1. Storing onions, ginger, olives and garlic for long term usage
If your home cooking requires usage of Garlic, Ginger, Olives and Onions, then some interesting tips are to firstly put all these contents in separate, clean and air tight containers. Second step is to add some salted water (brine), or add some lemon drops or olive oil or some vinegar. In this way, you can easily use any of these vegetables any time of the year. Refrigeration is suggested to avoid any fungal attacks on these vegetables.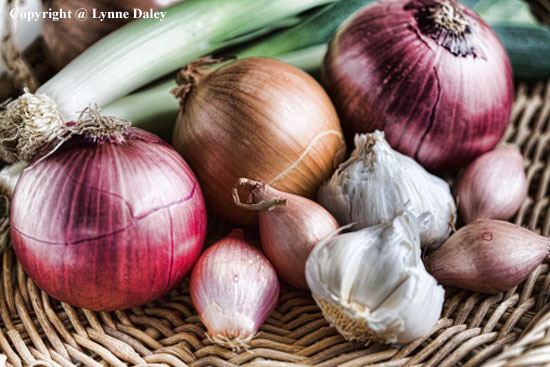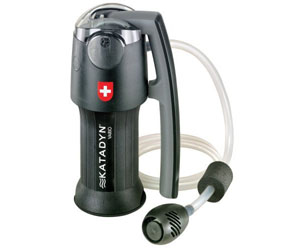 Our Recommended Partners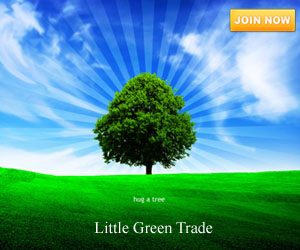 Advertise with us
Archives
Recent Topics Searched