Browsing articles in "Furniture"
Normally when see wonderful and beautifully upholstered sofa it is made of first hand materials. With the Nikki Sofa by Rabih Hage, it is the opposite. The Nikki Sofa is a great and stylish sofa that is totally made of recycled materials. To create something new, the designer uses some pre-existing pieces, reused it and has its beauty revealed. He then uses the torn sail from sail makers for the sofa's stylish and artistic upholstery. Instead of seeing these junk materials in our landfills, Rabih have saves it from causing our landfills to continue grow and made their lives have a new meaning and purpose.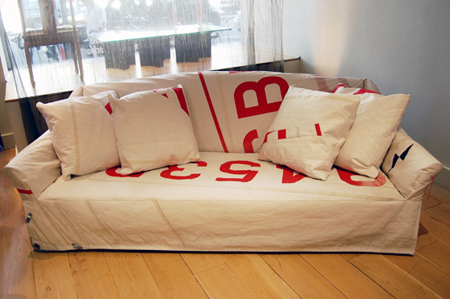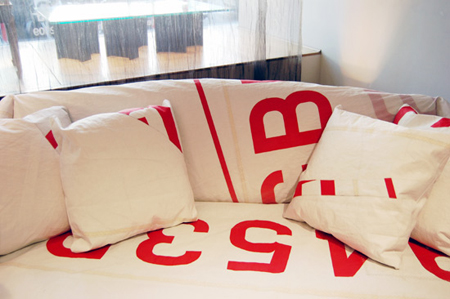 Using a solid recycled cork, Brooklyn based designer comes up with wonderful, stylish, and eco-friendly furniture called the Tilter Chair. This eco-chair feature a backrest that has relief cuts for the seat to tilt and spring when in use thus, provides additional comfort and support to the users. The chair also comes in an attractive design that everyone would surely love to own one for them, their kids, their kids, and everybody at home. I also find the chair sturdy enough to carry big sitters as it is quite thick and compact. The backrest also has a square hole in the idle with each side painted in different colors that adds up the beauty of the chair.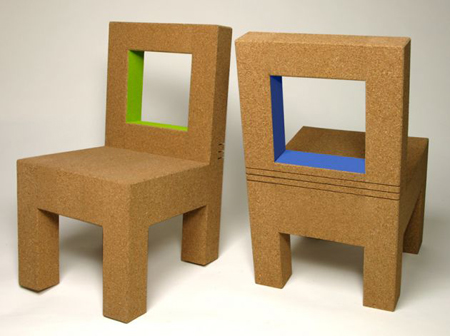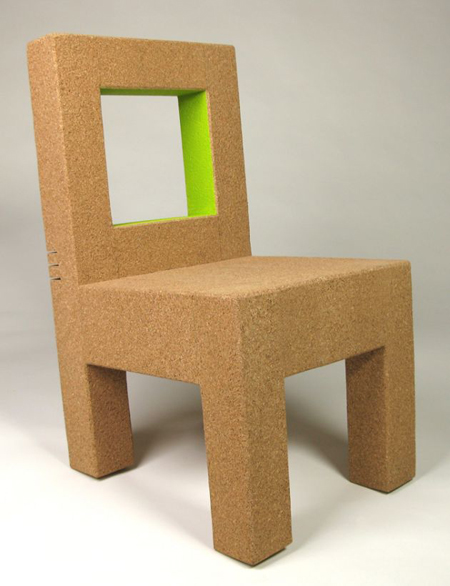 Made from 100% post consumer recycled plastic particularly milk containers, designers Sarh Gibson and Nicholas Karlovasitis from DesignByThem's Butter Stool is not only made from recycled materials, but also is sturdy making it able to be used over time. The product comes in a single piece of plastic and can be easily hand assembled by simply folding each part. Aside from the clean lines, the stool also looks elegant enough for outdoor and indoor use. The team has plans of expanding the Butter series by creating more products like table and shelving system. The Butter Stool simply proves that eco-friendly design needs not compromise style.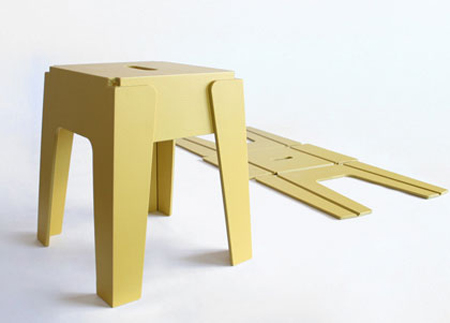 Source: DesignByThem via Design Addict
It is really rewarding to hear that designers now come up with numerous sustainable designs but has the elegant and look of the future. Like the designers in Y-town, they have created the Dance of Mat lounge that is not only sustainable but elegant and comfortable as well.
This is a fine lounge designed with rhythm and tradition. Mat, a traditional oriental material that is breathable and sustainable, is perfectly transformed into a 3 dimensional lounge. Layers of smooth mat are dyed red, wrapped upon a white lounge body. Sections of the mat can still be seen in the silhouette, showing the beauty of the material.

The design has won the Creative Prize of 2006 Shenzhen International Furniture Expo.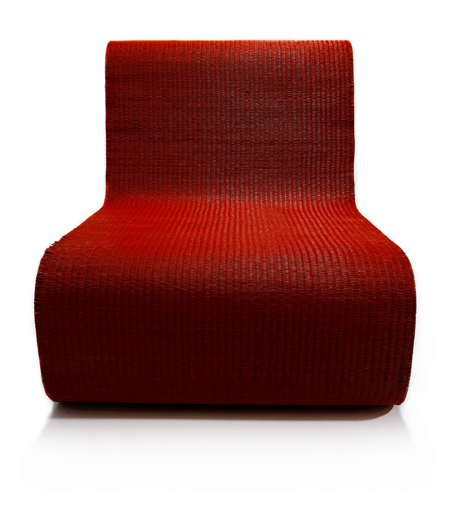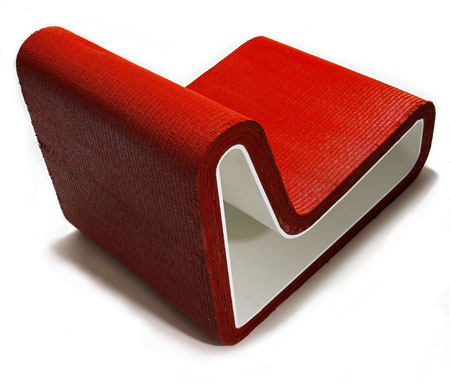 Source: Y-Town
Eco furniture are growing and is getting a trend to every household especially who are environmentally aware. Joining with some other designers and helping eco-friendly consumers, designer Kristoffer Kjær has created the Hover Eco Bench.
"The Hover Eco Bench is both a luxurious piece of furniture and a unique piece of design with a sustainable history," says Kristoffer Kjær. "The vertically positioned lamellae which form the seat of the bench, all originate from old Dutch colony houses in Indonesia. They are cut from century-old teak trunks that have been sawn up and treated with oil. The old teak wood has a glow and a character in the growth ring which makes the piece of furniture something quite exceptional."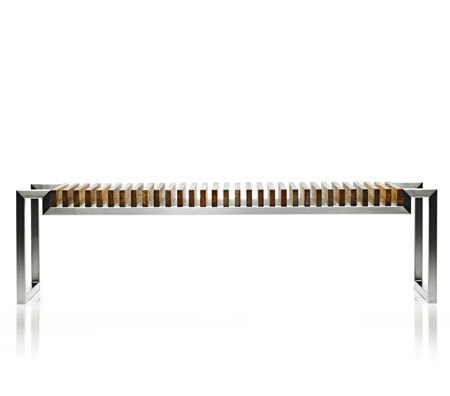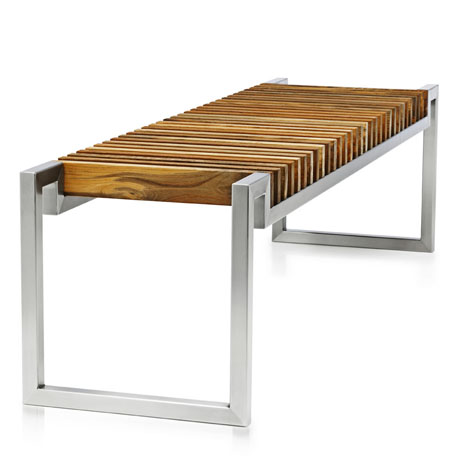 Recycling is a fun activity to do especially if you want to help save the environment. Joining with you in your aim or recycling is the people from Studio Jo Meesters who have created the TESTLAB, an ongoing experimental project about recycling discarded item and used it to create a brand new useful item. As a result, TESTLAB was able to produce a collection of furniture called the "Odds & Ends, Bits & Pieces". The collection composed of four pieces furniture and all are made from 34 discarded wooden beams and 16 leftover blankets. The blankets are weaved with art and resulted into nice and wonderful upholstery that brightens up each of the furniture from the collection.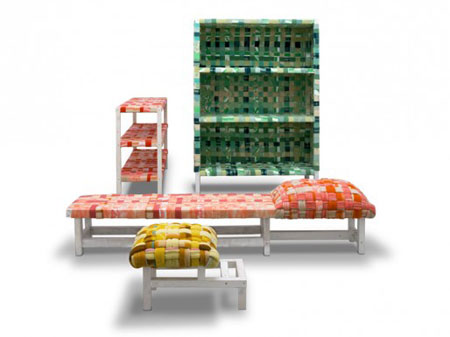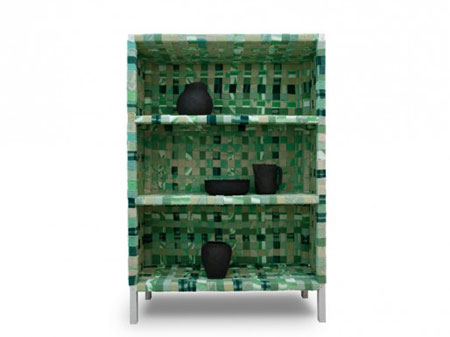 Living the green life is fun and it would be nice if started earlier. If we have not done this in our childhood, we can let our kids start living green as early as possible. Helping us in making this aim into fruition is designer Joe Fiacchino from Skyline Design who did design the Caterpillar Activity Bench for GreenPlay. Aside from its cute and cool kiddie design and color, the caterpillar activity bench has numerous green features to take pride.
• Its base is made from urea formaldehyde-free MDF and FSC-certified birch veneer, thus the product has no or has low VOC finishes.
• The top part of the furniture is made from post-consumer and/or post-industrial recycled plastic (HDPE) in green.
• Packed flat an unassembled for easy transportation and increase efficiency in shipping.
• Packagings used for the product are 30-40% post-consumer recycled and is 100% recyclable as well.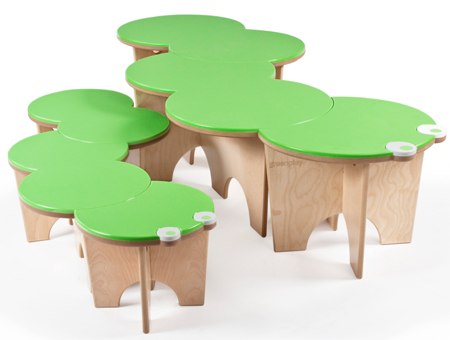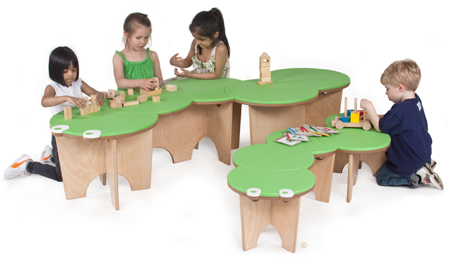 Not everybody knows that old woods are great materials for furniture. They have molded into a sturdy and strong one by time. However, many of the designers do not welcome the use of used or old woods in creating their masterpieces, but not Gursan Ergil. Based in Istanbul, Turkey, Gursan had created a wonderful collection of furniture that are all made from reclaimed woods, and one of his collection is the beautifully designed bench. Sleek and eco-friendly, this chair will definitely minimize the number of used woods to different landfills and at the same time, it does help the people realize that used woods can be beautiful as new if a great artisanship is applied.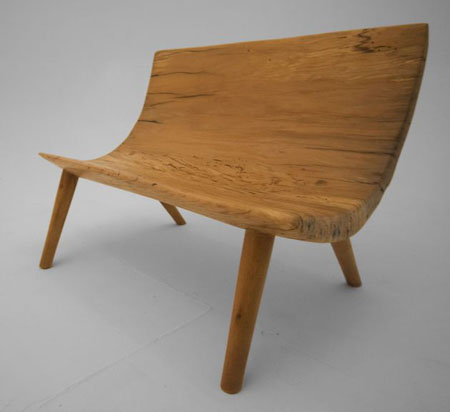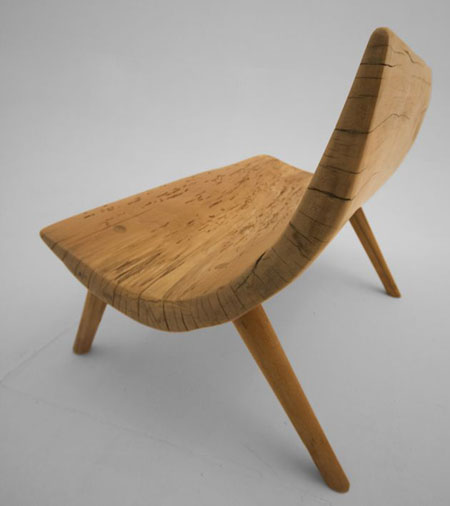 Source: Gursan Ergil via Contemporist
Living the green life does not end with having a solar power or wind turbines at homes but also it can be through your household furniture that are made from sustainable materials. One great example of it is the stylish Arrow cardboard chair by a Bulgarian sculpture and designer Konstantin Achkov. Comes with a colorful stripes, the chair uses no screws but glue. Aside from being eco-friendly, the Arrow chair also has a stylish look that will surely complement with your home decors and interior design. When the chair's life comes, one can easily dispose the cardboard off, as it is a biodegradable material.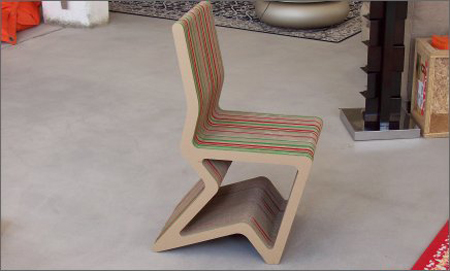 Source:Konstantin Achkov via Designspotter
We all know that recycling is a good way of saving our environment from harm brought by landfills, pollution and more. The Weld House shows us how we can save the environment from the possible harm brought by those old cars' hood. The said company has created a nice and hip table made from those recycled hood. If you are a lover of metal furniture, then this is the perfect piece for you. The eco-tables from the Weld House are available for purchase with prices starts at a whopping $750. This can be a little bit pricey, but you will never be sorry for the product. Stylish and eco-friendly.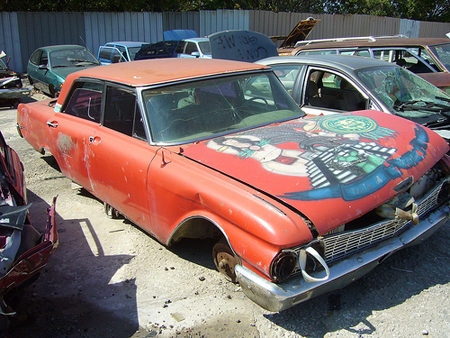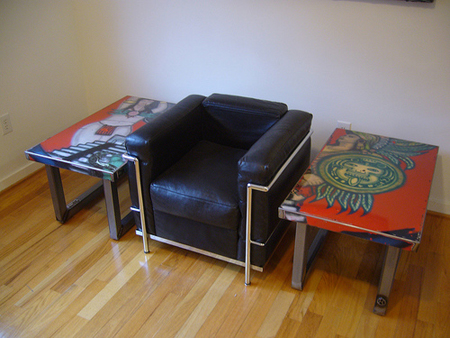 Our Recommended Partners
Advertise with us
Archives