Browsing articles in "Scooter"
Eco-friendly transportation means is now becoming widely available with the growing number of carmakers who are now into manufacturing eco-friendly cars. Peugeot joins with other carmakers and will soon present to its consumers its new and advanced electric scooter called e e-Vivacity. Unlike the previous electric scooter that Peugeot had, which nickel-cadmium batteries power, the all-new e-Vivacity us will be powered by lithium-ion batteries. This modern and fashionably stylish scooter will have a range of around 60 miles and will be having a top speed of 28 miles per hour. The e-vivacity will have a motor that works similar to that 50cc petrol powered scooters making it ideal for travel around the village, market, and the like.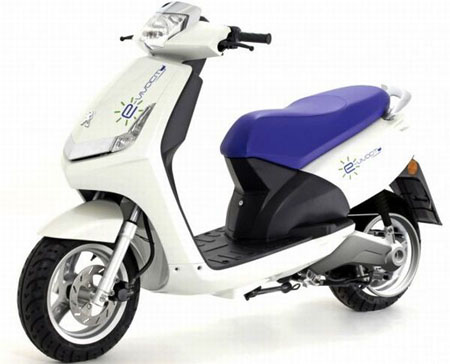 Via: Ecofriend
Before we are going to hit the busy streets, it is a good deed to think of ways on how we can minimize carbon footprint and eventually help save the environment. The MINI Scooter E Concept will surely make your dream of helping minimize carbon emission and make it into reality. This scooter concept of car brand MINI is electric powered and is available in three different designs, wherein each of the designs looks cute enough for luxury and personal use. Instead of contributing too much carbon emission to the environment by riding their cars, students can now head to their schools in a more sustainable way with the MINI electric scooter.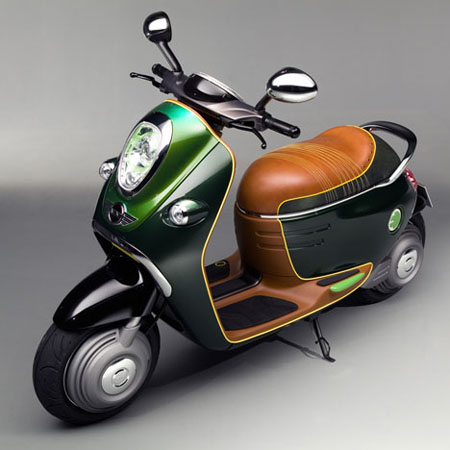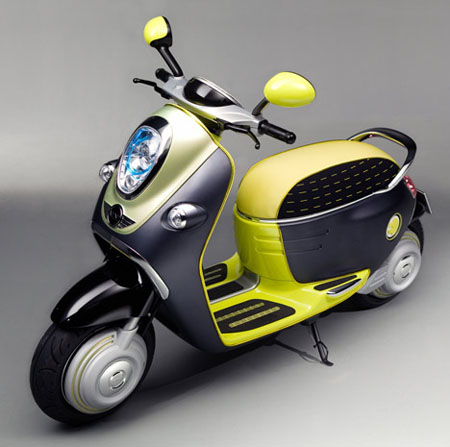 Zero carbon emission is almost everybody's concern with the aim to help save the environment. The Zerotraver is just one of those products that designed to combat global warming. The Zerotracer is fully enclosed for the rider's safety, all-electric for zero emission, and has the ability to run 450km or 280miles on a single charge. Designed by DesignWerk, the Zerotracer has a top speed of 250 km/h and has a zero-100km acceleration in just 4.5 seconds. The Zerotracer is designed as an entry to the first ever around the world in 80 days competition. The Zerotracer's enclosure gives the motor a futuristic look.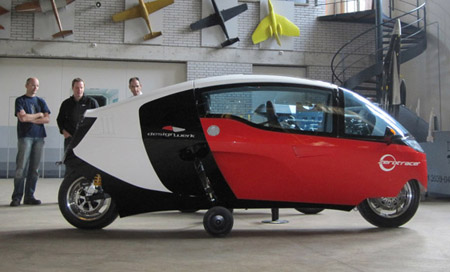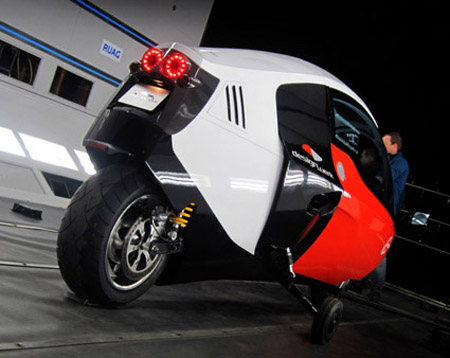 Source: Zerotracer via EV World
How nice it is to travel with fun and ease of mind that you are not harming the environment. Industrial designer from Israel Adir Zilber designed a fun and eco-friendly transportation vehicle called the Street Hopper. The Street Hopper is a small scooter that provides and effective transportation to people in urban areas on their way to work and back. The Street Hopper has a mounted electric engine that drives the back wheel. Footrests are present for support and the rear wheel is linked to the scooter's main body for a less bumpy ride, thus comfortable enough. Air pollution and energy consumption will definitely be lesser when using this small yet powerful Street Hopper the moment it become available for purchase.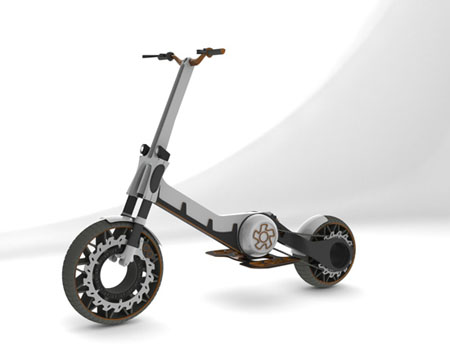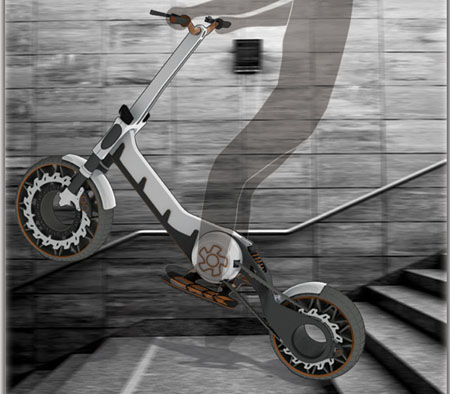 To live smoothly in a crowded city, one will definitely need some transportation system that will let them allow to move around easily with the congested traffic and this will definitely include the Skoota. The Skoota is an urban electric scooter that has the ability to transform from a full-bodied rider into a compact transportable item in five simple steps. It uses Lithium batteries to run and has an in-wheel brushless hub motor. Other eco-friendly features of this scooter are a LED blue halo headlight and lithium batteries that full charges in five minutes. With the Skoota, people can now transport easily even in crowded cities without harming the environment.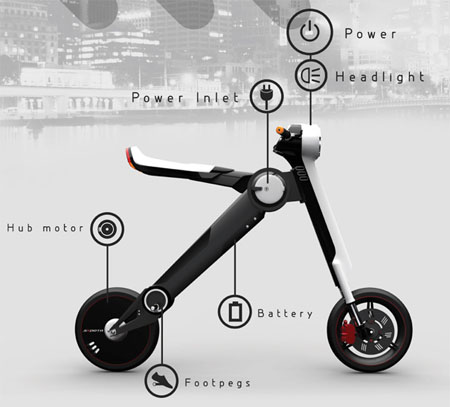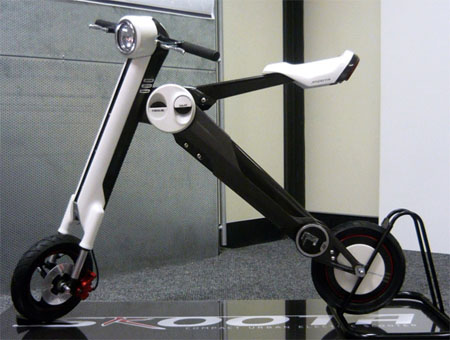 Any vehicle that produces zero emission tops the list of being eco-friendly. However, Indonesian designer Rizki Tarisa does not only creates a zero emission vehicle, but a vehicle that is made of recycled materials as well. His scootah project will surely attract the interest of the environmentalists worldwide. Aside from it being a kick scooter, it is made from various recycled materials. In addition, the designer is only concern with the environment but to the users as well (which are normally students) that is why the scootah has three wheels instead of two for more stability for a more comfortable and safer ride.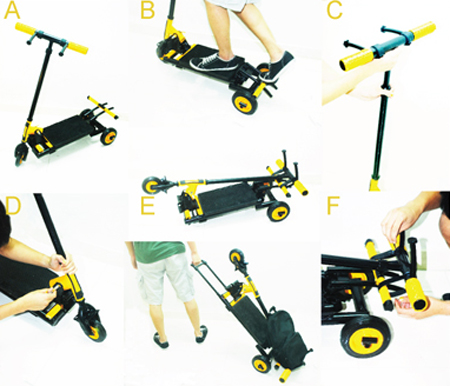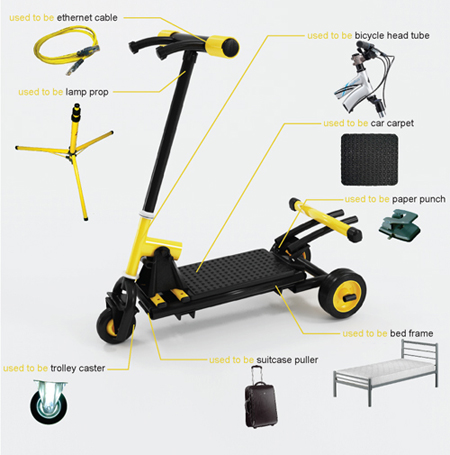 When we say eco-friendly vehicles, we have heard a lot about electric cars, bicycles and more. Student designer Anton Grimes joined the Australian Design Awards and presented his eco-friendly design called the Link Urban Scooter System. The Scooter itself may not be unique at all, but the concept of using it at the Central Business District of Australia made the Link Urban Scooter System Unique. This cute vehicle can be retrofitted to any existing Streetscape Smart Poles wherein users are allowed to hire one from a hub and return it to another hub where the scooter will be recharged. It will not only reduce carbon emission, but reduces the need of space eating parking lot as well. I just wish that this would be comfortable for use on any weather.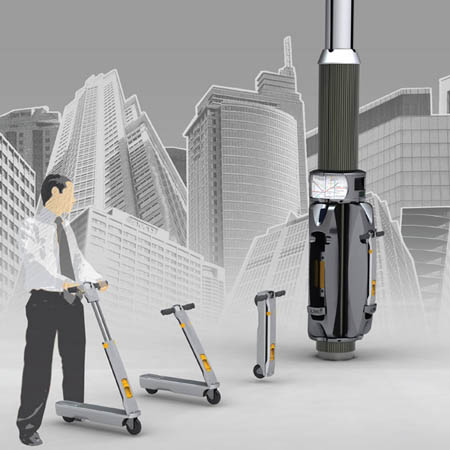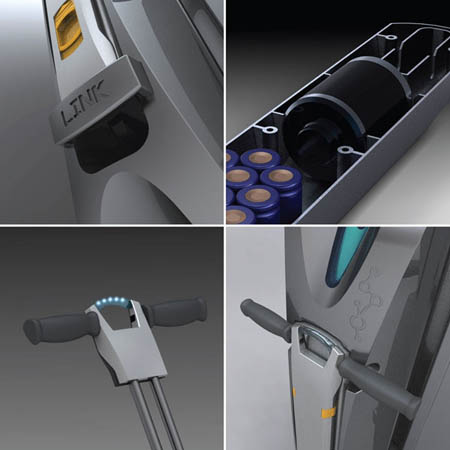 Have you heard of scooters lately? I guess not. Motorcycles had monopolized our busy streets lately especially those in rural areas. However, Auto EV Japan is planning to release the Scarpina, an electronic scooter will be offered in both two and three wheels that seems to look like the scooters released years ago on the Honda Gyro. Lithium ion batteries making it an eco-friendly vehicle power this cute vehicle. The Scarpina has the range of between 30 and 50 miles per charge depending on the model. The speed is not determined yet, but I am pretty sure that it will be fast enough to reach the rider's destination.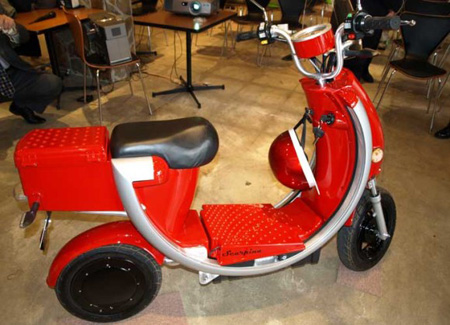 Source: Autobloggreen
Since child hood, riding in a scooter was never my sports action, but I do biking most of the time. However, most of my playmates are riding on their scooters and generally they are all battery operated. That is why; manufacturer Pumgo had created the first pedal powered scooter. Works better and safer than a scooter and runs as fast as a bicycle, the pedal powered scooter keeps the rider in shape, while helping the community in sustaining the environment zero carbon emissions. This hybrid vehicle can be useless to super highways and high-traffic roads; this is perfect and suitable in urban roads.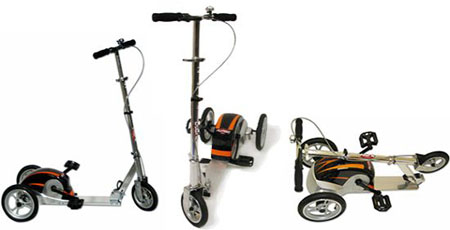 Source: The Design Blog
Peugeot's HYmotion 3 is a three-wheeled concept vehicle that makes urban mobility possible by bridging the gap between an electric scooter and a car. This three-wheeled vehicle, wherein two of the wheels are place in front is equipped with electric motor and a diesel engine powers the one wheel on the back. The HYmotion 3 hybrid car can be driven around the city in an electric mode, and has a slightly leaned and small frame and with a maximum speed of 70mph, and is covered with glass on top. I see it useful, sleek, safe and perfect for today's busy roads.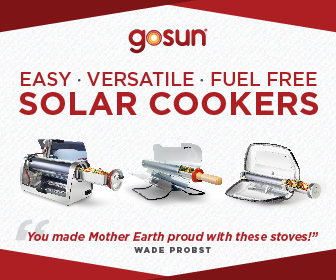 Our Recommended Partners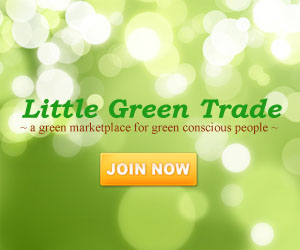 Advertise with us
Archives