Sushi is a popular Japanese dish known by many of us and we can share its delicious taste with our friends by giving them the Totally Bamboo Sushi Gift Set. The set includes a 6 x 9 ½ inch medium sushi plate, 2 pairs of twist chopsticks, 2 chopstick rests, and 2 pieces of 2 inch dipping bowls.
The best thing about this sushi gift set is that it is made of laminated bamboo strips, a known renewable source of material. We all know that bamboo is a fast growing type of grass. It takes only a short time to grow, therefore shortage will never be a problem. In addition, the Totally Bamboo Sushi Gift Set uses finishing materials that are food safe like the formaldehyde-free glue as well as natural and permanent color. [Click here for more info about the Totally Bamboo Sushi Gift Set]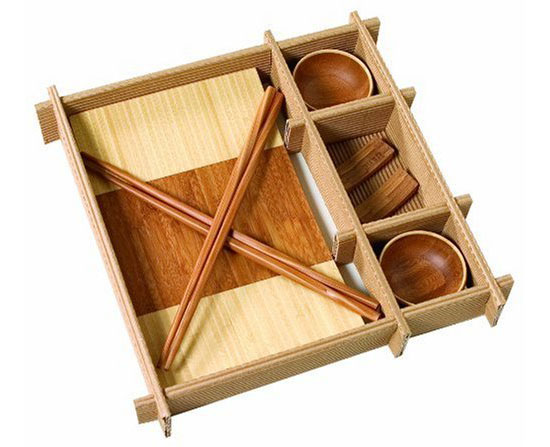 Bamboo is elegant and harder than maple and it will not absorb water. Cleaning the Totally Bamboo Sushi Gift Set is dead easy because you can clean it through hand-wash and keeping its elegant look can be achieved by wiping with mineral oil periodically.
The lovely look of the this tableware makes it a perfect addition to your and your friend's elegant and eco-friendly table setting. [Click here for more info about the Totally Bamboo Sushi Gift Set]