The Largest Christmas Tree Made of Recycled Plastic Bottles in KAUNAS, Lithuania is a proof that recycling is for all seasons. You can recycle plastic bottles on a rainy day and create a lifesaving catamaran or sail out of it, just in-case flashflood happens.
However, just in time for the Christmas season, the people of KAUNAS, Lithuania set a Guinness World Records for the Largest Christmas Tree made of recycled plastic bottles. The Christmas tree is made of 40,000 recycled plastic bottles and measures 278 feet 10 inches in height. On the other hand, this largest eco-friendly Christmas tree is made for the annual tradition in Rodrigo De Freitas Lagoon in Rio De Janeiro, Brazil.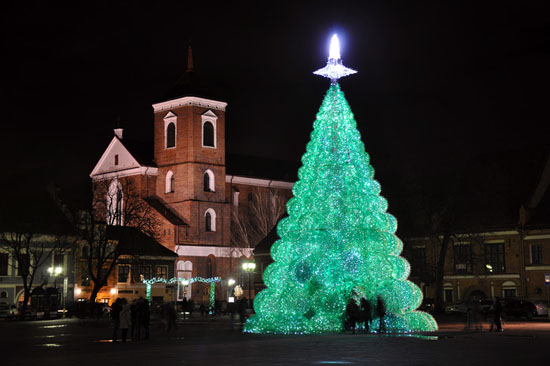 Israel, who set the record for largest Christmas tree had used 5,000 plastic bottles. This year, KAUNAS has used 40,000, they use the plastic bottles of the popular drink Sprite. With the help of artist Jolanta Smidtiene, who is responsible for the glowing installing, the said Christmas tree was built in front of the city hall. The 40,000 plastics bottles attached together using zip ties creating the largest, festive, and eco-friendly Christmas tree in the world.
The person behind the idea, is Jolanta Smidtiene, who wanted to show that being different each year is important. In, addition, she also wants to show that we can make a difference by creating useful things from what we think are trash or useless and thus the Largest Christmas Tree Made of Recycled Plastic Bottles is made.