Browsing articles in "Recycle"
PADI has teamed up with RASH'R to produce reusable Face Mask made from recycled polyester. It's a win-win solution for both sea animals and humans as this project transforms plastic water bottles into face masks instead of polluting the oceans. During coronavirus (COVID019) pandemic, these face masks would help to slow down the spread of the virus.
Made by Professional Association of Diving Instructors (PADI) and sold by RASH'R, each reusable mask comes with five disposable replacement PM2.5 filters. It might seem really expensive as each mask costs you $20.40, but PADI says that there's no profit from this product, the price really reflects the cost it takes to make each mask. PADI really cares about the ocean and diver community, this company really wanted to help with their hearts and hands instead of profiting off in this difficult time.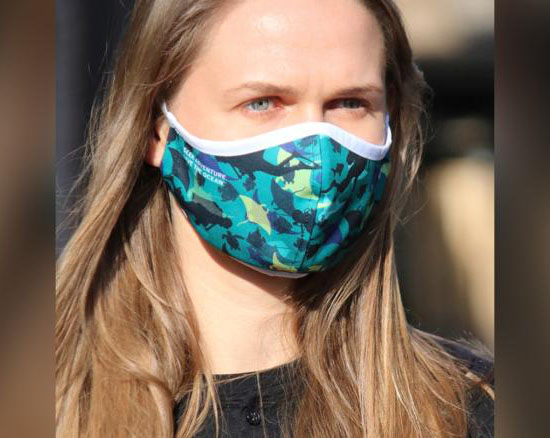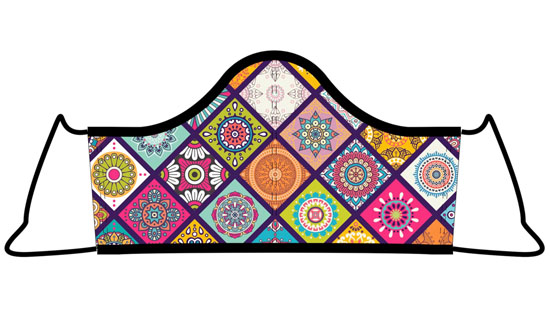 Disposable diapers have become third largest contributor to our landfills, in fact, in EU alone, there are more than 17million diapers are disposed every day. Luisa Kahlfeldt aims to reduce this hard to recycle product by replacing the main material to something more sustainable with Sumo Reusable Cloth Diaper.
Sumo Cloth Diaper offers world's first mono-material diaper on the market. Conventional cloth diaper usually consists of both natural and synthetic fibers, they are bonded together permanenly, making it hard to take apart and recycle. Sumo Diaper is made of 100% sustainable seacell fabric, which is biodegradable and super absorbent, an environmentally friendly diaper for your baby.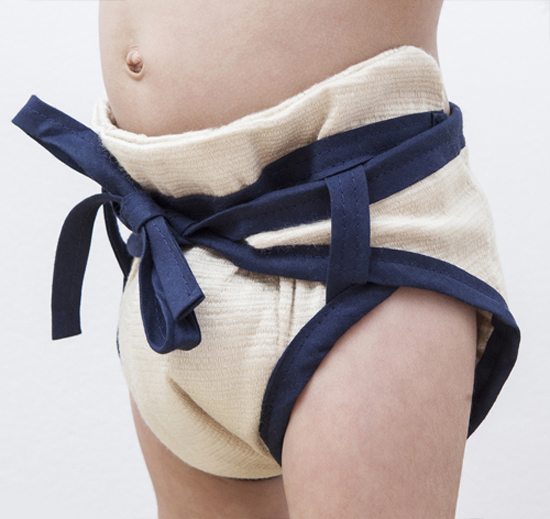 It's simple yet this Metal Tree of Life Wall Art can become the focal point of any room. The details are amazing, it might surprise your guests that it is made of recycled metal barrel cover. The tree sculpture itself represents fertility of the earth, bringing life from the roots to the sky. Just like a tree, branches, and its root, family grow to different directions yet their roots keep them all together. Each wall art is constructed of a 55 gallon recycled steel barrel cover, using only a hammer and chisel to create all those beautiful details. It's a beautiful work of art that you can hang above your fireplace, the front of your house, above home bar table, etc. [Click Here to get more details of this Tree of Life Metal Wall Art]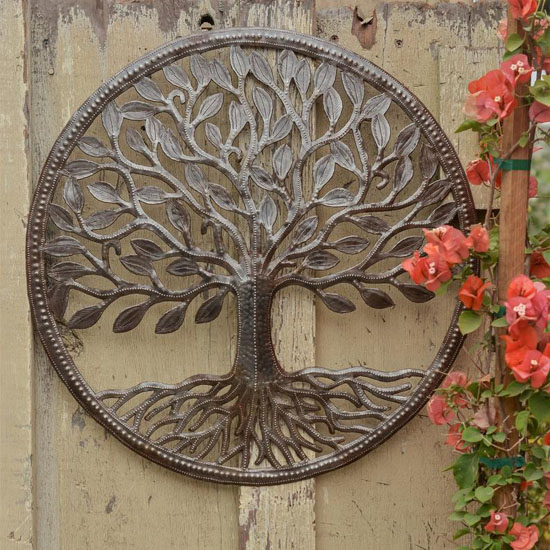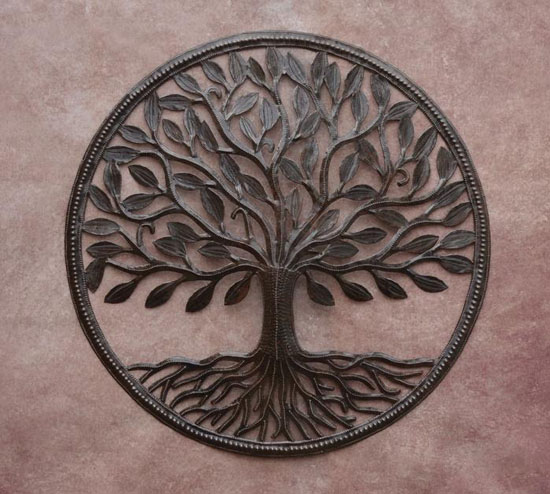 Made from used cups, rCUP Travel Cup promises you a reliable container for your drink that won't leak, ever. This cup offers a sustainable solution to reduce global waste, it's been designed with practical portability in mind. This travel mug keeps your drink hot for amount of time, you can easily pick it up without scalding your hand. Open it with just one hand, drink your coffee freely, no more drinking through a tiny hole ever again.
The outer thermal insulation layer of rCup recycled travel cup is made from used paper coffee cups. Do you know that each of us throw away 350 paper coffee cups each year on average? You can help reduce this waste by switching to rCup, you will also contribute directly to recycling those used coffee cups that slip through the net. [Click Here to get more details about rCUP Recycled Travel Cup]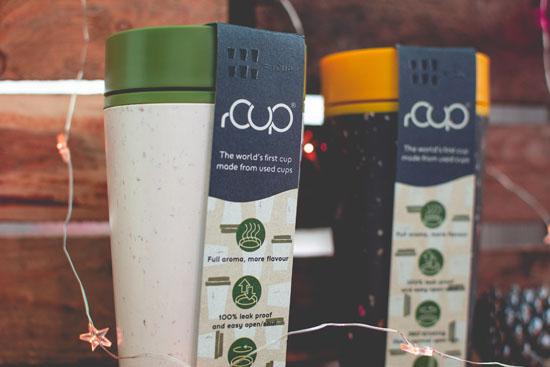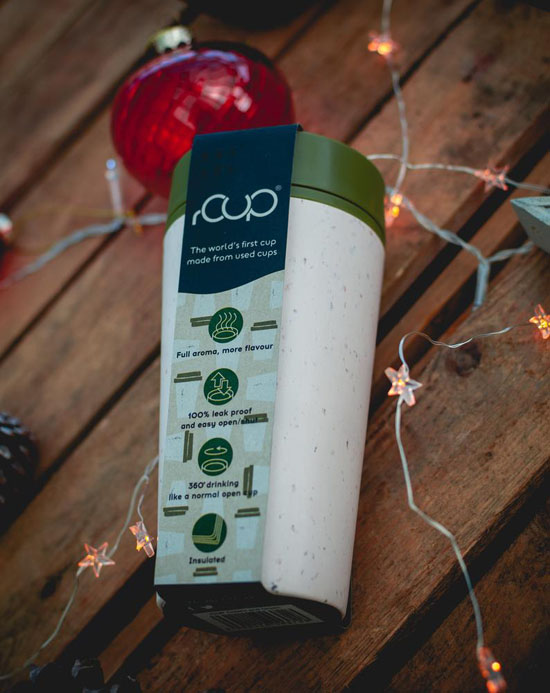 Artistically beautiful, this handcrafted night light is constructed of recycled glasses, look at that cool oak tree. It certainly looks beautiful and even better when the light is on, there are many versions of this light but each one is equally beautiful. Yes, it's handmade, therefore, each one would be different, since all materials are sourced from broken recycled bottle glasses. If you are looking for a unique night light, you might want to get this piece, just in case the light is not bright enough, you can simply replace it with LED light. This is not just a light, it's a piece of art, perfect for your room, that glow is very nice and soft. [Click Here to get order information of this beautiful Handcrafted Recycled Bottle Glasses Oak Tree Night Light]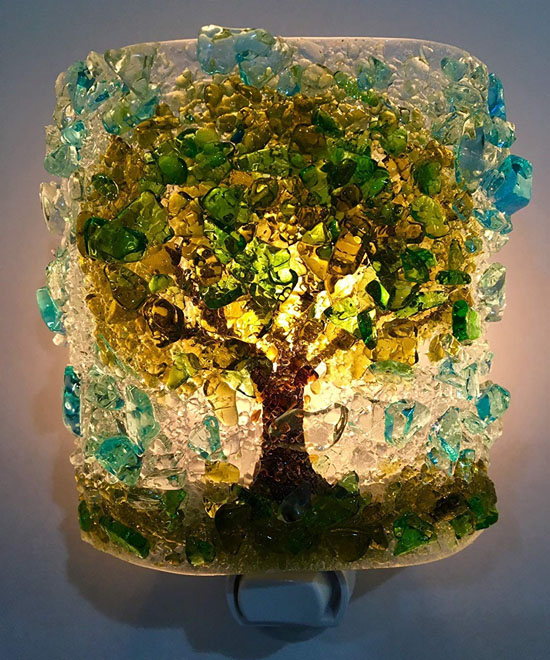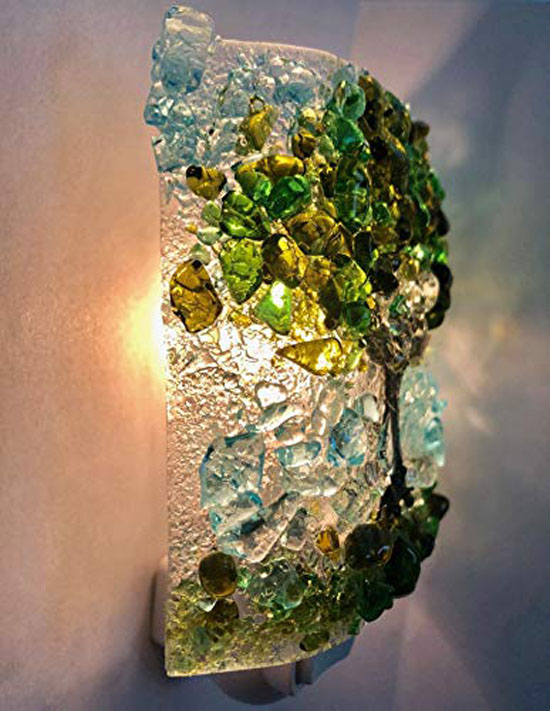 LamP – recycled LP lighting is a sustainable lighting collection made from recycled materials. The lampshades are made from recycled vinyl records. The vinyl records are heated and formed by hand. Each lampshade is different because each vinyl record is different! The collection consists a desk light, a walllight and ceiling lights in various sizes. Sustainability is very important to LamP.
By using old records that are otherwise thrown away, a useless object is reused for a new product. This allows the user to see that you can use a product in different ways. LamP came up with the idea because she could take over 500 old vinyl records. Otherwise they were thrown away. At first LamP didn't know what to do with it. After much testing LamP managed to make a lampshade from a flat vinyl record and that is how the lighting collection was born. Every light pendant is made by hand, so each one would be unique.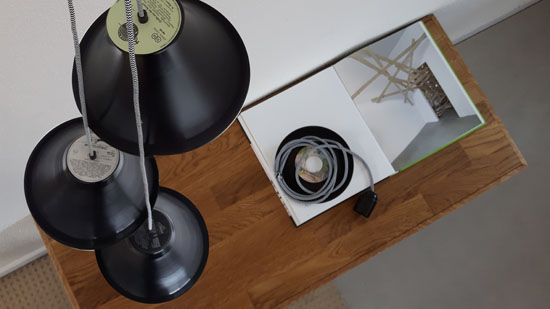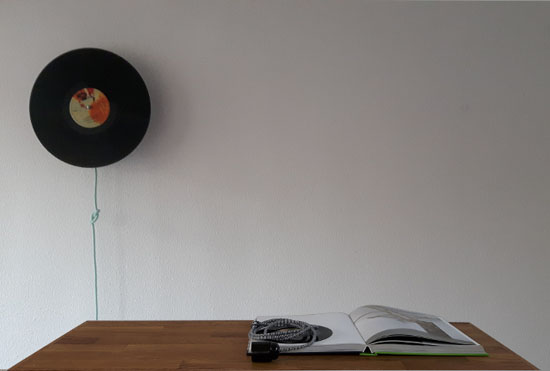 Beautiful artistic camera man made of recycled metal. Yes, this extraordinary art is made by Armando Ramirez, a unique camera man that follows scene through the lens of his camera. The rustic, rugged finish makes it a nice vintage decoration that blends well with contemporary or modern décor. The camera is shaped using a field separator taken from a car's electrical system, you can also see long screws, a couple of wheels, metal sphere, and few metal pieces that are usually left over in die machines. The cameraman body is shaped from a spark plug combined with long screws. Through his creative hands, all these unused metals can be recycled to become an artistic object. [CLICK HERE to get more information about this Recycled Metal Cameraman Sculpture]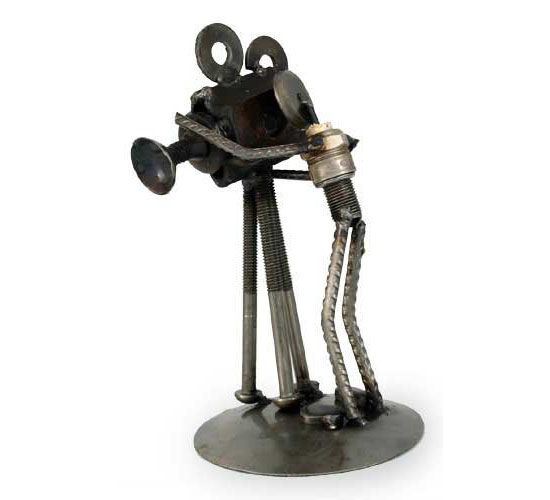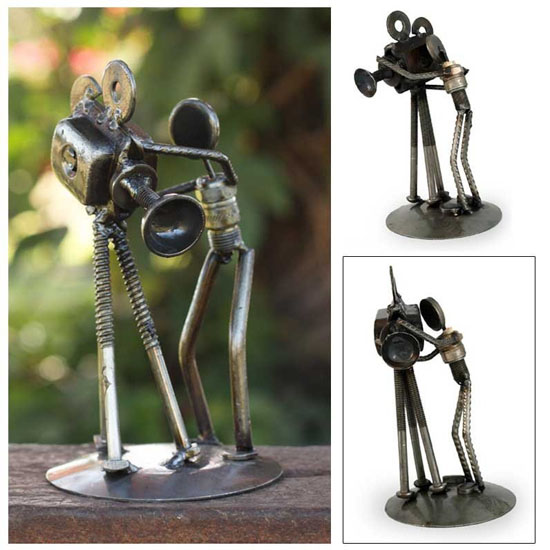 Jenga Ocean project started in 2015 when Robert Grebler, founder of Jenga, approached Bureo during Ocean Film Festival to team up to create Bureo's recycled materials into this one of world's most known board games. It's a good way to keep our ocean's clean where each game can help to prevent more than 1kg of discarded fishing nets from polluting our ocean.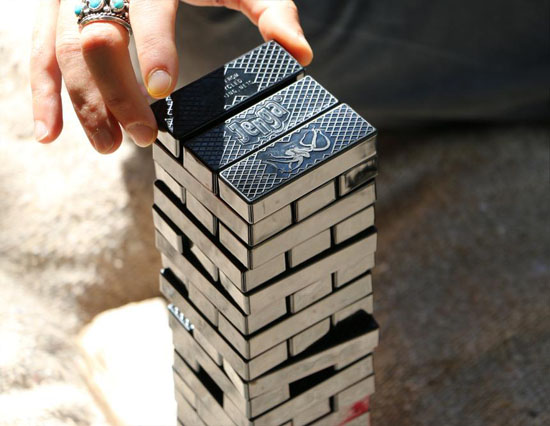 We all know Bamboo is the fastest growing wooden grass on earth, chopsticks around the world have taken advantage this renewable material. In Vancouver alone, there are more than 2000 restaurants that use chopsticks, disposable chopsticks to be exact with a lifetime of less than one hour. Chopvalue, a Canada based company, realizes that they can do something to recycle those chopsticks, there are more than 100,000 disposable chopsticks in Vancouver alone sent to the landfill every day. The idea here is to recycle those chopsticks so that restaurants can save money in garbage collection costs as well as improving our environment.
All these bamboo chopsticks waste can be processed to create new developed materials, offering opportunities for small and medium-sized manfucaturers to get involved. Chopvalue gives second life to all those chopsticks, the company has created different kind of furniture and accessories from that material such as coasters, hexagon shelves, tabletop, side table, or tiles.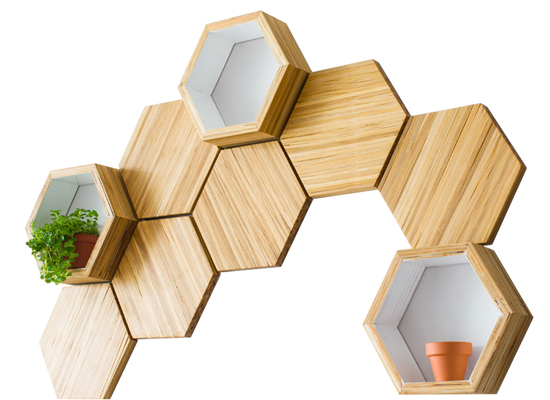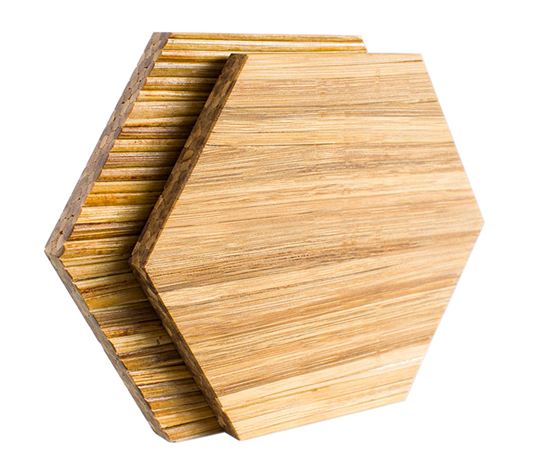 Salvaged from destruction, Root Wood Planter was born out of Fir tree stumps, which are usually left behind after sustainable logging. These tree stumps are usually removed to help accelerate the recovery, but hey, as you can see here, they can be transformed into unique and beautiful planters for your plants. Each one is hand carved by artisans, you won't get ugly left over tree stumps, instead, you get a beautiful and completely unique piece with different shape and marks, marbling and graining.
It's a planter that is directly pulled from earth, how cool is that? It can be an attention grabber in any room or a conversation starter among nature lovers. Fill this pot with your favorite flowers, it would look so exquisite in any room, it is not too heavy to carry, we highly recommend that you use it for indoor only. It is not recommend for use with liquids, you need to handwash only with mild soap and wipe it dry. [CLICK HERE to get order information of this Unique Root Wood Planter]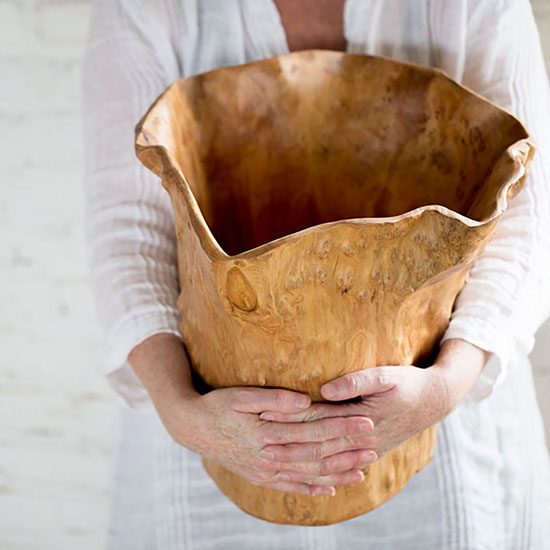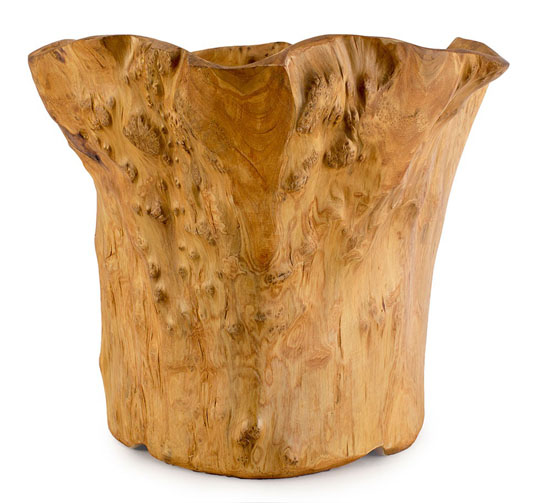 Our Recommended Partners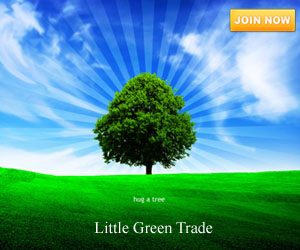 Advertise with us
Archives