Browsing articles in "Recycle"
Artistically beautiful, this handcrafted night light is constructed of recycled glasses, look at that cool oak tree. It certainly looks beautiful and even better when the light is on, there are many versions of this light but each one is equally beautiful. Yes, it's handmade, therefore, each one would be different, since all materials are sourced from broken recycled bottle glasses. If you are looking for a unique night light, you might want to get this piece, just in case the light is not bright enough, you can simply replace it with LED light. This is not just a light, it's a piece of art, perfect for your room, that glow is very nice and soft. [Click Here to get order information of this beautiful Handcrafted Recycled Bottle Glasses Oak Tree Night Light]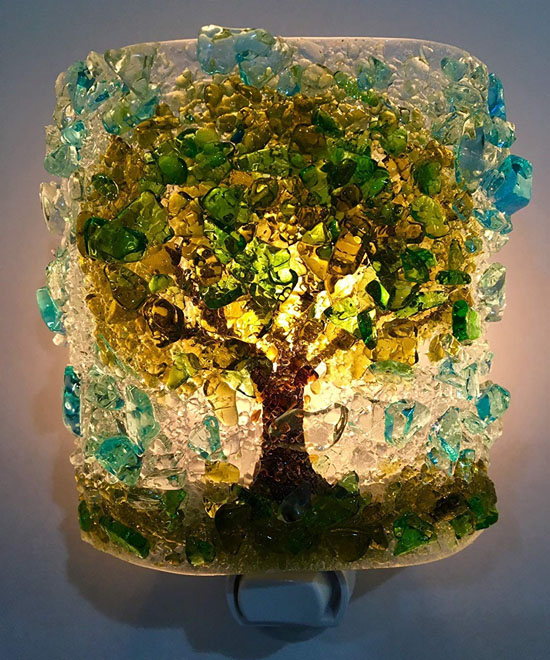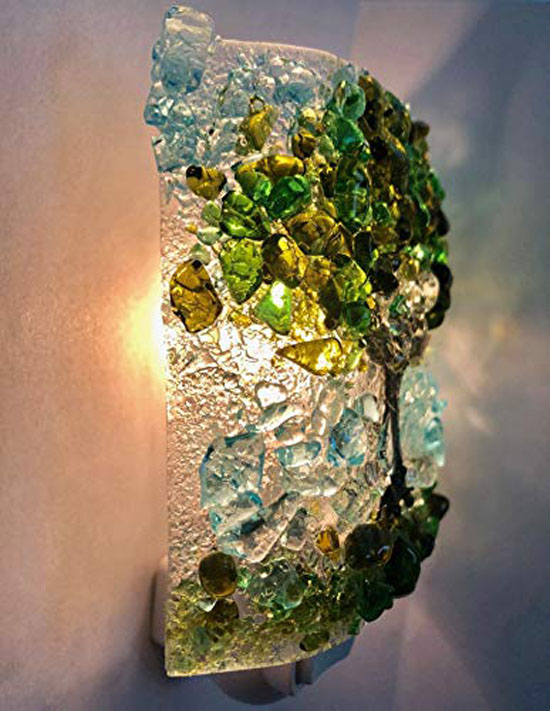 LamP – recycled LP lighting is a sustainable lighting collection made from recycled materials. The lampshades are made from recycled vinyl records. The vinyl records are heated and formed by hand. Each lampshade is different because each vinyl record is different! The collection consists a desk light, a walllight and ceiling lights in various sizes. Sustainability is very important to LamP.
By using old records that are otherwise thrown away, a useless object is reused for a new product. This allows the user to see that you can use a product in different ways. LamP came up with the idea because she could take over 500 old vinyl records. Otherwise they were thrown away. At first LamP didn't know what to do with it. After much testing LamP managed to make a lampshade from a flat vinyl record and that is how the lighting collection was born. Every light pendant is made by hand, so each one would be unique.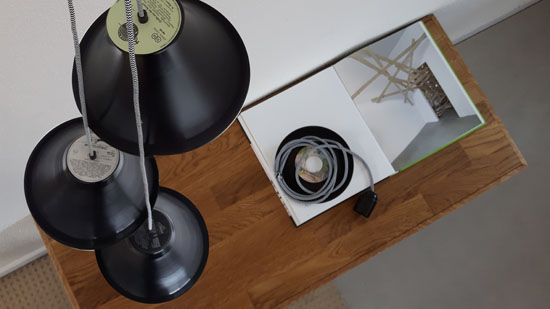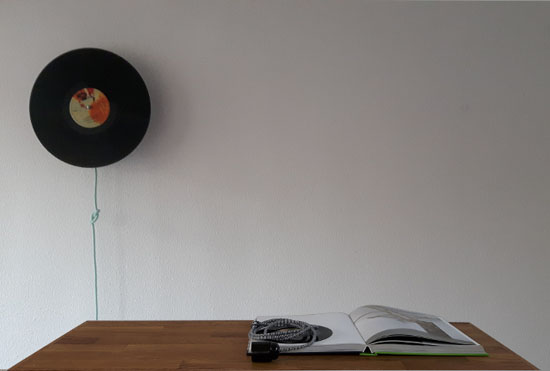 Beautiful artistic camera man made of recycled metal. Yes, this extraordinary art is made by Armando Ramirez, a unique camera man that follows scene through the lens of his camera. The rustic, rugged finish makes it a nice vintage decoration that blends well with contemporary or modern décor. The camera is shaped using a field separator taken from a car's electrical system, you can also see long screws, a couple of wheels, metal sphere, and few metal pieces that are usually left over in die machines. The cameraman body is shaped from a spark plug combined with long screws. Through his creative hands, all these unused metals can be recycled to become an artistic object. [CLICK HERE to get more information about this Recycled Metal Cameraman Sculpture]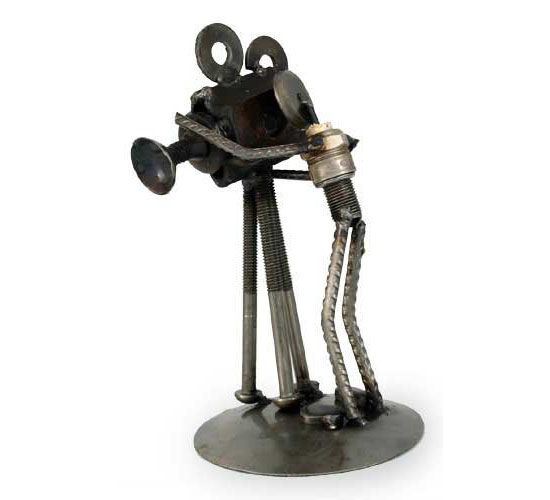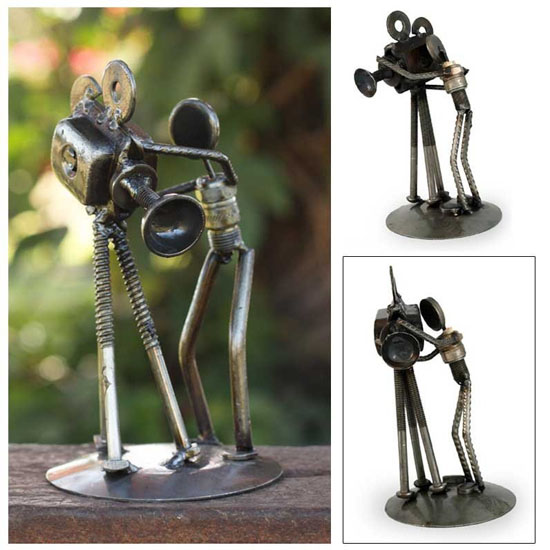 Jenga Ocean project started in 2015 when Robert Grebler, founder of Jenga, approached Bureo during Ocean Film Festival to team up to create Bureo's recycled materials into this one of world's most known board games. It's a good way to keep our ocean's clean where each game can help to prevent more than 1kg of discarded fishing nets from polluting our ocean.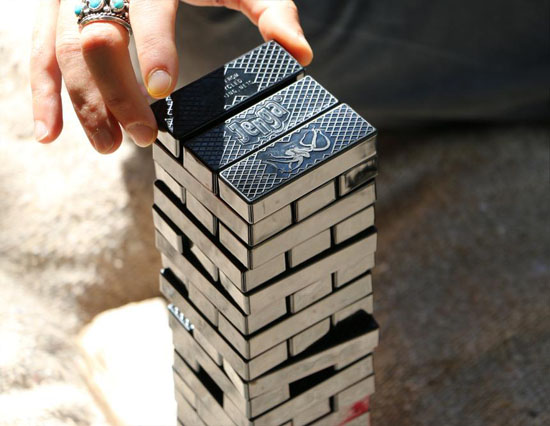 We all know Bamboo is the fastest growing wooden grass on earth, chopsticks around the world have taken advantage this renewable material. In Vancouver alone, there are more than 2000 restaurants that use chopsticks, disposable chopsticks to be exact with a lifetime of less than one hour. Chopvalue, a Canada based company, realizes that they can do something to recycle those chopsticks, there are more than 100,000 disposable chopsticks in Vancouver alone sent to the landfill every day. The idea here is to recycle those chopsticks so that restaurants can save money in garbage collection costs as well as improving our environment.
All these bamboo chopsticks waste can be processed to create new developed materials, offering opportunities for small and medium-sized manfucaturers to get involved. Chopvalue gives second life to all those chopsticks, the company has created different kind of furniture and accessories from that material such as coasters, hexagon shelves, tabletop, side table, or tiles.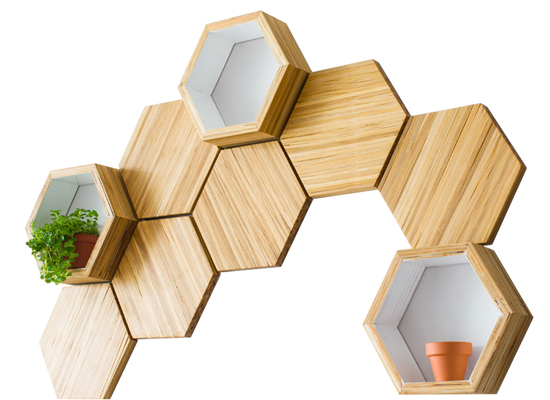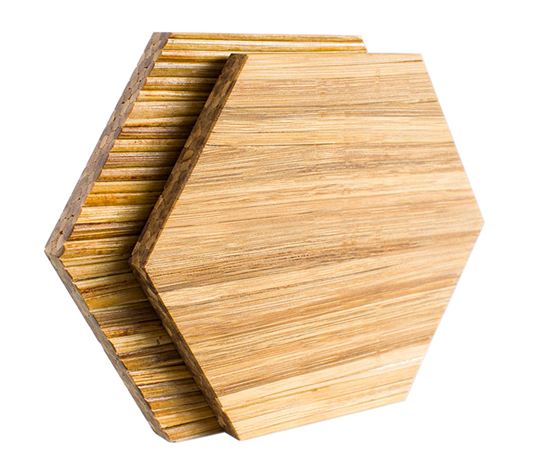 Salvaged from destruction, Root Wood Planter was born out of Fir tree stumps, which are usually left behind after sustainable logging. These tree stumps are usually removed to help accelerate the recovery, but hey, as you can see here, they can be transformed into unique and beautiful planters for your plants. Each one is hand carved by artisans, you won't get ugly left over tree stumps, instead, you get a beautiful and completely unique piece with different shape and marks, marbling and graining.
It's a planter that is directly pulled from earth, how cool is that? It can be an attention grabber in any room or a conversation starter among nature lovers. Fill this pot with your favorite flowers, it would look so exquisite in any room, it is not too heavy to carry, we highly recommend that you use it for indoor only. It is not recommend for use with liquids, you need to handwash only with mild soap and wipe it dry. [CLICK HERE to get order information of this Unique Root Wood Planter]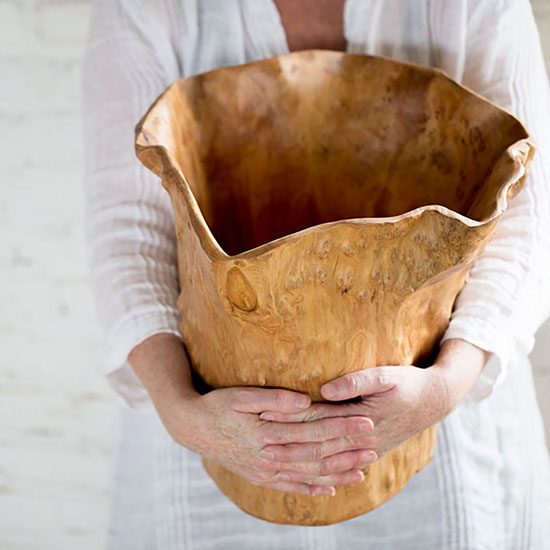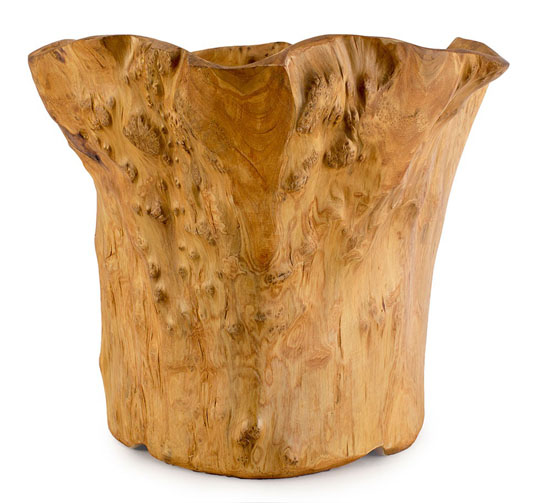 Take advantage of your food waste, Worm Farm Composter transforms any vegetable scraps to valuable fertilizer. The composter features modern and attractive design, you can place it in corner of your kitchen or near garbage bin, it's really easy, no fuss and no mess. Worms would do all the work, it turns your food scraps into nutrient-rich fertilizer, it's a nice green project to teach children about the environment.
Once the process starts, you can add up to 0.5 pound of food scraps per day to the composter (you need to purchase the worms separately). This amount is about an average food waste for a family of four. You need to also remember that 68-degree F is the ideal temperature for the composter.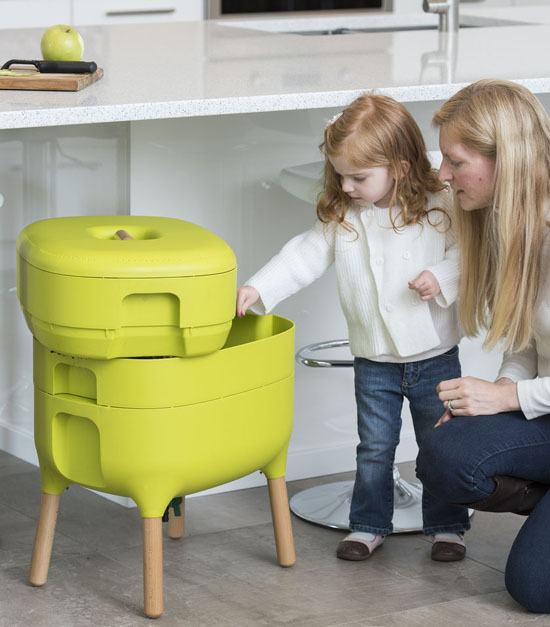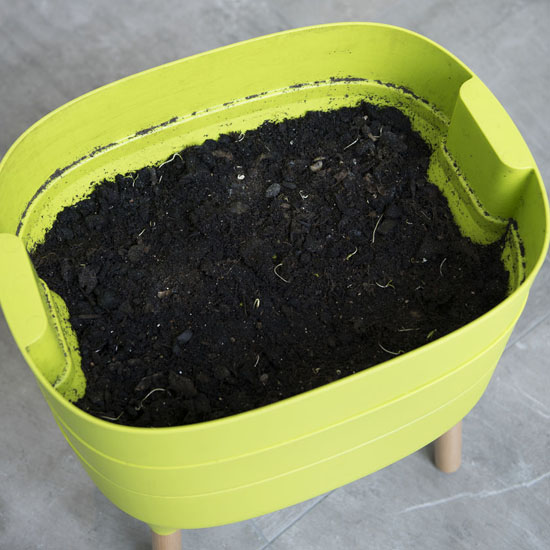 Ootro eStudio has created Helix Shelter, a temporary habitat for outdoor made out of recycled cardboard. This tiny shelter can be handy when you need temporary place on your outdoor adventures, these laser-cut cardboard pyramids are designed with holes in their corners to allow you to peek from the inside. It's not just drawing or rendered images, the company has built a prototype for testing, it can be used as a space for rest and contemplation. The company claims that this structure can be easily installed by a single person.
Born as independent initiative, Helix Shelter aims to create a relationship between individual and the landscape. This compact structure or you can say a micro architecture can be installed without destructing its natural surroundings, it can be an intermediary between observer and the observed. However, we don't think it is meant for location with extreme weathers.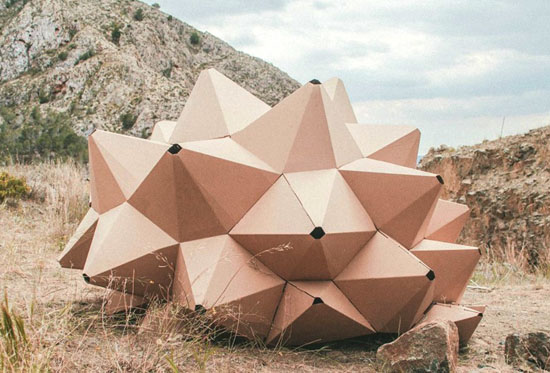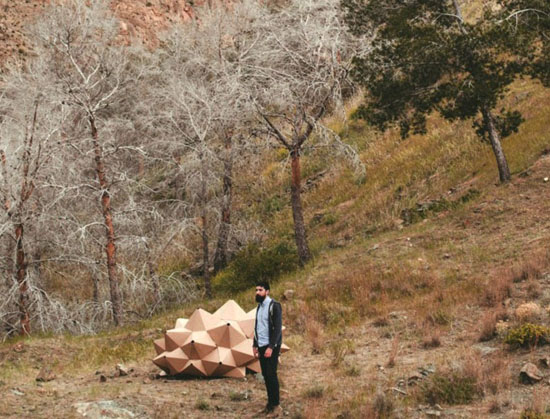 What a lovely horn speaker, Bellaphone No.7 is made from a Herradura Tequila Barrel, a beautiful reclaimed wood product, don't you agree?
Created by Fiddle & Hammer, a Milwaukee based furniture company, they wanted to create handmade heirloom quality furniture, that's why they only use best materials available. This horn speaker design features modern aesthetic to express the warmth of the wood, love of music, and rich industrial past. This is not just prototype, this products are in stock just in case you are interested to get one.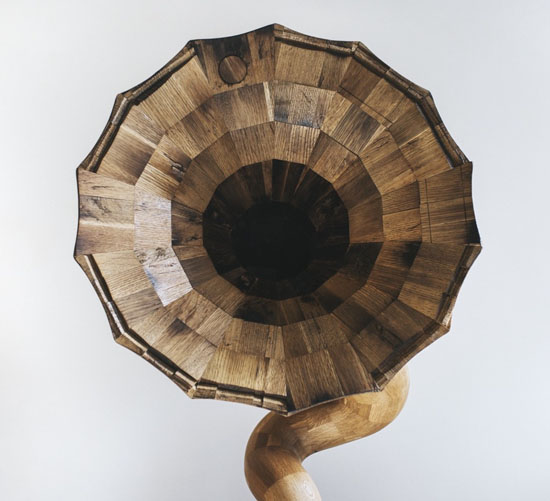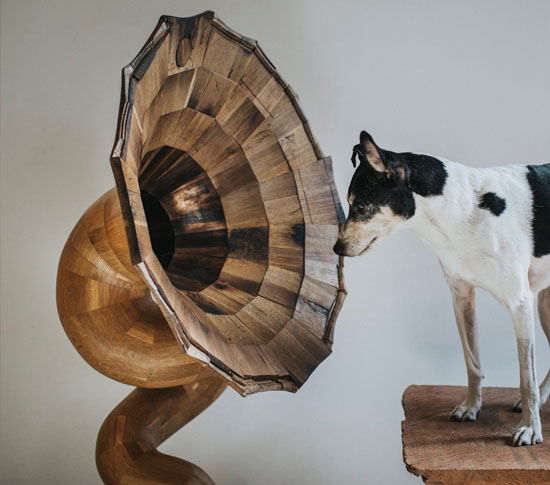 We have arrived at worrying situation of our environmental problems, plastic waste has reached an alarming level that can harm the environment. Fortunately, many countries have become aware of this issue, they have initiated to prevent the use of plastic bags, some even completely ban plastic bags. This public awareness also means the rapid increased demand for eco-friendly carrier bags.
We believe that most of you have known the reason why plastic bags are harmful for our environment, most of them are made from non-degradable material. They also can destroy living organisms that live in plants, water, animals, and even human beings. However, considering the effectiveness, we believe this question keeps popping up inside your head, which one is better, paper or plastic bag?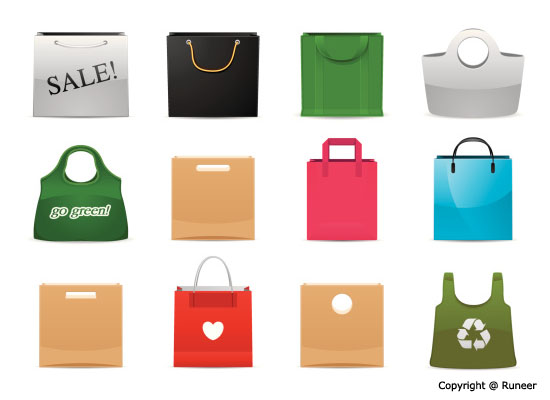 Our Recommended Partners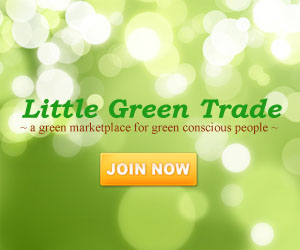 Advertise with us
Archives