It is so nice to know that designers nowadays designs items with care for the environment in mind. The U-Crossover Design of Jamy Yang & Audi that works double purposed, thus less carbon emission in manufacturing an item for each purpose, is just a few of the examples.
From Jamy Yang:
As a leading brand in art and design, Audi has been cooperating with outstanding multi-discipline designers and artist in the world. Inspired by its car design language, this year top product designer Jamy Yang has designed the first 2-in-1 Dual Color Sunglasses for car-driving and casual occasions.
Recently, this unique and innovative idea becomes winner of the 2010 G-Mark Award in Japan.
One revolutionary feature of the Dual Color Sunglasses is the 180-degree rotatable frame. The Y-shaped support is easy to flip up-side down so as to be worn in two degree. The reflective brown lens provides clear eyesight for car driving, and the silver lens for outdoor activity via absorbing visible light. It functions as two pairs, efficiently reducing the waste in production and consumption.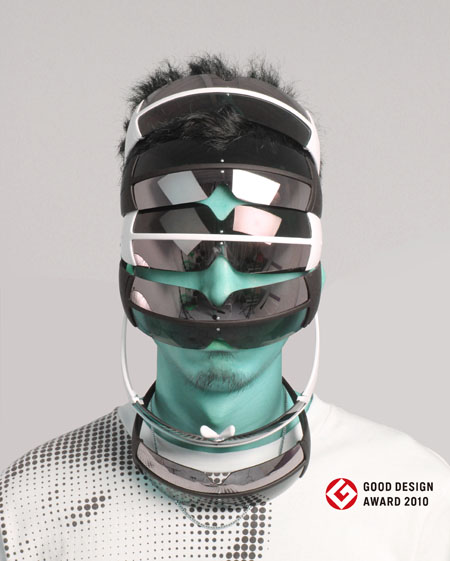 About G-Mark
G-Mark, known as the Good Design Award, is organized by Japan Industrial Design Promotion Organization with more than 50 years of history. It is recognized as four of the world's most renowned industrial design award together with Red Dot, iF and IDEA.
The Good Design Awards is a system that aims to channel the eminent powers of distinctive designs to build prosperous lives and encourage sound industrial development. Indeed, it is a campaign to brighten and enrich society through design. Products selected and given the G-Mark awards represent high quality and excellent design.
About Jamy Yang
Top product designer, winner of more than twenty international design awards including Red Dot Design Award and G-mark, and judge of many design prizes including iF China Awards.
Graduated in Zhejiang University and China Academy of Art, he was funded with full scholarship to achieve master degree in Muthesius Academy, Germany, and was a former headquarter product designer in Siemens.
In 2005, he became founder of Yang Design, the high-end clients of which includes Greenpeace, Audi, Bosch, Absolut Vodka, Swatch, Emtec and ABB. In 2007, he founded designer brand y-town, launching a collection of experimental design.