Design Affairs Studio has submitted to IGreenSpot their modern and eco-friendly educational tool called the Edumap. Paperless and can accommodate up to six student each map, the Edumap is of no doubt an eco-friendly one.
From Design Affairs Studio:
What will education be like in the 21st century? The "Conceptual Age" has just begun. In this era, the creative and sensitive, conceptual thinkers will play a major role. And in their education, school plays the most important role.

Human intelligence produces technical and social change at a pace that the traditional classroom can no longer deny. There is no general answer to the question what education in the 21st Century may look like, except the one that teachers themselves need to become students again. Since students have the opportunity to research online, teachers no longer have mastery over knowledge. They become mediators and facilitators, they need to promote the students' ability to work scientifically.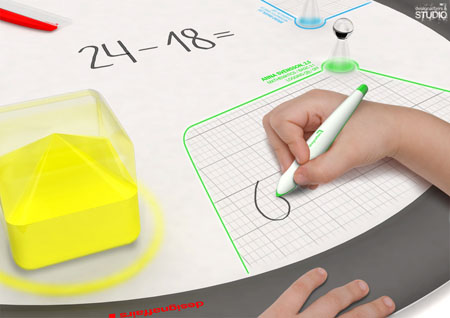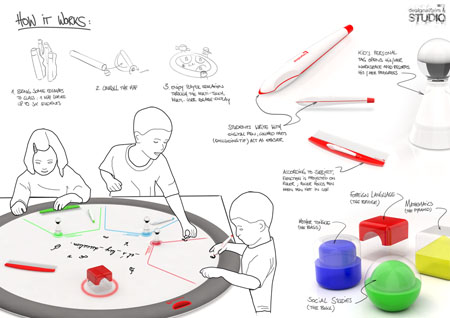 In the school of the future, information will flow from all directions and into all directions. Teachers and students will be active in social networks in which there will be a constant learning and collaboration. In the school of the future, it will be important to know how to access and process the available information rather than to memorize as many information as possible.

EduMap supports the students of the Conceptual Age. Because of the EduMap's compact size when rolled up, group learning situations can be generated with ease and a minimum waste of time. The teacher simply brings some EduMaps to class (one map serves up to six students), unrolls them and places the subject tag on the map to activate the learning program. As soon as the students place their personal tags, their working area pops up and the recording of their learning progress starts. Now the students can interact with the teacher, with each other and with the digital content and even real subjects on the table. EduMap is a tool of interaction and collaboration that makes learning intuitive, engaging and fun. It is intended especially for elementary school to help students getting used to digital tools and networked learning and researching as early as possible.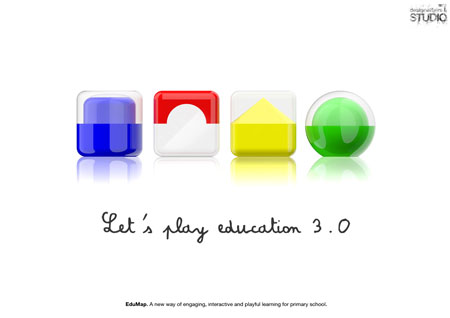 Source: Design Affairs Studio