Taking actions to help save the environment is very rewarding, and doing it with the world's known environmental advocate is even more of an achievement. Jamy Yang through the invitation of Greenpeace China designed The Bookshelf that is made of cardboard and mimics the looks of a tree.
To promote green publishing in China and protect the forest, Greenpeace China initiated the project Book Lovers for Forest in 2008. Recently, Greenpeace has invited top product designer Jamy Yang to design a bookshelf and creative merchandise for bookstores.

The bookshelf by Jamy Yang and his design team is an abstract interpretation of a tree. Besides, the shelf is made of cardboard paper, which enhances the idea of using recyclable paper equals tree planting. The books on shelf are also made of recyclable paper while the creative merchandise is launched by designer brand y-town.

Greenpeace and Jamy Yang calls for your action to protect the forest!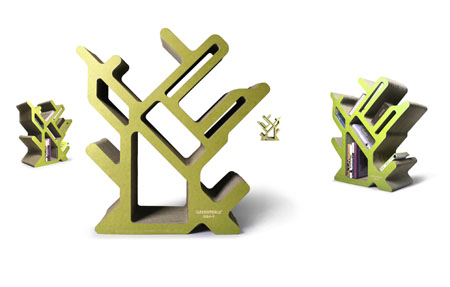 About Greenpeace
Greenpeace is an environmental global campaigning organization that acts to change attitudes and behaviors, to protect and conserve the environment and promote peace.
Founded in 1971, Greenpeace has offices in more than 40 countries and districts worldwide. The organization uses direct action, lobbying and research to achieve its goals. Greenpeace does not accept funding from governments, corporations or political parties, relying on more than 2.8 million individual supporters and foundation grants.
www.greenpeace.cn
About Jamy Yang
Top product designer, winner of more than twenty international design awards such as 3 Red Dot Design Awards and Design for Asia Silver Award.
Graduated in industrial department of Zhejiang University and China Academy of Art, he was funded by WK foundation to achieve master degree in Germany, and was a former headquarter product designer in Siemens headquarter.
Separately in 2005 and 2007, he become founder of Yang-Design and designer brand y-town, the high-end clients of which includes Greenpeace, Bosch, Absolut Vodka, Swatch, Emtec, China National Offshore Oil Corp and Joyoung.
Please Contact
Kathy
E-mail: [email protected]
Tel: 0086-21- 6280 2294 ext 606
Mobile: 139 1669 7071
YANG DESIGN
Building.11-1,BUND 1919,NO.258 West Song Xing Road,Shanghai(200940)
www.yang-design.com
www.lineoid.com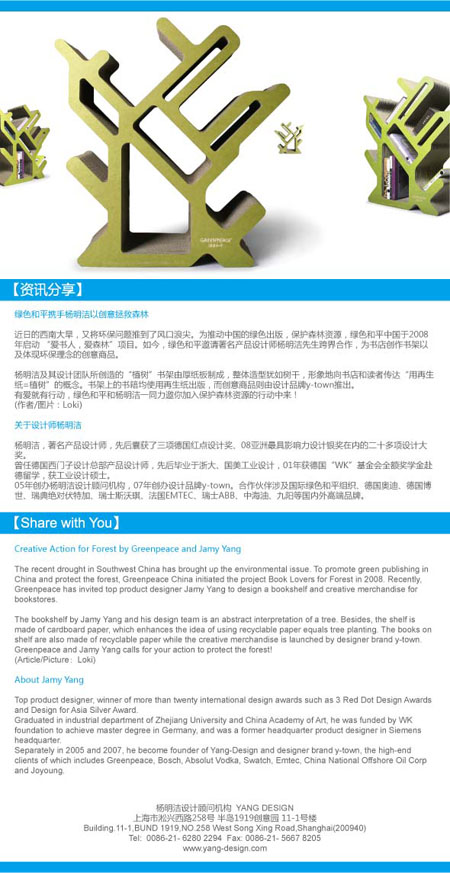 From: Yang Design