Browsing articles tagged with " fresh air"
We all love green plants to feel fresh and rejuvenated and today, we can enjoy greeneries even when on the go with the wearable planter by Colleen Jordan. The wearable planter has the version available for your bike.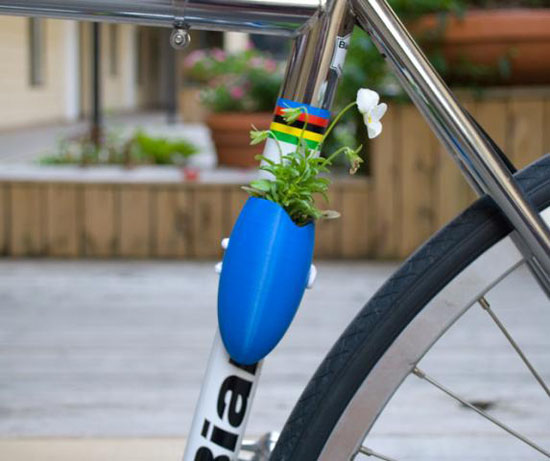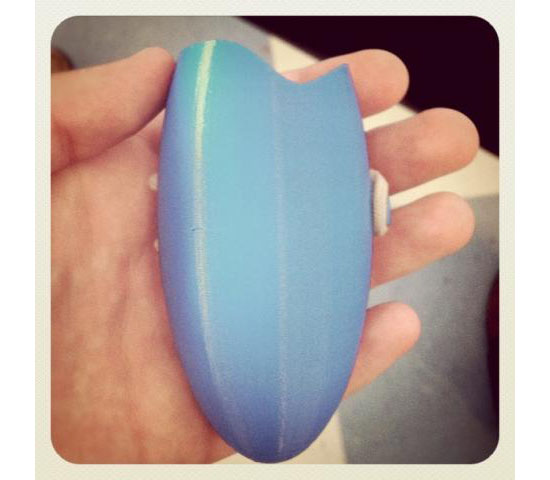 Continue reading »
Outdoor sports like skateboarding is fun and healthy. We can keep our skateboarding activity more fun and useful if we do it with care to the environment. Recycling skateboards is a very simple act yet will surely do a huge impact to the environment. It will allow us to reduce waste and we can enjoy a clean and fresh air in the near future, that's for sure. If you want to know what you can do with your old and supposed to be discarded skateboards? Well, the Veurich brothers have their stylish eyewear made of recycled skateboards. With this product, you can have a good feeling of relief for not harming the environment while at the same time enjoying the benefits of being fashionable and trendy with the stylish glasses you can use daily.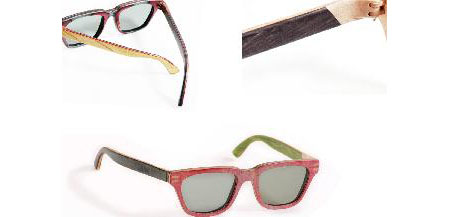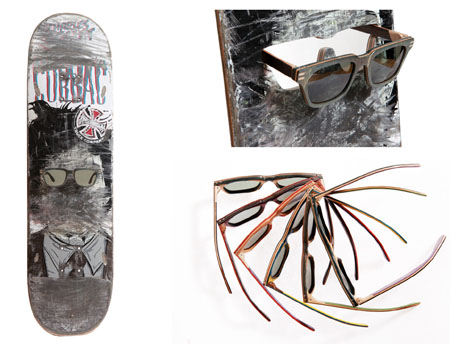 Source:Veurich Brothers via Index
We have heard many ways in keeping our home clean and green. Doing this would benefit us, as we can enjoy a safe and earth-friendly living environment. One of the coolest way in keeping our home fresh, green and safe is to have a planter at home. We all know that plants refreshes air and thus, having a plant or two indoor will give us fresh air without the need to use to chemically-filled air freshener. The Plant Herb Planting Kit will not only provide you with green and safe air, but also a luscious herbs for our food recipes. One can simply put on his or her PLANT in their kitchen windowsill.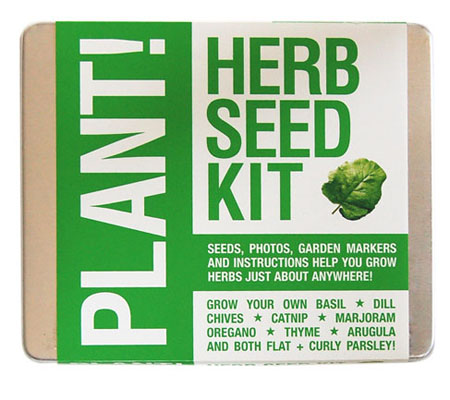 Source: Plant Brooklyn
Business entities are now starting to be engaged in green architecture. This will definitely allow them to not only help save the environment and create a big smile to those green advocate or environmentalists but also will allow them to save some amount of money in different aspects. The City Green Court by Richard Meier & Partners that is currently under construction in Prague, Czech Republic, features a glass façade, thus allowing the building to make use of the sunlight to illuminate the building during daytime. The large trees in the central atrium and the plants that covered the building's wall at the ground level produce natural fresh air.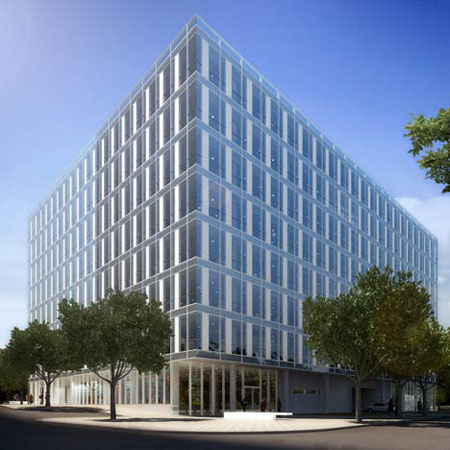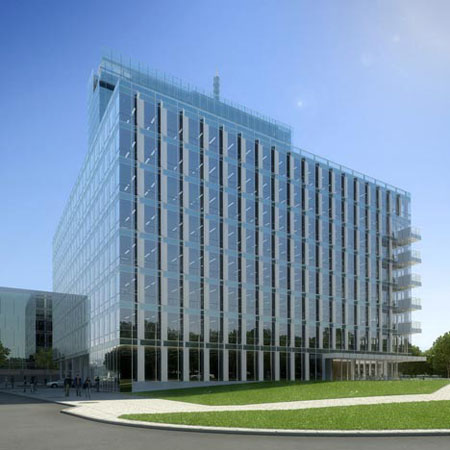 With the continuous growth of the population, our woods are getting smaller each day to cater the home needs of our residents and his only means that there will be less plants already that produces fresh air especially in crowded cities that are full with huge and tall buildings. The Indoor Vertical Garden by Paisajismo Urbano will fill in the fresh air that we lost because of erecting those hi-rise buildings. What is best about this indoor vertical garden is that, it has the ability to bring fresh air inside the building, wherein both employees and visitors alike will enjoy its splendor. Plants included in the vertical garden are carefully chosen to fix CO2 and keep out the pollutants inside the office.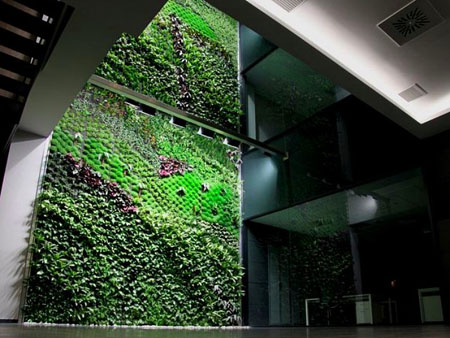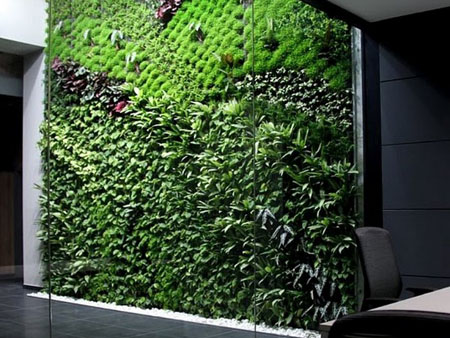 Eco-friendly structures are starting to create its name to the architecture industry. If eco-friendly structure in the past are rare and weird, today, they all comes with stylish and striking design, eco-features in a modern approach, and more. Minister of Municipal Affairs and Agriculture or MMAA's office in Qatar in the form of a towering cactus skyscraper is just one of the examples of modern architecture designed and built with care to the environment. The cactus skyscraper is designed to be highly energy efficient. It has sun shade on its windows and botanical garden for fresh air and cool earthly ambiance.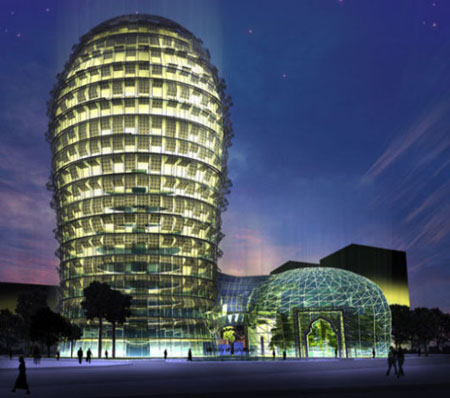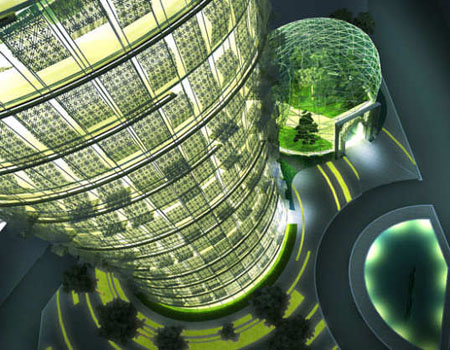 Having fresh clean air is hard to achieve in almost all countries nowadays, especially those big cities where carbon emission contributing vehicles are all around the corners. Valencia, Spain based designer Rafa Arnalte Porcar, the AirCleaner is an eco-friendly outdoor air cleaner that transforms the city's pollution in clean and useful oxygen and water with the help of a green algae filter and sun power. With AirCleaner, Valencia's pollution will be dispersed back to the environment like micro-particles, thus keeping the surroundings cooler and cleaner. With this product, experiencing clean fresh air will be easier without contributing back to the greenhouse gases unlike when we are having our air conditioners.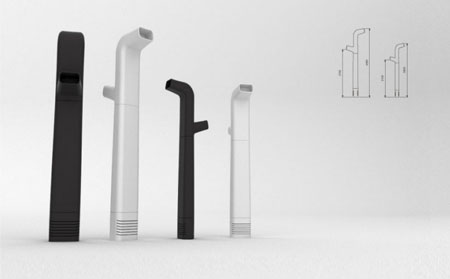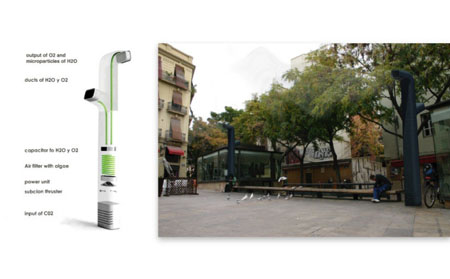 Gardening itself is an act of caring to the environment. Through gardening, fresh air are produced freely while keeping your landscape refreshing to the eyes. However, the plants itself will not create a beautiful landscape. Ones need to clean it by regular trimming or mowing of grass. And to do this, we need an effective lawnmower. Generally, lawnmowers produce carbon emission, which is obviously not favorable to the environment. The Lawn Beetle design will surely answer your need of a clean lawn and a clean environment as it cleans your garden in an eco-friendly way. Inspired by the most eco-friendly beetle on earth the Dung Beetle, the Lawn Beetle has the solar panels, allowing the mower to work out fine without the use of electricity. Designed by YunJin Chang, the Lawn Beetle has the sleek design and clean lines. The combination of black and green glossy finish made the Lawn Beetle a perfect tool for a beautiful and eco-friendly landscape.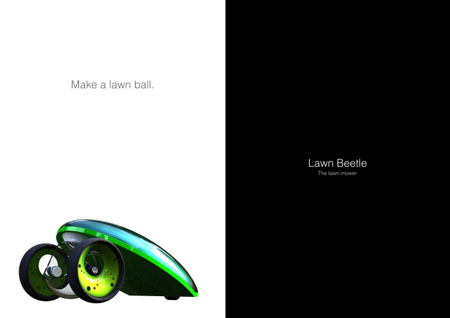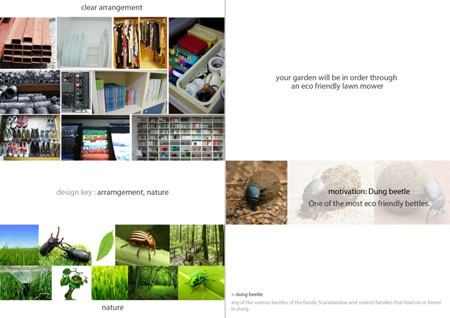 Putting some indoor plants in our home will create a refreshing and clean ambiance, as we all know that plants are natural air fresheners. However, with the growing problem in space shortage, more and more people are deprived of having plants in their homes. Not anymore today with Ana Arguezo's Spice-Versa. The Spice-Vice Versa is a small herb growing system that will allow you to grow your own herbs indoor. Using the PlantGel technology, the Spice-Vice Versa can be hung to your ceiling, thus space will never be a problem at all. With this wonderful concept, people can now have fresh air naturally and at the same are given the chance to save some space.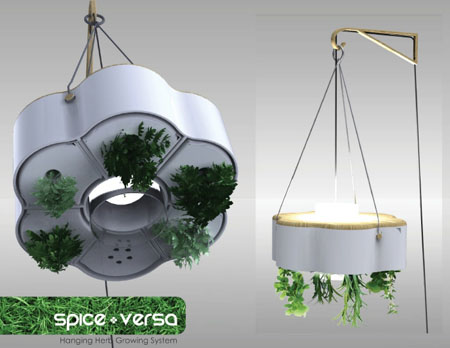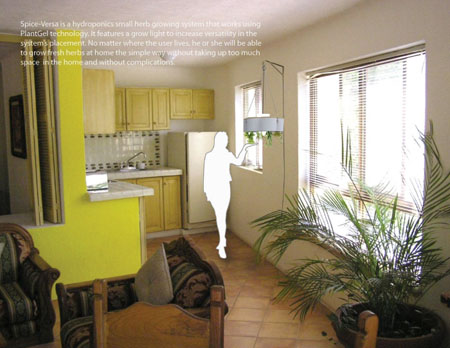 Fresh air is all we need to keep going. However, with continuous abuse by humans and the huge amount of carbon emission produced, the air becomes polluted. To keep the air fresh, many of us have done our part by reducing our carbon footprint through different eco-friendly products or by recycling many of our used and discarded items. However, Korean designer Won Hee Lee has designed a unique tool to keep our air clean. Hailed as the Pollution Eraser, this earth-friendly tool is one of the entries for the Design for All competition. As the name suggest, the Pollution Eraser will rub out the pollution we have in the atmosphere.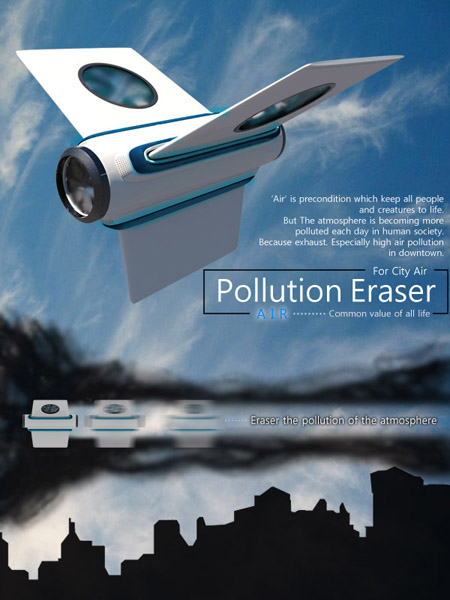 Via: Designboom
Our Recommended Partners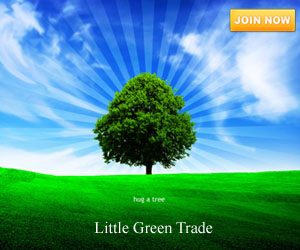 Advertise with us
Archives