Browsing articles tagged with " corrugated cardboard"
Corrugated cardboard is a widely known material that will help us create an eco-friendly furniture and even structure. The cardboard bookshelf from Dany Gilles Designer is just another addition to the eco-friendly furniture that we can patronize and install to our home. Even if made of cardboard, this stylish and modular bookshelf is sturdy enough to hold a number of your books, decors, or any other items that the bookshelf can hold. With a dimension of 46x35x36, the Cardboard bookshelf one can create a single unit or a group of shelves to create a huge and spacious place for your small items.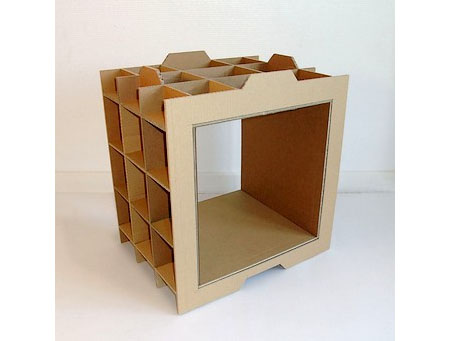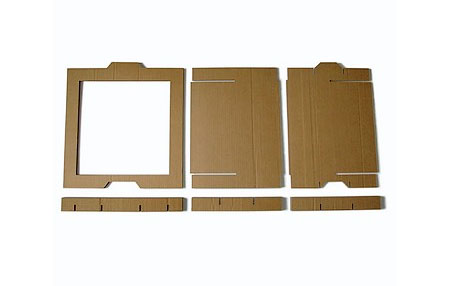 Victims who lost their homes is a common problem when it comes to natural calamities like hurricane, flashflood, typhoons, earthquakes and more. To minimize the heartache seeing those victims who sleeps un pleasantly on calamity areas, more and more designers have shared their talents in designing emergency shelters, and to minimize these calamities from happening, the shelters designed are sustainable. The Cardborigami is just a few of the eco-friendly shelters that will soon provide comfort to victims of natural disasters. Designed by architecture student Tine Hovsepian, the Cardborigami is inspired by the Japanese art of folding papers called origami. The cardborigami is a waterproof and flame-resistant structure made from corrugated cardboard.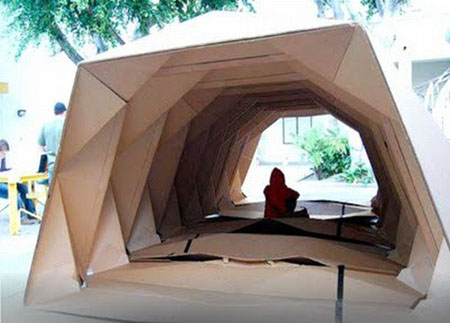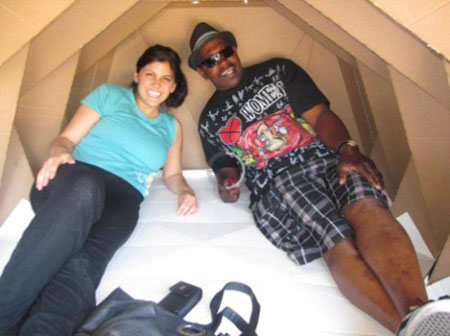 It is so nice to see a growing number of people and business establishments showing some care to the environment and eBay has just joined to millions of environmentalists worldwide and have their green team created the eBay Box. The box is made of durable cardboard making it able to withstand rigors when used repeatedly. Aside from being made of an FSC certified corrugated cardboard, the eBay box is also 100% recyclable once it reaches the end of its useful life. There will be 100,000 new eco-iconic boxes of different sizes will be printed by eBay for its pilot test, which will start next month.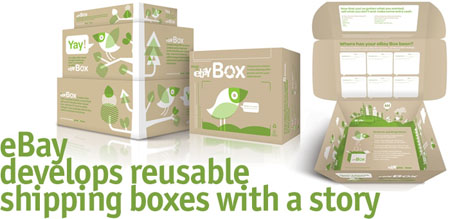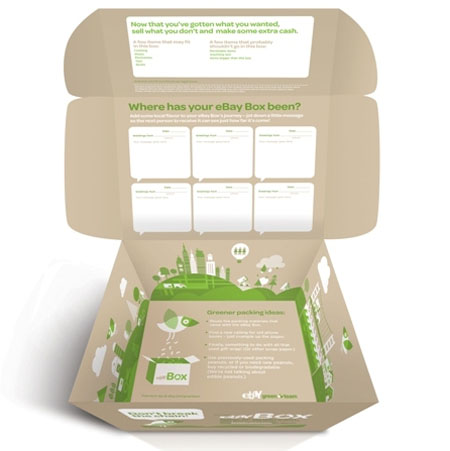 Source: eBay via Springwise
If you are one of those who have just recently own a Dell Inspiron Mini10 or the 10V netbook, then you probably have contributed in saving the environment. The recent packaging of the DELL Mini10 is made from bamboo. We all know that bamboo is a sustainable source of material, as it rapidly grows. The bamboo is also hailed as the fastest growing woody plant in the world. Aside from being fast growing and elegant, bamboo is also durable making it the best alternative for foams, corrugated cardboard and paper pulp. In addition, bamboo's roots also helps prevent soil erosion thus, a good friend of the environment.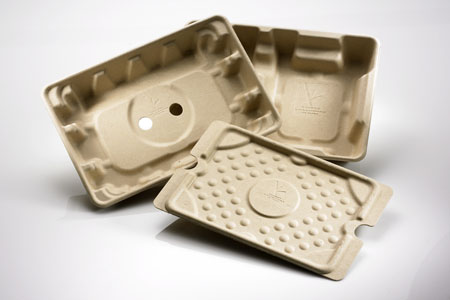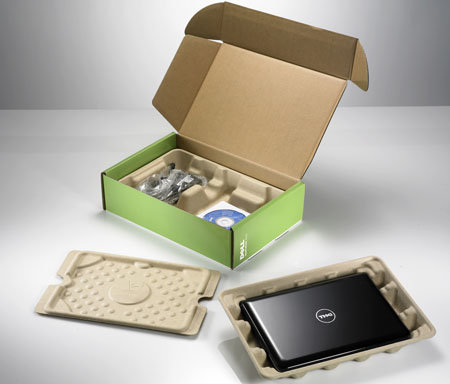 Source: Dell
Today, generic laptop cases, bags, and sleeves are popping out in the market almost every now and then. However, none of them are eco-friendly enough for daily use but not the Corrugated Cardboard Laptop Case by Giles Miller. Will be presented at London's Design exhibit this fall, the corrugated cardboard laptop case is 100% recycled with the unique fluting that allows the users to personalize the case with custom designs. This one of a kind eco-laptop case is sturdy enough for daily use and is completely stylish and fashionably trendy for the students to use. With the corrugated cardboard laptop case, teens and adult alike can help save the environment by simply patronizing it.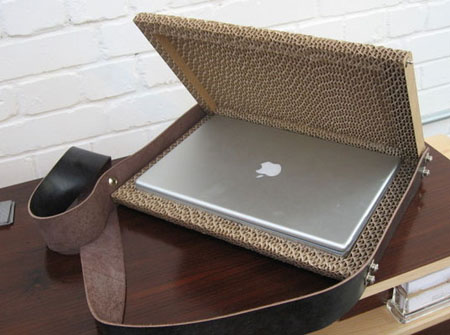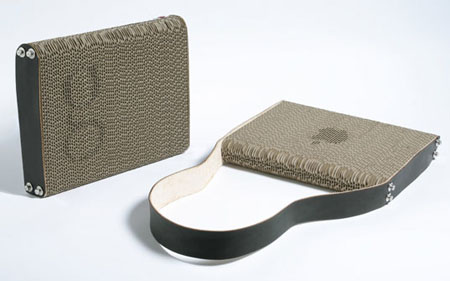 When traveling, luggage is our best friend. Here is where we place our clothing and other important things needed during our travel. Generally, known and stylish luggages are made from top quality first hand materials. However, today, travels can already do their part in saving the environment with the eco-friendly luggage design by Chiara Goose called the Cardboard Luggage. As the name suggest, this one of a kind luggage is made of cardboard while keeping the style and playful look those luggage made from first hand materials have. Though, this cardboard luggage may not survive with the hard handling with your local airport porters, it is a one useful and functional luggage that is made of double-corrugated cardboard, metal rivets, and cotton cording.
By the time the traveler arrives to his or her destination, the cardboard luggage can be his or her shelving unit as the luggage unpacks. In this way, travelers don't need to dig those items placed at the bottom, which is a timesaver as well.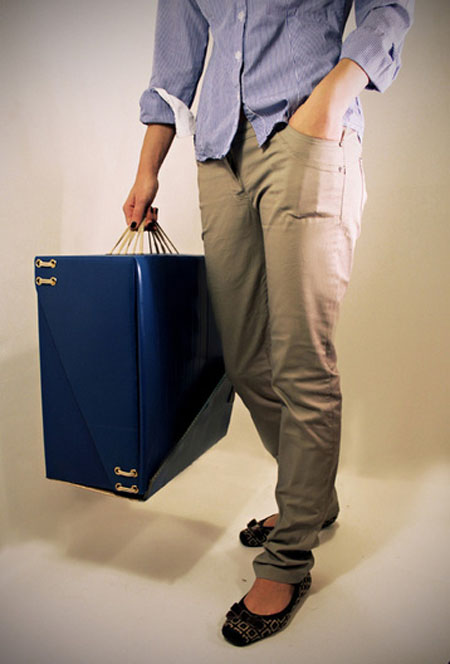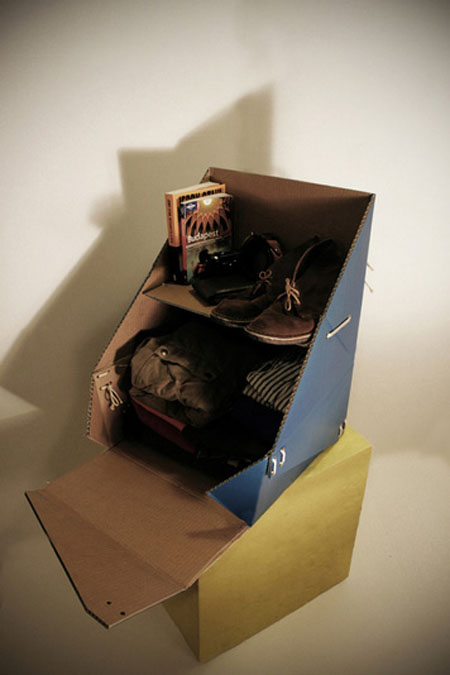 Eco-friendly designs come in different forms and are made from different earth friendly materials and many of them are made of corrugated cardboard. At the 2009, Chair Affair 49 colleges and Universities across the Unites States of America have submitted their entries of eco-friendly chairs made from corrugated cardboard. Looking at the pictures, these chairs seem to look like sturdy enough to carry weights, and majority of them look pleasant enough to complement with any existing home furniture set and decors. Some of the chairs are designed to be lounge chairs, bench, reclining, and more. These products are clearly an indication that more and more people from all around the world are aware of our environment and are making moves to have it saved.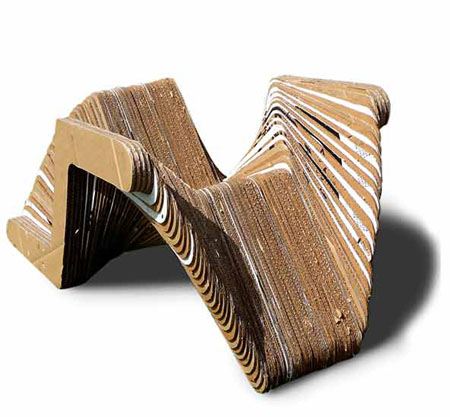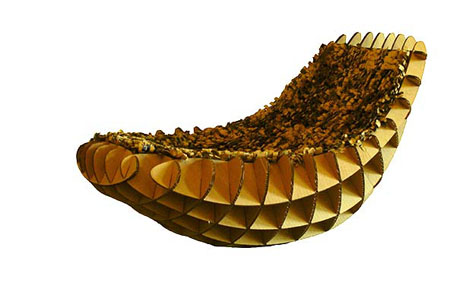 Light shades add some cool ambience to our surroundings. It make us feel relaxed and free our minds from troubles. In regard with this matter, Graypants had created their latest project called the scrap lights. This project uses left over corrugated cardboard to create various contemporary pendant lamps. With the transparent shades they've created, these lamps are perfect to your living room for more calm feeling. I guess these lamps are also ideal for restaurants and bars to add some cozy ambience to the place. Made from left over corrugated cardboard, these lamps are truly and eco friendly one. Designed by well-crafted hands, scrap light is a one of a kind art creation.
Made of corrugated cardboard, this new flat mate-folding stool is designed by Austrian designer Sonja Vrbovszky. It is super portable that is very useful for people on the go. This stool is only 3cm thick and is available for use in a snap of a finger. The flat-mate folding stool will also be of big help when you ran out of seats during gatherings and parties. This inexpensive stool can be stores anywhere and doesn't need to have a large space since it is a folding one. This corrugated flat-mate folding stool is also recyclable which made it more useful.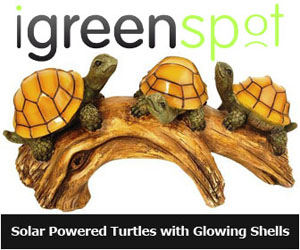 Our Recommended Partners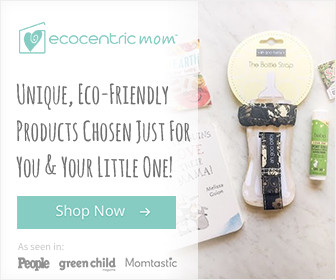 Advertise with us
Archives