This is a cool snow ski wine rack that would become a conversation starter. You don't have to be a wine connoisseur or a professional skier to appreciate this beautiful piece. Each wine rack is handmade in Millbury, MA by Michael Bellino and of course using reclaimed skis, that's why your wine rack might have different colors and patterns. Each one will be unique and different.
Display your wine in a stylish yet eco-friendly way. All those bottles can be stored on their sides to maintain the wine's integrity. All those reclaimed skis are unique due to weathered from use, it's a creative way to recycle all those old and unused skis into something that is useful. [CLICK HERE to get more information about this Snow Ski Wine Rack]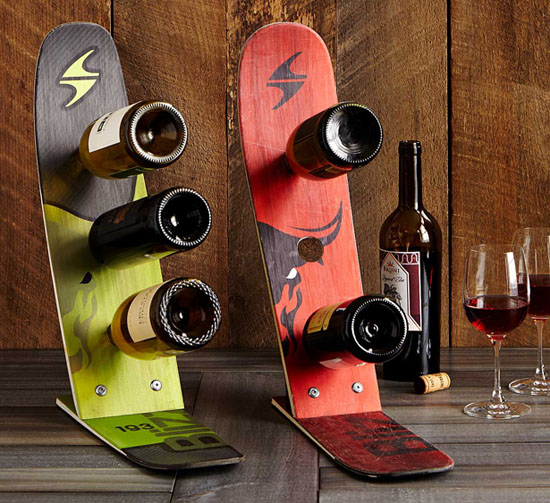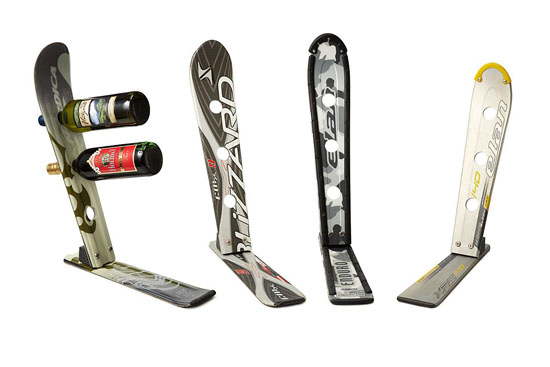 There are many people who still don't have any clue about the harmful level of our plastic waste. Recently, a study revealed that plastics make up about 50% to 80% of shoreline debris, if you think this doesn't affect you, think again. Plastic debris poses a danger for wildlife, most marine mammals might become entangled in plastic bags and even worse, ingestion that cause death due to blocked digestive track that would starve the animal. Did you hear that a pilot whale have died after swallowing 17 pounds of plastic waste?
FinalStraw offers world's first collapsible and reusable steel straw to reduce the use of plastic straw hence reducing plastic waste.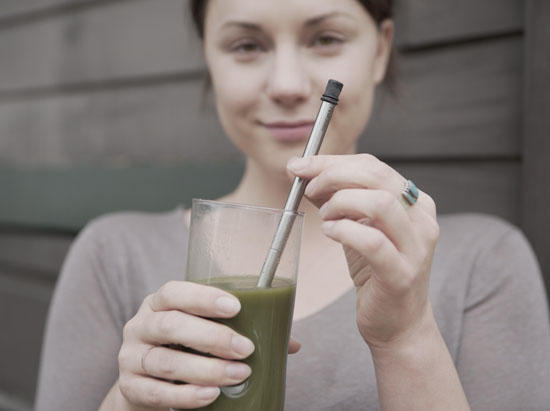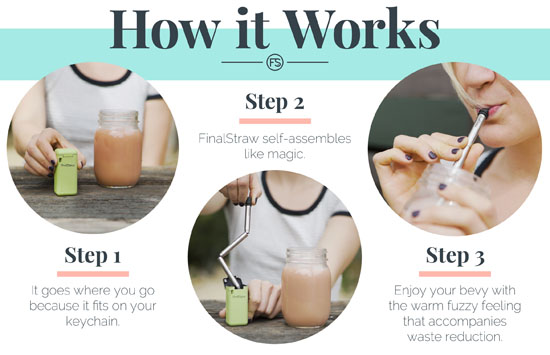 Beautiful artistic camera man made of recycled metal. Yes, this extraordinary art is made by Armando Ramirez, a unique camera man that follows scene through the lens of his camera. The rustic, rugged finish makes it a nice vintage decoration that blends well with contemporary or modern décor. The camera is shaped using a field separator taken from a car's electrical system, you can also see long screws, a couple of wheels, metal sphere, and few metal pieces that are usually left over in die machines. The cameraman body is shaped from a spark plug combined with long screws. Through his creative hands, all these unused metals can be recycled to become an artistic object. [CLICK HERE to get more information about this Recycled Metal Cameraman Sculpture]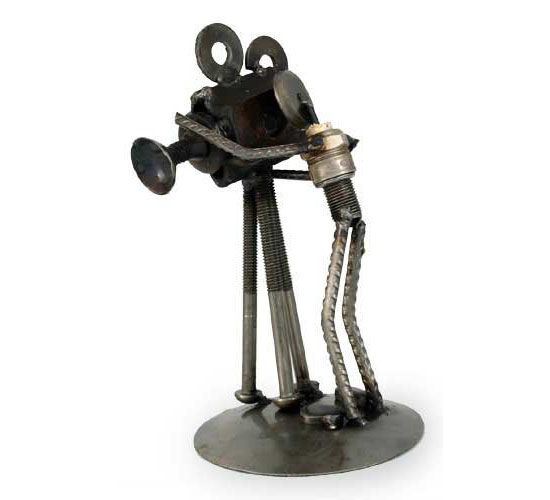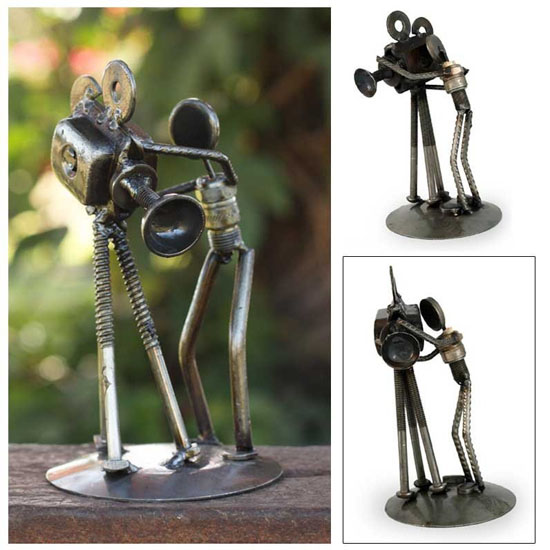 This natural gift set is perfect for anyone who needs to relax. Handmade with natural ingredients, Be Calm Lavender Gift Set would be a nice stress relief for a friend or loved one who needs to de-stress, or maybe yourself. This eco-friendly gift offers spa-style treatments where each set consists of Be Calm Bath Salts (12oz), Be Calm Mist (2oz), and Be Calm Aromatherapy Roll On Perfume. This combination promotes restful sleep, rejuvenate our body and soul, making you feel calm and relax. We need to remind you though, please don't use essential oils directly onto your skin without diluting them first, this beauty product is not intended to treat or cure any disease. [CLICK HERE to get more information about this gift set]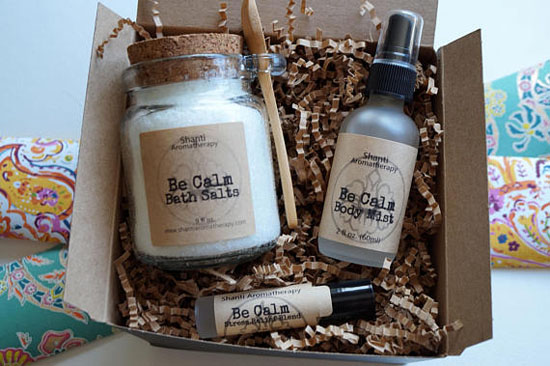 Made of salvaged mango wood, this cookbook and tablet stand features unique texture and color. Each design of this salvaged wood cookbook and tablet stand blends reclaimed mango wood with antique brass accents, making it stunning and one of a kind. Made by artisans in rural India, this piece would decorate your kitchen with rustic, beautiful stand. You can easily adjust it to your desired angle, it even has a little space for charging cords.
When you are done with the stand, simply collapse it flat for easy storage. Each product is handmade, it would be a nice housewarming gift for green conscious home owners. Since it's handmade from natural material, each stand is unique and vary. [CLICK HERE to get more details about this Salvaged Wood Cookbook and Tablet Stand]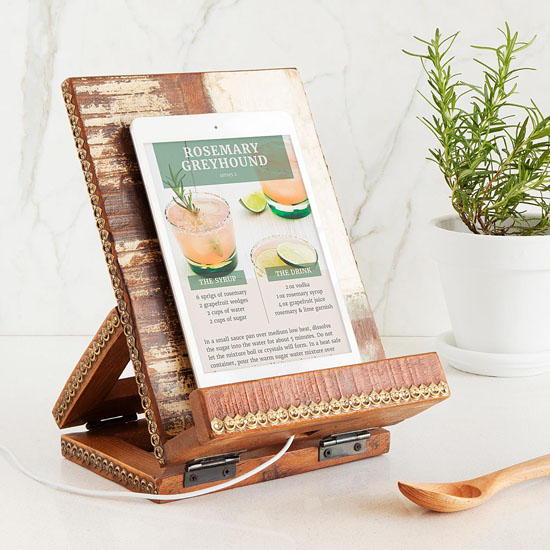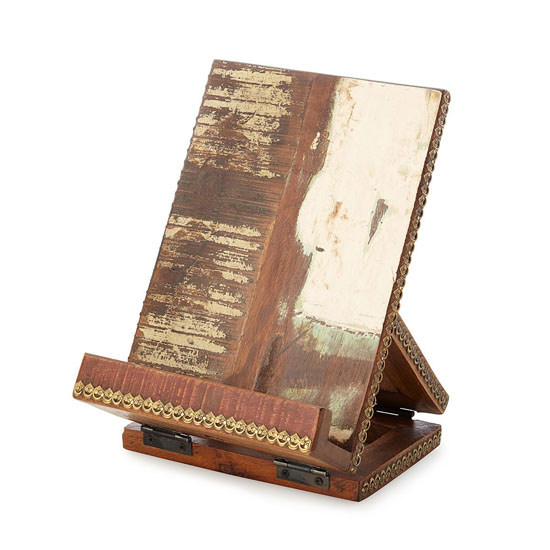 Take a look at this gorgeous horizontal fir branch framed pin board from Viva Terra, it would look cool to show off your holiday, family, or friends photos. Each product is handcrafted in China, the material is all natural sustainably harvested fir branches. Display this frame on the entrance hall, or you can hang it above a fireplace, it would look perfect as a conversation starter. It looks like a unique memo board with its 12 clips to hold just about anything, yes, not just photos. You can choose to clip mails, photos, postcards, or notes in eco style. Since the material is natural fir wood, you can expect that each piece has unique color and shape. [CLICK HERE to get more details about framed pin board]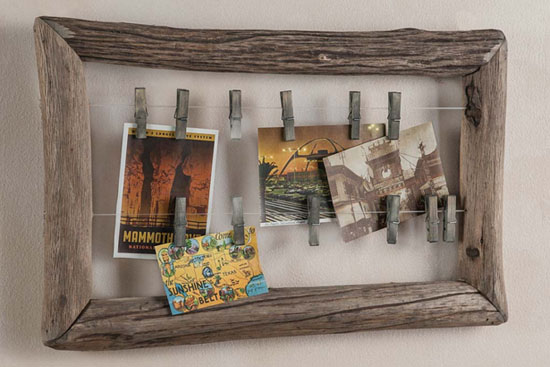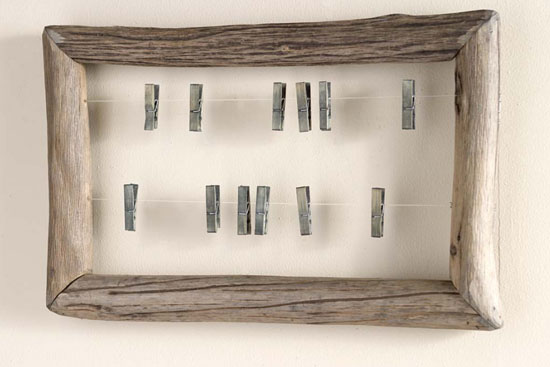 Grey Griffiths Architects has transformed waste materials into nice modern, small cabin, Potting Shed. The brief was to design multi-use garden studio for a keen gardener and a ceramicist. It's a nice project that demonstrates to anyone how inventive architecture and resourcefulness can result to highly functional design especially to those with a tight budget. This little shed uses salvaged materials to fit the ethos of a maker's studio, it also stretches the possibilities of a modest budget.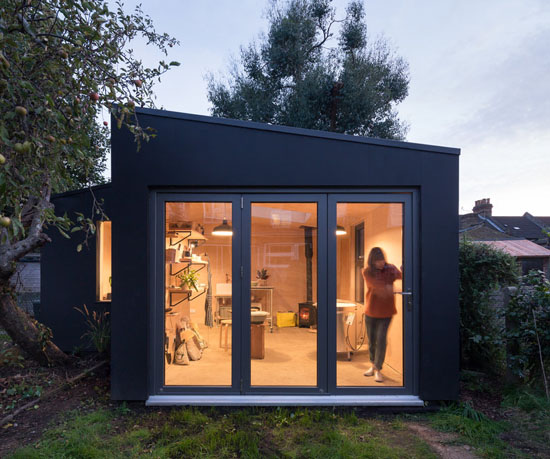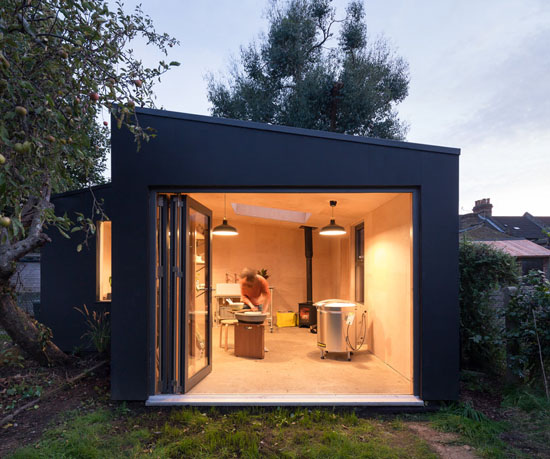 Jenga Ocean project started in 2015 when Robert Grebler, founder of Jenga, approached Bureo during Ocean Film Festival to team up to create Bureo's recycled materials into this one of world's most known board games. It's a good way to keep our ocean's clean where each game can help to prevent more than 1kg of discarded fishing nets from polluting our ocean.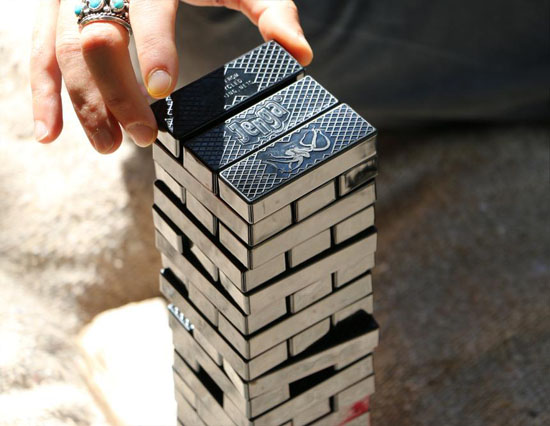 Arktura in collaboration with Formation Association and Terremoto has created Flora Gato, an eco-friendly cat shelter. It's a project created as part of Architects for Animals 2017 Giving Shelter event, a non profit organization that operates free spay/neuter clinic in LA for homeless stray and feral cats.
Flora Gato is a unique cat shelter that uses sustainable sourced and fully recycled Soft Sound acoustical material that houses Spanish moss and Korean grass. The combination of natural and synthetic design provides thermal mass, shade, and durability.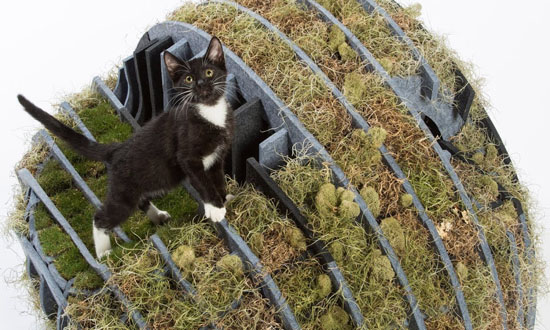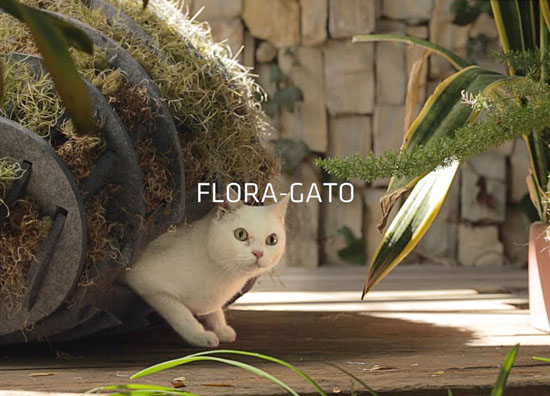 Light up your house with these beautiful crackled glass LED gazing globes, with just a click on the remote, these globes would give you homey warmth of vintage mercury glass. A set of two globes can be placed just about anywhere, your mantle, your floral arrangements or a small table where you want to add magical illumination. These beautiful LED bulbs are safe when you use it with dried arrangement and greenery.
This set is a battery-powered lights, therefore, no outlet needed, you can place it anywhere you want. Each set consists of 6-inch globe and 8-inch globe, each unit requires three AA batteries which need to be purchased separately. [CLICK HERE to get more details about this beautiful Crackled Glass LED Gazing Globes]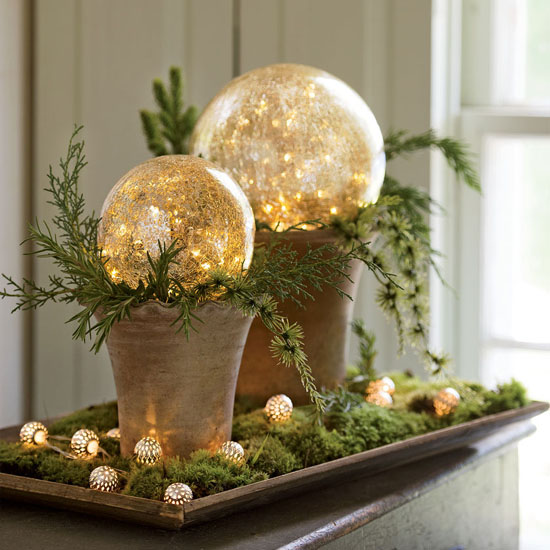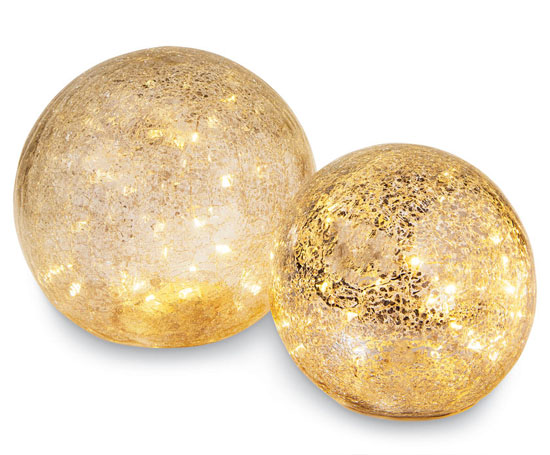 Our Recommended Partners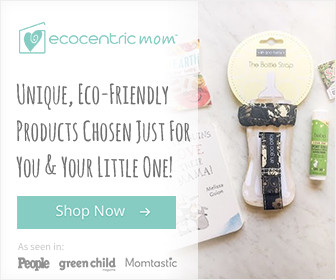 Advertise with us
Archives