Photographers of today's technology world, always keep themselves loaded up with batteries to keep them going and keep them available to take pictures every time they have a good eye of a certain object. Despite of today's lifestyle that we are experiencing, Sony still managed to create the Twirl 'n Take camera. A kinetic powered energy will let take decent pictures after giving the gadget a 15 seconds circular head spin. This camera has a hole that serves as a viewfinder. I have tried cameras of the concept before, and there are no any single photo taken. I just hope that the Twirl 'n Take can stand to its promise.
Wood always creates an elegant and classy product as long as it has been created and designed for the sake of beauty and fashion. Just like what this group of designers called the TEN does. They create various collections of sustainable wooden products and present it at 100% Design in London. A few of their collections are the wooden lampshade, candlestick, framed bird feeder, dumper-truck toy, a door wedge, disk tidy, and many more.
The group TEN was led by Chris Jackson, has been working with design retailer twentytwentyone in order to produce various range of sustainable wooden products for the home and garden.
LED lights are now commonly used in almost all lightning needs. Designed by Niklas Löfber, the spiral is an outdoor lightning solution that uses wind to generate electricity required for its daily use. It composed of four main parts, which are the pillar, generator, LED, and translucent plastic shade. Lighting up the Spiral is not hard because it can generate electricity even with a very slow wind. The spirals design is very elegant that will surely ads the beauty for every plazas and amusement parks that will surely let every park goers enjoy. If the nature will not be able to generate electricity, a battery with a corresponding charger can also be installed in order for the spiral to continuously produce light.
When packaging, we always sees to it that we have consumed the space available as much as possible. Normally, items in pouches are the best sellers when sending packages. However, these will never a problem anymore with the bottle in a bottle package by Ecolab. Their Profroce Cleaners bottle design called the Legoland can fit a 16 oz. spray bottle within a 1.25-gallon refill tank. The packaging design is perfect for palletized shipping. The perfect box design of the Legoland has the ability to maximize the space of a pallet. In addition, stacking will never be a problem with Legoland because of it square design.
via amsteeman
As we all know, gadgets like mobile phone, iphone, and more are being purchased to own one. However, LINC has changed this type of practice and created a sustainable phone concept, wherein, one can be lease a phone, return and lease it again, without sacrificing its style and functionality. LINC is truly a unique concept because of its recyclability. However, the concept itself, makes me think twice if I were to lease one. A phone is a personal asset which should not be given away after a year of usage. Nevertheless, it is helpful enough for the environment as it recycles hazardous e-waste.
Self-sustainability is now completely invading our daily style of living. Various products are coming out for the said purpose. Just like this solar tress design for Kyocera Solar, which a project of the University of California in San Diego. The solar trees collect energy and provide the university with the energy that they need. In addition, they have plans to provide an electric vehicle charging which a big advantage to everybody especially to those who have electric powered vehicle. The solar trees also have the ability to give some shade for vehicle parking and some visual relief from the boring appearance of most of the rooftop garages.
The design of the Solar Tree and Solar Grove, from Envision CEO Robert Noble, is based on natural trees, with trunks and branches supporting a shade canopy. According to Noble, the idea is to add beauty and form to the functionality of solar power Solar energy generation. Each Solar Tree at UCSD will generate more than 17,000 hours of clean energy per year, which is enough to power more than four single-family homes and avoid 13.2 metric tons of carbon emissions Green-Business-Travel.
Being an eco-friendly and techie at the same time is a bit hard to achieve, however these things made possible by the bambouse. A computer mouse made of bamboo. You might think I am kidding, but yes this is really true. Designer Wen-Ting Tseng from Taiwan is the person behind this creative and artistic creation. Wen has also won a special award in the 2008 Taiwan Young Designer competition. The Bambouse simply represents people's creativity and the ability to utilize the surrounding resources they got. I will definitely own one for me the moment it becomes available in our area. This will be my big chance to contribute something in saving the earth.
via TheDesignBlog
Yellow pages are normally thrown away after it expired and thinks this has no use at all. Well, you people might be surprise knowing that the yellow pages you are throwing and ignoring has a very important roe in your life. The yellow pages can be your card and or photo holder. How? It's simple. All you have to do is to trim a little the yellow pages of about 394 pages to the right diameter, rolled it up and insert it into a metal tube. This cute product can be used either vertically or horizontally, and both are attractive, unique, and of course useful.
Source : Afroditi Krassa via Core77
Solar powered electronic is now easily available because of the creative minds of almost all of the manufacturers like Sanyo. Eneloop is a solar powered series of electronic gadgets that are solar powered aside from being equipped with some other power sources. Eneloop serries included the eneloop solar light which can light o with solar energy apart from having a USB power port. Another product from the eneloop series are the soft warmer, kairo (KIR-SRL1S), and the eneloop kairo (KIR-S3S). All of the eneloop series of electronic gadgets have it own features that will surely satisfy every users the eneloop has.
A new line of bags called the Terraclime is now available in market for earth lovers. The bag is 95 percent made from recycled content materials. Just like the fabric used is made from a recycled PET bottles, while the zippers and hooks are made from a factory salvaged plastics. Despite of those materials that contain recycled materials, the bad still looks hip and fashionable. I find this bag perfect for student and workers who have more time outdoors. Another good thing about this bag is that, it is available in four sizes, which means that one has a bigger chance of finding one that best suits for her or him. [Click here for more details about Terraclime Bags]
Our Recommended Partners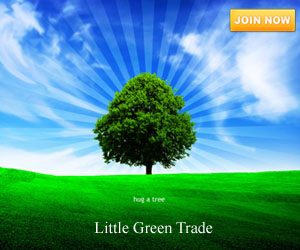 Advertise with us
Archives