Being eco friendly is now becoming the aim of almost every people living on earth. Everyone wants to live green as long given the chance. Some started it with living in an eco friendly homes. Many designers are now creating eco friendly designs like this eco-home that will be constructed from actual tree roots, and will be equipped with other eco-friendly features like the solar panels and wind harvesting fans. This could be a good idea when it comes to living green, however, I don't feel it to be safety enough in staying under the tree especially during stormy weather, for trees are prone from lighting.
The firs ever wooden VoIP phone can be seen in Hulger's new Pappa Phones. The Pappa phone is made of wood crafted individually by hands on a made to order basis from a single piece of wood. The phone works on MAC and PC computers and is USB based. In addition, the Pappa phone is a plug and play phone and can be used with Skype, iChat, Yahoo and more. At the price of $300, you can already own a Pappa phone and can now comfortably communicate with your colleagues online, and with the comfort and usability it brings, it can already be considered a best buy.
Racing cars are generally gas indulgers. However, car manufacturers are now starting to make some ways on how to save on gas while being still on the track. F1 has started their kinetic energy recovery system already and will be on the racetrack starting 2009. Peugeot will soon be using the same system on their racing cars, which is good news to every car racers. Normally racing cars have wasted large amount of gas as the engine starts, right now, Peugeot's HY technology has the ability to enable a portion of the kinetic energy produced when braking to be either recovered or stored.
When disaster strikes, many of our folks became homeless in anyway, and those homeless victims need some comfortable shelter to live in. This situation made the designer Rafael Smith came into the idea of the Uber Emergency Shelter. Very easy to install, and has a solar panels that can accommodate a small refrigerator and illuminates the whole shelter. The materials for uber emergency shelter can be easily shipped on a compact form, and assembles easily too. The only downside it has is that, it can be a bit shaky to materialize especially in an uneven area. In addition, the price of this shelter can be a big question. Will it be affordable enough as an evacuation area?
A hi-tech ocean rowboat is now available for you to use when you want to row and stay for a while in the ocean. This Hi-tech rowing boat is equipped with cooking materials and other working tools for you to use when rowing, and can eventually serve as your little home in the ocean, wherein you can also sleep with them comfortably. When you want to sail, using this hi-tech rowboat can also be of use, because it can also accommodate loads of equipments that you need or want to bring along with you when sailing. The hi-tech row boat is available at around $50,000.
Biking has becoming a trend in various urban cities nowadays due to the high gas prices. Aside from the gas prices, parking space is also becoming a problem to almost all car owners. Because of that, Yirong Yang has design a bicycle concept that will surely let you save from gas and parking space. The Rotation City Bike is a city folding bike concept that will allow every user fold the bike when not in use and simply carry it with them, which is not available with the traditional bicycles that need to be ridden all the time, which is clearly a hassle to every rider.
Kiyora means clean and pure in Japanese language, and as the name suggests, the new concept car form Mazda called the Mazda Kiyora is a fuel-efficient and has low CO2 emissions. Aside from that, the Kiyora's water inspired design, made the car looks sleeker and elegant. Its clear roofing and sidings made it easy for the driver to view and know the current happenings around him or her.
The Mazda Kiyora will soon be introduced in October 2008 at the 2008 Paris Motor Show. Apart from having a futuristic design, the Mazda Kiyora is also a lightweight car, which is a big advantage in a car.
An intelligent irrigation control system is what we can call of the Aquarius, because it has the ability to detect humidity of soil at different levels, through its sensors attached to its shaft. In addition to that, the Aquarius can adjust its water flow depending on the soil, crop, weather conditions, and yes it is solar powered. With this feature, agriculturists will now have the right water supply that they need and will now able to prevent their massive use of water using the traditional irrigation system. On the other hand, the Aquarius has an attractive design that will make their farm a bit futuristic.
via YankoDesign
Green living is what everyone wanted nowadays, however only a few are dedicated in achieving their aim of living green. Saving energy from our daily activities is just one of the simple ways of living green. With the people wants of living green, Rocco Avallone has studied and come into a product that he called as the OLED touch screen light. It will let the consumers see and monitor their daily energy use, through its screen that displays the information using animations and graphics, and shows one, two, or three types of information on use. In this way, consumers are now aware the amount of energy they have used.
Grocery bags are just one of the basic things that are with us almost everyday or on a weekly basis. Normally, grocery stores are using plastic and paper bags as containers of their grocery products. The problem with these containers is they are not reusable, though plastic bags can be recycled as a garbage bag. The downside of it is that, it is not as earth friendly as this new product of CYMA, which is called the reusable grocery tote bag. The best part of this bag is aside from being reusable; it is also an earth friendly one. Many of the grocery stores are now promoting this grocery bags and hoping that grocers will cooperate with their campaign. [Click here for more details about Reusable Grocery Tote Bag]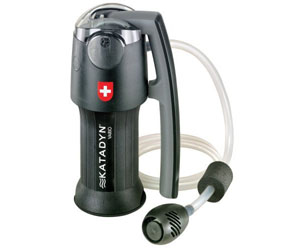 Our Recommended Partners
Advertise with us
Archives