Items with "Eco" word in their product name is now cannot be counted by hands anymore. Just like the new Ecofan that is introduced and made from Canada. It is a self-powered and off the grid fan that works via Seebeck effect in order to produce its own electrical power for the fan to power on and move warm air throughout the room. It is place directly on top of the wooden stove and uses the difference in temperature to create power through its thermoelectric module. The ecofan's appearance may not be very attractive but the function it has is perfect for those eco-friendly people we have all around.
Instead of throwing the empty plastic drink bottles, designer Shelley Spicuzza managed to recycle it to create an attractive and creative lamp. You can choose to get together bottles of the same colors to make it more elegant in appearance especially if the ones you are using are the clear ones. However, the colored one can also give you the right amount of color that you need without using the colored lamps. Shelley's design is easy because the central part of the lamp is a sphere that has holes wherein you can screw in the plastic to the threaded holes to create a lamp that everybody will surely love.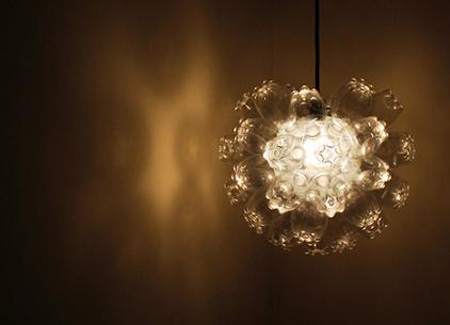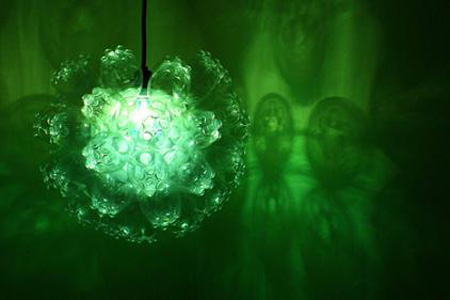 A good place to get together with friends or families is the right definition for Art.Rainbow. A solar powered rainbow's end replica is supper attractive with the attractive colors that it has. This product is build for the multi-hued get-together throughout the day and even if they will extend it at night. During the day, the art.rainbow gives the right shade and protection from the sun while at the same time gathers they right amount of solar energy that can be used to light up and get rid from darkness when the night comes, thus make every people enjoy the art.rainbow during the day and even at night.
This recyclable shelter is called the Recover Shelter, designed by Matthew Malone, Amanda Goldberg, Jennifer Metcalf and Grant Meacham. Everybody can benefits its 100 percent recyclable feature. Another feature the recover has is that its structure's ridges can be used to collect some drinking water when the rain pours because it is made of a non-toxic polypropylene. The recover also has no harmful leaching or out gassing to contaminate the users or the environment. One more feature of the recover is that, it can be covered in local materials for insulation, and can be transported at the same time on the same trailer, and the most interesting of all is that, it can easily set up in minutes.
When you want to drive but don't know how to, the Peugeot OXO car is perfect for you. It is the type of car that you can drive without the need of learning how to drive it. This is such an amazing idea, right? I, myself do not know how to drive a car, however reading the information about the Peugeot OXO car, I feel happy that there are some cars intended for people like me that does not know how to drive. Aside from this feature, the OXO car is also an electric powered car meaning its an eco friendly type of car. In addition, it is also a space saver because of its "X" system inside.
Designed by Miguel Angel Iranzo Sanchez from Spain, The Seat Brisa is a sports car. Unlike the traditional gas fueled cars, the Seat Brisa's hood is covered with photo-voltaic cells that used to power the car's electric engine which is tied to the rear motor. According to designer Miguel Angel Iranzo Sanchez, the sun propels the Seat Brisa, jus as the wind propels the sailboat. The Seat Brisa has a sleek and elegant design that is perfect for fashionistas who love to be hip and in style always while having the passion of saving the earth as well.
Watch manufacturer Nixon has designed a watch made from recycled skateboard decks the RePly watch, and is planning to release soon. The watch has a colorful wristband with a stylish and fashionable analog display that suits every teen's lifestyle nowadays. Skateboarders and enthusiasts will surely love this thing, for it definitely fit their personality and lifestyle. They RePly may not be a waterproof watch but still very trendy just by looking at the colored stripes its wristband has, one will surely be attracted and can't get enough of it. Although Nixon hasn't announced the released of the watch yet, for sure many are already watching out for the date of its release.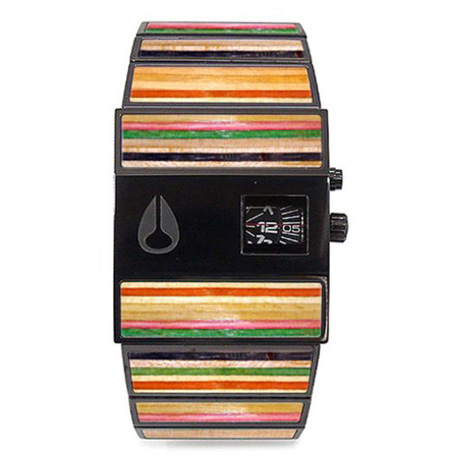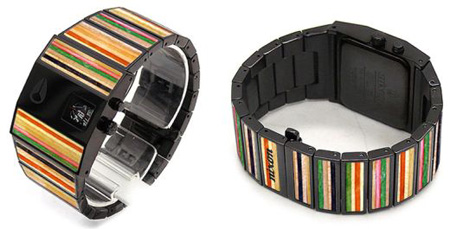 Two of Japan's Leading companies the NYK Line (Nippon Yusen Kaisha) and the Nippon Oil Corporation joint forces in designing a ship that will be partially powered by solar energy. These companies said that the solar panels they are about to place in this 60,000 Toyota Motors Corporation car carrier ship is capable of generating 40 kilowatts of electricity. These solar panels are aimed to save up to 6.5 percent of fuel oil, and would help cut off CO2 emission of about one to two percent or about 20 tons per year. The two companies are aiming to commercialize the system fully in the next three to five years.
via GreenPacks
A new British embassy is planned to be built and finish by 2011. Designed by HOK, the building has an eco-friendly concept since it is designed to collect rainwater and stored for the building's water use and irrigation. The building's design seems to be very comfortable for the people. Covered alleys gave every embassy visitors a shade for a comfortable visit. Though the building as a whole may not look artistic ad futuristic, it's large area can definitely give enough comfort to embassy employees and visitors alike. I am sure this embassy building will let the embassy employees give Indonesian people the best service that they deserve.
Laura Sink from The Art Institute of Pittsburg has just created the innovative and conceptual product called the Nature Levo. It is a small, vertical-axis turbine with a primary purpose of catching wind from any direction. This creatively shaped stationary object can be installed to any existing structures like the telephone pole, flag pole, chimney mount, or in your usual backyard. Created for Novomer Plastic, the Natura Levo has a necessary steel bearings, adjustable cylinder mount, and small housings. This product is perfect for today's generation of learners. It will teach our young learners to be aware of the things that can help us save the earth naturally.
Laura Sink says :
Natura Levo is a small wind, vertical axis wind turbine. It is a 66″ tall turbine that contains two non-traditional blades that can catch wind from any direction. These blades are fastened within a unique steel component which also houses the tapered bearings allowing the blades to spin with little friction. The center axis is a beautifully formed stationary shape that mounts to existing architecture. The intended architecture can be anything ranging from a telephone pole, to an old chimney mount, to a flag pole in a residential back yard. Natura Levo is intended to harness energy from a renewable energy source while co-existing with its natural surroundings. Natura Levo should be so beautiful that it raises awareness of natural energy by admiration of its design.

Natura Levo is made primarily of Novomer plastic, with necessary steel bearings, adjustable cylinder mount, and small housings. The steel components are machined, and with the exception of the housings, these are standard forms. The remaining steel pieces would be machined in 3 separate entities and welded together. The axis is Novomer and injection blow molded; the blades are a bit more involved. They would be formed in 4 pieces and snapped together. The nature of the rotation would strengthen the fastened segments by using the natural force. These 4 pieces would be injection molded.
via Tuvie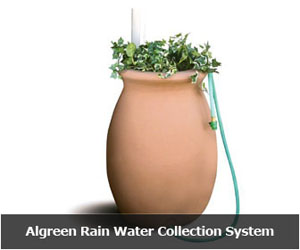 Our Recommended Partners
Advertise with us
Archives