An eco-friendly car concept called Just designed by Prime for R & D group, Altran will be presented at the Mondial de l'Automobile pn October 4 to 19, 2008. The car is considered and eco-friend one since it is made of resources available. Just like the natural air conditioning and insulated double wall glazing, riders can have the comfort powered by the solar panels from the aircraft solar impulse. It also has a removable roof fabric technology from the m world of sport. In addition to the eco-friendly benefit it brings, Just is also technically elegant and sleek. Can't wait to see them hit the road.
Green and eco-friendly products are now into cosmetics too. You can see them on Ash Huang's Vitalita – a cute and multi purpose packaging of a fragrance. You might be asking why I called it a multipurpose packaging. Well I called it that way because, this small cute product can also be used as a mailer, booklet, and can also be a useful pamphlet that you can keep in a purse or wallet while shopping.
ON the other hand, Vitalita is a cosmetic that includes natural base ingredients like jojoba oil and some other essential oils. Moreover, if a woman gets bored of mixing the essential oils, she can make fun out of the small booklet that is included in the package with a simple recipe for green tea toner.
Solar powered portable laptop charger is now available for every traveler to use. They will never ran out of power because the solargorilla is an off the grid device, which means it can be faced up wherever the sun is. In this way the charger can collect solar power whatever the time of the day and wherever the user is. It can work out as a stand-alone device or in conjunction with the powergorilla portable charger. This powergorilla charger is designed with durability for outdoor use. Its clamshell design is water resistant and has rubberized casing. With its 20V power socket out and a standard 5V USB socket, you will never be in trouble anymore.
Packagings are the ones representing the product's beauty to its consumers. Product with great and creative packaging normally sells more than those who have dull ones. People would be interested to a product if they fond the packaging alone interested. I am talking about this unique an earth friendly various packaging of the Askinosie Chocolate. On of it is a bag made of paper printed with the product and company's details in a classical typewritten style. Another one is the tube like container labeled with a unique style of a detached notebook page with of course another unique typewritten product description.
Electric vehicles are now hitting the busy roads everywhere due to the skyrocketing gas prices. In addition, every country is now exerting more and more effort to lessen carbon emission. To join with every eco-friendly car manufacturers, GEM (GreenEcoMobility), a Chrysller LL Company, is now introducing the Peapod. An electric powered car that is not only elegant looking but is also a techie one. The Peapod will be having a center console, and will be offering iPod integration and hands free use of the user's iPhone. In addition, the Peapod also has an mesh seating designed with maximum comfort which is another great and innovative aspect of the Peapod.
Eco friendly Bus is now ready to hit the busy roads of Europe the Volvo 7700. The bus has lower fuel consumption, meaning carbon emission in Europe can be reduced by up to 30 percent, and by up to percent reduction of particulate and nitrogen oxides as compared to the traditional diesel bus of the same capacity. With this new creation from Volvo, many of the Europeans will benefit the comfort it brings and the cleaner ear it brings as well. This is big move from Volvo, and if all the bus manufacturers will follow, clean air will never be impossible to achieve.
This innovative design has been presented by an American Designer, Matthew Weatherly who has intended to provide the user with a sense of personal possession in an unfamiliar environment such as an office waiting area. This mobile coat rack and a stool is named is "Sprout". The design resembles a stump and a tree in a deserted area. Sprout is designed with the help of residues and molded cork. The concept is very simple and useful for all those who look for a safe place to keep their personal belongings.
Source : MatthewWeatherlyDesign via HomeDosh
Cedar Sake Cup Set is made of old cedar trees with a wonderful narrow grain, which results in a bentwood low-conduction vessel that keeps cold sake cold and hot sake warm. This is a great storage instead of using those thermos that uses steel and glasses that tends to harm us an our environment. Unlike this Cedar Sake Cups, which is very earth friendly and super safe to use. To complete the set, include the cedar sake bottle, which is sold separately to enjoy your sake completely. With its sleek and fashionable design, no one will ever ignore the cedar sake set.
Sustainable buildings bring great advantages especially to those who want to save from energy, gas, lessen carbon emission and more earth saving concerns. More and more people are now aiming for self-sustainable infrastructures just like the architects Herzog and de Meuron who have presented their design for a triangular building in the Porte de Versailles area of Paris, France. The purpose of the triangular design is to prevent structure from casting shadows on adjacent buildings and will eventually allow generating an optimum solar and winding power. This building is not simply just a modern building, but it will help neighboring structures to have enough space for air and light as the building continues to get higher.
Lawn mowers are just another machine that contributes a lot to carbon emission. In addition, mowers are also loud an irritating to the ears. However, if you want to have a green view in your house or in your garage, then, the lawn mower will be an important tool for you. But this time around, carbon and noise will never be a problem anymore because James Taylor Peterson has created the eco-friendly Neutron Battery-Powered Mower. This tool can run on a 24 volt battery, and can mow for up to and hour after a single charge. In addition to that, you will now be free form spark, plugs, air filters, pull cords, and toxic gases. [ProductPage]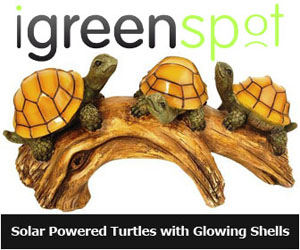 Our Recommended Partners
Advertise with us
Archives