Browsing articles in "Personal Computer"
Computers are known to be a great contributor of carbon emission and use too much electricity. However, since computers are becoming a necessity nowadays, manufacturers came to mind various ways to make this widely used technology nowadays an eco-friendly one. They have created the Recomputer that is eco-friendly from the manufacturing to usage to disposal. Recompute started our as a thesis work by Industrial Design students of University of Houston. However, with the huge attention in received, the project comes into production last January 2010 with the first models out in Summer 2010. Obviously recomputed is a desktop computer CPU made of cardboard.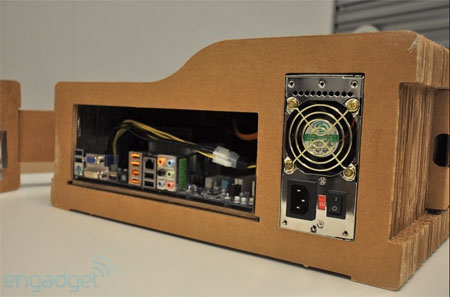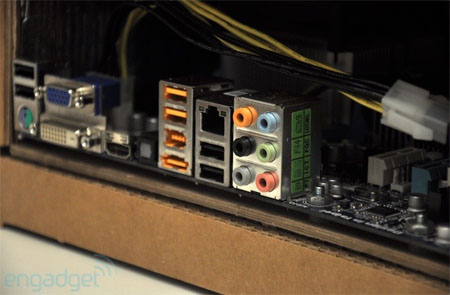 With the vast growth of computer users of today, we cannot deny the fact that energy usage requirements in every household has drastically grown. We all know that this will not only cost us big amounts but will also hurt the environment in so many ways. Chang-Su Lee of Design Hara is Seoul, South Korea has submitted an eco-friendly power PC to Igreenspot that many of the computer savvy people will love to hear. Hailed as the Green HTPC, this small yet powerful PC has a chassis built with recyclable green materials. it is also compatible with small standard motherboards and consumes energy that is 30% lower to your traditional desktop PCs.Another green feature of this cute little powerful PC is its ability to reduce carbon dioxide emission. The Green HTPC's side panels are also made of harmless materials like natural wood. The HTPC's parts are connected by bolts and nuts making it easy to be recycled when it useful life ends. In addition, each HTPC will be unique as this is a full custom handmade product in accordance with the customer's preferences.The customer will also be given the chance to choose their own high-performance internal components his or her HTCP can have like the motherboard, RAM, and more.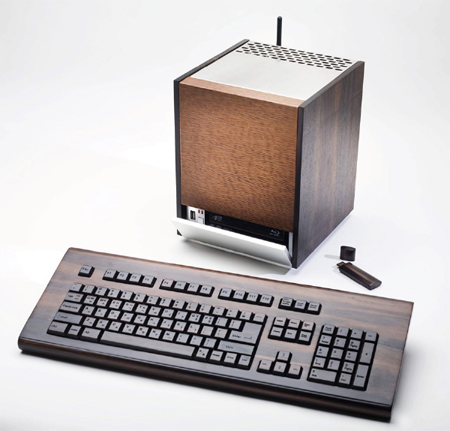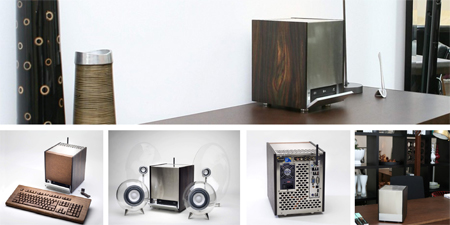 Source: Designhara
I am very amazed with how this wonderful design by Avery Holleman called the Napkin PC worked. It is a recyclable computer that consists of napkin modules, which serves as the display instead of those bulky CRT and LCD monitors. It also has a pen that serves as the mouse that is responsible of giving commands, and the ones that controls all the Napkin modules is the tissue-like thing called the base station. This recyclable PC is controlled by a centralized base station powered by a high-speed RF wireless connection. In this way, people can easily interact or collaborate with each other by communicating with a central network. This is truly amazing for me, because it is not only functional, but eco-friendly as well.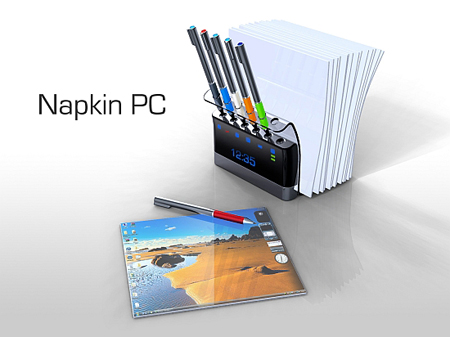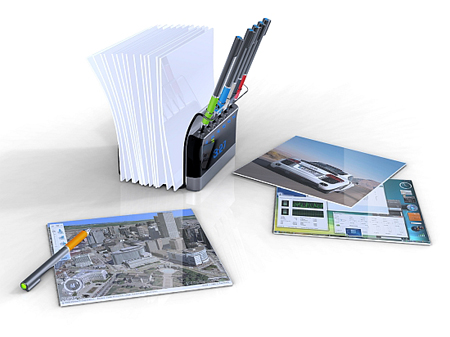 Lawnpc is a self-sustaining computer system. It creates all of the power it needs to operate with help from solar energy. Overall the Lawnpc would save an average of 876 kWh and 800 kg of carbon dioxide per computer per year. Multiple that by the projected 1 billion computers in the world and the environmental impact is tremendous.
In addition, the Lawnpc has taken substantial steps in the areas of product life cycle, stewardship, and human factors. The life cycle is extended with a unique upgrade option. Its environmental stewardship is improved by the use of Bio Batch additives and natural material. Human factors improvements are centered around its flexibility.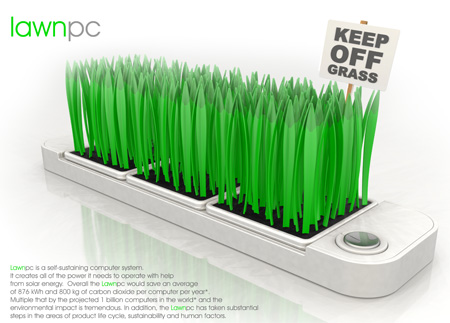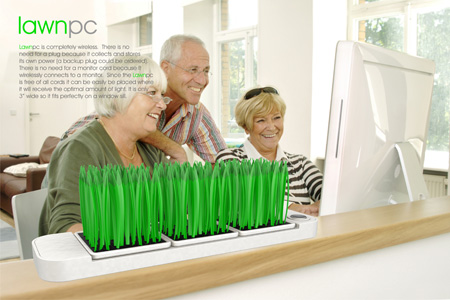 Personal Computers are also generating CO2 every time they are turned on. However, Luis Luna makes new designs of family computers. It is called the "O Project", a sustainable computers encouraged by the oxygen and the whole cycle of photosynthesis. It has a stylish CPU with its decorative piece that has the ability to remove the visual noise your PC creates. Now, this stylish CPU will be going to have some plants on the center to create a fresh look. You can also chose to return the plan to the producer in order for them to re-utilized or better yet you can have it accessorized your home.
via Tuvie
It's nice to know that even the computer peripherals are now becoming earth friendly. Just like what Fabrik has created. He had designed Fabrik's Simple Tech Turbo. It is a hard drive designed with rippled side to disperse heat and will eventually terminate the need of a fan. Fabrik's simple tech turbo is made from a recycled aluminum and bamboo. This hard drive will surely be a hit in the market, since most of our fellowmen are already earth conscious nowadays. I would love to own one once available in our market. This will save energy and will save the earth.
Being hippie and earth friendly is now easy to achieve. If think being earth friend will sacrifice your chance of being hippie, you are wrong. With Dell Studio Hybrid Mini-PC is the hippest and the coolest PC I have ever seen. This mini-pc is perfect for homes and colleges with minimal space. The Dell Mini-Pc is 80 percent smaller than the standard desktop and uses 70 percent less power. In addition to that, the Dell Mini-Pc's packaging is 95 percent recyclable, plus a system recycling kit is also included in the features of this Mini-Pc from Dell. Now who would say that being hippie and earth friendly is not possible?
Our Recommended Partners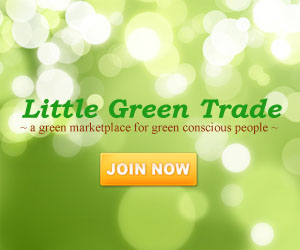 Advertise with us
Archives