Since its launching, the Prius car models had gained the trust of the public in the United States when it comes to cars that made Toyota, busy in developing the Prius family extension with the 2012 Toyota Prius C as its latest Prius member in 2012.
The Prius C follows the Prius V, a larger hatchback type car that is now on sale in the US. The Prius C is a subcompact car and comes smaller than the previous model. Even though it is smaller, it has the style that made this hybrid car of Toyota standout from the crowd.
External Look Features:
Pinched nose
Slit-like grill
Triangular fog light openings
Aerodynamic front splitter
Hood strakes
The above-mentioned features of the 2012 Toyota Prius C made it a car closely similar to the larger Prius.
Compared to a regular Prius, the Prius C is 19.1 inches shorter but is four inches longer than the Yaris Hatchback is. In addition, the C's wheelbase measured 100.4 inches, which is 5.9 inches smaller than the standard car's wheelbase. This new five-door eco-car of Toyota will have an aerodynamic and sporty design.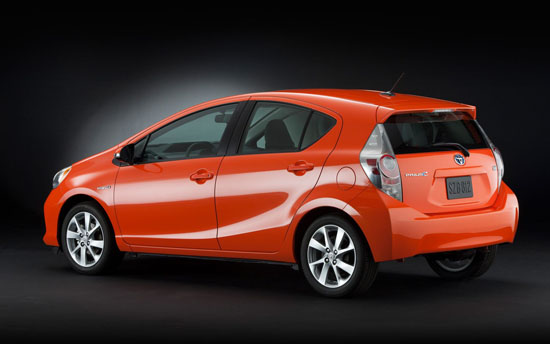 Why The Prius C is Eco-friendly?
Toyota's Hybrid Synergy Drive System propels the new 2012 Toyota Prius C. The 1.5 liter inline-four engine is partnered with the electric motor and battery pack. Even though the full specs of the Prius C is not yet unveiled, it has been assumed that it will be a fuel-efficient car because since it is smaller than the standard Prius, it will use a less powerful power train.
Inviting Equipments
Surely, the new 2012 Toyota Prius C will drive more customers because aside from the eco-friendly features that is inviting to environmentalist and those who wants to save on fuel cost, the Prius C also have many standard equipments that will definitely invite buyers.
Toyota will sell an eco-friendly car with the following features:
Nine airbags
Audio control mounted to the steering wheel
Bluetooth connectivity
The Prius will also feature the Entune option, Toyota's new infotainment system with touch screen monitor that gives users the ability to listen to the renowned Pandora internet radio, do the web search on Bing, and read Emails aloud.
The Interior Design
The car's interior features an instrument display mounted on the dashboard, a four-spoke steering wheel, and an elegant angular dashboard design.
The diagonal line that sweeps below the climate controls to the glove box opening made the interior design of the Prius C above the ordinary.
The traditional floor mounted shift lever is the major interior design change made in the Prius C, which is extremely different from the other Prius model that has the joystick.
The 2012 Toyota Prius C will be the perfect car for those who want to save big on fuel and at the same time do a little favor to the environment.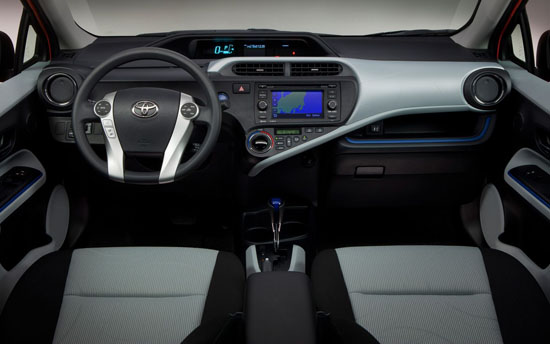 Via: MotorTrend