The bento craze is now hitting worldwide and you can ride on the bento craze wagon while keeping the environment safe using Stainless Steel Bento Box Food Oval Container By ECOlunchbox. Because it is a stainless steel lunchbox, you can use it repeatedly. In this way, you were able to help reduce waste and minimize the growth of mountains of landfills that we already have. All you have to do is to wash the boxes and it is ready again for reuse the following school day.
Another thing you would love about this eco-friendly lunchbox is it being BPA-free because it is made from high quality stainless steel. This only means, that your kids are safe from any harm. The set includes a large oval lunchbox that measures 6 ½ inches long by 5 inches wide by 2 inches tall that can accommodate two halves of a sandwich stacked with room on the sides for other items.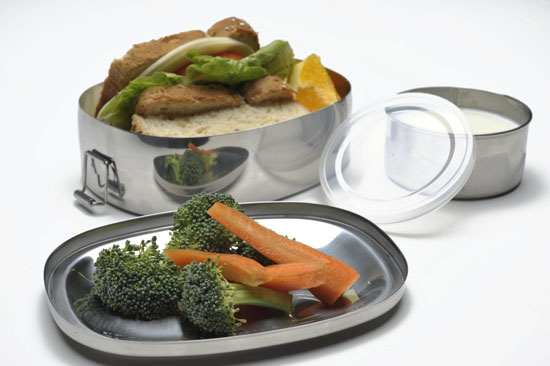 The set also has a small stainless cup measuring 3 ½ inches in diameter and a plastic lid suitable for your favorite sauces, yogurt, apple sauce and other liquid items. Even though the cup fits perfectly fine inside the oval lunch box, it can also be used separately so you have more room for food inside the large oval box. One must note though that this lunchbox is not 100% leak proof because ECOlunchbox opt not to use plastic or other gasket in the pressure fitting lid of the large oval lunchbox. However, the small cup is leak-free. This lovely bento lunchbox has ne lab tested independently and is lead free. Stainless steel used is grade 304 food safe. Lastly, the lunchbox is dishwasher safe.
Click Here to learn more how you can start preparing eye-catching and enticing bento boxes for your kiddos while keeping your advocacy of keeping the environment clean with Stainless Steel Bento Box Food Oval Container By ECOlunchbox.