GREEN=TECH is a new furniture conception created by designer Andrej Statskij. It is a combination of glass /or acrylic/ furniture with plants /natural or artificial box-trees / in a unique products where furniture and plants have common design idea and even form of furniture and plants correspond to the each other.GREEN=TECH products always like indivisible art-objects where furniture and plants cannot exist without each other.
GREEN=TECH design philosophy unite ecology with technology and meet the demands of modern consumers and modern society that understand the importance of new ecology-oriented products and new ecology-oriented thinking.
GREEN=TECH can help modern urban inhabitants overcome stress of everyday life. Natural plants inside furniture should always be in good form and therefore needs regular care, clipping and watering. Plants can be pulled-out at anytime for clipping and caring purposes. Without doubt, it has psychotherapeutic and relaxing effect for modern urban inhabitants. GREEN=TECH shelf unit and coffee table is first products following this conception.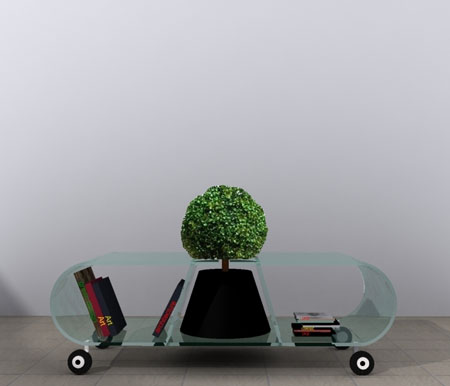 Source : Andrej Statskij