Browsing articles tagged with " Eco-friendly"
We all thought that living the eco-friendly lifestyle is somewhat hard to achieve but Way Basics proved us wrong with their amazing Way Basics Eco-friendly Cube. Because it is a cube, you can create modular pieces out of it. Surely, your imagination is the limit. You can use the cubes as storage of your toys, magazines or books. You can also have it piled up and create a lovely bookcase.
You can also use the cubes as your cute and sleek stool, foot rest or coffee table. The cubes are made of durable zBoard recycled paperboard making it not only a fun furniture to own but also ideal to help save the environment. Other than the sustainable design and recycled material, the cubes are also non-toxic with no formaldehyde and no VOC content making it a healthy and safe furniture to use anywhere in your home.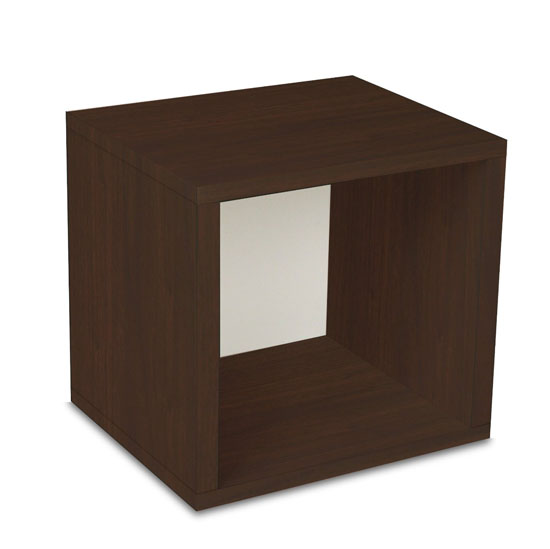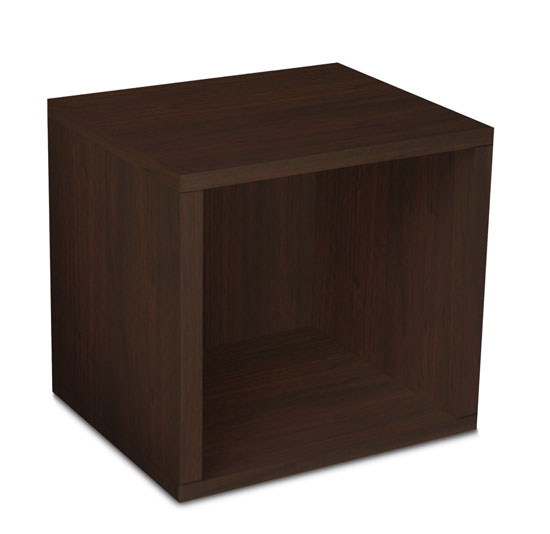 We at iGreenSpot presumed that this eco-friendly rug called Upcycled Shabby Chic Handmade Rag Rug is made from old t-shirts. If you are into arts and crafts, you can easily own one of these shabby rugs in a snap. All you do is to look for some good tutorials online and viola! you are on your way to making your eco-friendly rag rug like this one.
On the other hand, if you are one of those busy individuals who do not have the time to do some crafts on weekends or holidays or simply just do not like the idea of arts and crafts, you can still own an eco-friendly rag rug by just simply buying one in stores near you or online. Many crafters are selling their products online and you buy one from them. On the other hand, you can also purchase one from shopping sites.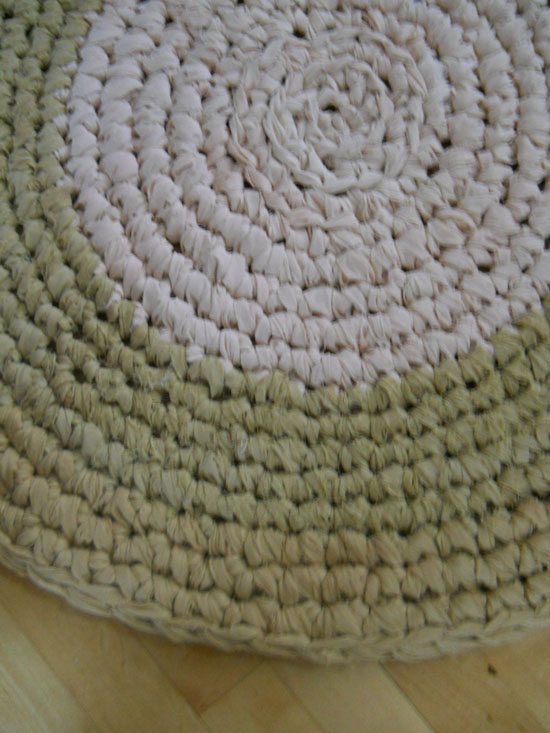 With the continuous increase in numbers of high-rise buildings, skyscrapers and towers, finding a space to plant becomes a challenge and so products like Green Field Eco-Friendly Vertical Garden Wall Planter are now gaining attention to the public. Many people especially those plant lovers tend to enjoy the availability of these planters, as they can enjoy planting their favorite plants while taking advantage of the accessibility of the city.
This vertical wall planter from Greenfield will not only allow you to save some space but also will let you help reducing waste, another eco-friendly feature that you will surely love about this product.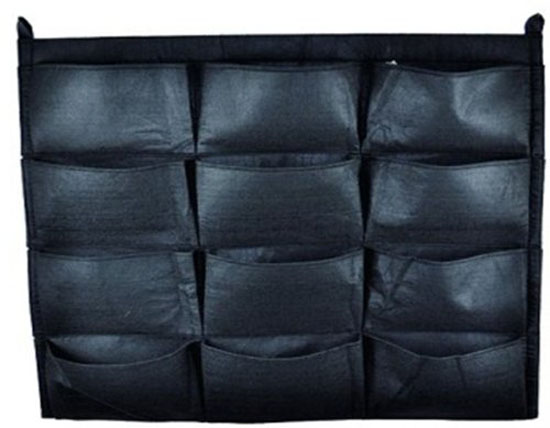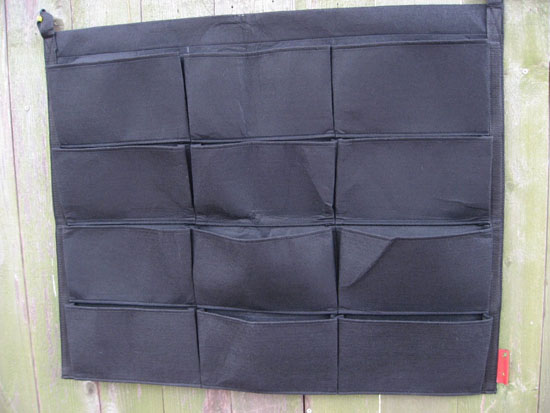 Letting our kids play is good but letting them play without harming the environment with the Wonderworld eco-friendly work bench and box is better. This cute, educational toy is made from rubber wood painted using non-toxic paints, dyes, and lacquers, thus safe for ours babies and of course the environment.
Other than the non-toxic paints, it is also used a glue that is free from formaldehyde. In addition, the packaging of this lovely toy is made from 70% recycled paper.
The toy will surely create the little carpenter in your house. Included in the package is a hammer, a screwdriver, a wrench and more accessories for carpentry. With the red, blue, green, yellow and natural wood colors, your child will definitely love and enjoy playing it. This toy is surely not an ordinary toy like that we see in most toy stores. Parts included in this toy are sturdy enough to stand your child's curious hands. Even if the nuts and bolts are over turned, they will not break even. [Click here to checkout Wonderworld Eco-friendly Work Bench And Box]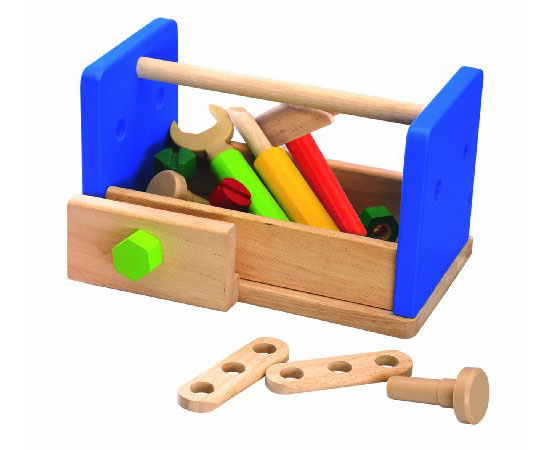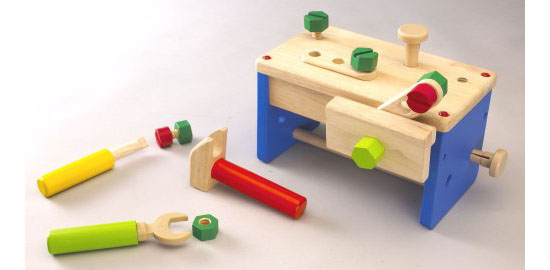 Eco-friendly designs are now gaining attention even in the fashion world with the Eco-Glam Womenswear Collection, a collection of womenswear for the LEVI's Womenswear Award 2011.
Presumably, majority of us have experienced riding in a bus. Designer Yu Hiraoka has created an extraordinary bus that one can ride in a sustainable manner called the Ballena. What made this bus extremely different is it being a Sea Bus. In addition to that, the Ballena Sea Bus is sustainable enough as it is electric powered, thus will not produce carbon emission like those of gas powered sea vehicles. With a shape inspired by a whale, the Ballena has the ability to transport up to 60 passengers at a time. Hope this concept will come into fruition and will be available in many islands across the globe.
I always wanted to have the most powerful and probably the most stylish laptop. I always tend to eye for new releases from different brands. However, the Luce by Andrea Ponti is something like killing two birds with one stone. The LUCE laptop concept design does not only have sleek and elegant design but also it is double solar powered making and eco-friendly yet modern technology product. With this product, I will get the chance to enjoy elegant and modern design whilst saving some amount of money on my electricity bill since I will be using the sustainable source of energy, the sun.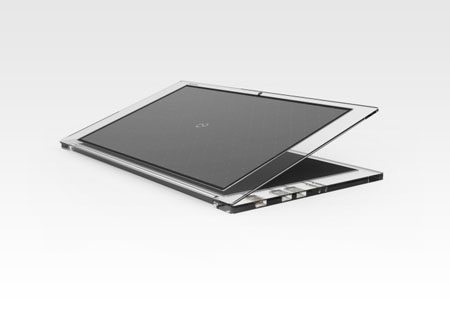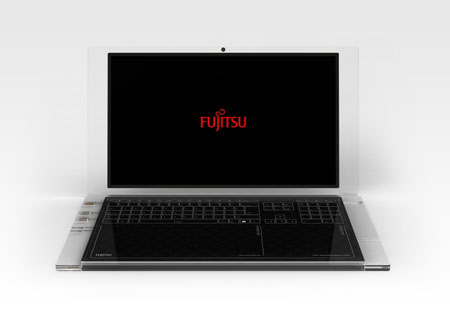 We have heard a lot about wind turbines and solar panels. However, I am sure enough that keeping them work together in one is something new and extremely lovely to hear. Scientists from University of Liverpool lead by Dr. Joe King have come up with an ultra sustainable windmill. Yes! A windmill is sustainable enough but having solar panel blades is more than enough. This upgraded windmill will surely allow residents of the United Kingdom to enjoy energy without the guilt feeling of harming the environment. In addition, they surely will enjoy the savings they got in their energy usage.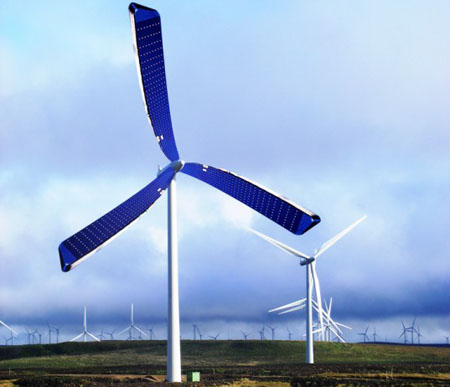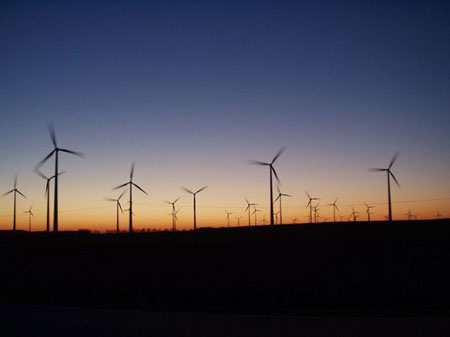 Via: Inhabitat
Getting wired and hooked to the internet is becoming a necessity nowadays. With everything you can do online from shopping, working, and all, I feel like the internet and the tools used for having an access is the most important thing that majority of the people must have today. We all know that our gadgets need to be charged at all time and this will require electricity and definitely every gadget addition that we have is an addition to our carbon footprint as well. Good thing solar chargers like the Leaf by Joel Lim are now developed and widely available. In this way, we can at least reduce our carbon footprint even if we continue to use of electronic gadgets.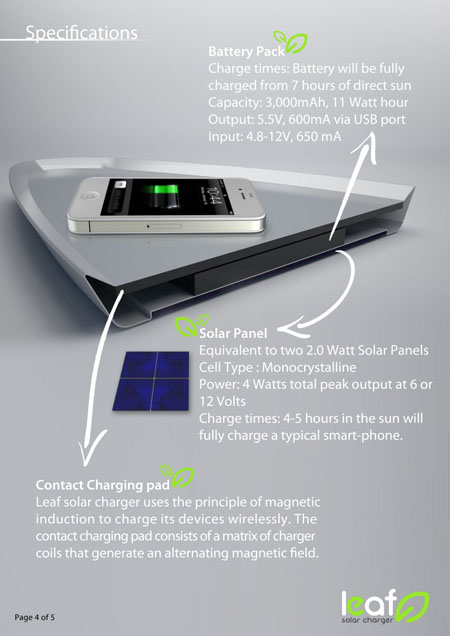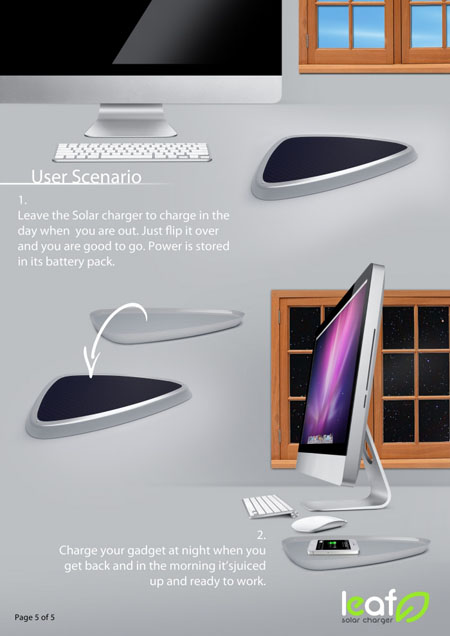 When shaving our pencils, we normally do it right on top of our garbage bin or we use sharpeners with shaving container and discard the shavings to our bins every once in a while. If all of us in this world are doing this, our landfills will surely be filled with trash like pencil shavings. We can easily minimize the growth of landfills and give our pencil shavings a new life by patronizing eco-friendly products like the Pencil Shavings Necklace, which is obviously a product, made of supposedly discarded pencil shavings. It looks so cute and fashionable. I just hope it will not be itchy on the skin.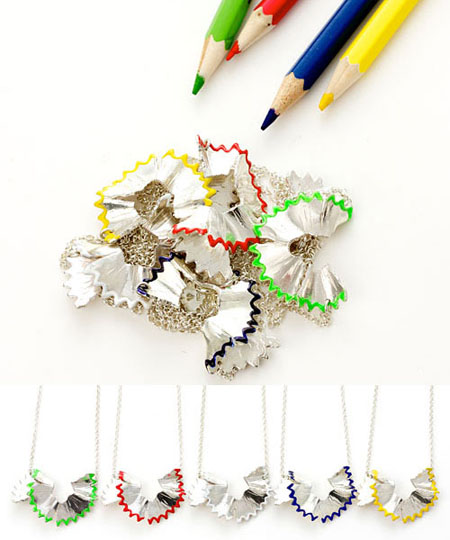 Source: Victoria Mason via Design Milk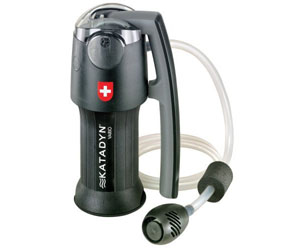 Our Recommended Partners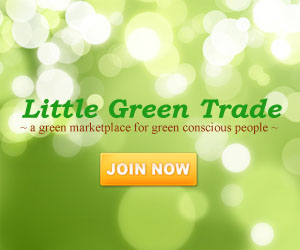 Advertise with us
Archives