Search results for : ar condicionado green
During festival and other events, building a pavilion is becoming a tradition in many countries but in Valencia, Spain, an eco-friendly Arraiz Garcia Pavilion is being built during the annual traditional festival in Spain. Compared to the traditional pavilions made during the annual festival that are made of polystyrene, this new pavilion by Miguel Arraiz Garcia is safe to the environment because it uses cardboard, a biodegradable material. The pavilion is made of 3,000 corrugated boxes. Another thing that you will like about it is that, it uses no other construction material. It is built representing a cave and has a title "a battle is raging even if you're not aware of it".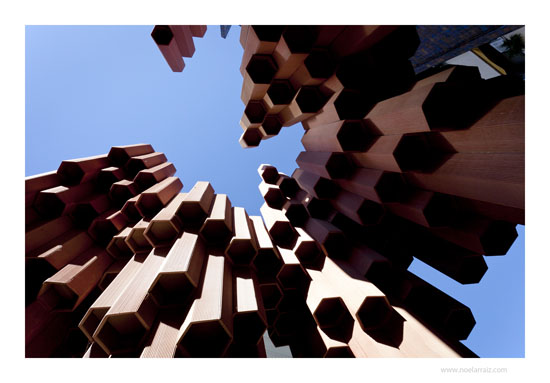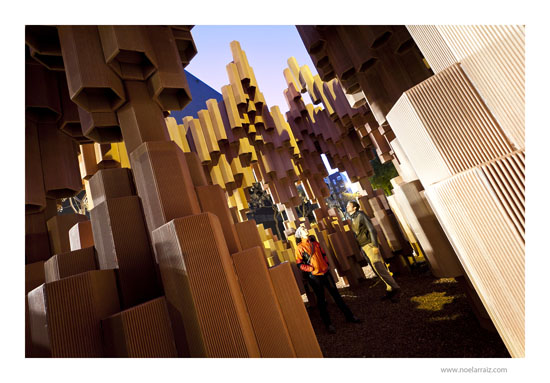 After the event, the cardboards used in the pavilion can be disposed without being worried of how long it will stay in the soil, for in just a short period, it will immediately decompose. On the other hand, once can also recycle the cardboards and make use of it however it may serve them. In addition, since the pavilion look good enough, one can also make us of it even after the festival. It can provide the shade that everybody needs especially during hot summer days. In this way, people were able to enjoy the shade that buildings and pavilions made from concrete materials can provide with less carbon emission and thus, help save the environment.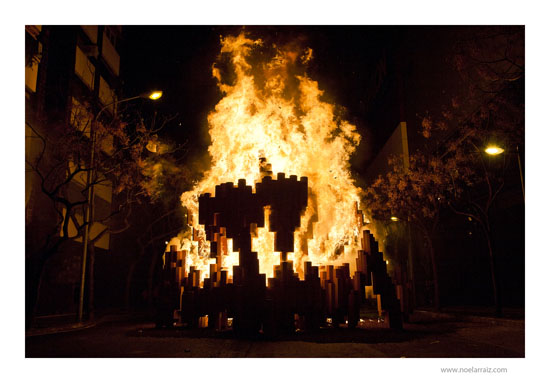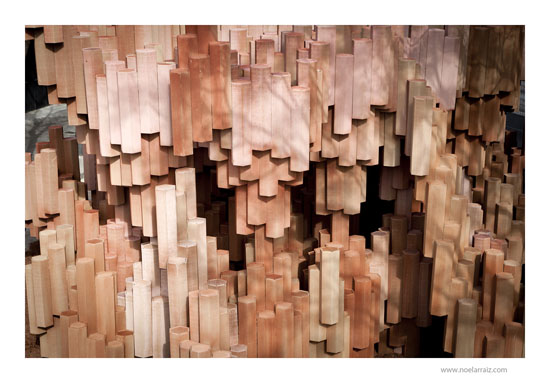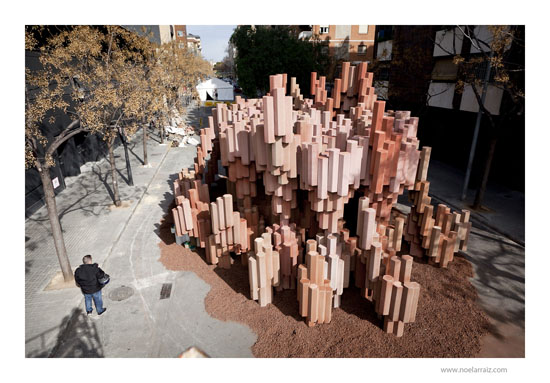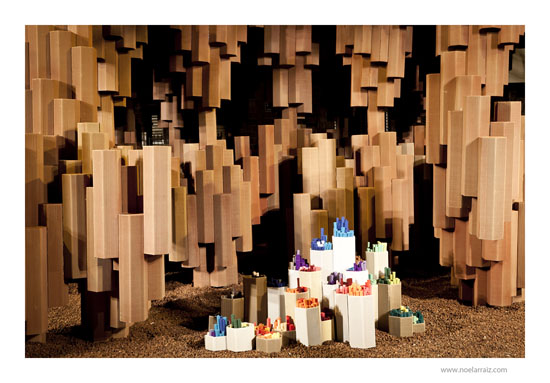 The IQ from Toyota is obviously a small yet elegant four-seater car that will soon be on our busy street daily. Originated in Japan, the Toyota IQ has J-Factor influences at it. Because of that factor, Toyota is being manufactured with modern, attractive, and globally appealing appearance. The Toyota IQ is small however its spacious for the comfort of its passengers. Toyota IQ's 50/50 split rear seats give its user more luggage capacity by separately folding it. The rich chocolate-plum color interior finish made the IQ more desirable to own, especially to those families with little angels who usually mesh out inside the car.

Words From Toyota :
"The iQ story started a few years ago when we at Toyota began thinking of the environmental impact of automobiles. We came to the conclusion that, in order to ensure a sustainable future, there was a need for a radical change in vehicle packaging. We needed to create a break-through, away from the traditional belief that small is basic. Our answer to this is Toyota iQ," says Kazuo Okamoto, Executive Vice President, in charge of Research and Development at Toyota Motor CorporationJ-Factor design
The design of the new iQ has its origin in Japan with J-Factor influences at its core. Toyota explains J-Factor as that aspect of Japanese originality and quality that creates modern, attractive, and globally appealing products from the apparent disharmony and contradictory nature of its original components. Expressions such as 'small yet spacious', 'high-tech yet human' and 'emotional yet functional' are all examples of what Toyota calls J-Factor.
Techno-organic theme for interior styling
By mathematically analysing and recreating the structural beauty of natural objects, Toyota has achieved a 'techno-organic' design which fuses geometric precision with inner beauty.
The steering wheel is flat-bottomed to provide the driver with greater legroom. Controls for audio are placed on the wheel to save space on the centre console and to offer a high-level of convenience for the driver. Other techno-organic features include matt silver door handles with flowing manta-ray styling. While the ultra slim seatbacks are formed in a stylish one-piece moulding that enhances the edgy feel of the iQ and assist in freeing up additional passenger space.
For more luggage capacity the 50/50 split rear seats can be separately folded flat to increase the available load area. The interior is finished in rich chocolate-plum colour, which contrasts with the matt silver of the techno-organic architecture to provide an environment of urban sophistication.
Creating more passenger space in such a compact vehicle was a key aim for Toyota's design team. The engineers had to reconsider the very locations of various vehicle components rather than simply re-designing parts to a smaller size. The result is a true break-through in 'small yet spacious' packaging, which at the same time has been designed to meet the top 5-star safety rating of EURO NCAP.
The new Toyota iQ measures 2,985mm in length and 1,500mm in height, but the car's compact ingenuity lies in its comparatively lengthy wheelbase of 2,000mm.
A newly developed differential allows the iQ to be built with short front overhangs, which result in a gain of over 100mm of additional length inside the passenger cabin area when compared to the B-segment Yaris. Toyota's ingenious solution to the differential is 3-fold: the under-bonnet area is made more compact; the front wheels can be placed at the very corners of the car, which drastically shortens the front overhang; and the passenger compartment can be increased.
Flat under-floor fuel tank with rear-angled shock absorbers
The design of the flat under-floor fuel tank has allowed the development of shorter rear overhangs, which contribute to the reduction of the car's overall length. Historically, a flat tank was considered difficult to engineer successfully because of the variance in fuel surface levels depending on the angle of the car. However, persistent engineering efforts to downsize and find the optimal placement of functional parts have resulted in a flat fuel tank that creates significant space savings.
Smaller heater/ air conditioning unit saves space
Toyota engineers have managed to significantly reduce the size of the heater/air conditioning unit without sacrificing performance output. As a result of the size reduction the passenger-side area of the asymmetric dashboard can be moved forward and towards the windscreen base freeing up additional cabin space.
Centre take-off steering gear for compactness
Toyota has employed a centre take-off steering gear and positioned it higher in the engine bay. The gear, engine and differential could then be repositioned creating the iQ's size-reduced front overhang.
Slim seat design for greater leg room
The slimness of the iQ seat backs release a further 40mm of rear passenger room at knee height so that rear passengers can sit more comfortably. With an all-new frame structure and optimal adjustment of ancillary parts, the slimmer seat designs save space without sacrificing comfort.
The iQ will have the choice of one of two petrol or one diesel engine. These engines – along with the compact design, low weight, and aerodynamic shape of the iQ – will contribute to outstanding fuel economy and exceptionally low CO2 emissions, which are anticipated to start at around 100g/km. Production commences in late 2008
Source : Toyota via Dezeen
We have heard a lot of advises that telling us not to use our dishwashers to save on our water usage. However, designer Alexey Danilin sound like will be the on the prove that this advise is not advisable already. With his new creation for Electrolux you will definitely use the dishwasher than by washing your dishes by hand. This wonderful design is ready for production and will solve the problem of pollution and resource saving. This wonderful dishwasher design will only need one glass of water a month, and you can already use the dishwasher constantly without any detergents. What an astounding creation. Will it thoroughly clean our dishes? Just wondering.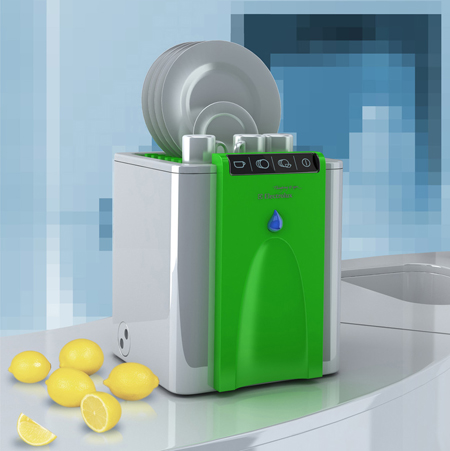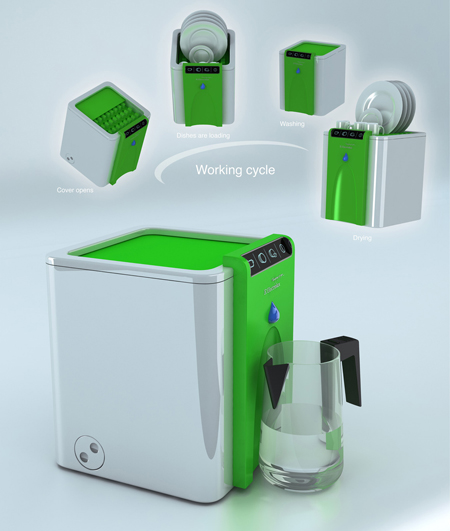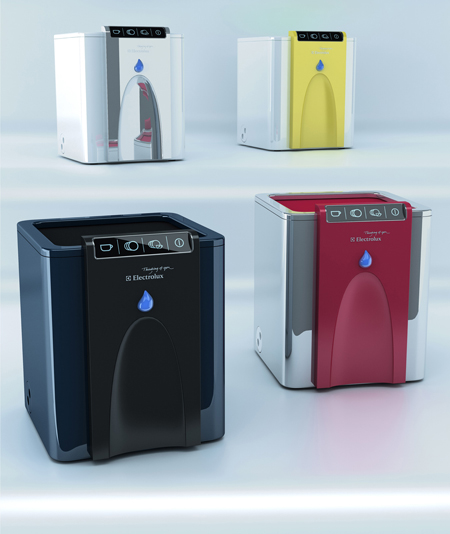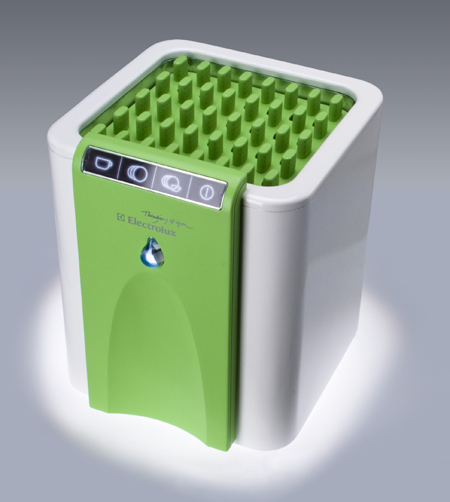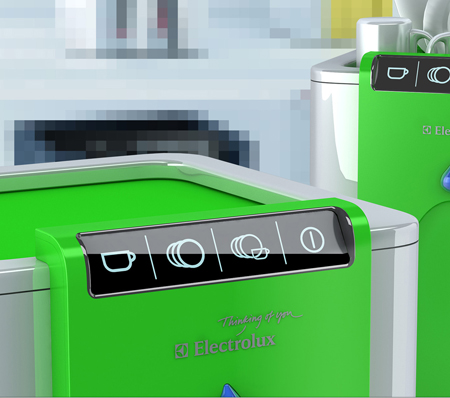 Source:Alexey Danilin via Design in Central and Eastern Europe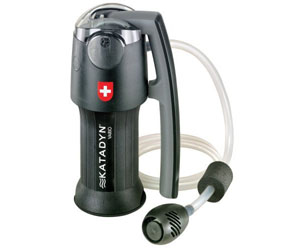 Our Recommended Partners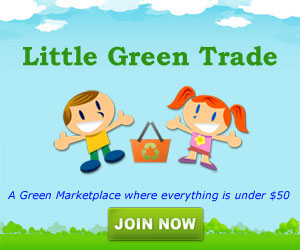 Archives
Social Networks