Browsing articles in "Gardening"
Have you ever seen Vincent van Gogh's Starry Night masterpiece? If you have, then you know the breathtaking glimpse of wonder in our starlit sky. Stephen Kitras, a professional glassblower, has crafted a cool glass globe that brings the magic of Gogh to life, in your garden to be exact. Using his artistry, Kitras draws upon painting's nocturnal palette and captures that swirling of paint in textured glass. This Starry Night Solar Stake would look awesome at night, it doesn't even use electricity, it is solar powered.
Once the evening falls, the magic happens. The solar powered light would illuminate the glass globe, creating awesome light in your garden or perhaps the pathway to your front door. Handmade in Canada, Kitras aims to produce affordable glass art objects to bring beautiful things around our home. [Click here to get more details of this Starry Night Glass Globe Stake]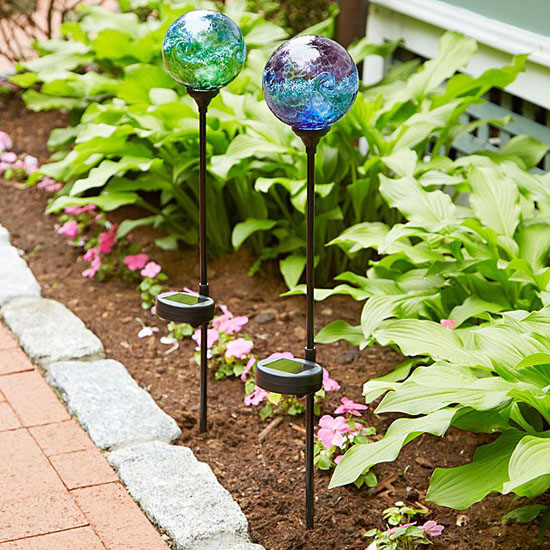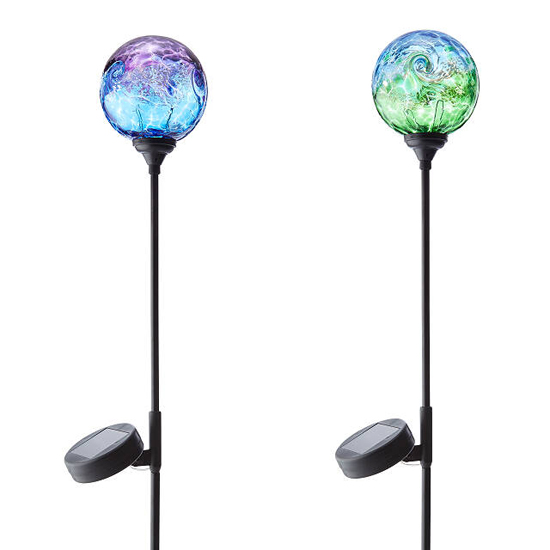 Are you composting your kitchen waste? Here's a perfect compost crock for you, Farmhouse Compost Crock. This earthenware crock keeps your kitchen scraps for composting, it features vintage farmhouse style that would complement your kitchen décor. This cute crock is nestled in a chicken wire basket, it would look cool standing on your countertop. It has a carbon filter in the lid to prevent odors, some customers even mention that it doesn't seem to attract fruit flies. It sounds pretty good, heh?
Collect those fruit peels and vegetables scraps inside this crock until it's time to bring them out to the compost bin. It can hold around 3-1/2 quarts of food scraps. The size and capacity is just right, that wire caddy makes it easy to handle when full. [CLICK HERE to read more details about Farmhouse Compost Crock]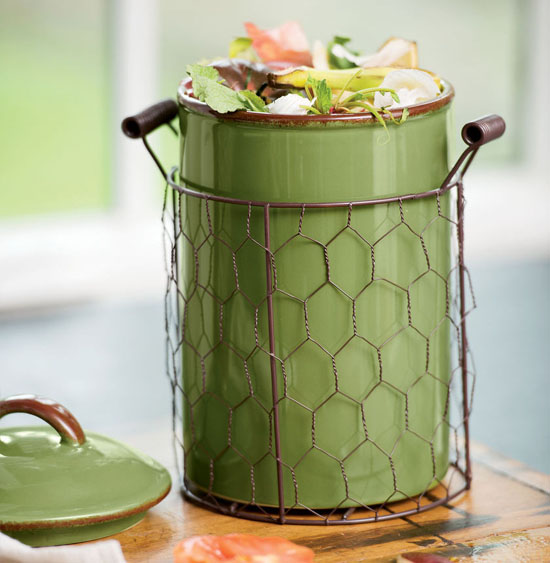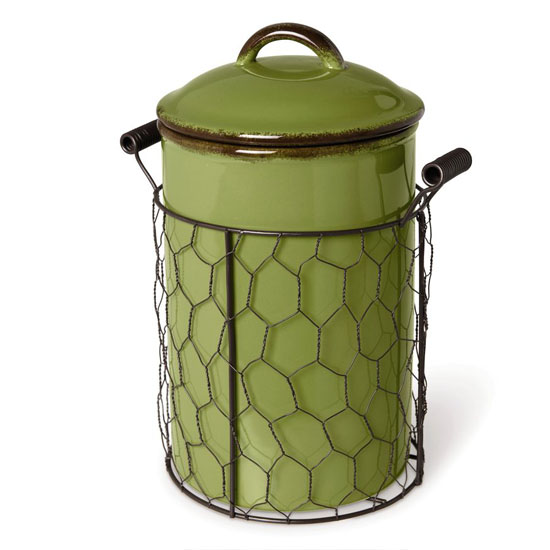 Made of wicker and coconut fibers, Coconut Fiber Hedgehog Planter would put a smile on everyone's face. It's an adorable garden planter hand crafted in Philippines.
This cute hedgehog's coat is constructed of coconut fiber and becomes the place for plants to live, its spiny protection is made of bamboo. You can celebrate this cute animal natural state with cactus or fluff him with a fern or zinnias. It's a cute decorative planter, but to make sure its life span, please use pot or liner to keep it dry. [CLICK HERE to get more details for this hedgehog planter]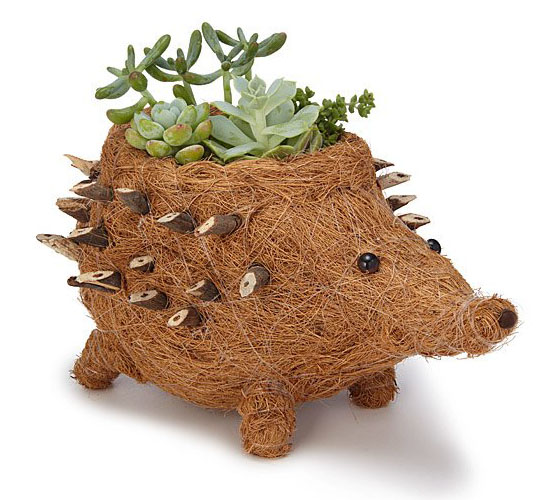 You can enjoy a little nature in your house through EcoQube. It's an aquaponics system where you can grow flowers, herbs, or house plants indoor while using these plants to also clean aquarium water naturally. You can maintain clean water and a healthy habitat for your fish through this system, EcoQube offers a self-sustainable ecosystem where you don't need to change water of your aquarium or filter replacement. What you need is to feed the fish and add water every two to five weeks to compensate for evaporation. [CLICK HERE to get more details about EcoQube]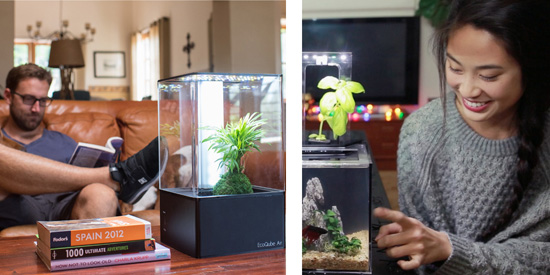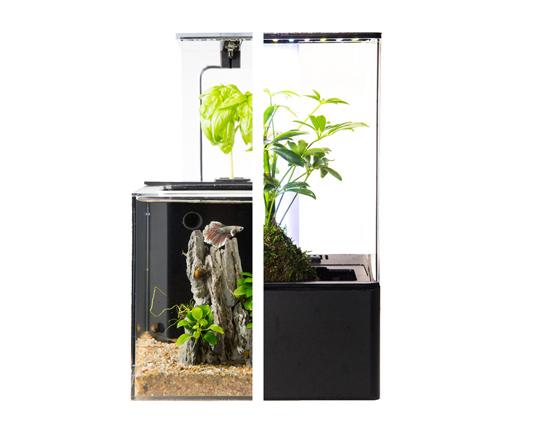 A smart use of space, Urban Hives are a concept project where small gardens can be established in parking lots. There are lots of large green areas slowly disappearing, including small gardens due to rampant construction of large real estate projects. These projects, in order to create living space sacrifice many old urban garden houses. Urban Hives is a project that proposes to bring back those gardens in parking lots. It consists of car-sized lightweight structure, raised above the car, and at the top, we can create urban farming and beehives.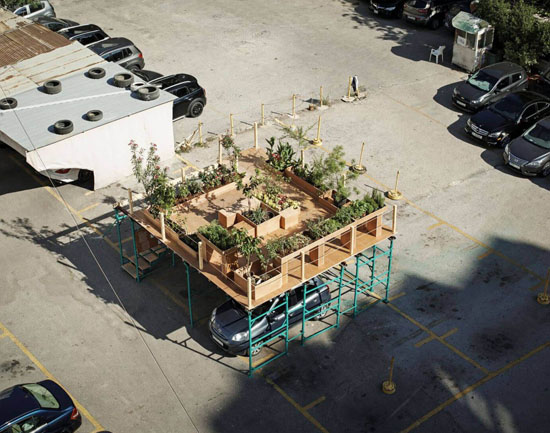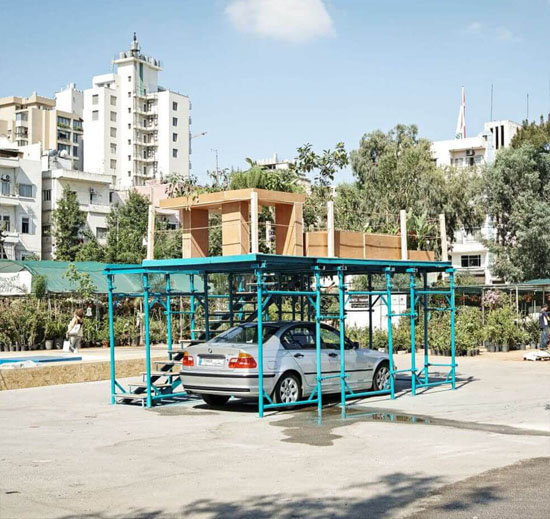 Grow your own shiitake in your garden with this Shiitake Mushroom Log. If you already grow your own vegetables, why not these edible mushrooms as well. It's a also a great log gift for anyone who loves gardening. Each of this hand-cut hardwood log is already inoculated with spores that would sprout organic shiitake mushrooms. This mushroom is a fast-growing variety, making it perfect choice for first-time growers. [CLICK HERE to get more details about this mushroom log]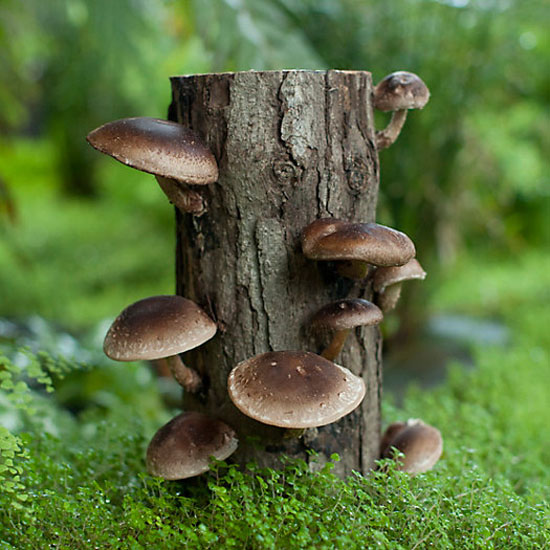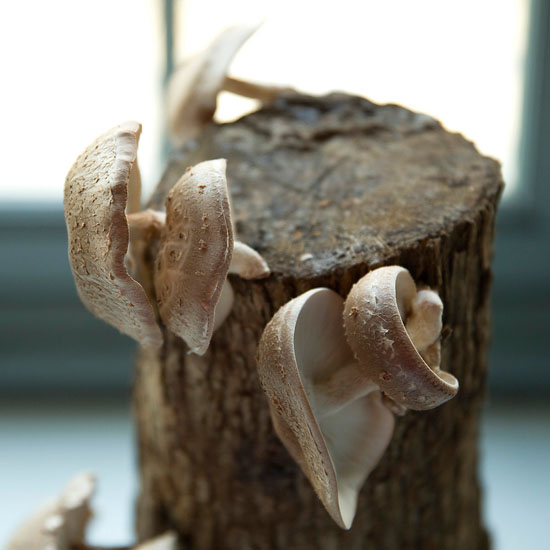 Gardening is a fun hobby, but for some people, bending for too long can be hard on their back and knees. Deluxe Tractor Scoot with Bucket Basket can ease the pain, you can work from a seated position at the same time, that position would minimize strain on back and knees. This is a versatile and steerable scoot with principles of go anywhere and do anything, a super stable rolling scoot that allows you to work in the garden from a comfy seated position. Heavy duty frame can support up to 400lbs weight, the seat can be adjusted from 16-inch to 19-inch high.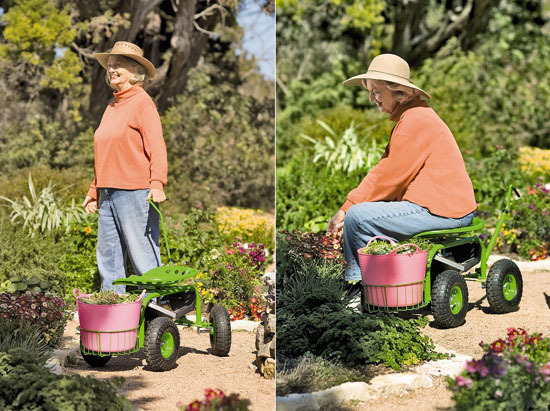 Salvaged from destruction, Root Wood Planter was born out of Fir tree stumps, which are usually left behind after sustainable logging. These tree stumps are usually removed to help accelerate the recovery, but hey, as you can see here, they can be transformed into unique and beautiful planters for your plants. Each one is hand carved by artisans, you won't get ugly left over tree stumps, instead, you get a beautiful and completely unique piece with different shape and marks, marbling and graining.
It's a planter that is directly pulled from earth, how cool is that? It can be an attention grabber in any room or a conversation starter among nature lovers. Fill this pot with your favorite flowers, it would look so exquisite in any room, it is not too heavy to carry, we highly recommend that you use it for indoor only. It is not recommend for use with liquids, you need to handwash only with mild soap and wipe it dry. [CLICK HERE to get order information of this Unique Root Wood Planter]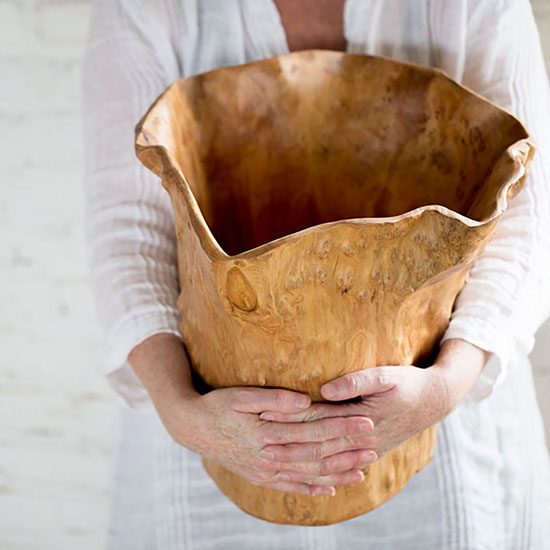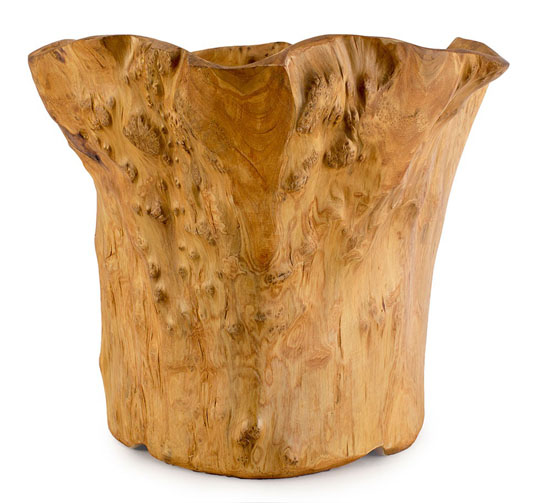 When you explore Paris, you probably see Uritrottoir outside the Fare de Lyon train station. It's a urinal planter, yes, urinal, a place where you can pee, legally. Public restrooms can be gross but it is also illegal to pee on the wall or public places. Uritrottoir can be translated as "pavement urinal", an eco-friendly spot to pee. It's not a container, it consists of two boxes that hold plants, completed with fertilized soil, the main area of the urinal sends your pee down to the odor-fighting dry straw that fills the lower box. Basically two boxes which are stacked on one another, the top for the plants and the bottom to contain your pee. There's a sensor that tells when the lower compartment needs to be sent to composting facility. Your waste is then composed and used as fertilizer for gardens, parks or even those plants that grow out of the top urinal.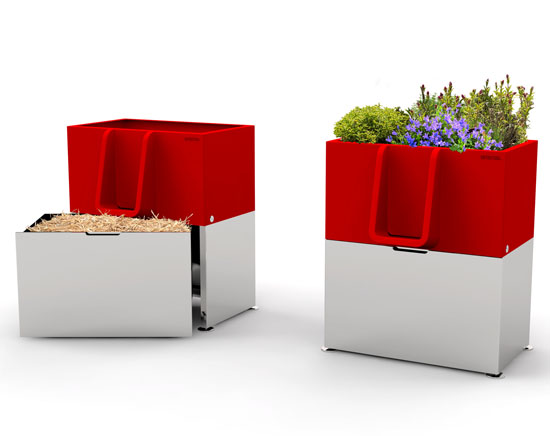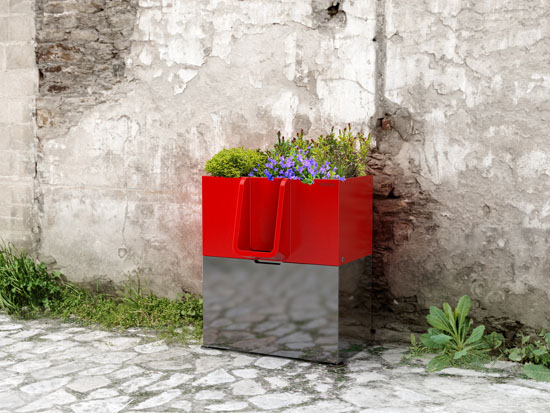 Keep your gardening tools nice and tidy near the garden with this space saving Gardenside Potting Cupboard. You can hang it on the wall, the front door opens flat, creating a potting station. It's a nice cupboard to keep your gloves, markers, twine, or any hand tools, it doesn't take much space since it can be mounted on a wall. Just in case you need to install this cupboard away from home but closer to your garden, you can purchase additional metal stand to hold it in style.
Keeping your tools and supplies near your lovely garden would save you multiple trips back and forth to the garage or shed. Since the door opens flat, it's a nice potting station to set down your cold drinks on a hot day or any tools. The wood material is treated with earth-friendly preservative, protecting it from freezing temperatures. [CLICK HERE to get more details about Gardenside Potting Cupboard]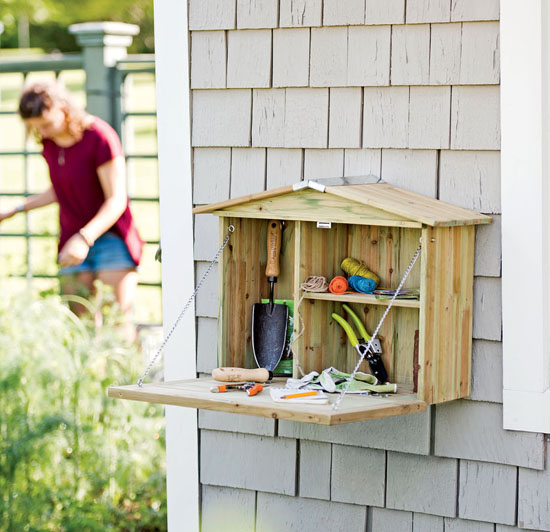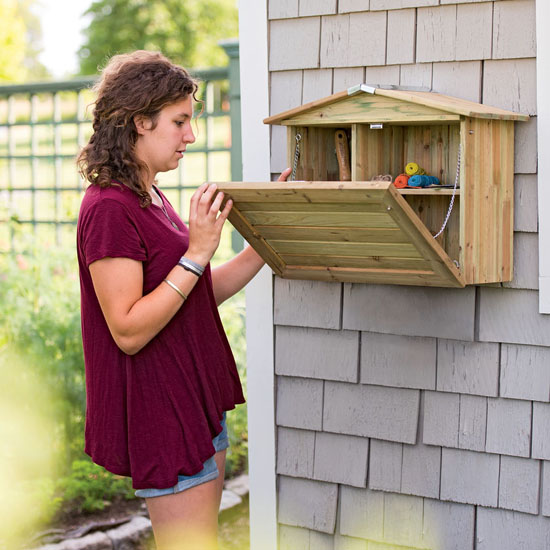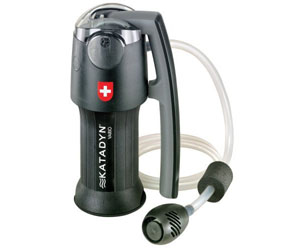 Our Recommended Partners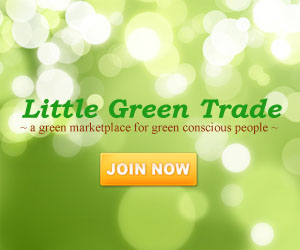 Advertise with us
Archives