Browsing articles in "Cell Phone"
As part of Siemens's aim to produce an eco-friendly cordless telephone designs, designers from Formwelt Studio has created the Gigaset Eco Visions, Leaf, and Solar designs that are made of recyclable raw materials, like the eco –plastic and liquid wood. These phones are using solar energy as their source of power. The Leaf model has a unique green design reminiscent to a leaf during spring. On the other hand, the Solar model uses all-over solar cells to sustain its energy supply. These models from Siemens really will answer our current issue with global warming and all the stuff. I will definitely purchase one for me when these products will be available in the market.
How is it going to have a unique phone in your home with the same function as your regular phones? The FuChat is what I am talking about. It is an eco-friendly phone made of biodegradable plastic and aluminum for the inner frame, for added durability. This phone can sense somebody's feeling by changing its display, text, sound, lights, and color of the phone, when the phone detects some change of emotion or body temperature of the user. This phone is perfect for people that need to have some anger management. The FuChat, designed by D-Link, will help them remind of how they are feeling today thru the phone appearance and display. The FuChat can receive and makes call like the ordinary normal phones. Isn't it amazing to have a phone that will tell you how you feel today?
A very innovative and high-tech one, yet is nature friendly futuristic green backpack is now being designed by Carlos Suarez. This backpack assists students in their studies whilst keeping in touch with the world. This will going to be the first Ultra Mega OC (UMPC), that will include a satellite phone, GPS, and satellite internet. The backpack has solar panels that recharge the UMPC and a tent that uses solar energy to raise its memory metal frame. A raised memory metal frame is powering a flexible LCD that is available for classroom use. The unique function of this backpack will allow student and researches alike to do camping on a remote location and still have contacts to their loved ones.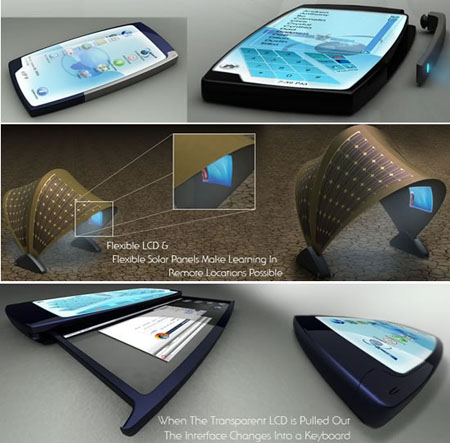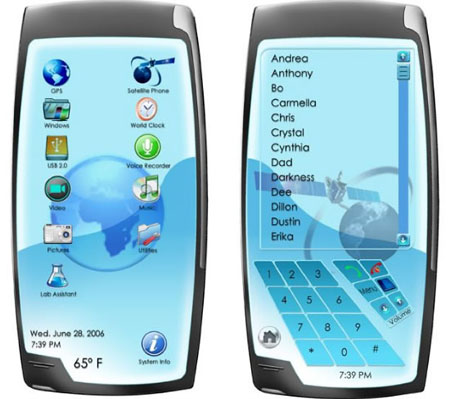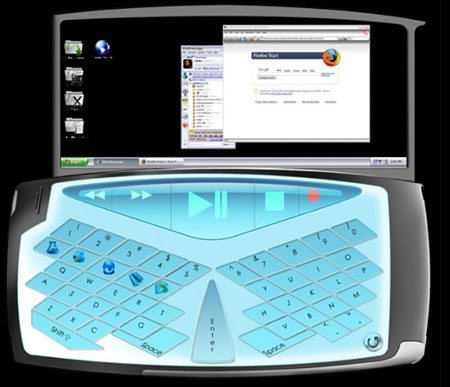 The new W510 with bio-plastic and F28 without BFRs from Samsung is now being introduced in the market. Both are eco-friendly and are being announced at the World IT Show in Seoul.
With a bio-plastic made from natural materials extracted from corns, the W510 and is the first mobile phone from Samsung that contains the said materials. Compared with the common plastic produced from petroleum, the bio-plastic is the product of Samsung's extra effort in creating and developing an environment-friendly material.
Aside from the W510, the F268 is another eco-friendly mobile from Samsung. The product does not contain BFRs (Brominated Flame Retardant) or PVC, which made it an eco-friendly one.
Source : Samsung
Eclipse Intuit Phone Love Sun has all the basic stuff that we need and expect from a mobile phone. Designed by Eddie Goh, it has a 5-megapixel camera and built-in software for editing and uploading photos into a photo album. It has a great large touch screen display and a slide-out touch keyboard with tactile feedback.
The Eclipse Intuit also has a chemically based thin solar skin that charges the battery when exposed to any kind of light. This handset can be of different mode, and each mode has a variety of buttons, like when the phone is in camera mode, it has a left/right buttons with navigation pad to dedicated camera.
Designer : Eddie Goh via YankoDesign
The idea of SLIQ cell phone is trying to replace the multiple gadgets for professional travelers. Why? Because with multiple gadgets means multiple chargers are needed, that is a quite amount of materials to break down, aren't they? Why not using sustainable materials and components, user-powered charging elements, less moving pasts, and easily disassembled and reusable body. SLIQ cell phone concept is in the direction where consumer electronic should be…
This degradable mobile phone is called Bamboo, because when the battery, antenna and print board are removed the case can be placed in compos and a few weeks later the case will begin to disintegrate. Inside the case are bamboo seeds, these will start to grow and feet on the case. After a few months the will turn in to bamboo plant which compensates the impact manufacturing process the bamboo phone has on the environment. Too good to be true concept I think.
The case of the bamboo phone is made out two materials. Number one is a bio-plastic which is derived from renewable raw materials such as corn. Number two is bamboo which is a grass and can grow two feet or more a day. When it's harvested, it doesn't need to be replanted, because it will grow a new shoot from its extensive root system. So bamboo renews itself readily, unlike hardwood trees, which, once cut, are gone forever. Bamboo is an endlessly renewable resource.
The use of materials and the possibility to recharge the phone whit muscle power give the phone a very low carbon footprint and reduce the impact on the environment. This makes the phone "a green gadget"
Designer : Gert-Jan van Breugel
Our Recommended Partners
Advertise with us
Archives