Browsing articles in "Bike"
For your short trip it is best to take a walk or just use your bikes to save some gas and have a dose of exercise as well. The Strida folding bile is one of the best bikes that you can use or short trips. It is not just an ordinary bike. When not in use, you can have it folded, carry it up and stack in places you feel it will fit in. The Strida weighs about 22 pounds which is fair enough to carry. In addition, it has maintenance free components like the drim brakes, grease-free belt drive, plastic wheels, plastic hubs and plastic bottom bracket. This feature just simply means that you can carry the bike without the worries of getting stained.
As gas prices continues to soar high, it is a good thing that somebody's thingking of goos alternatives on vehicles that needs gas. One great example is the creation of the Cityspeed by industrial designer Michael Young. Created for Taiwanese bicycle manufacturer Giant, the Cityspeed is perfect for people in an urban area with the love of saving from gas and the nature as well. With LED headlights and tail lights integrated into the frame, this bicycle is simply good enough for daily use and even at during at night. With its official launch in Tokyo this October, I'm sure this will be another big success for Young and the Giant.
Water is the most important thing in our daily lives. This is what we use to rehydrate and sanitize our self. Today, it seems like we do ran out of water already. Many areas all over the world are experiencing water shortage. That is why the Aquaduct team came out into an idea of creating the Aquaduct Mobile Filtration Vehicle. The mobile carries along with it a large tank and the smaller one called the clean tank. While peddling, the pump attached to the pedal will draw water from the large water tank, passes thru the filter and finally to the clean tank. This process can be while traveling, or while at halt. [Photo Credit : Nicolas Zurcher]

Designer : David Janssens, John Lai, Adam Mack, Brian Mason, Eleanor Morgan and Paul Silberschatz
Have you heard about Montreal's solar powered docking system and a high tech RFID tagged aluminum bikes? Yes there is! There six bikes and six docks in every station available for anyone. When a user reaches the station, he can use any bike available, and return it to any dock where he wants it to return. Mode payments available are through debit cards, credit cards or any other member cards. Maybe works like a subway train, drop off near to your destination and have a walk or maybe a short ride. In that way, you will have your daily dose of exercise and save gas at the same time.
People are now very aware on how to save our mother nature. Many of us already are having great alternatives for gasoline like using hydrogen for our cars. With all of these ideas, the Izip EZGO folding bike is another excellent way of roaming around without the worries of air pollution. EZGO bike is powered by dual 12v10a SLA batteries and has a 24v 2amp standard charger. Of course, the traditional pedal power is still present. With its maximum speed of 15mph, I am sure you will be at your destination on time. In addition to that, the EZGO bike is a folding bike that can be easily carried out when not in use.
[ProductPage] via AlternativeConsumer
Saving the earth and reducing bicycle theft, are what product design student Phil Bridge comes into an idea of making a cardboard bicycle. The cardboard they are using has an industrial strength so it is as durable as any other steel bikes available. This cardboard bicycle is strong, sturdy, and waterproofed. With this characteristics, this cardboard bike functions normally as the regular bike does. With cardboard as the main material for this cardboard bike, doubts about its durability will never be vanished as I myself have the same doubt. However, Mr. Bridge claims that even when it rains, the bike still has its structural integrity intact.
Designer : Phil Bridge via BBC
A2B is a Light Electric Vehicle or LEV that offers the fun of a bicycle with the comfort and power of a motor. This is good for those who are environment friendly and want an economic transportation solution. The bike's design is for the urban and suburban commutes, and offers lightweight aluminum construction with full suspension. In addition, it also has a comfortable over-sized seat and you will have a powerful and an easy to handle ride.
When somebody is already tired of pedaling, the bike offers unassisted power on demand for approximately 20 miles at a speed of 20mph or 33kmph.
From : Ultra Motors via Inhabitat
I would love to travel around the city with IZZY bike, eventhough this bike is made out of plastic, but it surely does look cool and comfort. Stylish design thanks to Omer Sagiv and Uri Sadeh, a green solution for travelling around the block, keep your car in the garage, use IZZY bike, you'll get to your destination faster.
Omer Sagiv, the designer (currently work for Ron Arad in London), explained that this bike has 2 unique free standing locking systems, 3 dimensional illumination and integrated rear suspension are all inbuilt, providing cheap and simple solutions to problems that every urban bike rider experiences and have been designed with the urban rider in mind. The unique design and development of a molded plastic frame allows the bicycle to incorporate all of the innovative features within its fluid and fluent shape. Furthermore, the IZZY bike owner will be able to recycle the main frame, thus revamping the color of the bicycle – simply, cheap, and with regard to the environment.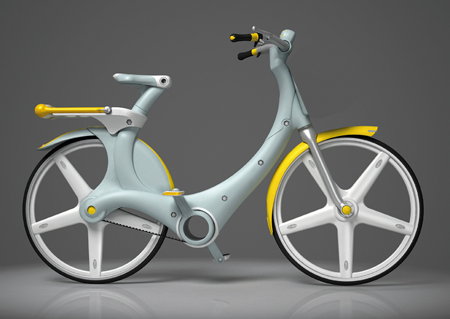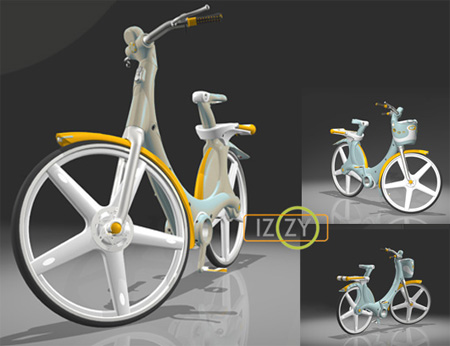 Remove your car, use bike to go to work. Even better if your bike is made of bamboo, eco friendly materials, just make sure the manufacturer has FSC Certification to avoid deforestation and biodiversity loss. Pretty cool bike, appropriate for everyday use and even for racing, but well this is what the manufacturer claimed. This must be bicycle with the lowest carbon footprint, least amount of carbon dioxide emissions in the production of the frame.
Source : GreenWorkplace
Every gadgets on the market today require energy or power to make it work. The challenge of this design is to find a way to harness this energy. ReCycle targets the wasted energy that is generated while riding a bicycle and empowers consumers to not only consume, but produce. Kinetic energy produced while biking creates an electric charge which charges a lithium ion battery. This battery can be removed and used to power a variety of electronics.
The battery is inserted into the charging unit and captures the kinetic energy (normal movements) created while riding a bike. There are minimal amount of mechanical fasteners to allow for each assembly or access to the internal components.
Any electronics that need to be charged or powered can be plugged directly into the battery. The simple aluminum construction allows for easy access to the internal components for repair or upgrade
Designer : Evan Grant
Our Recommended Partners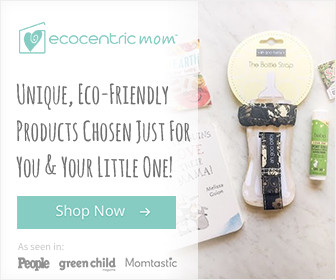 Advertise with us
Archives