Browsing articles in "Home and Kitchen"
Compared to other traditional non-slip pads, here's a truly eco-friendly alternative. Nature's Grip Non-Slip Rug Pad weds hand woven jute fibers to natural rubber, it helps to maximize your rug's grip. This rug pad protects your flooring while extending your rug's life. By using natural rubber, it means that this rug pad doesn't contain any harmful chemicals or adhesives just like common synthetic PVC rug pads. Rubber offers better non-skid properties compared to plastic, it can "grip" much better.
Due to Nature's Grip's low profile, this rug pad is a perfect choice when door clearance or rug thickness has become an issue. This rug would lie flat on the floor. Just in case you need special shape, this rug pad can be cut to custom fit and rug. [Click Here to get more details of this natural rug pad]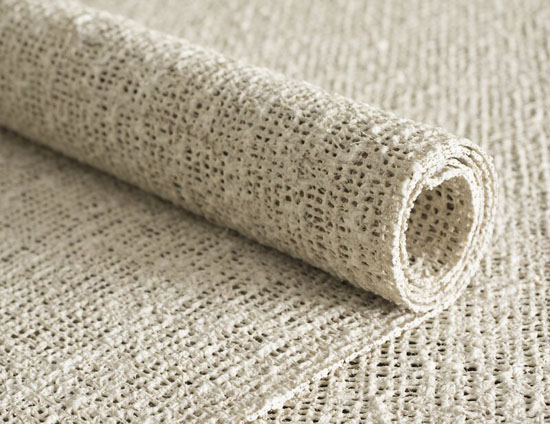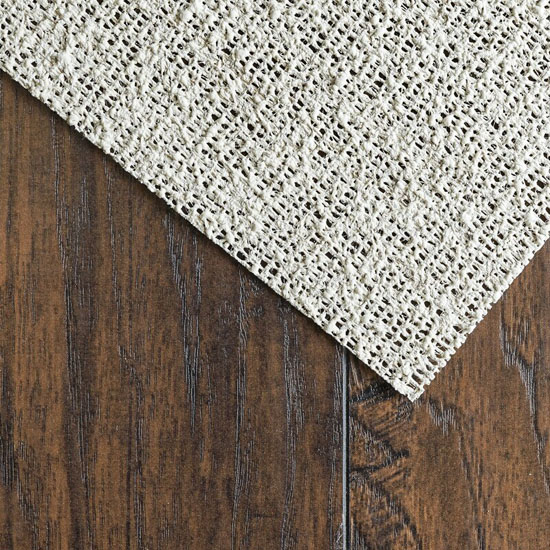 Do you love mountains? Ryan Leake has made an attempt to bring that mountainous adventure to your kitchen through this unique Mountain View Knife rack. It's a handmade piece that brings a taste of wilderness to your kitchen, handcrafted from scratch, this wooden knife rack is cut to resemble mountain range. It looks really cool on your kitchen wall while holding your knives, it's a beautiful decorative accent. Underneath this wooden rack, there's a powerful neodymium magnet that holds your kitchen knives in style. All your knives will be up and out of the way, making them easier to find and safer to reach instead of kitchen drawers. It's a perfect gift for a chef who has love for mounted adventures at heart. [Click Here to get more details of this magnetic knife rack]
Are you composting your kitchen waste? Here's a perfect compost crock for you, Farmhouse Compost Crock. This earthenware crock keeps your kitchen scraps for composting, it features vintage farmhouse style that would complement your kitchen décor. This cute crock is nestled in a chicken wire basket, it would look cool standing on your countertop. It has a carbon filter in the lid to prevent odors, some customers even mention that it doesn't seem to attract fruit flies. It sounds pretty good, heh?
Collect those fruit peels and vegetables scraps inside this crock until it's time to bring them out to the compost bin. It can hold around 3-1/2 quarts of food scraps. The size and capacity is just right, that wire caddy makes it easy to handle when full. [CLICK HERE to read more details about Farmhouse Compost Crock]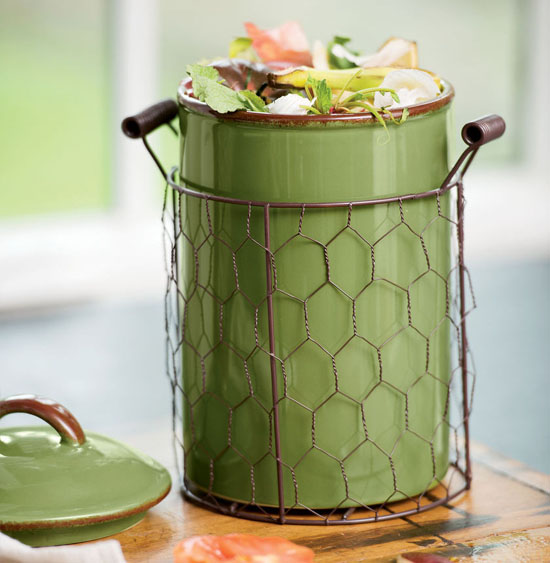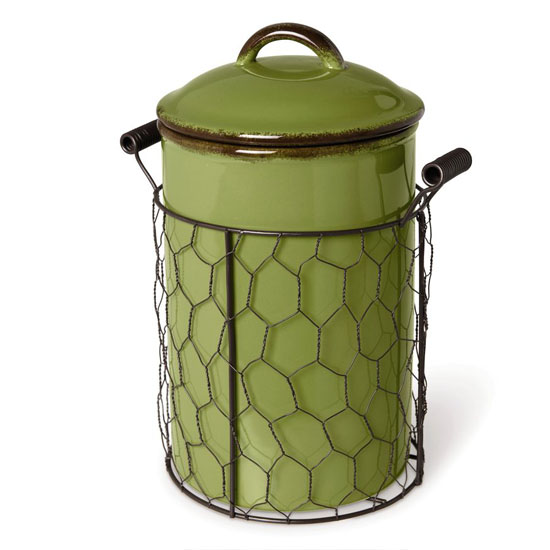 Made of salvaged mango wood, this cookbook and tablet stand features unique texture and color. Each design of this salvaged wood cookbook and tablet stand blends reclaimed mango wood with antique brass accents, making it stunning and one of a kind. Made by artisans in rural India, this piece would decorate your kitchen with rustic, beautiful stand. You can easily adjust it to your desired angle, it even has a little space for charging cords.
When you are done with the stand, simply collapse it flat for easy storage. Each product is handmade, it would be a nice housewarming gift for green conscious home owners. Since it's handmade from natural material, each stand is unique and vary. [CLICK HERE to get more details about this Salvaged Wood Cookbook and Tablet Stand]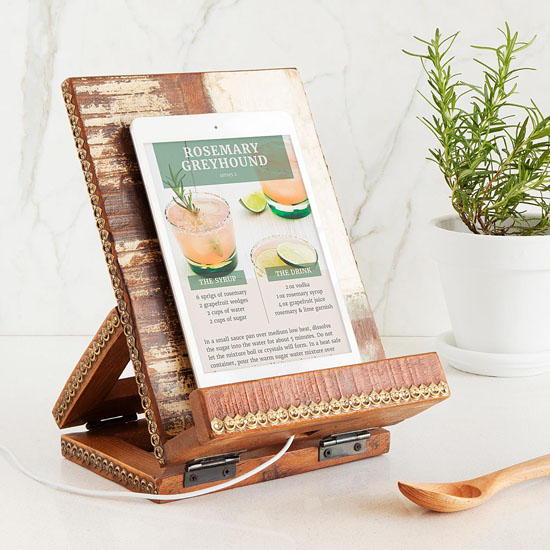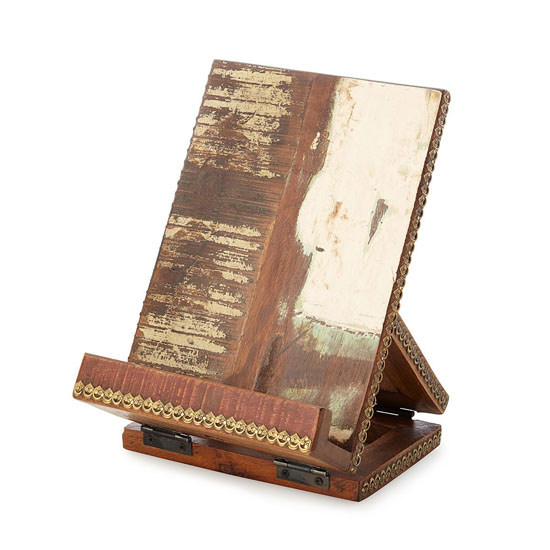 Take advantage of your food waste, Worm Farm Composter transforms any vegetable scraps to valuable fertilizer. The composter features modern and attractive design, you can place it in corner of your kitchen or near garbage bin, it's really easy, no fuss and no mess. Worms would do all the work, it turns your food scraps into nutrient-rich fertilizer, it's a nice green project to teach children about the environment.
Once the process starts, you can add up to 0.5 pound of food scraps per day to the composter (you need to purchase the worms separately). This amount is about an average food waste for a family of four. You need to also remember that 68-degree F is the ideal temperature for the composter.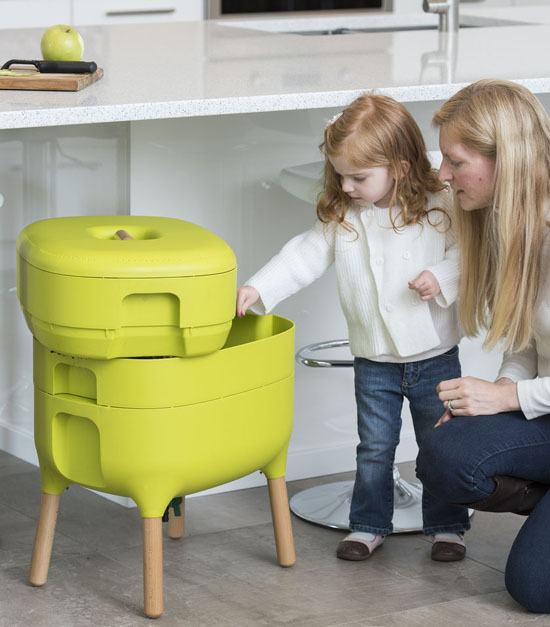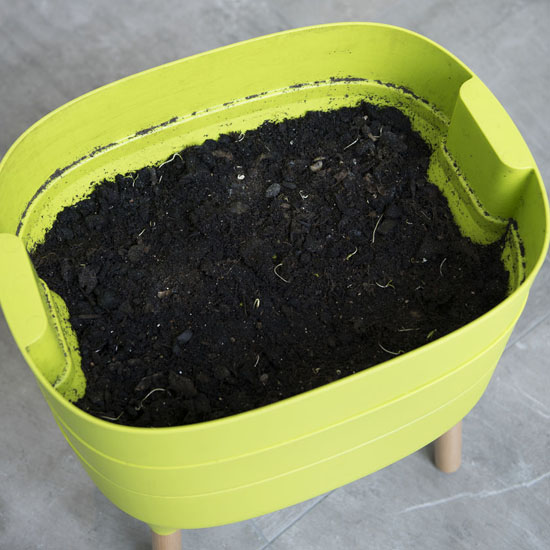 What a lovely mug tree, don't you agree? It's made from real wood! But don't worry, this organic mug tree is made from reclaimed mangosteen wood. Just in case you don't know, when mangosteen trees in Southeast Asian plantations don't produce mangos anymore, they are routinely chopped down and burned. So, why not use these discarded trees into something beautiful and useful? Each product is made from carefully selected trees, especially for the size and branch formation.
Made in Thailand, each one is unique due to the recycled nature of the item, so, don't expect to receive exactly the same product as the image here. Each tree is trimmed, cured, and sanded in order to create those unique mug holders, it would be an attractive piece in your kitchen. It is recommended that you use mineral oil to preserve this mug tree condition. [Click Here to get order information of this unique mug tree]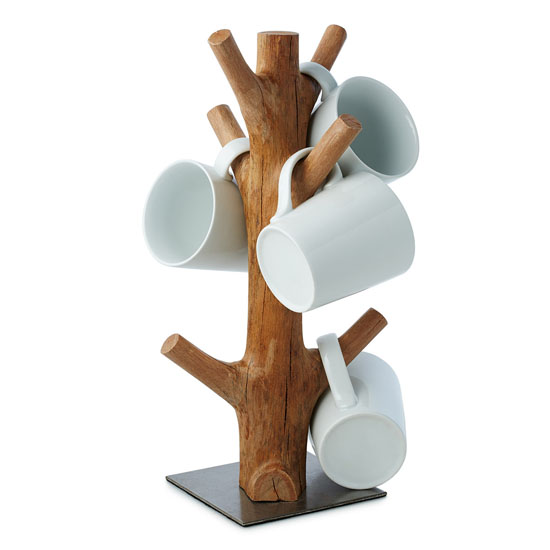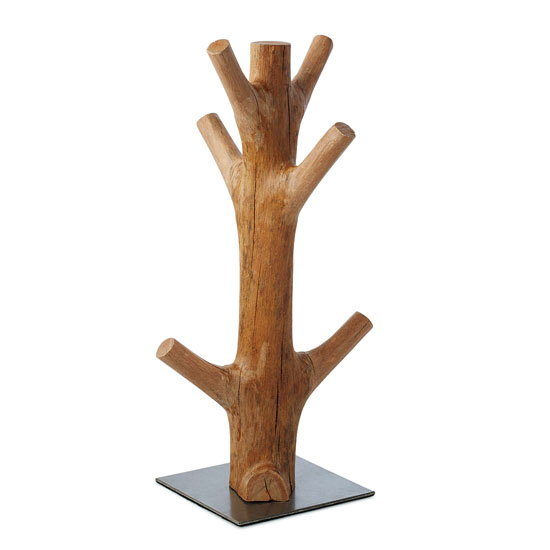 Planning to begin gardening? You might want to try with this all-in-one Gardener's Revolution Tomato Garden Kit, the company promises it can grow 35% more tomatoes for you to enjoy. It is so satisfied when you can consume fruits and veggies from your own garden, but when you live in the cities with no land, that can be a problem. This planter combines 3 innovations to make sure you can enjoy a big harvest of organic tomatoes, each unit comes with 1 Tomato Planter, 20qts. premium organic self-watering potting mix, and 1 lb. of organic tomato fertilizer. The self-watering system provides steady supply of moisture which is necessary for optimal tomato production, the container growing eliminates any weeding and soil-borne diseases.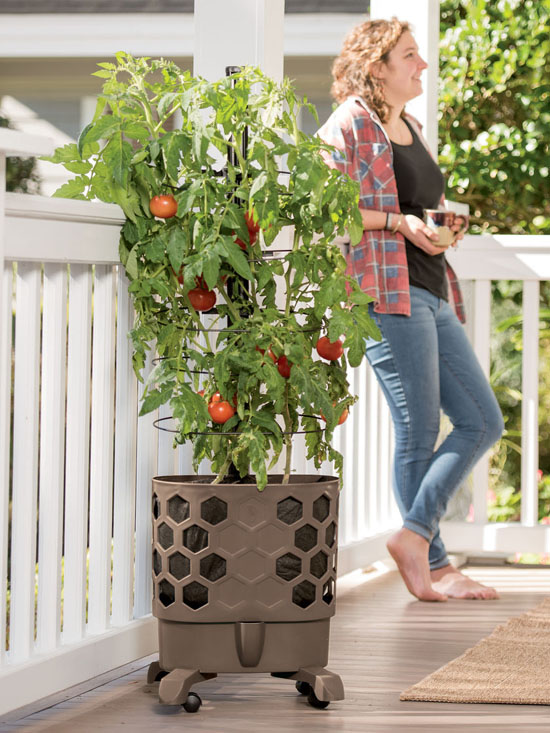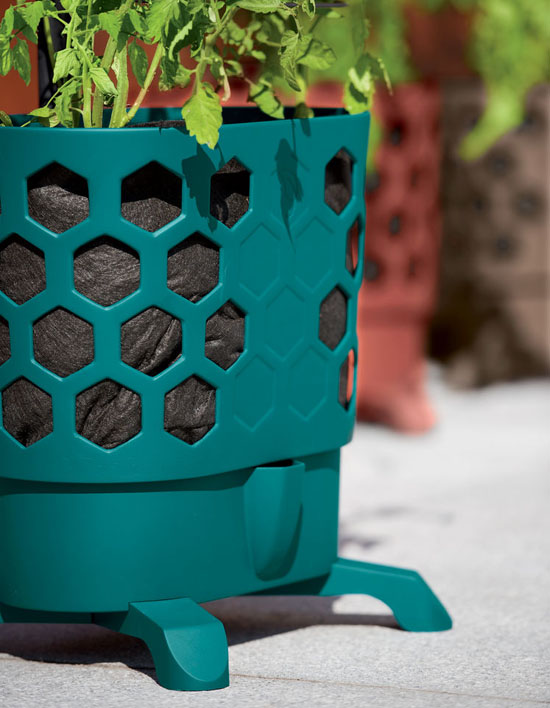 Look at this Natural Handwoven Water Hyacinth Baskets, they are sustainable and made with renewable hyacinth plants that are gathered from river banks. All those materials are woven to create this versatile, rustic basket, finished with bamboo handles. This basket can be a great centerpiece for closet, restroom, or maybe a natural table setting. There are 3 size options available, depending on your needs, you can eliminate clutter with this eco-friendly solution. Due to the material, it is not recommended to carry heavy load with this basket.
Update: These baskets are no longer available, but we've found similar products that you might like, click here.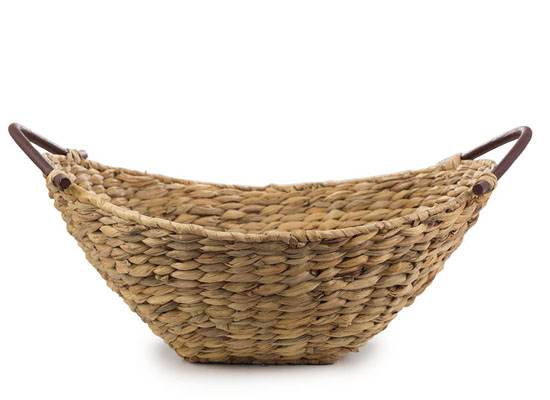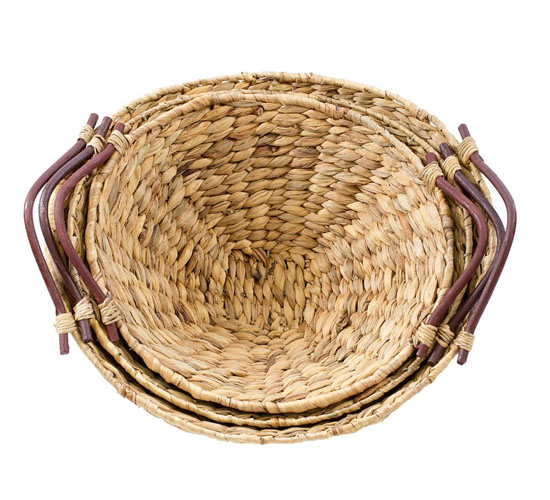 For the love of cooking, having a large cutting board means that you have spacious area to prepare your meal. For green conscious people, you might prefer to use this Extra Large Bamboo Cutting Board from Premium Bamboo. It's a large cutting board that comes with a drip groove that collects juices from vegetables, meats, or fruits, making it easier to clean up.
This cutting board is thick, strong, and durable, the kind of 100% antimicrobial bamboo board that won't dull your knives. The natural and eco-friendly material is bio-degradable, the generous size can hold fruits, vegetables, and large sized meat with no problem. The less porous of bamboo means fewer spaces for bacteria to get trapped unlike those wooden cutting boards. Measuring 18-inchx12-inchx3/4-inch, this big cutting board can be easily cleaned using just soap and water, just wipe it clean.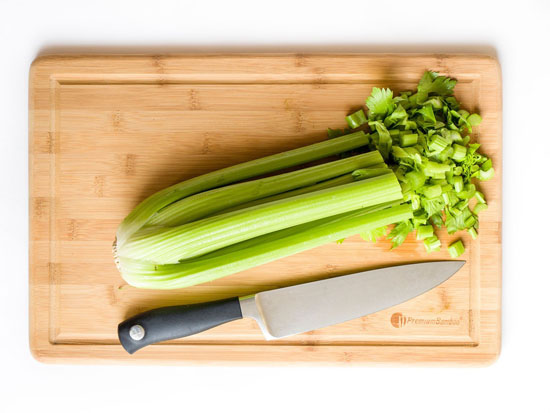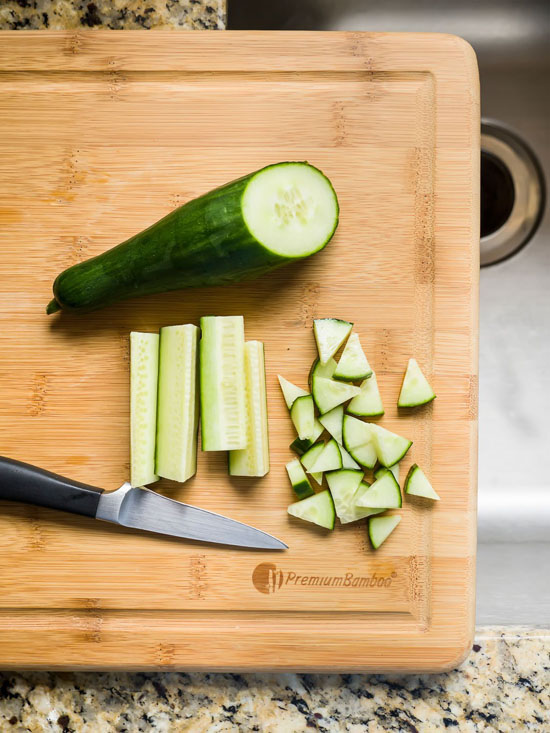 It's time of year where we're going to celebrate Halloween, if eco-friendly is part of your daily routine, you might want to checkout our tips to celebrate this special day in a greener way.
1. Trade Costumes
Halloween costumes play the biggest part in celebrating this special day, however, it doesn't mean you have to buy a new one each year. You can host your own costume swap, trade costumes with your family and friends or create a new one from old clothes. You can add some accessories here and there from yard sales or resale stores. We believe Halloween costumes should be spooky and fun, not necessarily fashionable.
2. Eco Friendly & Healthy Halloween Party Treats
Instead of buying mass produced candies and chocolates, why not choose organic ones. One of great brands we recommend is Yummy Earth Organic Lollipops, a company founded by two dads who wanted only healthy, dye free candies for their kids. We highly recommend that you make your own treats, they would be healthier such as homemade caramel apple pops (Lilyshop.com), boo-berry bats (Bittersweetblog.com), or homemade kitkat bars (Milkandmode.com).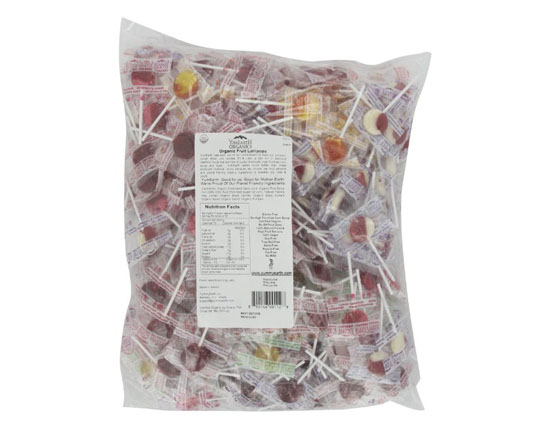 Our Recommended Partners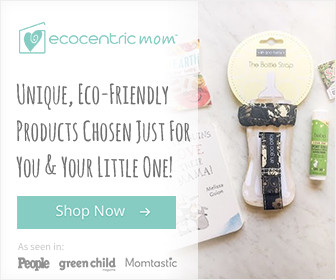 Advertise with us
Archives