Browsing articles in "Gadgets"
The Sony Reader Digital Book provides a new and innovative way of reading. This gadget boasts off its impressive 6-inch display, utilizing the breakthrough e Ink technology that made it easy to read even under the bright sunlight, and fonts are changeable on three different sizes for your comfort.
With its ultra portability design, it is the perfect companion when traveling. This gadget only weights nine ounces without the cover and ½ inch thin. This reader digital book from Sony can hold up to 160 e-Books, and its rechargeable battery can turn up to 7,500 continuous pages on a single charge. [Click here for more details about Sony Reader Digital Book]
New generation of digital audio player can be solar-powered audio player. Thanko has released its new Solar Digital Audio Player, great innovation, with 1.8-inch LCd screen, 4GB internal memory and a miniSD card slot, and of course a solar panel to charge the audio player. When the sun is not shining, you can charge the player via USB port.
via AkibaharaNews
Do you know that the conventional kettle can take 2 lt water just to create a cup of coffee? Which mean that 80% of the energy used by the kettle is lost just for boiling water. pH7 offers to boil the water in a very short time and with less energy used, plus you can use pH7 as thermos flask to keep your water hot during the day. pH7 thermal kettle has a unique and neat form, stylish and yet environmentally friendly.
Designer : Gökhan Keman
I guess Sanrio Empire awareness of green earth it's a little bit late, but than again, better late than never. Hello Kitty is trying to take its technology into environmentally friendly by taking control of solar energy. Below is the picture of Hello Kitty Solar-Power Charger, you can use it for phone, media player, camera. During the dark clouds, well, you can still plug the charger into a DC outlet for up to 6 hours of power on the go.
[Product Page] via Crave
Another breaking news from Apple, they just field a patent to infuse their computers with a thin film of solar cells. Do you think this might be their next breakthrough? Solar macbook can be pretty cool, a new generation from Apple, with battery life boosted by the sun. The patent approaches the prospect from every angle, with schematics to stack photovoltaic cells beneath the entire surface of their portables – including the screen! Greener Apple is indeed a great news.
Source : Forbers.com via Inhabitat
G2 is a portable fuel cells for your gadgets, such as PDA, phones, digi cams, etc. G2 portable power source is only takes 2.0 watt and powered by an array of eight Angstrom v60 Fuel Cell Modules, just plugin via USB port and you're ready. But you should aware that this charger's on-board hydrogen will last only for a few charges, after that, you need to refill the hydrogen cartridge through the Angstrom P2 portable refilling cartridge.
via EcoFriend and Gizmowatch
The problem in urban lifestyle is everything getting replaced instead of upgraded. Take a look at your computer, I bet its lifes pan is not more than three years. There are many technological advancements taking place in making the products more environmentally friendly in manufacture, use and disposal. However, there has been little progress in improving how these products are consumed. With the growing sales of computers, there is a growing concern of how the large amount of e-waste will be handled at the end of their life.
Clear computer concept is trying to give other alternative by improving the sustainability and extending the overall life span of mobile computers. Clear computer concept is designed to have the smart upgrading feature to decrease in overall consumption and the amount of e-waste.
Designer : Wataru Watanabe
Talk sustainable about home computer service, EVO PC is an alternative to the traditional PC in a new form factor. EVO PC concept is made of sustainable materials to achieve a substantially smaller ecological footprint compare to previous computing systems.
EVO PC consists of two main parts the EVO Client module and the EVO Base unit. The EVO Client houses a minimal PC board with a low power processor, RAM, flash memory, wireless cord and a unique circular EVO clocking connector. While the EVO Base unit houses the connectors to the peripherals, networking functions and power.
If you are a traveler and care about our lovely earth, bring EVO with you. EVO is a recording device which provides information such as location, time, direction, and atmospheric pressure. Evo device also captures still and moving pictures with audio, you can wear it as pendant if you don't like carry it everywhere.
The idea of Evo is based on the needs of capturing your moment with environment, connecting and experiencing again as personal history or sharing it with others. And the common frustration with capturing our travel experiences is the number of devices one needs, as well as the time and energy it takes to manage the content. These insights, often overlooked by producers, can lead to the products' premature end life which then contributes to the accumulating e-waste world wide.
Evo works with a GPS receiver, enables the recorded files to be referenced with geographic information so, not only is the information valuable at the time of experience, but opens up wonderful possibilities for re-experiencing the personal media in a dynamic map based software environment upon return.
An understanding and consideration other wide range of environments and activities within those plays a key role in determining manufacturing processes and technological components:
– Formed anodized aluminum casing was chosen for its light weight, protective and scratch resistant qualities
– A series of 'O' rings seals the two shells together ensuring water resistance and offering soft tactile qualities
– A CMOS photo-sensor combines the image quality of CCD technology with compact size, adaptability and energy efficiency
– A poly-led (polymer light emitting diode) display offers high brightness, high contrast, and a fast response time suitable for displaying video
– Minimal moving parts for longevity and durability
Designer : Sarah Hay
This is a concept of giving the driveway light by taking advantage of sun energy during day time. More and more products has launched in the market that use solar energy as its power. Even though it uses solar energy, doesn't mean the light that is produced is weak, the energy absorbed is strong enough to light the driveway, eco friendly and energy efficient. Hopefully this solar driveway light will go into production soon.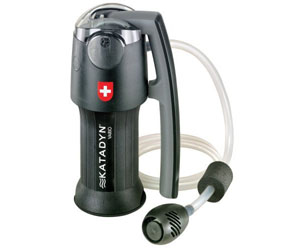 Our Recommended Partners
Advertise with us
Archives