Browsing articles in "Bathroom"
The Aperture showerhead promotes responsible water use. It displays the volume of water consumed while showering and allows the user to mitigate water consumption with a built-in flow regulator. Do you know most American uses 25-45 gallons of water in one shower ? And they do bathes more frequently than people in most other countries in the world. At a time when many large cities are facing crippling droughts, people need tools that will help them curb water use to more sustainable levels. These features help users make their showers shorter and more efficient.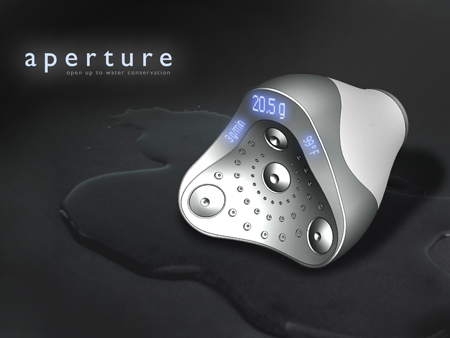 Aperture works by measuring the water consumption with the help of hydroelectric generator as power, it will reset the meter once you shut down the water, and at the end of this product's life, the simple two parts snap-fit construction makes disassembly easy for individual components to be recycled.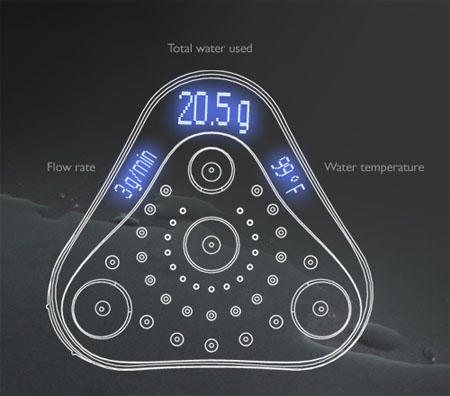 Beautiful and sleek toilet, no doubt about it. Fountainhead toilets from Kohler features a automatic flushing capability with Power Lite flushing technology, which mean it will produce powerful flush without wasting the water. To open the toilet seat, you only need one finger touch, it will open slowly, and the LED light will server as night light just in case users are often forget to switch on the light when walking into the toilet at night. And this probably the best news for you : a warm seat and ergonomically designed to comfort your butt.
Toto has designed a new tankless toilet type called Neorest AH which can save quite amount of water while you're flushing. Hybrid Neorest AH uses water from both a toilet tank and an external water supply line. This hybrid toilet is claimed to use just 5.5 liters instead of 13 liters that the conventional pots use. Neorest AH also features technology that can help to warm the toilet seat, it also has auto clean water system, what can you ask for more ? You can see it in action at Japanese Design 2008 Innovation which will be held in Milano from April 16th to the 20th this year.
Source : EcoFriend
Veolia project bathroom is an urban concept bathroom which designed for someone who loves luxury but with a green inclination. Thomas Nicodeme has designed a waste management in your bathroom in association with Veolia, a multinational French company focuses on water and waste management services. Take a look at this design, there are two cylindrical columns contain a podium that houses a basin, you can step in for a shower in one of them, and the other is for others to answer when nature's call. I guess that the water used for shower and wash users hand in the basin, once again used to flush the toilet.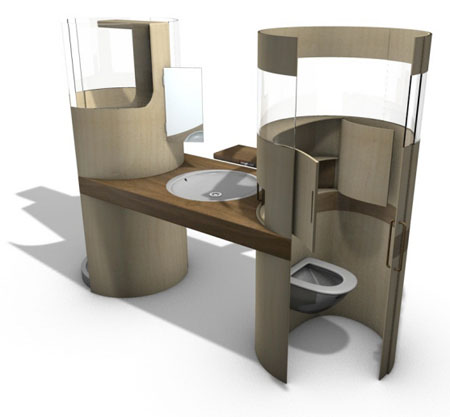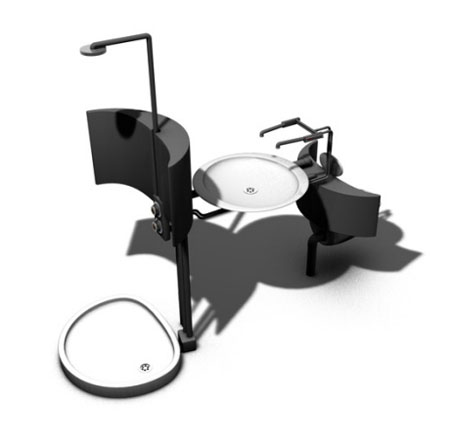 Designer : Thomas Nicodeme via BornRich
The idea behind this concept is to make user waste water that coming out of your washing machine. We do use around 150 litres of water for a washing machine, after that … why don't we use it again before the water finally go down the drain ? "WashUp" is integrating washing machine with toilet, which mean, it can store wasted water in the toilette-flush tank for us to use when flushing. This also can be a solution for small living space, combine your washing machine and your toilet in the bathroom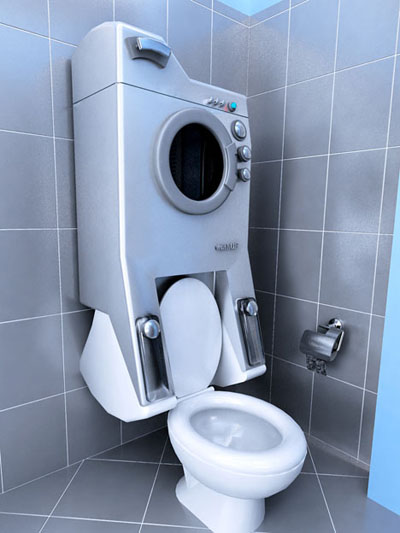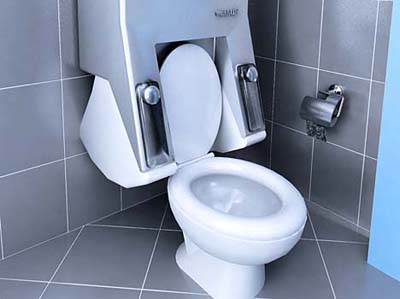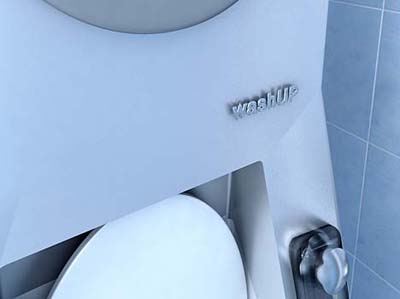 Designer : Sevin Coskun
Our Recommended Partners
Advertise with us
Archives