Browsing articles tagged with " water"
Let us do our share in keeping the environment safe by saving water with the help from Alsons Fluidics Water Saving Shower Head. Many of our friends from different parts of the world are suffering from water scarcity. We are lucky enough to live in places with abundant water supply. So why not take good care of it and save as much as we can.
The Alsons Fluidics Water Saving Shower Head is the eco-friendly type of shower head that uses the fluidics spray technology, the technology that will let you enjoy the same water flow feel as a standard shower head can give but at a lesser water consumption. In addition, this showerhead, through the fluidics spray technology, keeps the water warmer and it provides a more luxurious spray. Therefore, you will not only enjoy a huge savings of water usage and money but also you will get the luxury feel that you want in your shower and even more. This showerhead features the full-body spray feel as if you are using a high-flow shower. [Click for more info about Alsons Fluidics Water Saving Shower Head]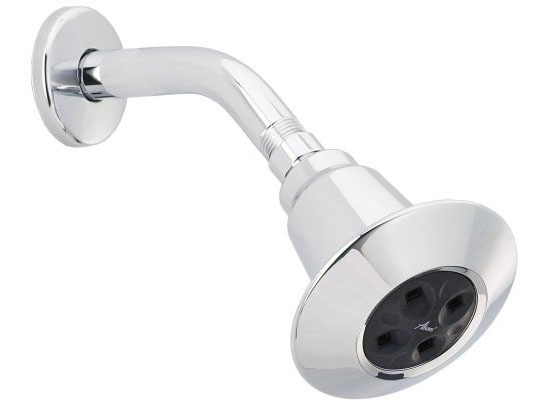 Solar energy collection has been evolving these days as Englerts, a New Jersey based company installed the Solar Sandwich in one of their projects.
We can rarely see sustainable kitchen nowadays. Most of the kitchen designs are very limited and it only contain spaces for cooking top, kitchen appliances and a little space for working area. The Eco-kitchen will take your cooking experience to a higher level. This kitchen concept design allows you to cook your meal without outsourcing food, water, and energy. It has the solar panels that collect solar power to power your steam oven, rainwater collector for your water need and box or island for your plants. The only problem I see in this sustainable design is the large space needed to accommodate those features.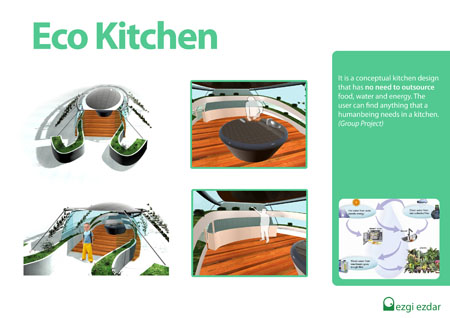 Source: Ezgi Ezdar
When we do the laundry, we automatically discard used water. Although there are also some people that manage to reused it to water their plants or garden or clean their kitchen or rest room, majority of us normally throw those waste water we have for doing the laundry. It seems like this will never be an issue anymore in the coming years when the Eco-Pod concept design of Simon Hedt come into fruition. The Eco-pod is a washer and dryer in one, thus will save a lot of your laundry space. Other than that, other eco-friendly features you surely love about it is the absence of chemical and the waste water recycling will surely amaze every eco-enthusiasts out there. Oh! Before I forget, the Eco-pod also has integrated three washing basket/barrel dedicated for different fabric types, so you won't be wasting your time sorting your delicates. Really, it is an amazing concept design.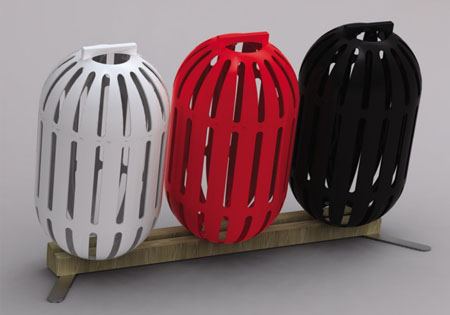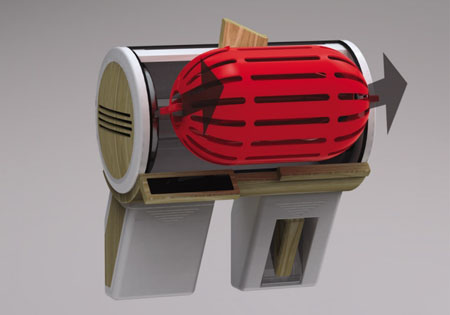 We all wanted to help the environment in any way. if you are in the kind of lifestyle wherein mostly of your things are electric powered or operated, you surely have produces high carbon emission, which is obviously not good for the environment. How we can help save the environment is simple without the need to compromise the comfort we are currently enjoying. Patronize those sustainable appliances like the EVA or the Eco Vessel Autoclase, an eco-friendly dishwasher. The EVA is designed to recycle water vapor. If this design will get into fruition, you don't need to use excessive water just to keep your dishes clean at all times.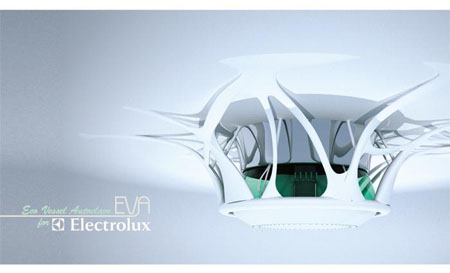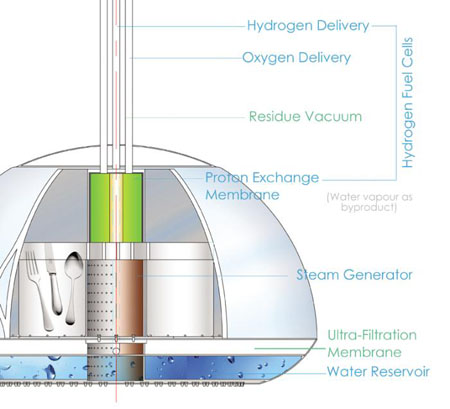 Because of climate change, many of us have noticed the abnormalities of our environment particularly the climate and of course the extreme hot weather experienced by people in some part of the globe. Good thing there is Fahmi Yusoff that will surely be our dependable partner in saving the environment.
The Product Description:
With current economic scenario and climate change issues, Bizarreka Design introduced the new design for street kiosk – The EcoKiosk.
This is the new 'green approached' design and solution by using and applying the current green technology and method into this kiosk.
The Ecokiosk would become the most cost effective street kiosk for operating SME business and can generate a good revenue for the operators' business and yet would benefit the world on preventing the current climate change and green issues.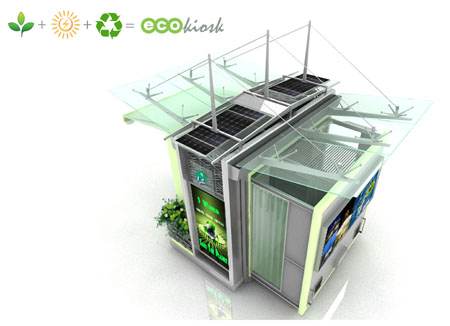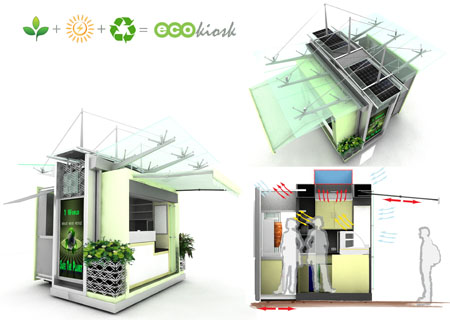 Have you ever thought of recycling your empty soda or water container? If you think that recycling your soda or water bottle would require complicated skills and materials, well, you have a misinterpretation of the concept. The porta-lap will prove you that recycling is easy and is very helpful not only to the environment but for your wallet as well. All you have to do is to keep those internal plastic of your bottle cap and glue them on to your pattern and you already have the stylish, yet eco-friendy Porta Lap. It can be your file holder or your unique laptop bag.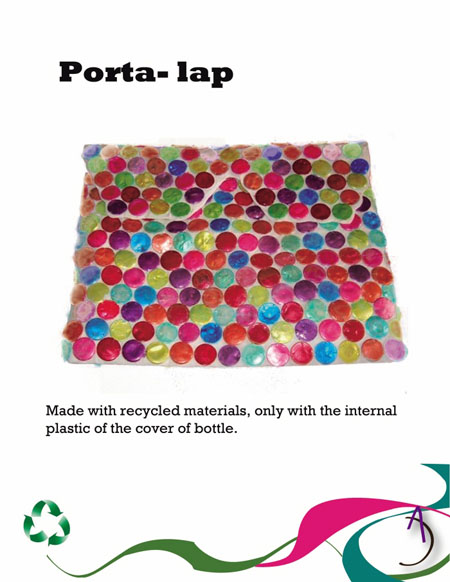 Source: Diana Morales
Keeping the people aware of how the water affects us, artist Helle Kvamme designed the Steamed Studio and installed it alone in the Swedish Forest. Made of recycled windows and plastic piping, the Steam Studio has the ability to change forms from ice to steam and finally to liquid as its way of exploring how water affects us. The steam studio glass cube channels the human intolerance for temperature, humidity, and seasonal changes and as the studio makeshift, it is filled with steam at certain intervals, making the passersby wonder. With the materials it uses and its function, the Steam Studio is a great tool of making us aware about nature while minimizing landfills and keeping the earth safe.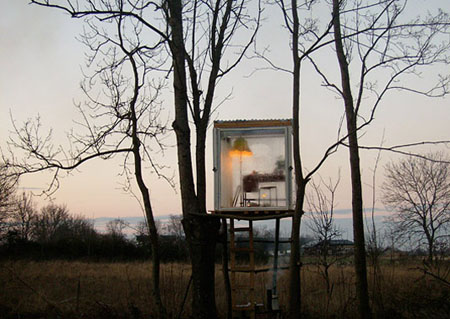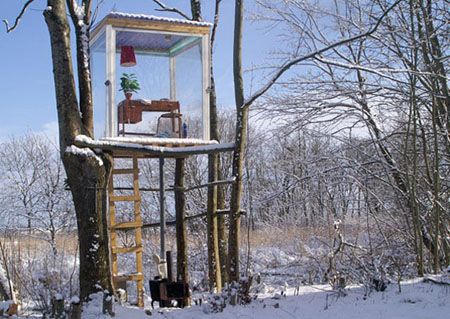 Living green from your living room to your kitchen can now be really simple with the creation of the GreenKitchen by Whirlpool. Presented at the Milan Design Week, the GreenKitchen features an efficient workspace that will allow the users to save on energy, resources, and time resulting from an excellent level of interconnectivity between different appliances. The eco-kitchen's prototype is composed of a dishwasher, refrigerator, stove, oven, and more. It has an induction cooker that has the ability to avoid the dispersion of heat and has the ability to calculate the needed amount of water, which resulted into a saving on energy of up to 20%, and time required to complete this task is 25% lesser.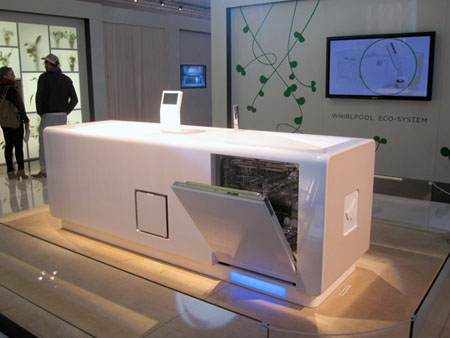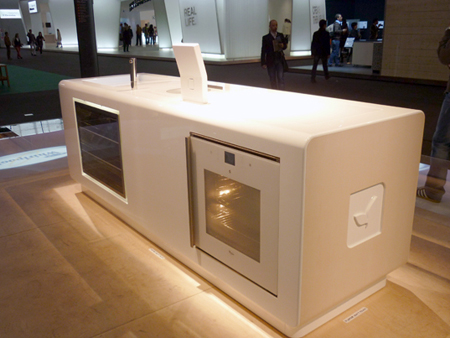 Washing machines are one of the huge energy consumers in every household. Today we can now wash our clothes with a small amount of water and no electricity at all with the Squash Wash. The squash wash is a great alternative to our current washing machines at home especially if we wanted to live the green life. Designed by Kristin Mueller, Squash Wash uses the compression and salad spinner technology and is compact enough to fit in any corners of our homes. We can have it placed in our laundry area or bathroom if we want. With Squash Wash, we don't need to worry about out electricity or water use even if we do the laundry daily.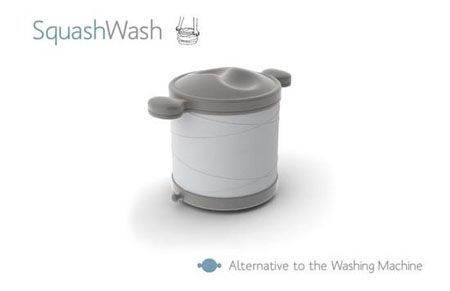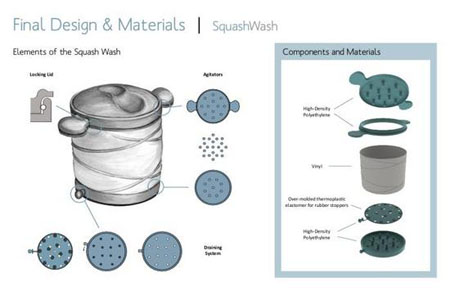 Our Recommended Partners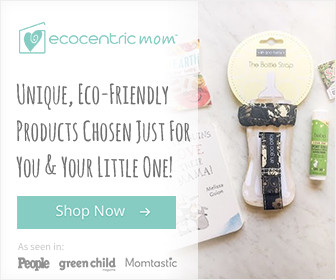 Advertise with us
Archives