Browsing articles tagged with " Shelf"
We all need to save on cost when it comes to building our furniture pieces and the Sustainable Mail Bookeand Storage Shelf by Dor Keenan is a great example of cost saving piece of furniture. Because of the earth friendly mind of young designer Dor Keenan, the mail bookeand storage shelf is created made of recycled building mailbox.
Each of the mailbox unit creates an individual space working as a functional storage for many users. With Reduce, Reuse, and Recycle as important part of his design, Israel graduate Dor Keenan was able to recycle the Plexiglas of his old mailbox and have it as the useful shelf of his creation.
A shelving system with a hexagonal design is very rare and we at IGreenSpot find the Cracked Shelf System a unique one. It has the hexagonal type 8 design that made it a unique shelving system. This shelf system will surely stand out in every home the moment they are placed alongside with those traditional shelving system with the classic horizontal or vertical design. The design of the cracked sheld created an asymmetrical look, which make it even more stylish and catchy. The shelf is made of rectangular pieces of wood modules and these modules can be combined in any formation or direction seamlessly.
If you find the design is perfect enough for the most artistic human hand, this is because from its general shape to the smallest part of the shelf, all have been designed carefully using a trusted computer software. The shelf has the 1.5 mm thick steel that serves as the connector. These steels are laser cut and folded with the help of CNC machinery.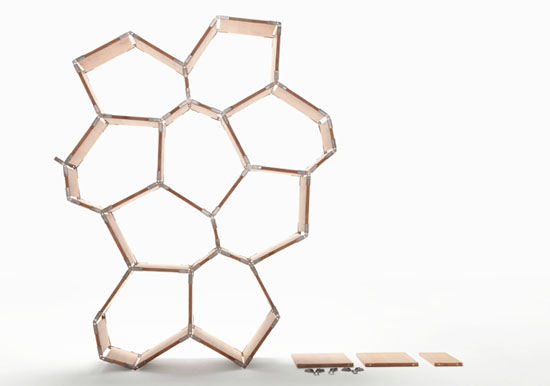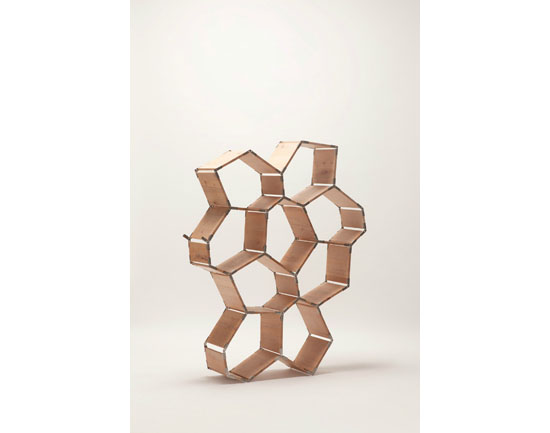 Modern design without harming the natural resources is what the cardboard furniture has to offer. Eric Guiomar's produces these wonderful works of art that has creative design such as the Chinese Yin Yang, which made these circular shaped book shelves not only simple book storage but a design statement as well that will definitely give every place a simple yet artistic and elegant look. In addition, since these bookshelves are made of cardboard, for sure it is a super lightweight one and can easily be transported from one place to another thus making it easy to transport during purchase. Considering the price, it will definitely be an affordable one.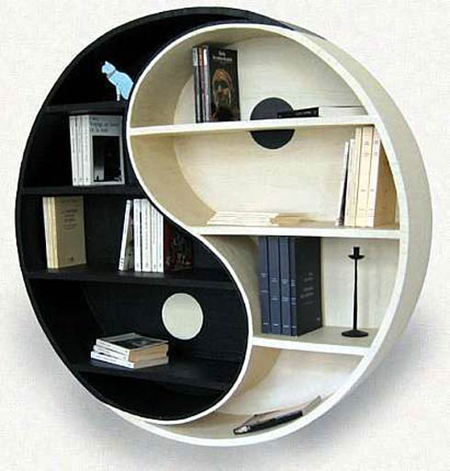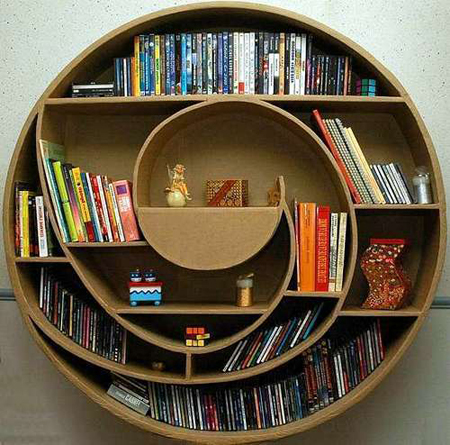 Take advantage of bamboo, a fast growing plant, is kinda a new trend for designers nowadays. Mark Whiting also participates in this new trend by designing a bamboo wave shelf. The idea is to create a product that could not be found in certain countries and implementing technologies on the design (Mark Whiting study and live in China currently). The Wave Shelf is shelf with internal lighting designed to show off a kind of bamboo composite that is sometimes used in China. Well I guess bamboo material is a good resource just as long we don't forget that Panda needs bamboo too, don't overused it.
Designer : Mark Whiting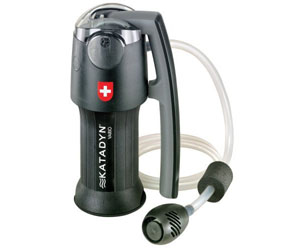 Our Recommended Partners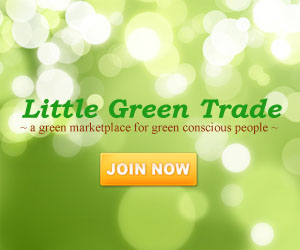 Advertise with us
Archives