Browsing articles tagged with " recycled cardboard"
Recycling will never hurt you, your budget or the environment especially if you are creating one useful product like the Hex Light. The Hex Light is a sustainable lighting solution for any home designed by Anderson, Held. It is made of recycled cardboard comes with a geometric design.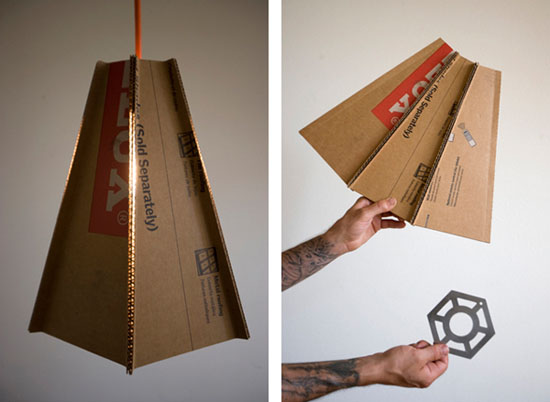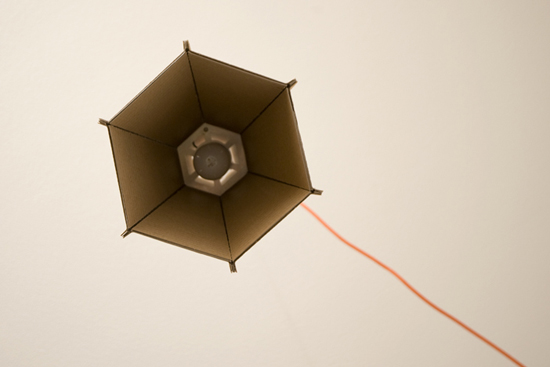 Looking at the photos, anyone can easily make the same product if one is just dedicated enough in doing something for the environment even it their own little ways. Through this product, cardboards in our landfills will be drastically minimized and of course, we can save a lot of money as, we don't need to buy a new set of pricey lamp for our home. On the other hand, if you are busy enough to create one for you, you can purchase one at stores near you. The Hex Light is also available for purchase at a very friendly price of $55 only.
Source: Vontundra
Recycling is now an act of someone who wants to do their share in keeping the environment safe and clean and they produce various products just like the ICO Recycled Cardboard Baskets from Vitrine. Cardboard are normally used for packaging like appliances, household items and more. After unpacking the purchased items, cardboard are tossed off to the curbside for disposal. This obviously increases waste and eventually landfill.
Fancy creations ideally are made of first hand materials. But sustainable living advocates might condemn it, as they always wanted to make use of every single old item as they can to reduce waste and carbon emission. Designer Adonde had just added to the list of items eco-friendly people must collect. Made of recycled cardboard and colored paper, this wonderful creation of nesting boxed has the ability to keep your small items at home or office in-place and will definitely make your working desk clutter free. Other than being made of recycled cardboard, other green feature of the nesting boxes is its ability to being flat-packed to save space during transportation. Assembling the nesting box is made easy with the complete instruction attached on how to put the pieces together. User can have the option of using the boxes all together or have them used separately. It solely depends on the users whatever they feel comfortable and fun.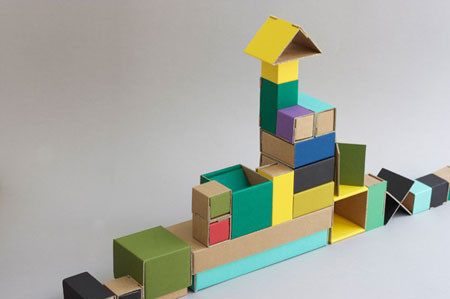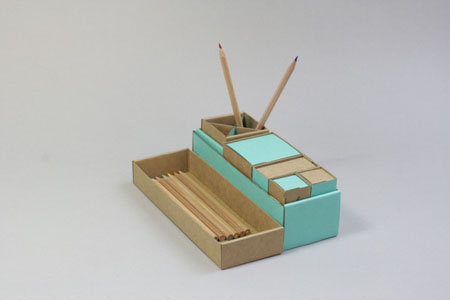 As almost every known companies nowadays are having the initiative of saving the environment, Coca-Cola makes its own way of giving back to the environment. The Coca-Cola company now has its Give it Back rack for their product and is made from recycled Coke packaging. Aside from being made of recycled cardboard, the shelf itself is also recyclable. Retailers are asked to return the shelf to Coca-Cola once its useful life has ended and will be recycled. In this way, there will be less landfills, which is obviously favorable to the environment. The idea may not be new, but the fact that those who are doing it are increasing, it is something we should be happy about.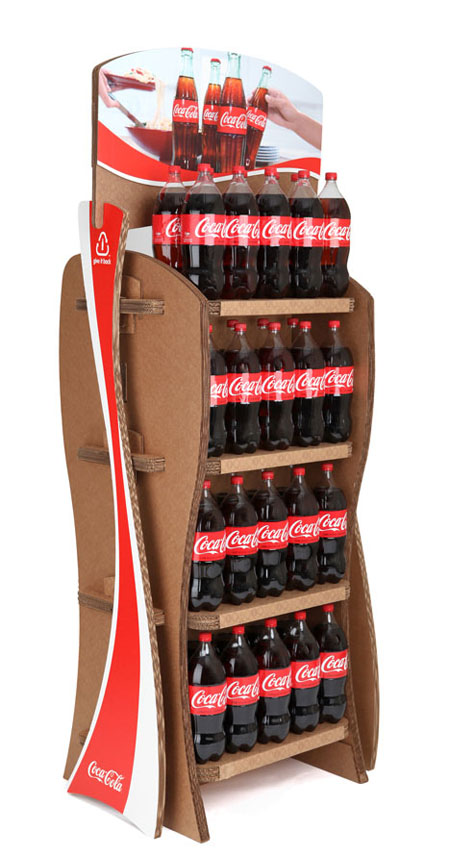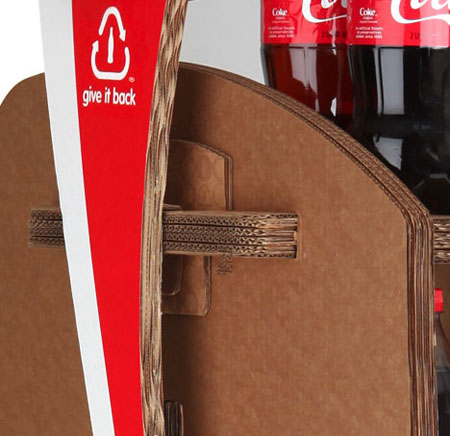 We have seen many used cardboards destined to our landfills. Even though, we all know that it decomposes fast enough, it would still be nice to hear various creations out of recycled cardboard. Low is another great creation by Pedro Campos Costa, where he was able to create an eco-friendly bar out of recycled cardboards called Low.
Press Release:
In times of crisis and in need of changing, the bar/store "Low reduce, recycle, reuse", tries new ways to warm up the afternoons in Bairro Alto, proposing sustainable solutions. In fact, It wants to be a place where materials are available and that sells designer items, made of ecological materials or only recycled. At the same time, It's a place where people meet and that proposes, in a very informal way, events, conferences, talking sessions, promotions and discussions on sustainable subjects.

The Low space, projected and created by Pedro Campos Costa, consists of a big movable bench that has only be made of paperboard with no gluing, and can be adjustable along one of the perimetric wall of this place. The bench, in a sort of metamorphosis, where the rhythm and the space between the paperboard plates constantly grows, becomes a bar leaning area, but also a show shelf. The "false ceiling", created of tightened cord yarns, gives you in any case the impression of "breathing" and It does not obstruct your field of vision.

The rest of the bar/store is projected to highlight the movable bench of paperboard. That's the reason why the interior space has been painted in black (slate-grey color) and only the back side of the bar and the interior room – used as Remade Portugal's showroom- have been painted in a very strong yellow. The intention is that of giving a chromatic contrast and different dynamics to spaces with different functions.

Remade Portugal, associated to Low store in Bairro Alto, uses design items, created by Architects, designers and creative artists. The items are made, more or less at 50%, of materials that come from recycling. It's Recycling of pre-consume –reuse of industrial waste- and recycling of post-consume –reuse of packing and domestic waste picked up in ecoplaces-.

The rest of the furniture, also designed by the Architect Petro Campos Costa, is totally made of paperboard with no gluing. The tables, the sofa and the stools, are sold on demand, even if they are catalogued and the patterns can be also personalized or custom-made.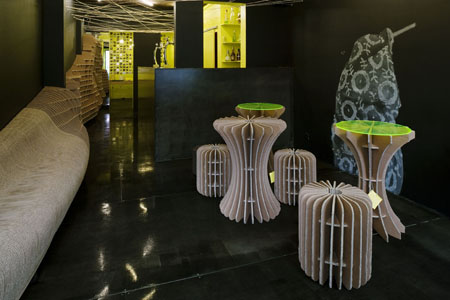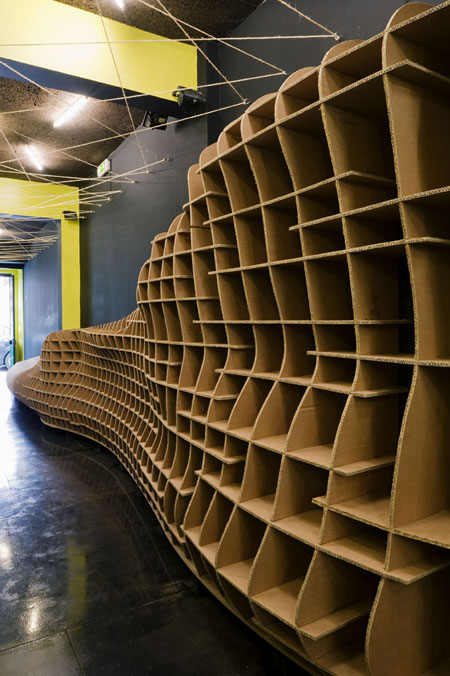 The use of computer nowadays is becoming a necessity to most of us. We were able to do things new to us with just the scroll of our mouse. We can even have a hard copy of what we learn by printing it out. Because of this, empty printer cartridges continue to grow each day and add up to the pile of landfills we have. To prevent landfills from growing, Kevin Cheng has designed an eco-cartridge for Epson. The cartridge was created in a single sheet of recycled cardboard with the inner part treated with biodegradable laminate for it to hold the ink. With the vast use of computers with printer today, this will surely be a great help in minimizing landfills.
We all wanted to do something to help save the environment and many of us from various designers to different consumers are into various ways to keep the environment safe from possible harm like the global warming that we are currently experiencing. The Cardboard Tubes office design by Suppose design office for Kazuin Ltd is just a mere example of eco-friendly designs. We all know the cardboard are an earth friendly material and presumably the tubes used are made of recycled cardboard for a lesser impact to the environment. The tubes create a wonderful cave like design allowing the office visitor to have a feeling of being connected with the environment.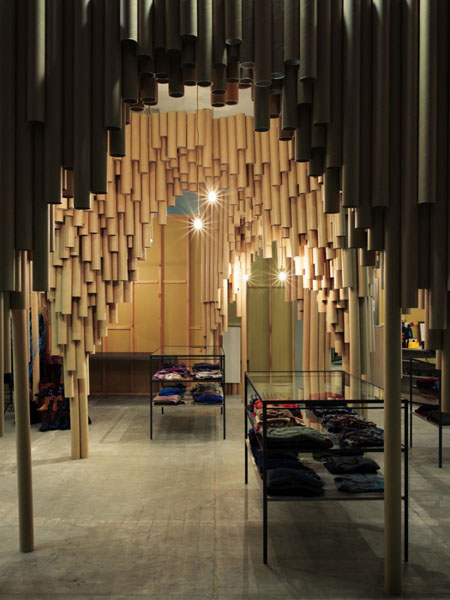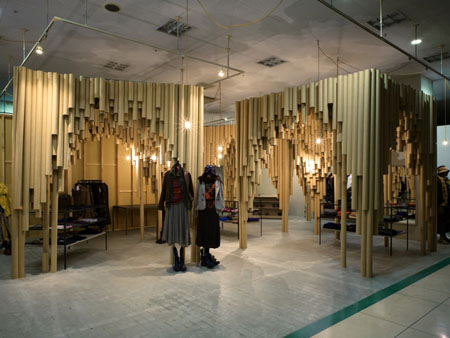 We all know that Red represents elegance and sexiness. German designer Reinhard Dienes has successfully incorporated sexiness, elegance, and environmentalism with his one of a kind creation called the cardboard bookshelf and sideboard. It is available in various colors like yellow, black, blue, green, but red is the most eye-catching of all. Made of cardboard, this bookshelf and sideboard form online retailer Fashion4Home is definitely an eco-friendly one. Aside from being eco-friendly, the collection looks elegant enough for any modern homes of today designed with environmentalism in mind. Presumably made of recycled cardboard, this collection is hopefully easy to recycle as well when its useful time ends.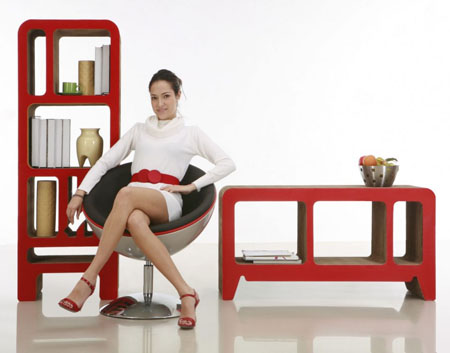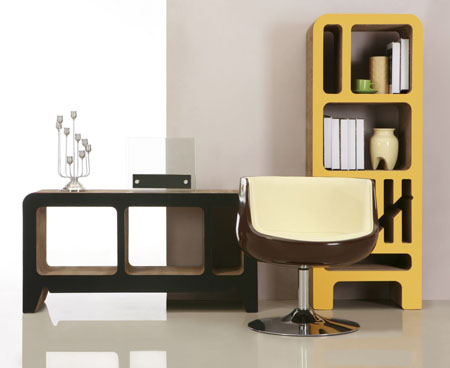 Our Recommended Partners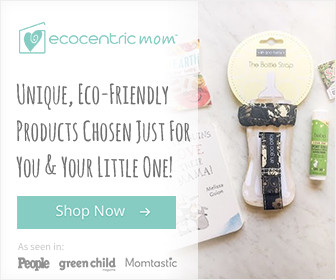 Advertise with us
Archives