Browsing articles tagged with " home interior design"
Even if it they are already empty, wine bottles are great additions to a home interior design especially when stored in a lovely wine rack like the Monolith Modern Design Bamboo 6-bottle Wine Rack by Hala. As its name suggests, the wine rack is made of bamboo, making it not only a stylish and functional wine rack and home décor but also an eco-friendly one.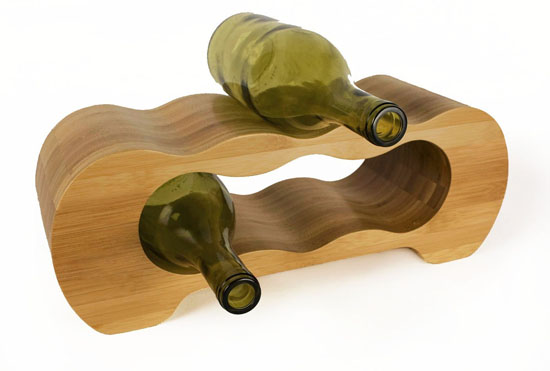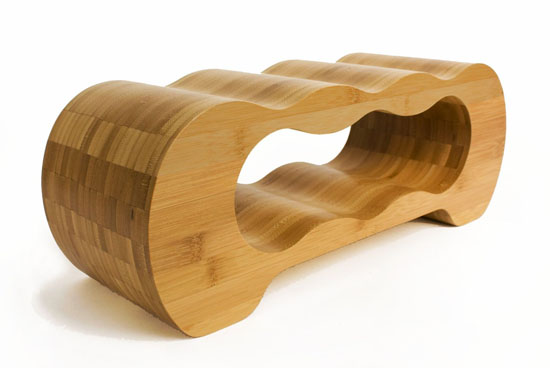 The use of bamboo is common when it comes to saving the environment and having a Four Tier Bamboo Shelf is as great as having the most elegant shelf at home. The best thing about owning this eco-friendly shelf is that, you only did not get the chance to enjoy a Tiki inspired furniture piece. If you are one of those who love to have a tiki-themed home interior design and feel like being on the beach all the time, owning this lovely shelf is perfect. [Click here for more information about Four Tier Bamboo Shelf]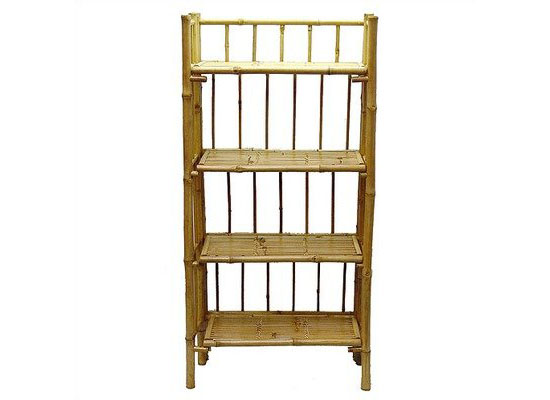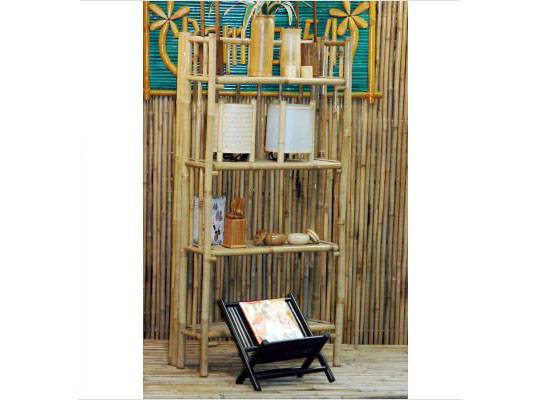 It is a common belief that home decors has components that can harm the environment but not if you have the Eco-friendly Sugarcane Bagasse 3D-Wallpanels from WallArt. As its name suggests, the wallpanels are made from the residues of sugarcane. All of the designs are well-designed perfect to accentuate your elegant home interior design and these lovely and eco-friendly wallpanels are introduced in Europe in 2010 and was considered as the first in the market.
If you are one of those lovers of cowry shells, then you can complete your passion with shells now that the Cowry Sofa by Danilo Cvjetkovic is made. As its name suggest, the Cowry Sofa got its name from its inspiration, the cowry shell.
If you were to look at its design, it mimics the looks of the shell. Other than that, you definitely would love to sit or even coil up on this elegantly design sofa because it features a soft feel. The pure natural shape also made the sofa a perfect addition to your modern home interior design. You can match it easily with your existing furniture pieces and interior design items. Available in color red, the sofa will definitely create an elegant contrast to your subtle, softly designed interiors.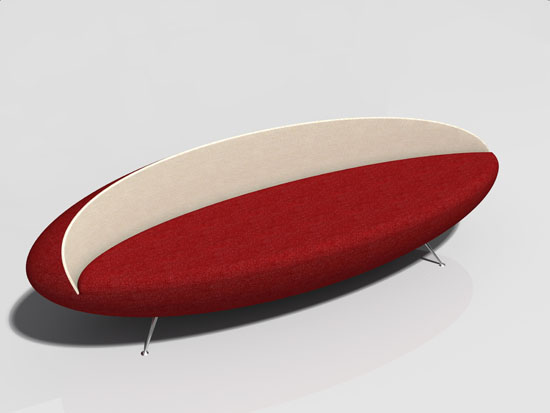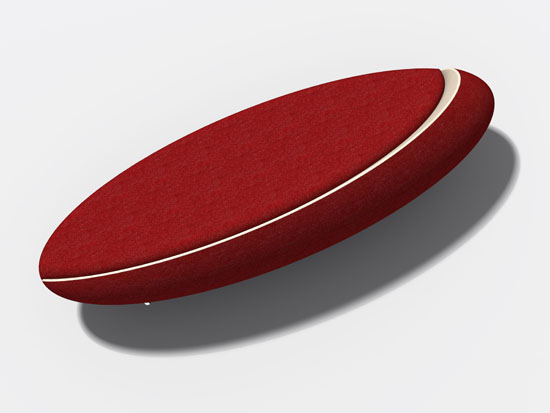 We have heard about someone who do bottle recycling from all over the world today. This is their way of helping to save the earth and of course, also a save of money for themselves. Normally, recycled bottles are being re-used or repurposed by melting them again to mold a new set of useful glass bottles. A shop in Philadelphia called The Slug and the Squirrel does a different thing in recycling bottles. The owner and artists Jose Agatep recycled bottles and used it to create terrariums with locally grown plants, wild mosses, small stones, soil, and wood chips inside. This can different to what we have used to know about bottle recycling, but this is a great way to help reduce waste. Other than that, these terrariums ore what the shop owner/artist called as self-contained eco-systems will also serve as a great addition to your home interior design creating a refreshing an unique ambiance.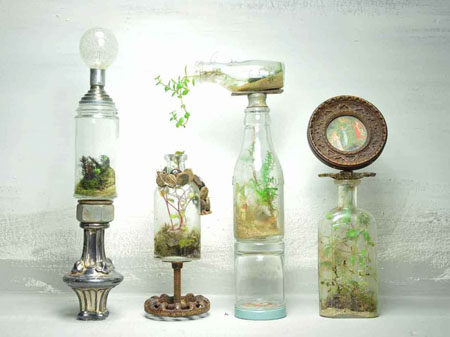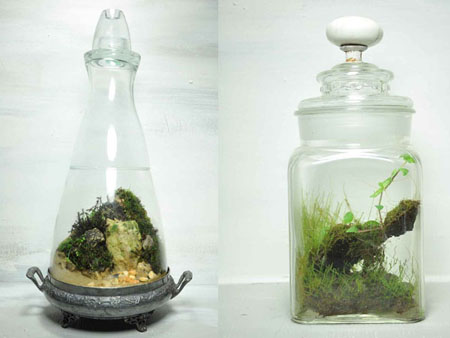 Designing a new eco-friendly piece can be done in various ways. With John Wiegand-Forson, he used existing products in designing new furniture pieces. One of the greatest creations he had is the chair made of old bicycle frames. Looking at the photos, the chairs are stylish enough that you would never think of being made from recycled items. The product is a great tool to help us save the environment without compromising the essence of style and elegance of our home interior design. Aside from the chair made from recycled bike frame, the designer also have other elegant designs and all made of used and existing materials.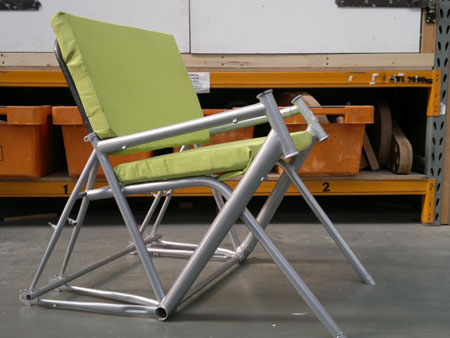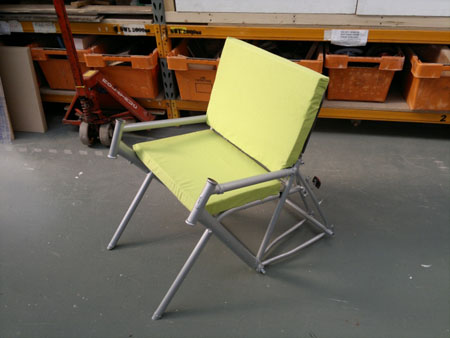 The use of PET bottles is now common to beverage manufacturers and the moment these PET bottles are emptied, these are generally destined to our landfills, which are obvious not favorable to the environment. However, many of the designers nowadays are now into designing things that make use of our garbage and the creation of the Bubble Chandelier is one of the examples. Designed by Shaun Kasperbauer, the Bubble Chandlier makes use of empty 2L PET bottles creating a bubble like effect of the chandelier. With this product, landfills will surely be minimized dramatically while enjoying the elegance of the lamp, as it completes our home interior design.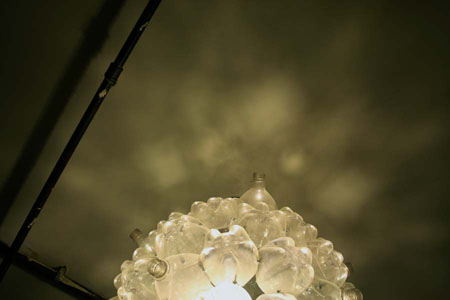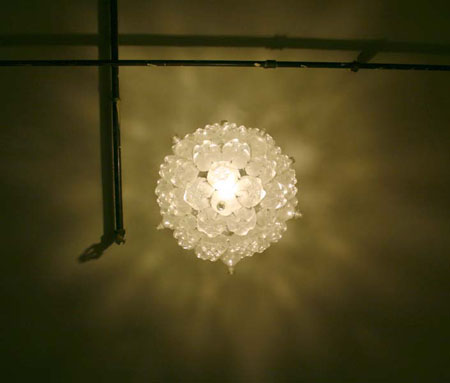 Our Recommended Partners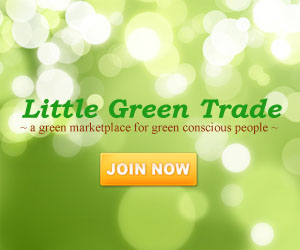 Advertise with us
Archives