Browsing articles tagged with " glue"
As a designer, Kastos Bartsokas is excited in designing the Eco-friendly Pleiades CD case because he will not only showcase his artwork for the benefit of the Greek-speaking polyphonic singing female group Pleiades but also he will be able to help save the environment. The CD case design is inspired by the group's clean vocal only music and their desire to have a clean and earth friendly CD case.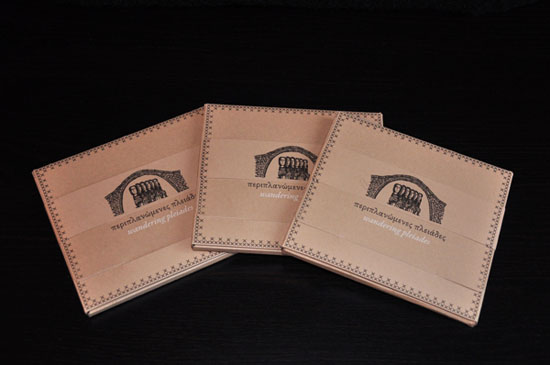 Have you ever thought of recycling your empty soda or water container? If you think that recycling your soda or water bottle would require complicated skills and materials, well, you have a misinterpretation of the concept. The porta-lap will prove you that recycling is easy and is very helpful not only to the environment but for your wallet as well. All you have to do is to keep those internal plastic of your bottle cap and glue them on to your pattern and you already have the stylish, yet eco-friendy Porta Lap. It can be your file holder or your unique laptop bag.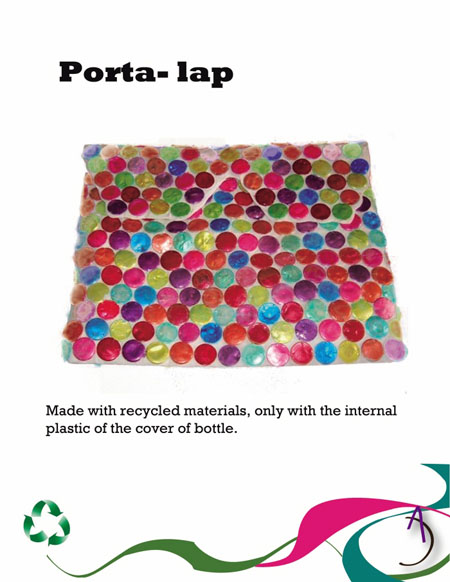 Source: Diana Morales
Discarding our old newspaper, books, notebooks, and the like can be harmless to the environment, since paper is highly biodegradable. However, a huge number of papers will surely pile up and increase the growth of our landfill. That is why, it is still best to recycle them for other use. The recycled raindrops will give you an idea how you will recycle your papers. It will only require your old paper materials, scissors, glue, and your creative juice. Once you already have your raindrops, you can now have it hang on your bedroom wall or ceiling and make it like a falling rain.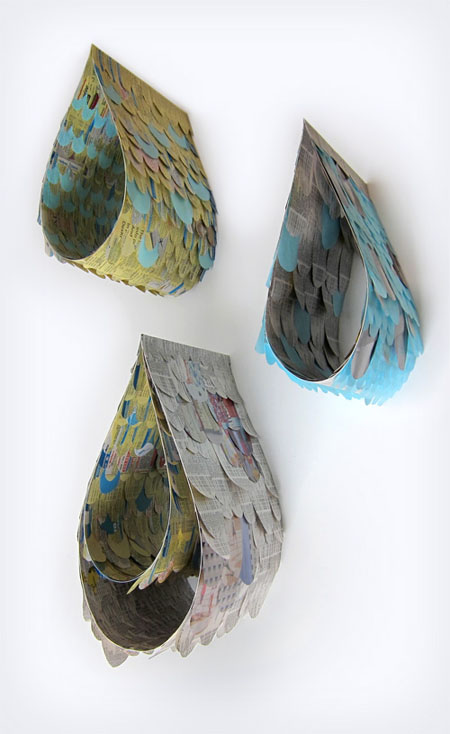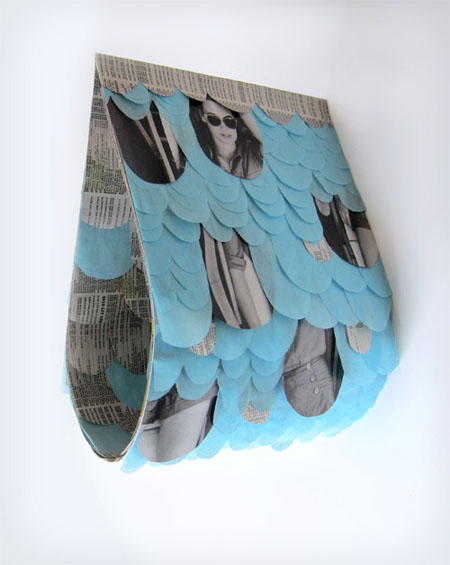 When it comes to eco-friendly furniture pieces, cardboard furniture pieces never goes out of style. As time goes by, more and more designers are into cardboard furniture design. In addition, designs have evolved so fast to the point that today, you can see some elegant and minimalistic cardboard furniture design already just like the 5 tubes stool by Piero Ceratti. This eco-friendly stool is made of 5 postal tubes and 6 end plugs attached all together using a high performance glue. Since we know that cardboard can easily weaken with just a small amount of moisture, this one minimalistic furniture piece has undergone waterproof treatment.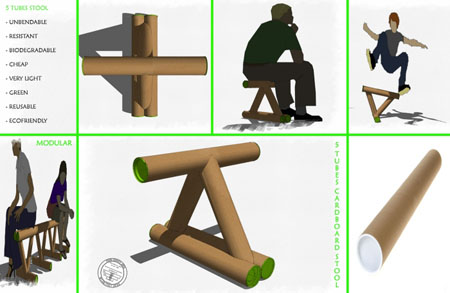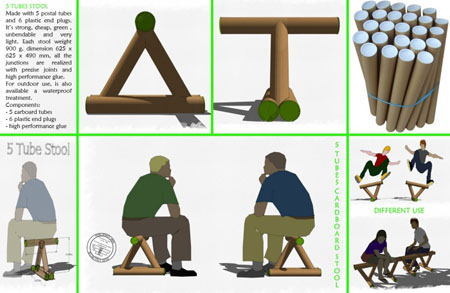 It is a lovely act to show we care for the environment. We can do it in various ways and through fashion is just a few of the great ways to show we care. If you think this is hard, you are wrong. Various designers and artists are now into green fashion, thus the number of eco-clothing lines to choose from are growing in numbers. Artist Dave Rittinger is just a few of those who show they care through fashion and created the Leaf Shirt. Looking at the photos, a piece of shirt is made entirely of leaves and glue. They come in various colors and all of them look lovely and fashionably cute. However, I wonder if these will not be a little itchy upon wearing.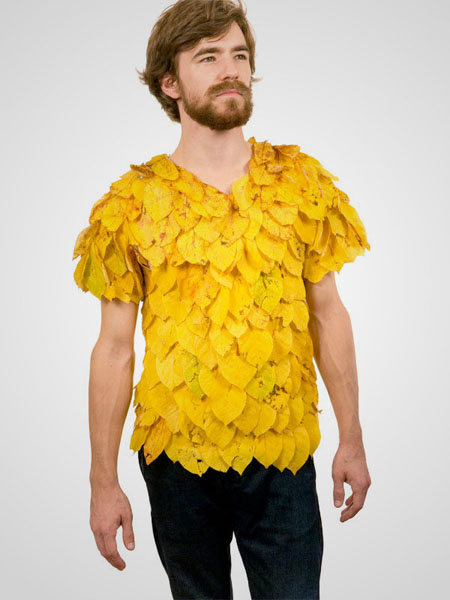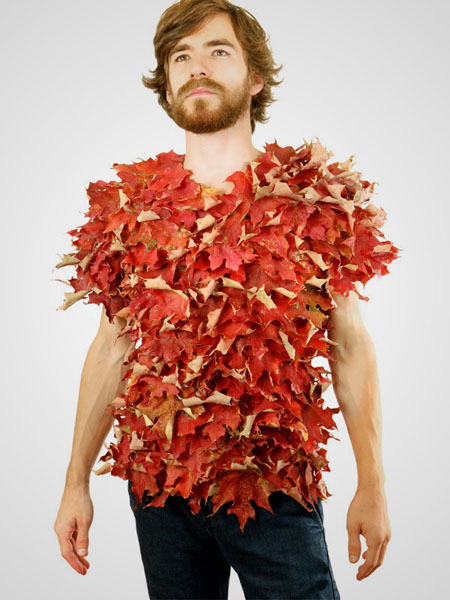 Made out of Magazine, this DIY magazine coffee table is astoundingly beautiful. What's more interesting about this product is that the coffee table can be made possible without the use of some nails, glue or any other tools. Plus, you don't need to throw away your old magazine anymore because you can use it in making this elegant and fashionable coffee table. See, you only do not have a nice coffee table, but you also help a lot in saving the earth from having mountains and mountains of landfill. I find this coffee table perfect for any contemporary places like homes, offices, bars or restaurants.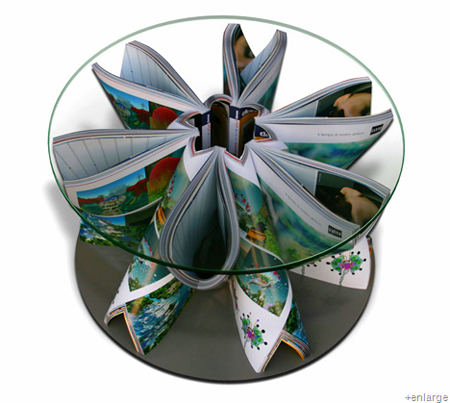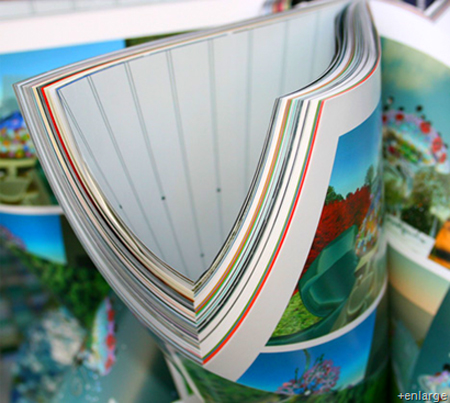 Our Recommended Partners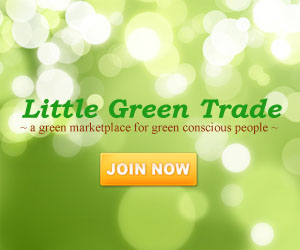 Advertise with us
Archives