Browsing articles tagged with " furniture sets"
Working in an office exposed to radiation produced by computers, laptops, copiers, and more is not healthy unless you have the Eco-office. As its name suggests, the eco-office promotes a healthy and sustainable working experience inside the office premises.
When choosing for our kids' furniture, safety is always the main concern. As much as possible we as parents want our kids to have safe toys, furniture sets, and more. The Multi –box set from Green Lullaby is a safe furniture set not only for your kids but to the environment as well. The boxes are made of 60% recycled materials and is completely recyclable. Additives used in this eco-friendly furniture are water-based and non-toxic. Now, isn't it safe enough let our kids being exposed in this wonderful environment? Other than that, it will also promote your kids' awareness about green living, eco-friendly items and the call to combat global warming even at their early young age.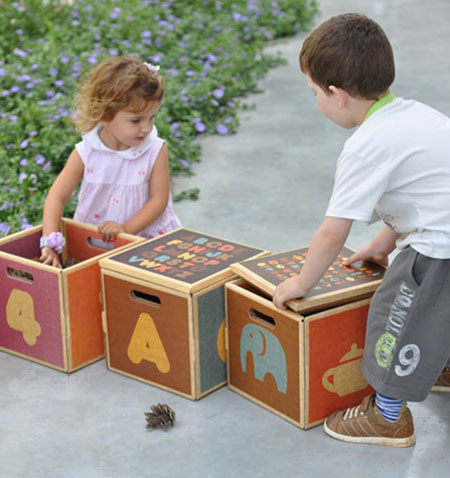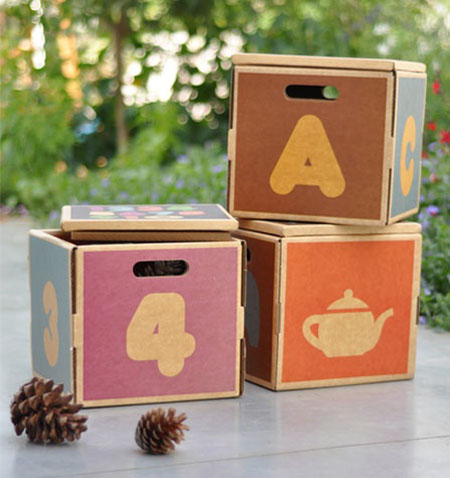 Modern furniture piece using eco-friendly materials is not new especially to those who endlessly seeks for an eco-friendly items to suit with their green lifestyle. The Barn Loft Table is just a mere addition to the eco-friendly furniture sets that we see in the market today. Made from rescued beams from the Barn of Pennsylvania and recycled steel that are cut and shaped into place and finish with a clear coating, the Barn Loft Table is good looking enough to serve as your stylish and eco-friendly coffee table. You can also have it as your side or end table for your reading materials.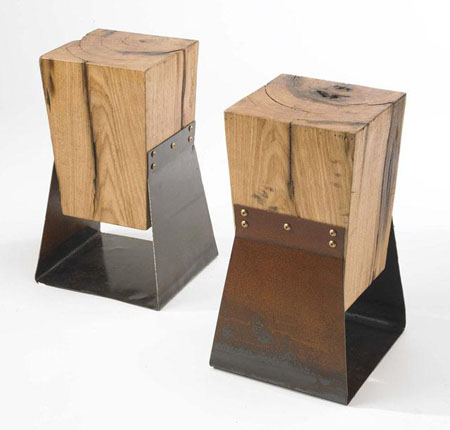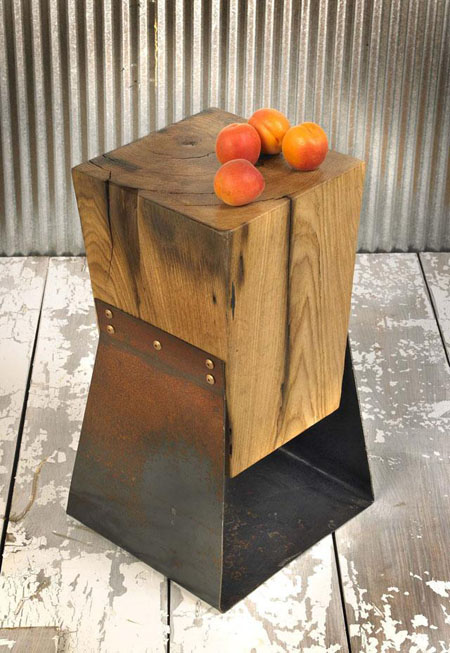 We all know that many of us are now into saving the environment. Many of the countries like India are making various moves to keep their environment safe and clean. They have the eco-friendly cars, lights, furniture sets, appliances and more. This time, it is Cambodia's turn to show they care. Recently a solar powered Street Light has been installed in the streets of Angkor Wat in Cambodia with the help of the Korean Studio Nothing Design Group and Asiana Airlines in collaboration with the Korea International Corporation Agency (KOICA). The project of installing 16 solar powered streetlight has the aim to promote and improve Cambodia's image and brand value. An additional 5 to 10 additional streetlight are planned to be installed until 2015.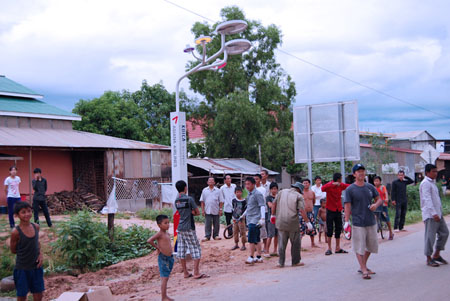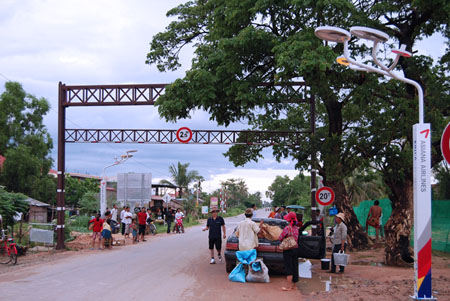 We already have seen various designs made of cardboard today. We have furniture sets, offices, and now a fun and stylish playhouse. Generally these cardboards are recyclable and are easily disposable making it and eco-friendly material to use. On the other hand, this can be more eco-friendly though if designers are using used cardboard instead of buying a new one just for the purpose of the design. Designed by Aida Le Petite Cerf, this eco-playhouse will not only promote green living but will also develop your child's motor skills, imagination, and critical thinking. The playhouse will also develop their creative minds as they decorate the house with animals, flowers, and more by drawing using their crayons, paints and the like.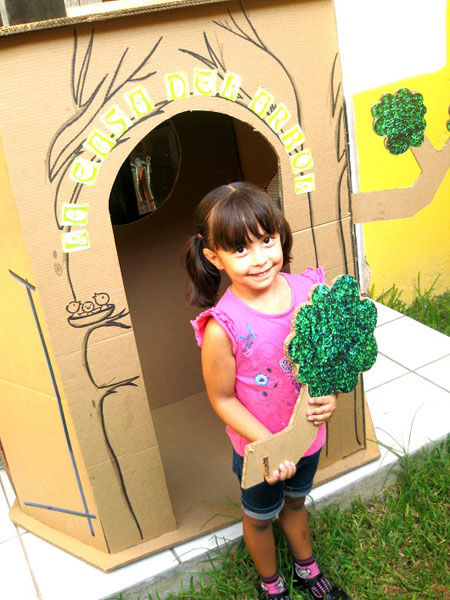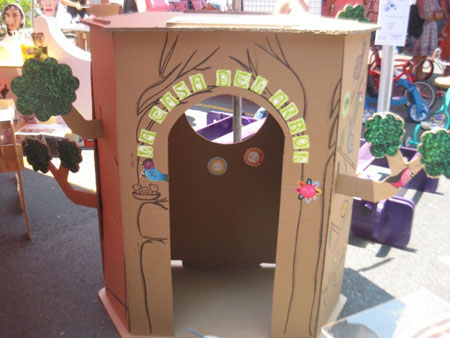 Made from homegrown wood, handmade, yet modern Scandinavian design? Do you find it impossible? We all know that Scandinavian designs are modern and uses top-class first-hand materials. Ugh! You are all wrong according to the Hansen Family. Family members were able to create Scandinavian design furniture sets and are eco-friendly indeed and one of the furniture is The Hansen Family Trunk. Looking at the photo, the trunk is not only contemporary but also functional as well, if you notice the hanger, thus will not only save the trees but a lot of space as well. But hey! What are those yellow and blue colors doing on the trunk? They must have been out of the picture and the trunk would be a perfect tool for any contemporary and eco-friendly room.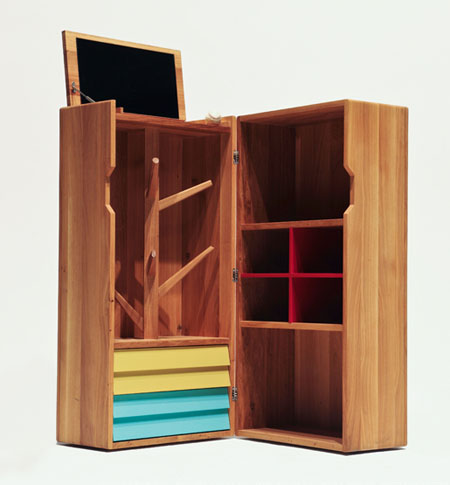 Source: The Hansen Family
Inspired by the pulp spacers used in packaging, the Pulp furniture is designed. The said furniture is composed of a coffee table, stools, and a clock or wall hanging. Even though these furniture sets are made out of paper, they are sturdy enough to carry weights. Presumably, these furniture sets uses recycled paper to produce pulp. Created by designers Odelia and Dan, the pulp furniture looks stylish enough to be on any modern homes. If made out of recycled paper, through the pulp furniture, landfills will definitely be minimized drastically and used papers will be given a new life instead of having them landed into our landfills.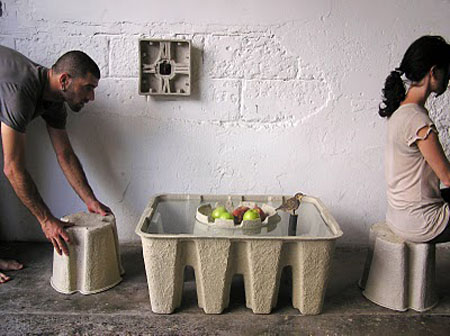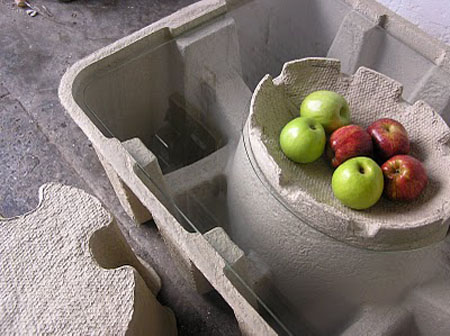 We have seen lots of billboard and traffic signs discarded and destined to landfills after its useful life, which is obviously harmful to the environment. However, this will never be the situation anymore with Boris Bally's series of furniture that are made of recycled billboard and traffic signs. From these supposed to be trash materials, he was able to create furniture sets like an arm chair, transit chair, and a variety of tables that can serve as your coffee or side table. Another green feature of this products is the absence of machineries in completing these furniture sets because these are all hand-fabricated, pierced, brake-formed, and finished.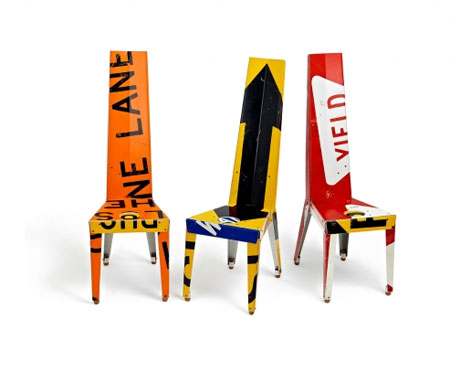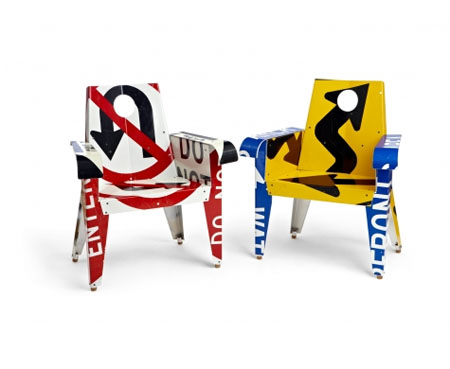 Bamboo is a sustainable source of materials and thus and eco-friendly one. We have heard various products made of bamboo from furniture sets to tableware and more. Today, it is going to be a new life for bamboo with its new use as eyeglass frames. Chinese designer Chen Chun-Hao has designed the Ming Bamboo Glasses for Yii Collection in collaboration with bamboo designer Huang To-En. Known of being hard to break, this bamboo glasses will definitely be a long lasting one if not unbreakable. Inspired by the features and silhouette of the furniture from the Ming Dynasty, the Ming bamboo glasses is elegant and minimalistic.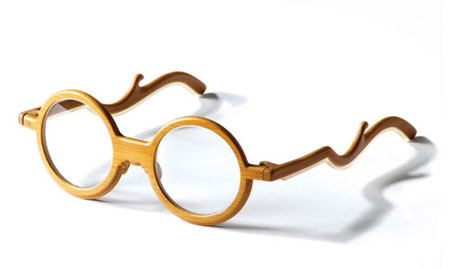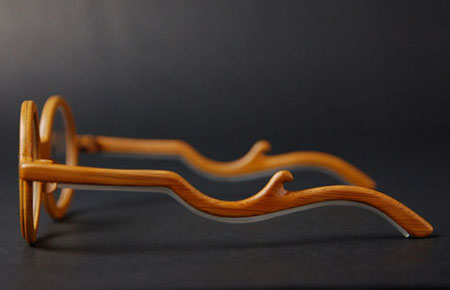 Having a stylish sofa or any other furniture sets at home does always mean to have elegant furniture made of first hand materials. The Blow Sofa from Malaflor is a stylish sofa made from 100% recycled paper dunnage bags or air bags. The recycled bags are inflated to form the seat and backrest once placed in a metal rack and tied with a rubber straps to have a snug fit. After the sofa has been formed, one can now have an easy to transport temporary sitting solution at home. Since made of recycled materials, the blow sofa obviously helps out in minimizing our landfills and thus helping save the environment.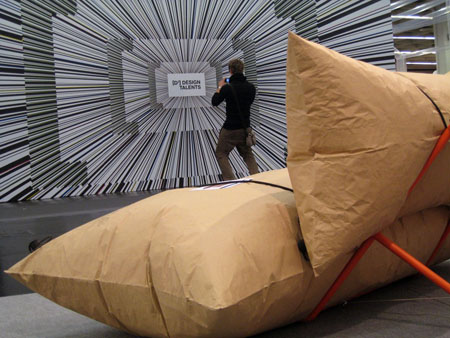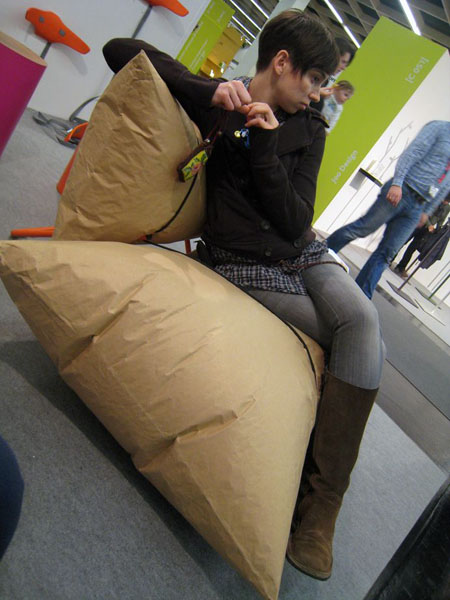 Our Recommended Partners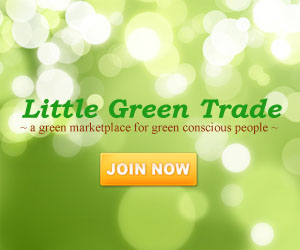 Advertise with us
Archives