Browsing articles tagged with " electric vehicle"
When it comes to eco-friendly designs, Japanese designer Yu Hiraoka always have something to share and this time, it is the eco-friendly Express Sea Bus designed for the residents of the islands and tourists in Okinawa, Japan. The sea bus is an electric type of vehicle producing little to zero carbon emission, which is very favorable to the environment. As an electric vehicle, the sea bus is powered by solar panels mounted on its roof along with a pack of li-ion batteries, another eco-friendly feature of the bus that you and the rest of environmentalists will surely love.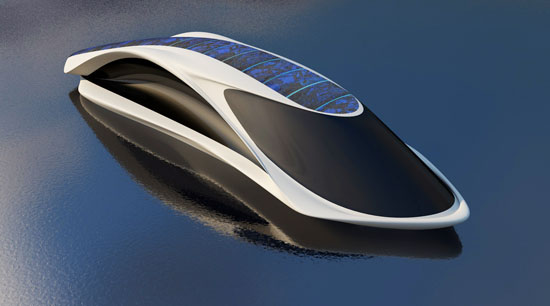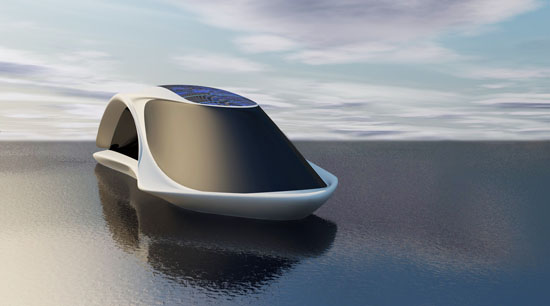 MODGET is an urban driverless EV car for two people. Designed by Yu Hiraoka, its name comes from the mix of "mobile" and "gadget" because this designer proposes this car as a mobile gadget that the users ride it in a more casual and relaxing way than other cars. For that reason, this concept car boasts cute shape as well as style. For the interior, there are the navigation touch panel and the twin lever steering for driving.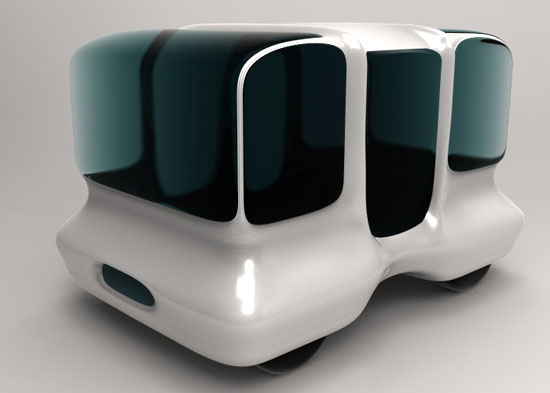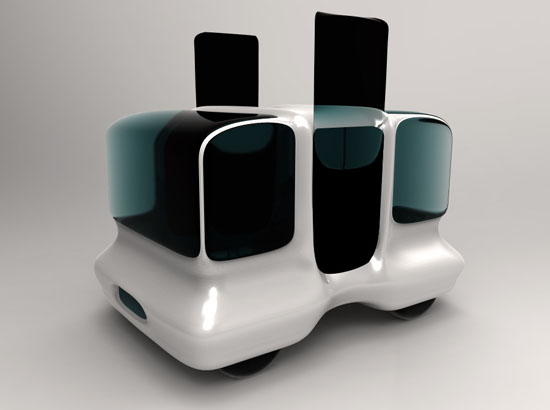 Knowing an eco-friendly source of energy to power and eco-friendly car is like a winning the jackpot prize in a game or sweepstakes. The New Sanya Skypump works like a jackpot for the environment and to for those who have the desire to live the eco-friendly life and help save the environment from the harm caused by air pollution and the like. The Sanya Skypump is a solar and wind-powered charger for electric vehicle. The electric vehicle alone is a huge contribution to keeping the environment safe. If you were to add the sustainable charger to it, it is already a jackpot to all of us.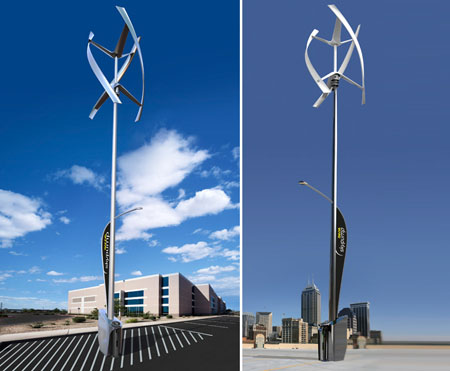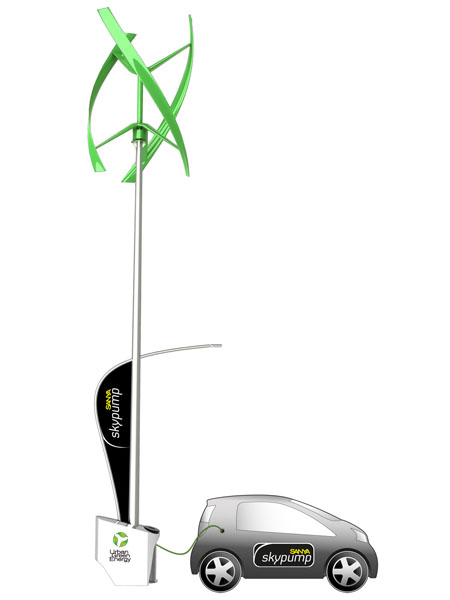 Source: GE Industrial Solutions via Inhabitat
As we tour around an amusement park, we normally see those gas powered trams transporting tourists and visitors from one part of the park to another. In one of the amusement parks in Seoul, Korea, a tram transports tourists in an eco-friendly way using the strips attached on the road. The quirky tram called OLEV of Online Electric Vehicle will then pass through the blue line seem on the road, wherein underneath this line is a power strip responsible in charging the tram wile in motion. The energy collected from the power strip will be stored for battery storage or will be used to keep the tram going.
Even with the vast growth of mobile technology and the use of electronic mail, many are still int o the traditional postal mail for whatever reason. We all know that our postmasters are using their cars and motorcycles in getting our letters and parcels delivered right next to our doorstep, which we all know as well that they are contributing large amount to our green house gases. To keep this postmasters a tool in keeping the environment safe and clean, the Followe Me EV concept was designed by Michael Barthels. As the name suggests, the vehicle is electric powered and has docking stations.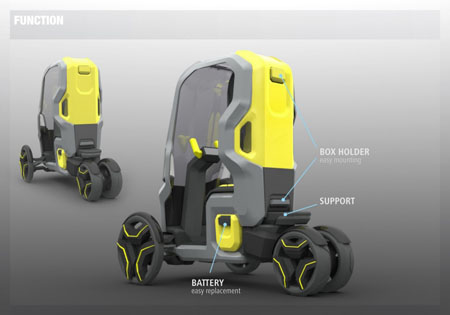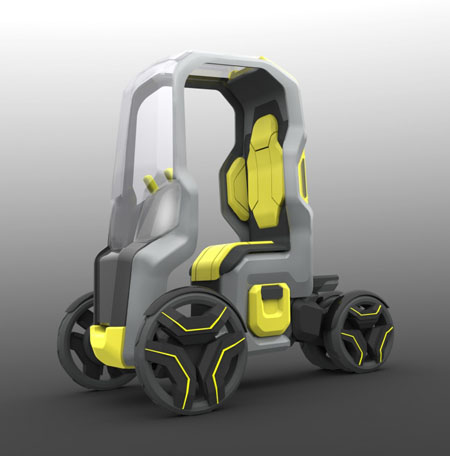 A2B is a Light Electric Vehicle or LEV that offers the fun of a bicycle with the comfort and power of a motor. This is good for those who are environment friendly and want an economic transportation solution. The bike's design is for the urban and suburban commutes, and offers lightweight aluminum construction with full suspension. In addition, it also has a comfortable over-sized seat and you will have a powerful and an easy to handle ride.
When somebody is already tired of pedaling, the bike offers unassisted power on demand for approximately 20 miles at a speed of 20mph or 33kmph.
From : Ultra Motors via Inhabitat
Are you feeling the heat? These days it has become hard to survive on this planet. Its all because of big cars and trucks that damage the ozone layer. Here is the new NMG (No More Gas) to save you. Small, stylish and eco friendly. It runs on electricity and saves fuel for the future generations. The size has its other advantages too; it doesn't require a lot of space to fit in. Believe me, 2 NMG can fit in one single garage! This car is not going to affect your pocket, it just costs 0.02 $/mile and can drive you at the speed of 75 mph.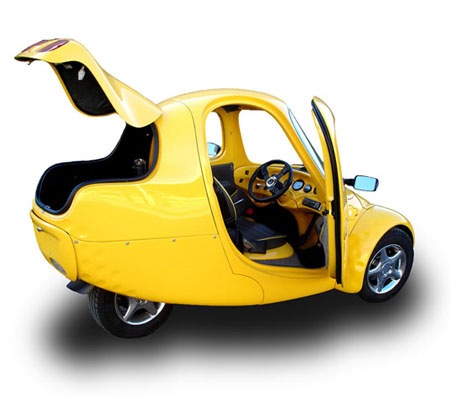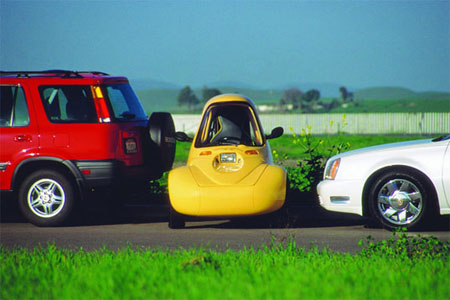 Looking the other way, it is not suitable for a big family as it can carry only one person at a time. You can call it you personal electrical vehicle (PEV) and drive your way to the office daily. To get started all you need to do is recharge the battery for 3 hrs on 220 volts and you are done! It also takes care of your entertainment on the way as it has a cd player. 2 ports for a laptop and cell phones. It also has a heater to make you feel cozy on a cold morning, a perfect car one will look for!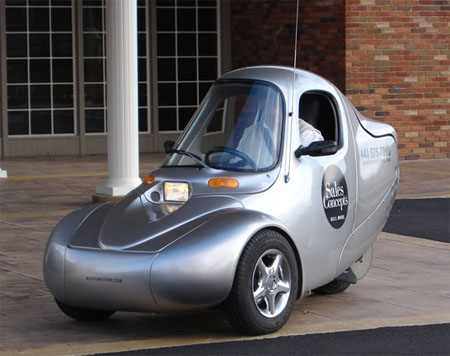 From : Myers Motors via Inhabitat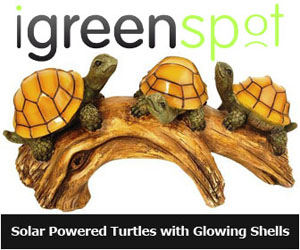 Our Recommended Partners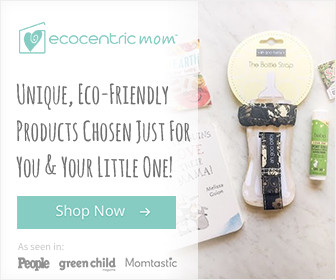 Advertise with us
Archives