Browsing articles tagged with " earth source"
We all need to save on cost when it comes to building our furniture pieces and the Sustainable Mail Bookeand Storage Shelf by Dor Keenan is a great example of cost saving piece of furniture. Because of the earth friendly mind of young designer Dor Keenan, the mail bookeand storage shelf is created made of recycled building mailbox.
Each of the mailbox unit creates an individual space working as a functional storage for many users. With Reduce, Reuse, and Recycle as important part of his design, Israel graduate Dor Keenan was able to recycle the Plexiglas of his old mailbox and have it as the useful shelf of his creation.
With the aim to reduce waste from disposable umbrellas in Japan, designer Kam Leang decided to design Renkasa Umbrella that will definitely prevent users from tossing it off to landfills. The designer has decided to associate the umbrella with daily events and monetary value.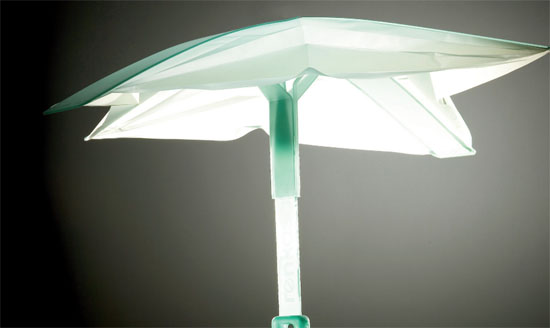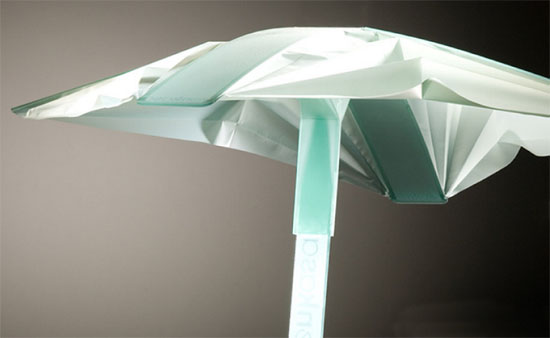 Continue reading »
I have seen various eco-friendly bathroom designs already but the Eco-bathroom by Michael Passos is somewhat different among others. Yes, we have seen many designs that recycled water from the washbasin but this one looks clean. No complete details are yet out but as you look at the photos, it looks elegant enough to be on your modern bathroom with its glossy finish and seamless design. You can easily match it with your other modern fixtures, as it looks modern and elegant like today's modern bathroom fixture designs. This bathroom design will not only gives you comfort and style but also will help you save money on your water bill and of course, helps conserve water and save mother earth.
Wood cutouts are either reused as fuel to fireplaces or wood cooking stove in third world countries. However, designer Eujin Pei designed a furniture pieces called the ByProducts that will make use of wood cutouts in a more useful way. ByProducts consist of tables, chairs, and stool with clever design and made with consciousness to the environment. This particular product are made of Baltic birch, wherein each piece has shape according to the shape of the offcuts. Having these furniture pieces at home will not only let you enjoy elegant home furnishings but will also let you help minimize landfill and eventually help save the earth.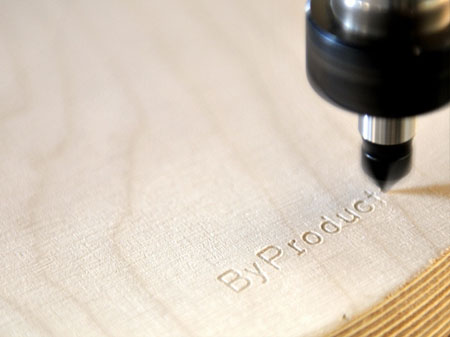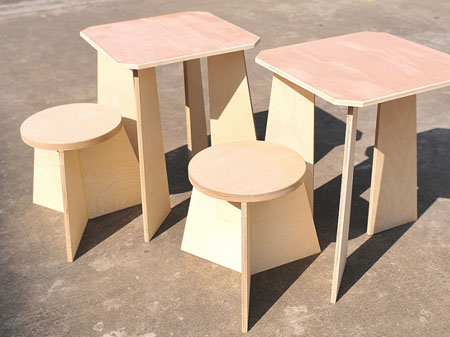 With the various eco-friendly concept designs, I believe that people from all around the globe have done their part in combating global warming. Among various eco-friendly concept designs that has been introduce to the people these days, the King of Urinal is one of the few examples. This Urinal concept has its sink placed on top, thus will allow users to wash their hands right after peeing promoting good hygiene and the water used in washing the hands is the ones to rinse the urinal, thus promotes recycling of water. This concept with environment care in mind will surely help us save the earth.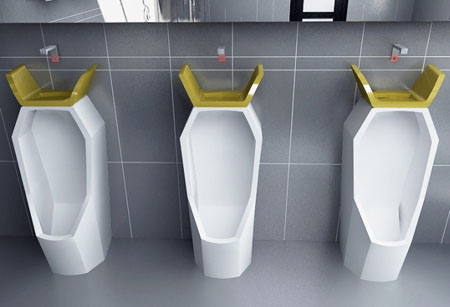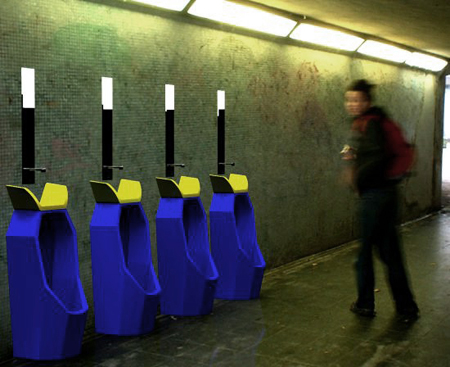 Packing tapes are common to those who ships items and after they unpacked the items they received, tapes are trampled and landfilled. Designer Sylvia Pichler's Tape Lamp will surely help prevent those tapes from adding to our landfills. Designed for Skitsch, the Tape Lamp uses packing tape as its shade. Hopefully the tapes used in this stylish lamp are recycled. Surely, these packing tapes still looks good even if they are repurposed. If this will be the case, having these lamps will not only gives you the chance to have a stylish lamp at home but also allows you to help save the earth.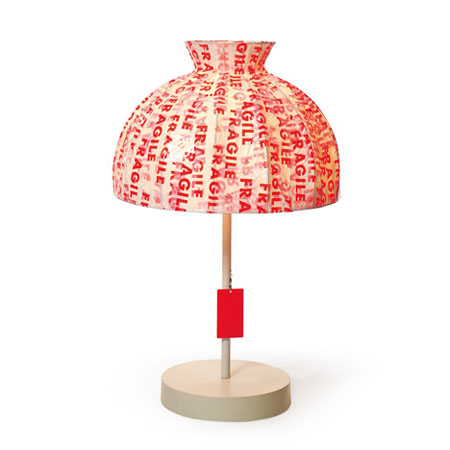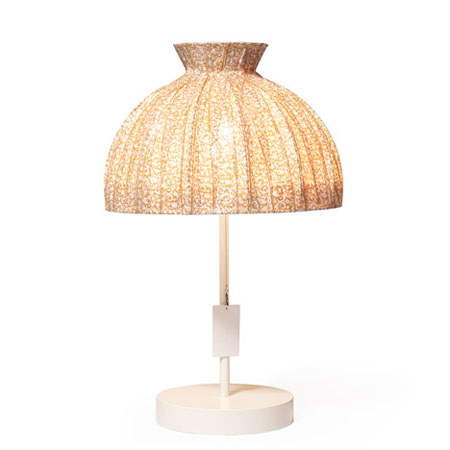 Cork manufacturer generally discard their cork cutouts as the produce the best corks in town, which is obviously a great addition to our landfills and will eventually harm the environment. With the aim to help save the environment from harm while helping each household to have an elegant lighting solution, designer Benjamin Hubert had created the Float. Designed and released for 100% Design 2009, the Float is made from a collection of cork block recovered from a wine cork manufacturer. Have it installed in your ceiling in any room of your choice and you will surely get an elegant ambiance and feel relived at the same time, as you are sure enough that you have helped save the earth.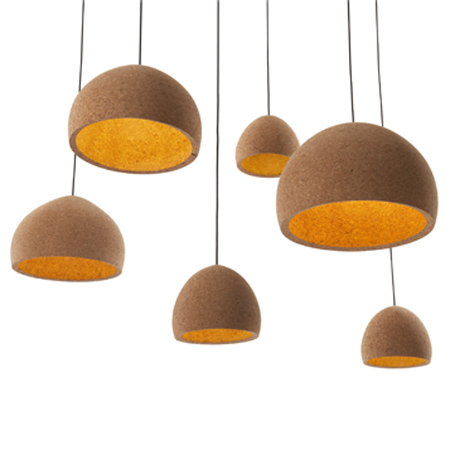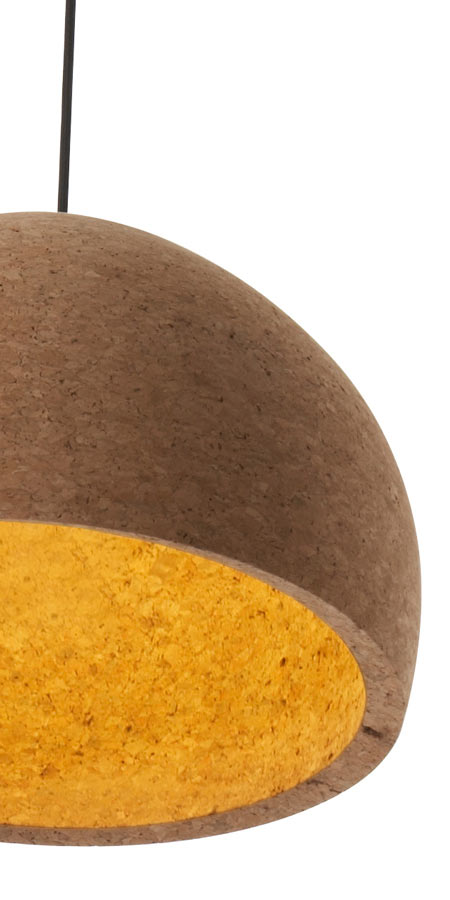 We all know that air conditioners are one of the top contributors to our green house gases and the ones with the largest electricity load on our homes. This will never be a problem for us anymore because GreenCore Air releases a new product called the gc102000 solar air that has the ability to heat and cool 600 square feet rooms. A solar air conditioner has two models, which is the fixed version and the portable one, this amazing air conditioner from GreenCore can operate from a 170-watt solar panel. When using the GreenCore air conditioners, you will save not only yourself from high power cost, but also you will contribute a lot in saving mother earth.
Source : GreenCoreAir via GoGreenSolar
It's nice to know that even the computer peripherals are now becoming earth friendly. Just like what Fabrik has created. He had designed Fabrik's Simple Tech Turbo. It is a hard drive designed with rippled side to disperse heat and will eventually terminate the need of a fan. Fabrik's simple tech turbo is made from a recycled aluminum and bamboo. This hard drive will surely be a hit in the market, since most of our fellowmen are already earth conscious nowadays. I would love to own one once available in our market. This will save energy and will save the earth.
Bags are already part of our daily lives as we use it in almost everything that we buy. People of today's generation, continues to look for ways in producing grocery bags that saves our mother nature, yet of the same quality. This is why Daylesford Organic has come to an idea of creating this cool elegant in design organic biodegradable bag as containers on their pasteurized and unhomogenized organic milk. Since it is biodegradable, it will help eliminate the overflowing landfills of plastics we currently have. Daylesford Organic milk in biodegradable container is not only good for our health but also for our earth.
Source : Daylesford Organic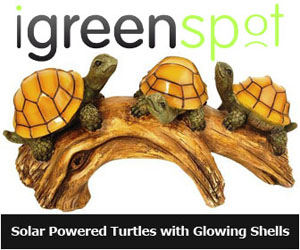 Our Recommended Partners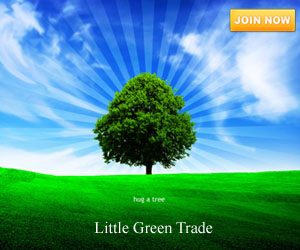 Advertise with us
Archives