Rocking your way out from boredom at work, Muista Active Chair would keep your body move. This project is about a unique rocking chair that allows you to dance, sway, and fidget while sitting, keeping your body away from prolonged inactivity. One thing for sure, Muista helps you practice balance exercise, do muscle stimulation, and offers stress relief.
Just in case you don't know, there's number of studies that have shown the danger of inactivity, whether you sit or stand, it is lethal to our bodies. A chair shouldn't be just a support, it should also be an object that keep our working bodies active and healthy.
From : Muista Go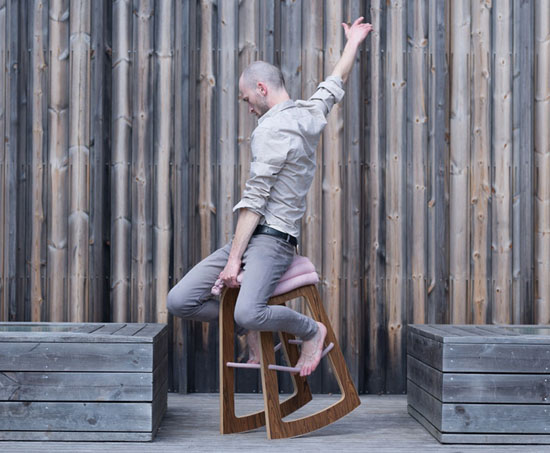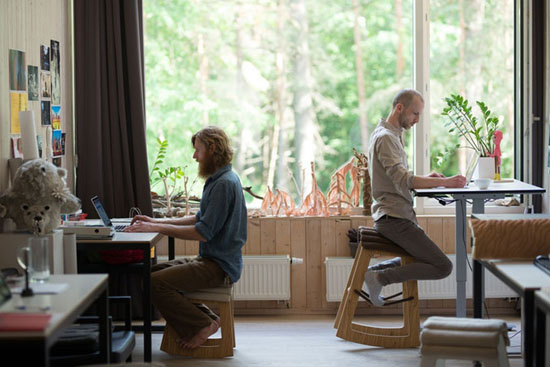 We all know Bamboo is the fastest growing wooden grass on earth, chopsticks around the world have taken advantage this renewable material. In Vancouver alone, there are more than 2000 restaurants that use chopsticks, disposable chopsticks to be exact with a lifetime of less than one hour. Chopvalue, a Canada based company, realizes that they can do something to recycle those chopsticks, there are more than 100,000 disposable chopsticks in Vancouver alone sent to the landfill every day. The idea here is to recycle those chopsticks so that restaurants can save money in garbage collection costs as well as improving our environment.
All these bamboo chopsticks waste can be processed to create new developed materials, offering opportunities for small and medium-sized manfucaturers to get involved. Chopvalue gives second life to all those chopsticks, the company has created different kind of furniture and accessories from that material such as coasters, hexagon shelves, tabletop, side table, or tiles.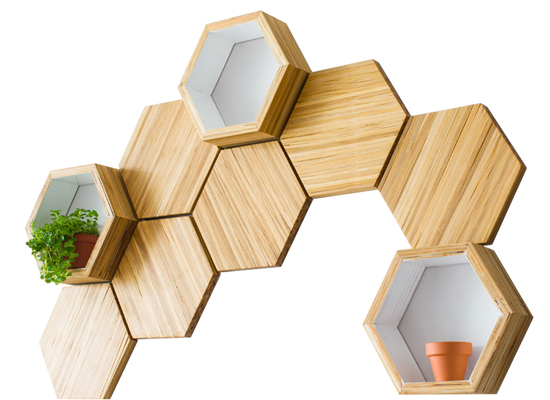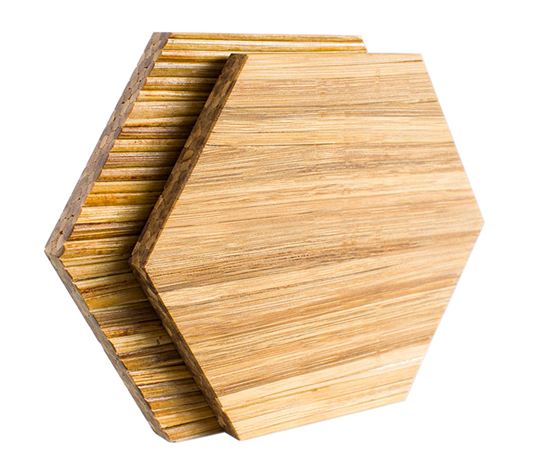 Ellen Eco Leather Storage Ottoman features elegant round design that would fit contemporary and modern home décor. Featuring three solid wood legs, this ottoman is constructed with eco leather, basically it's made from recycled leather, polyurethane for softer feel, and fabric. These eco materials offer ecological and economical value with sacrificing the look and feel of real animal leather.
This round shaped furniture offers you an attractive storage solution, keep all your stuff organized in the living room, such as remote controls, magazines, and books. As a seating platform, this ottoman offers cozy and comfy spot to hangout with family and friends, not to mention the attractive nailhead details add modern touch to the overall design. This ottoman comes with flip over lid. There are four color options to suit your existing décor: black, cream, crimson red, and espresso.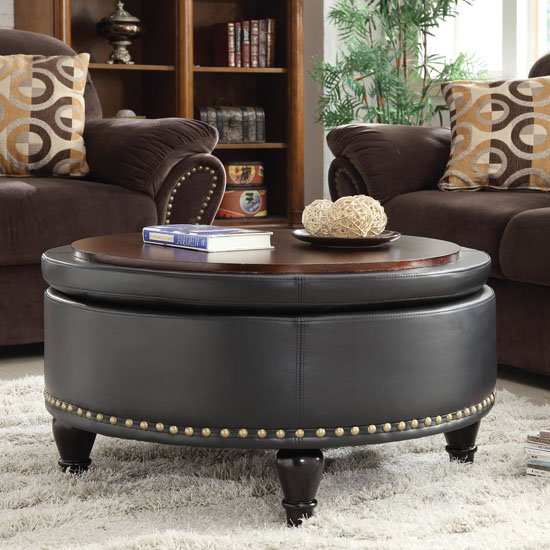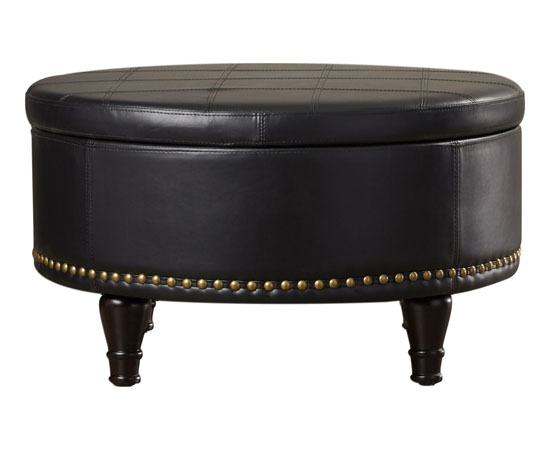 Gardening is a fun hobby, but for some people, bending for too long can be hard on their back and knees. Deluxe Tractor Scoot with Bucket Basket can ease the pain, you can work from a seated position at the same time, that position would minimize strain on back and knees. This is a versatile and steerable scoot with principles of go anywhere and do anything, a super stable rolling scoot that allows you to work in the garden from a comfy seated position. Heavy duty frame can support up to 400lbs weight, the seat can be adjusted from 16-inch to 19-inch high.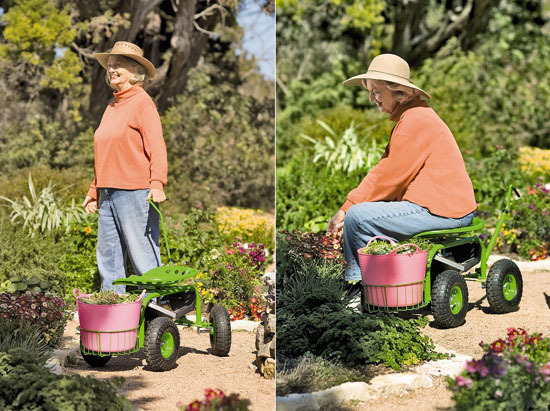 Ready for pre-order, Root Wood Nesting Table Collection is perfect as a pair or individual. These gorgeous accent tables feature beautiful deep grain of salvaged root wood, especially when you have modern and contemporary room décor. The company uses unique techniques that have been perfected over generations, they can transform gnarled stumps of Shan Mu fir trees into this exquisite work of art, thanks to those expert carvers. Once the table's done, they set atop tapered oak legs. Don't worry about our environment, this furniture is made of all things left behind by logging operations, just in case you don't know, the removal of these stumps would help newly planted seedlings in the area for faster growth. So it's an eco-friendly table collection. [CLICK HERE to get more details of Root Wood Nesting Table Collection]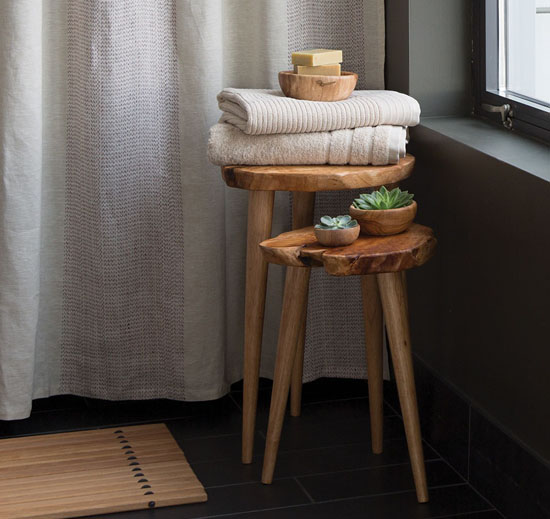 Keep your dirty laundry organized, Trinity EcoStorage 3 Bag Laundry Sorter offers a stylish laundry station that you can place in the bathroom, closet, laundry room, or bedroom area. As its name suggests, you can say that this unit represents eco-friendly production, it features three removable cotton bags and three slatted shelves.
The minimalist design makes this bamboo laundry station blends beautifully with contemporary or modern décor. Those bags are 100% cotton while the handles are bronze powder coated, curved handle design makes it easy for grab-and-go. There's no toxic chemical used during the production.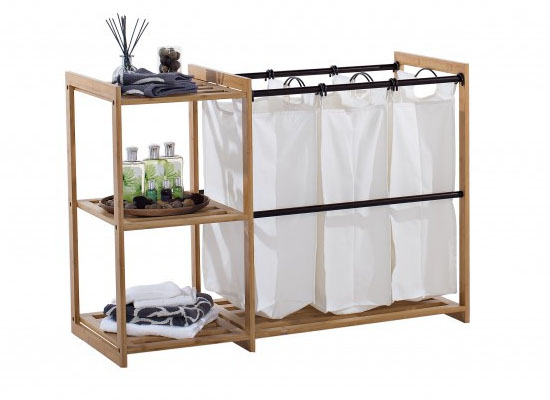 This Eco-Friendly Bamboo Multi Charging Station can be personalized with your desired text. It would be a nice gift for anyone who loves green products. Featuring modern design, it has interior elastic bands that hold excess cord from tangling, there are dividers to keep your mobile devices upright, from laptop, tablet, to phones. It's a nice way to keep your smart gadgets organized, you can enjoy nice and clean work area, reducing unnecessary clutter from your desk. To keep the top and base together, this charging station uses magnets. Just in case you need something smaller, the company also offers a bamboo phone charging dock. [CLICK HERE to get order details of Eco-Friendly Bamboo Multi Charging Station]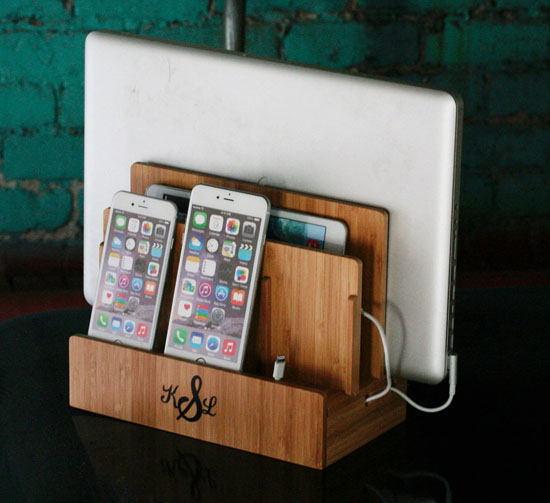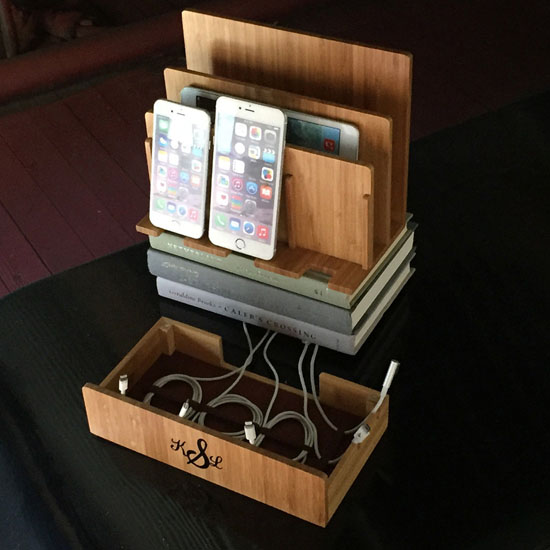 Salvaged from destruction, Root Wood Planter was born out of Fir tree stumps, which are usually left behind after sustainable logging. These tree stumps are usually removed to help accelerate the recovery, but hey, as you can see here, they can be transformed into unique and beautiful planters for your plants. Each one is hand carved by artisans, you won't get ugly left over tree stumps, instead, you get a beautiful and completely unique piece with different shape and marks, marbling and graining.
It's a planter that is directly pulled from earth, how cool is that? It can be an attention grabber in any room or a conversation starter among nature lovers. Fill this pot with your favorite flowers, it would look so exquisite in any room, it is not too heavy to carry, we highly recommend that you use it for indoor only. It is not recommend for use with liquids, you need to handwash only with mild soap and wipe it dry. [CLICK HERE to get order information of this Unique Root Wood Planter]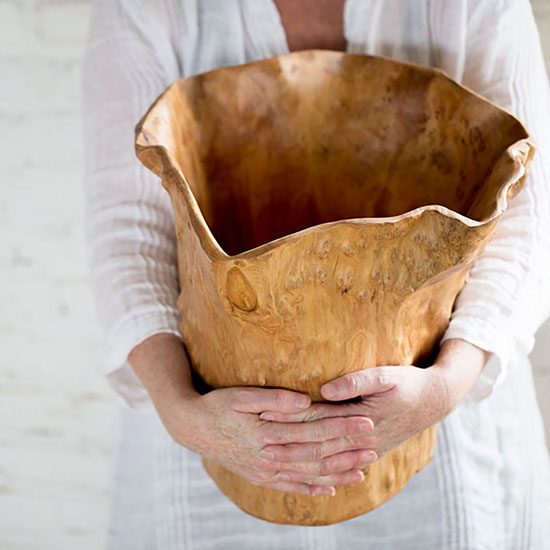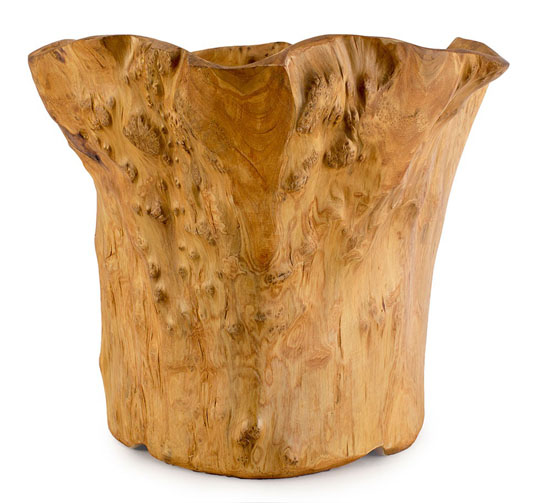 Completely handmade, Cardboard TRIANGLES Suspension Lamp offers unique, geometric shape to bright up any room. Each lamp is composed of triangles folded and assembled to each other, pretty cool for cardboards huh?
Due to the design, light would diffuse in the center in a play of shadows and lights. This round cardboard lamp comes in white or natural color with a diameter of 19.5-inch. Each unit is priced at 160 Euro.
From : Dany Gilles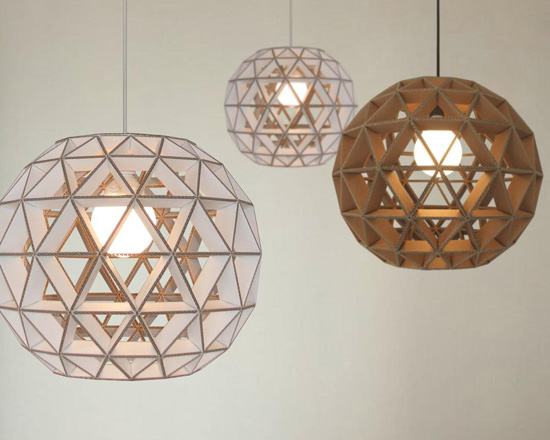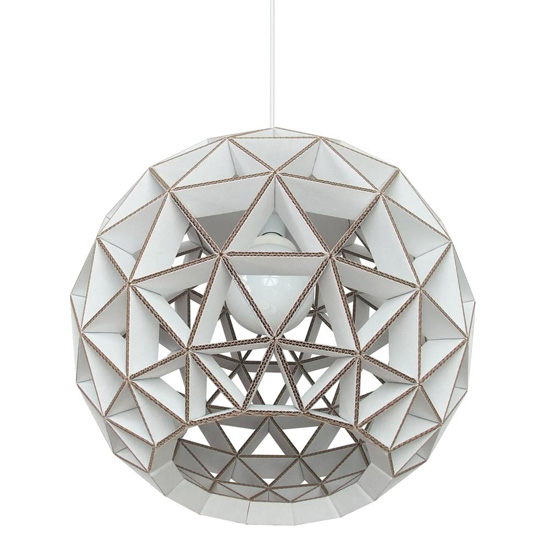 When you explore Paris, you probably see Uritrottoir outside the Fare de Lyon train station. It's a urinal planter, yes, urinal, a place where you can pee, legally. Public restrooms can be gross but it is also illegal to pee on the wall or public places. Uritrottoir can be translated as "pavement urinal", an eco-friendly spot to pee. It's not a container, it consists of two boxes that hold plants, completed with fertilized soil, the main area of the urinal sends your pee down to the odor-fighting dry straw that fills the lower box. Basically two boxes which are stacked on one another, the top for the plants and the bottom to contain your pee. There's a sensor that tells when the lower compartment needs to be sent to composting facility. Your waste is then composed and used as fertilizer for gardens, parks or even those plants that grow out of the top urinal.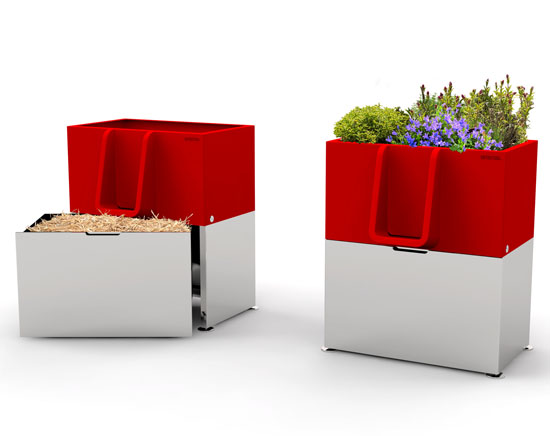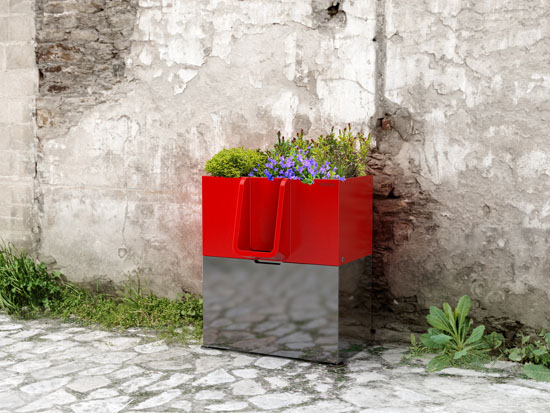 Our Recommended Partners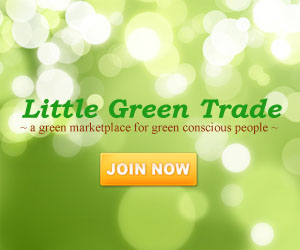 Advertise with us
Archives