Gardening is a fun thing to do, but long time kneeling can give pain to your knees. That's why Ohuhu Garden Kneeler and Seat is a life saver. This garden seat would reduce pain that usually caused by long-time stooping or kneeling, at the same time, it also keeps you away from grass stains and dirt.
Each seat is crafted with steel pipe, plastic, and EVA, it is sturdy but very light. Featuring foldable design, it is highly portable and easy to store. The sturdy steel construction can accommodate weight up to 150kg or 330.69lbs. The thick cushion would make you feel comfortable when kneeling, you can also turn it upside down to use it as a chair. By the way, it comes with a nice garden tool pouch. [CLICK HERE to get more info about Ohuhu Garden Kneeler and Seat]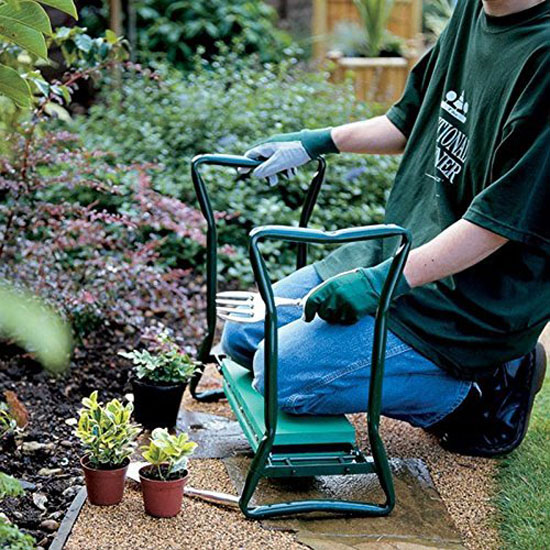 Update: It seems that this bamboo chair is no longer available, but we have found similar bamboo dining chair that you might, click here.
Made from Moso Bamboo, complete your house with this eco-friendly Bamboo Pure Harvest Dining Chair. This chair features clean and simple lines, adding modern and warm touch to your dining room. Besides looking good, this chair also offers comfortable seating experience.
The material reflects the warmth of nature, it's perfect for green conscious home owner, especially when the dining table is also made from Bamboo. Bamboo chairs would complete the set. It doesn't have to complete your dining space, it also goes well in any room of the house. Crafted from 100% solid bamboo, each chair demonstrates beauty, strength, and feel of exotic tropical hardwood. Yes, bamboo is sustainable material and is harder than red oak. Each chair is finished with a protective, no-VOC finish, it'll stand the test of time. [Click Here to get more information about this bamboo dining chair]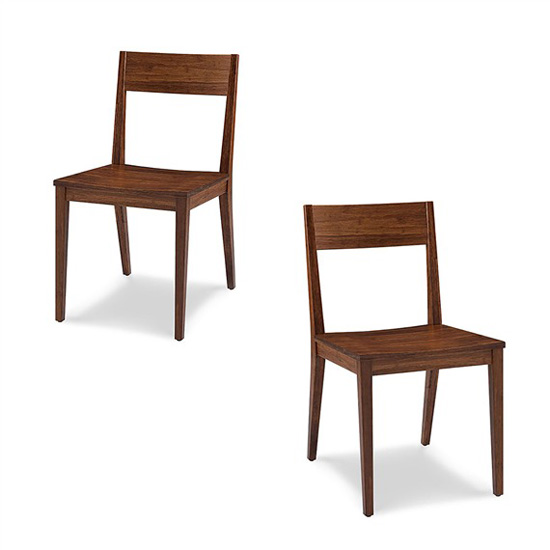 Take advantage of your food waste, Worm Farm Composter transforms any vegetable scraps to valuable fertilizer. The composter features modern and attractive design, you can place it in corner of your kitchen or near garbage bin, it's really easy, no fuss and no mess. Worms would do all the work, it turns your food scraps into nutrient-rich fertilizer, it's a nice green project to teach children about the environment.
Once the process starts, you can add up to 0.5 pound of food scraps per day to the composter (you need to purchase the worms separately). This amount is about an average food waste for a family of four. You need to also remember that 68-degree F is the ideal temperature for the composter.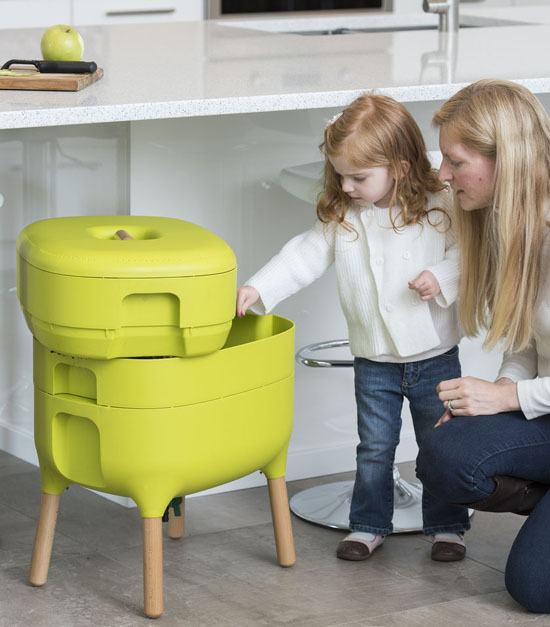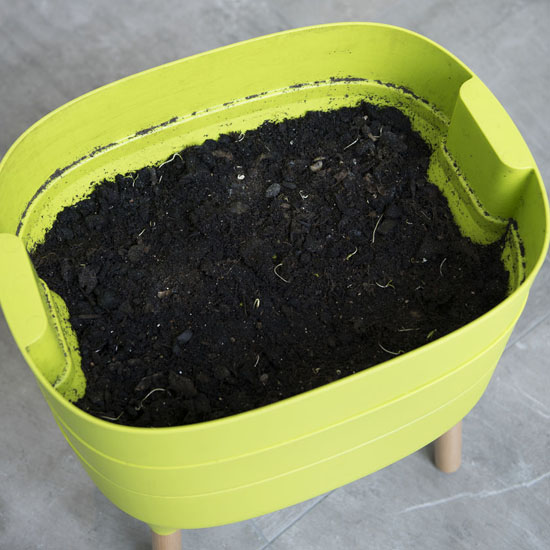 Show off your surfboard in style with this Tripped Barrel Bamboo Surfboard Rack. As a surfer, we believe that you do care about our environment, this wall rack is made from bamboo grain and finished with rich golden color. Even though it is mean for surfboard, this rack is also perfect to display your skateboards or snowboards. Tripped Barrel wall rack features nice, artistic style with great stability and only for limited time, this model is offered in carbonized and natural colorations.
Each rack is crafted from strong, solid ½-inch bamboo, it can support up to 100 lbs. The installation process is very easy since it comes with unique mounting system that requires only minutes to get everything done. We really love the mounting system design, making the cradles adjustable and interchangeable with other series. Made in USA, this wall rack will certainly display your boards in sustainable way. [Click Here to get more details information about Tripped Barrel Bamboo Surfboard Rack]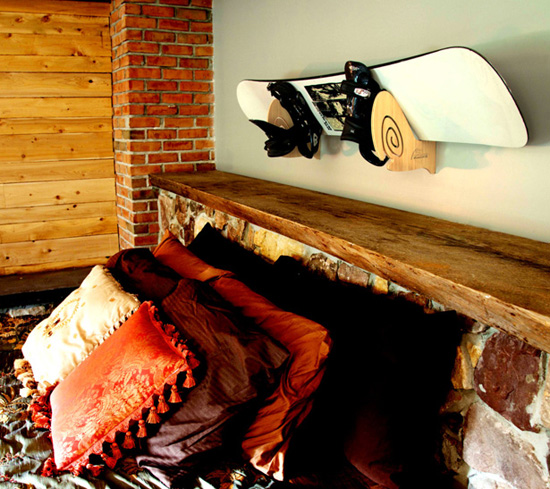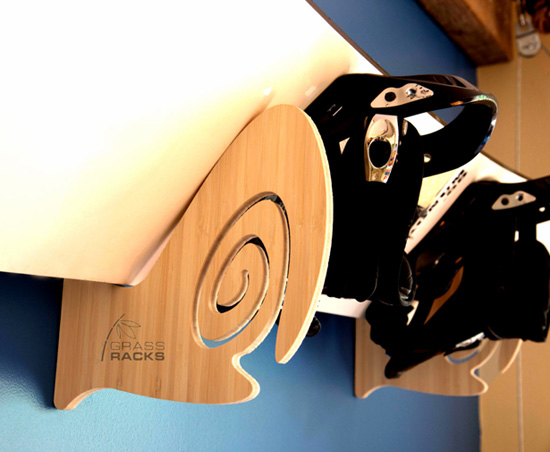 Carry your wine with you in a safe VINE Insulated Stainless Steel Wine Bottle. This wine bottle or wine growler can hold up to 750ml, a perfect traveling companion for a beach party or dinner party. You can safe yourself from carrying breakable glass bottle, no more pouring wine from a cardboard box. Each bottle carries EcoVessel's signature TriMax Triple insulation technology, it will keep your wine at the perfect temperature for hours, allowing you to enjoy your first sip to the last in great satisfaction. Enjoy your drink the way it was inteded, the technology maintains ideal temperature up to 36 hours.
It's a nice gift for anyone and yourself, thanks to premium 18/8 stainless steel, BPA, and liner free, this bottle maintains true taste of your wine. It's been designed with secure and leakproof top. The sophisticated packaging also comes with brush and funnel, nice isn't it? [Click Here to get more details about this recyclable Vine Wine Bottle]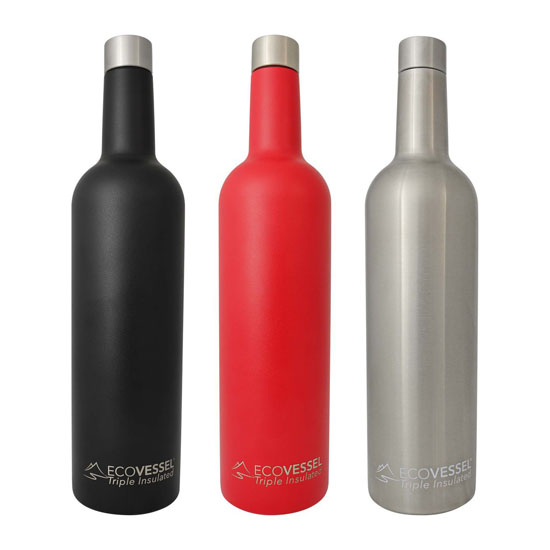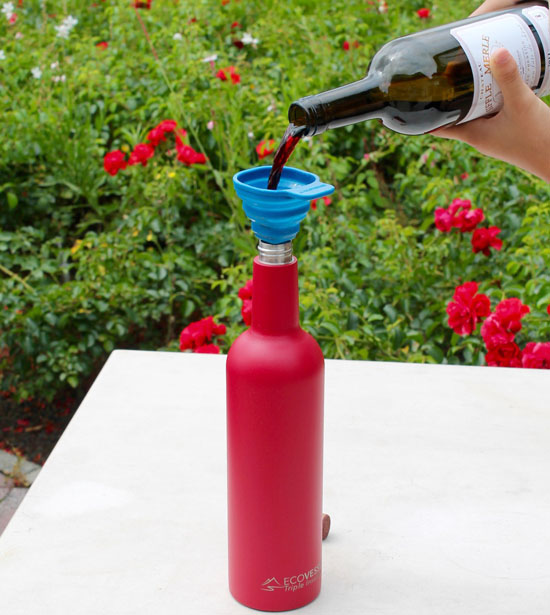 From : EcoVessel
Butterply Desk, yes, you read that right, it's not a typo, it's not Butterfly, it's Butterply. Designed by an award winning design studio, UPSOP, Butterply Desk offers a practical desk that you can assemble without the need of screws or tools. It comes with several functional modules to meet user's needs, the height can be personalized, this is an elegant crafted furniture for your home or office.
Constructed out of sustainable plywood (hence the name), the innovative design allows the frame's height to be adjusted, thanks to in-house developed smart joinery system. This desk is weather resistant as well as moisture-fluctuations resistant.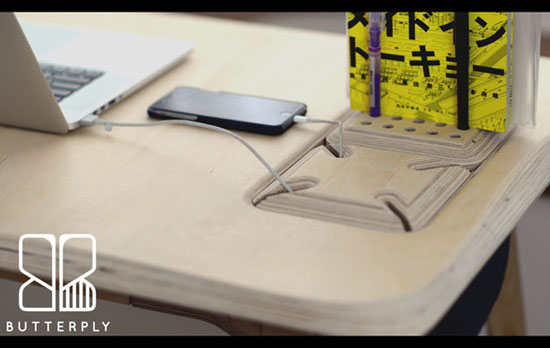 Made in USA, Glodea Eco-Friendly Bench X60 is a nice bench that you can place it at the backyard, front porch, or the entrance of your home. Each bench is handmade, featuring, modern and stylish design, it is also eco-friendly, crafted from FSC certified wood. Even though this bench arrives to you partially assembled, you can finish the final touch in less than 15 minutes, yes, that easy. Designed by Ignacio Santos and Fabian Ramos, Bench X60 features premium yellow pine wood from Alabama, combined with stainless steel, this furniture is designed to last for years with proper care and use.
The triangular legs offer great stability, allowing this bench to be used anywhere. We really love the natural knots touch, it adds a rustic charm to the overall design. There are several finish options that you can choose to complement your existing décor, at the same time, it also protects the bench from humidity. Glodea Bench X60 is packed inside recycled double walled box to make sure it arrives to your place safely. [CLICK HERE to get more specifications of Glodea Bench X60]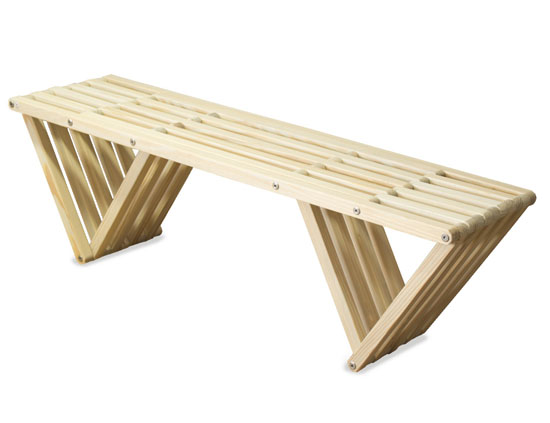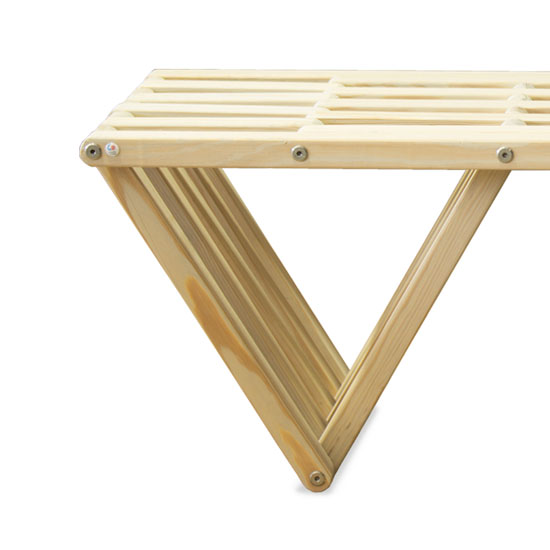 Ootro eStudio has created Helix Shelter, a temporary habitat for outdoor made out of recycled cardboard. This tiny shelter can be handy when you need temporary place on your outdoor adventures, these laser-cut cardboard pyramids are designed with holes in their corners to allow you to peek from the inside. It's not just drawing or rendered images, the company has built a prototype for testing, it can be used as a space for rest and contemplation. The company claims that this structure can be easily installed by a single person.
Born as independent initiative, Helix Shelter aims to create a relationship between individual and the landscape. This compact structure or you can say a micro architecture can be installed without destructing its natural surroundings, it can be an intermediary between observer and the observed. However, we don't think it is meant for location with extreme weathers.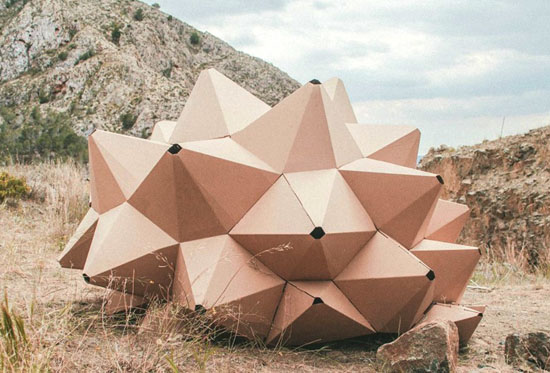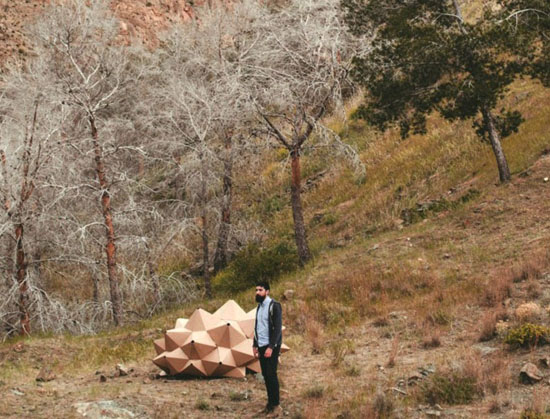 A beautiful décor and functional furniture, Greenington Currant Etagere Bookcase would beautifully organize your room. It features 47-inch wide, this bookshelf holds your books, magazines, photo frames in style, perfect for a living room or even an office. The simple structure features 5 shelves with a smart scale, the material is solid Moso bamboo, making it a sustainable furniture for your green home. Open and airy design, just like the style of vintage Mid-Century Danish Modern. It's a nice way to keep everything off the floor, place storage boxes on the shelves, you can organize them at the bottom.
This furniture doesn't have any plywood, particle board, or MDF, it is completely made of sustainable materials, also, bamboo is harder than red oak. The dimensions are 47-inch(L)x13.5-inch(W)x62-inch(H), make sure you have the space for it. [CLICK HERE to get more details about Greenington Currant Etagere Bookcase]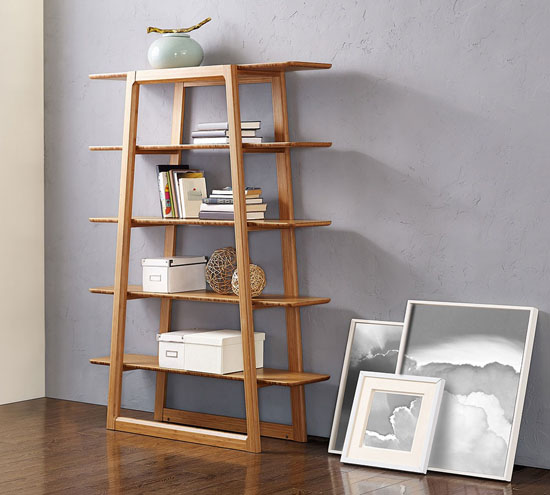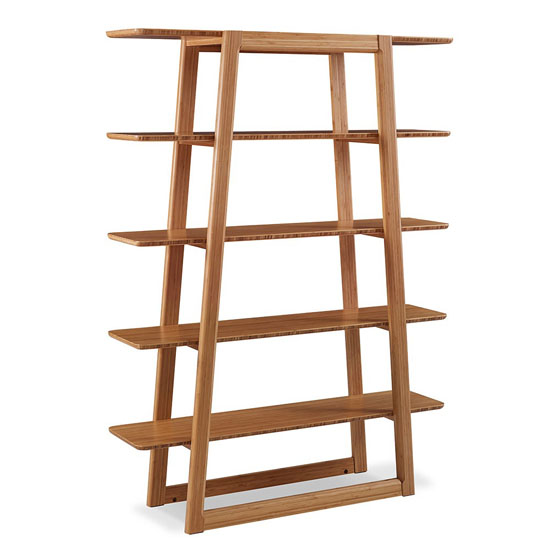 What a lovely horn speaker, Bellaphone No.7 is made from a Herradura Tequila Barrel, a beautiful reclaimed wood product, don't you agree?
Created by Fiddle & Hammer, a Milwaukee based furniture company, they wanted to create handmade heirloom quality furniture, that's why they only use best materials available. This horn speaker design features modern aesthetic to express the warmth of the wood, love of music, and rich industrial past. This is not just prototype, this products are in stock just in case you are interested to get one.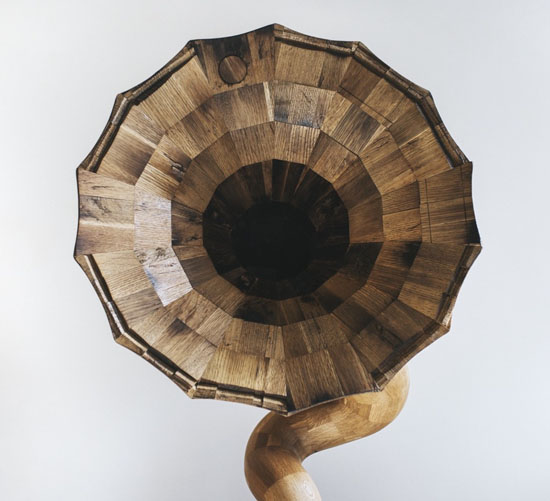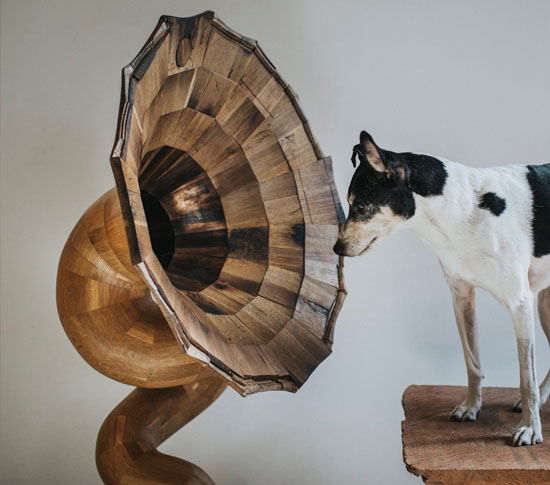 Our Recommended Partners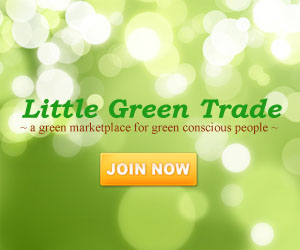 Advertise with us
Archives
Recent Topics Searched