Spiky is unique inflatable shower curtain as part of series "My Shower Curtain is a Green Warrior". Designed by Elisabeth Buecher, Spiky wants to remind you that you've been spending 4 minutes under the water, time to get out the shower. People usually are not aware how much water wasted during shower, this curtain inflates spikes to push you out, it's a smart and harmless way to remind you that you have used too much water. You can't stand in the shower anymore since these spikes take out all the space. Unfortunately Spiky is just art installation, it's not real product, it aims to start a debate around water issues and spread awareness about your water consumption during shower.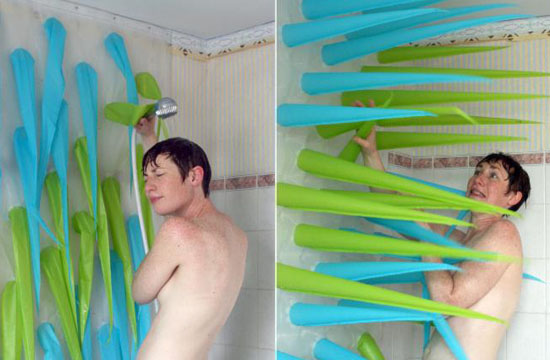 It's natural and sustainable, CasusGrill allows you to enjoy BBQ without the guilt of polluting the environment. It's 100% natural product and totally disposable instant grill, unlike those metal/plastic BBQ grill. Setting up is easy, this grill is ready to use in less than 5 minutes, giving you heat for up to an hour to cook your food, of course with nice and crispy barbecued finish, anytime, anywhere.
It is made of FSC-certified cardboard lined with naturally occurring lava stone. The grill is made of bamboo so don't worry, it won't get burned, and the briquettes are made of quick Oxilite bamboo charcoal.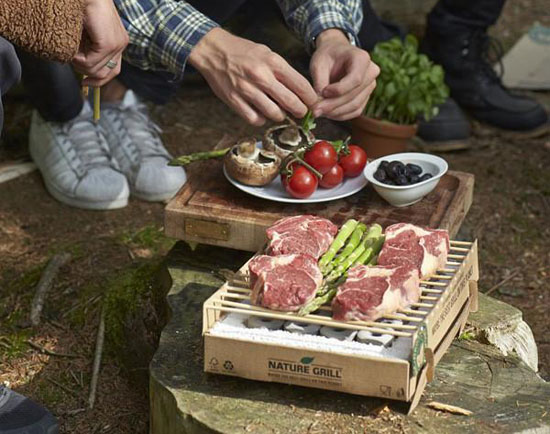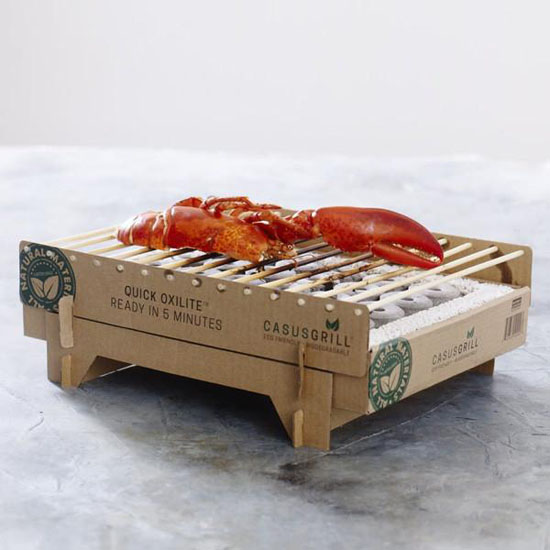 People who love camping usually have love for nature as well, that's why Homemade Natural Macadamia Fire Starters would be a perfect gift for them. It's an all natural fire starter set, any grilled/barbeque food would taste much better compared to using toxic chemical lighting liquid.
Handmade in Hawaii, these fire starters feature real macadamia nuts (whole/half) and dye free unscented soy wax. Do you know that macadamia nuts and its hard shells have high oil content? Well, that's why it makes sense to create camp fire lighters out of these materials. The merchant gives you options to order from all whole nuts, half nuts, all shells, or assorted. [CLICK HERE to get more details about these Homemade Natural Macadamia Fire Starters]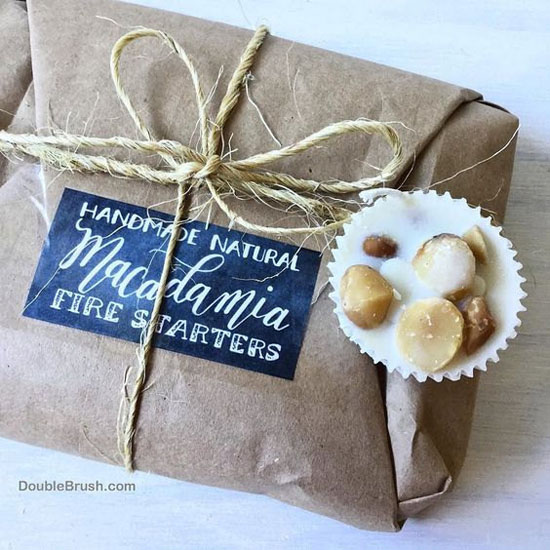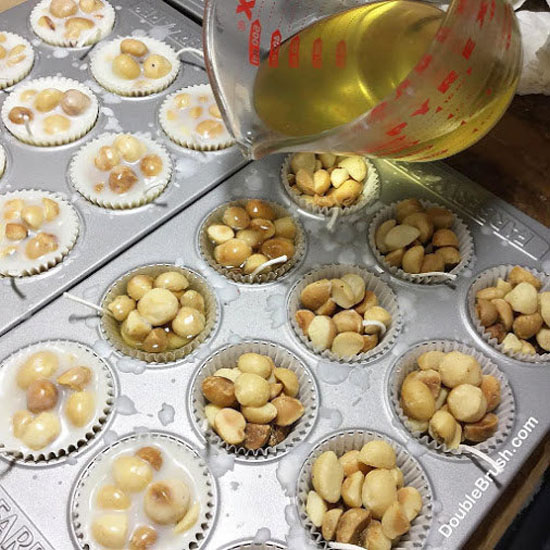 The beauty of Bamboo has attracted designers to create multiple objects by resourcing this sustainable material. Made of Bamboo has launched a crowd funding campaign to produce eco-friendly bamboo cars for children. Well, it's been widely known that children love cars, by combining the beauty of bamboo and minimalist design, the company has created unique, modern toy cars.
These cars use only lead-free eco paint and natural bees wax finish, there's no harm material used to make sure the safety of children. Each car is handcrafted with attention to details, by taking advantage of natural hollow cylindrical form of bamboo, this toy not only features ergonomic form (the circular shape is nice to hold by small hands) but also requires minimal industrial processing, making it highly sustainable product.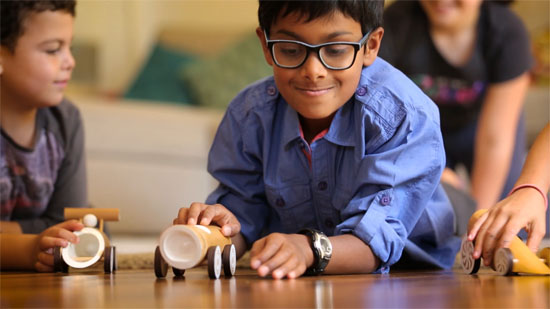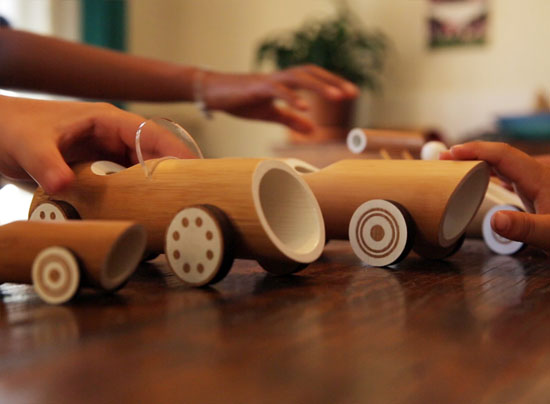 Stylish and eco-friendly bag, this one features Japanese print cotton fabric with genuine and eco-friendly Portuguese cork. It's a sturdy and durable bag, something that you, green conscious people, would love to wear without worrying the impact to our environment. This bag is lined with a brown cotton fabric, fully interfaced and interlined for strong structure and better durability. For your mobile device, there's a zipped pocket inside. This magnetic snap secures the bag, hey, even the straps are made from cork. [Click Here to get more details about these fashionable and eco-friendly cork bags]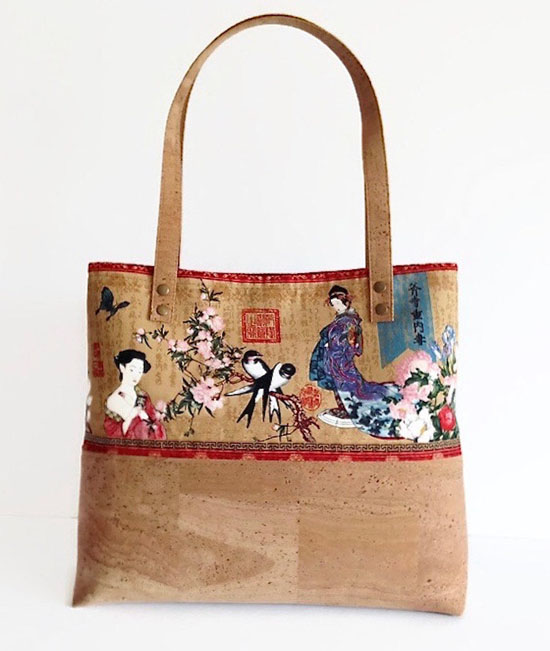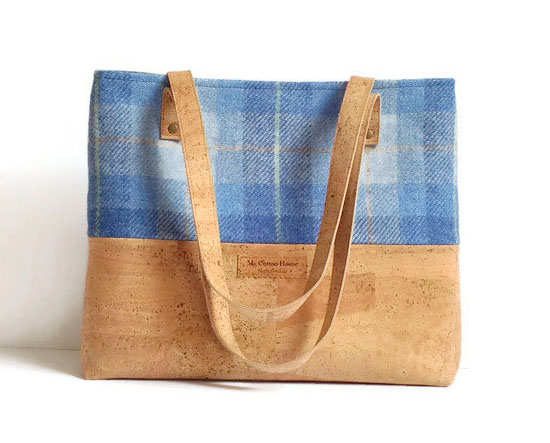 Rocking your way out from boredom at work, Muista Active Chair would keep your body move. This project is about a unique rocking chair that allows you to dance, sway, and fidget while sitting, keeping your body away from prolonged inactivity. One thing for sure, Muista helps you practice balance exercise, do muscle stimulation, and offers stress relief.
Just in case you don't know, there's number of studies that have shown the danger of inactivity, whether you sit or stand, it is lethal to our bodies. A chair shouldn't be just a support, it should also be an object that keep our working bodies active and healthy.
From : Muista Go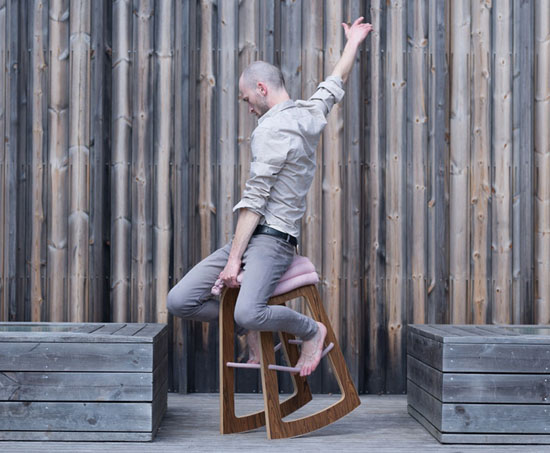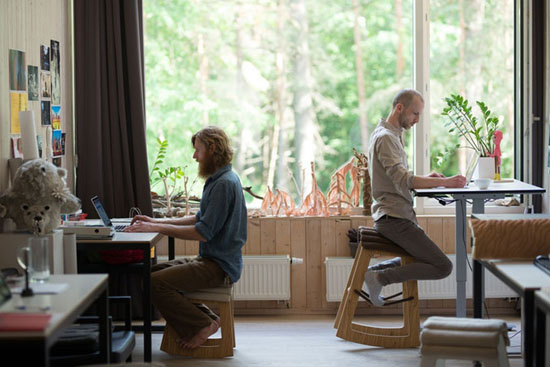 We all know Bamboo is the fastest growing wooden grass on earth, chopsticks around the world have taken advantage this renewable material. In Vancouver alone, there are more than 2000 restaurants that use chopsticks, disposable chopsticks to be exact with a lifetime of less than one hour. Chopvalue, a Canada based company, realizes that they can do something to recycle those chopsticks, there are more than 100,000 disposable chopsticks in Vancouver alone sent to the landfill every day. The idea here is to recycle those chopsticks so that restaurants can save money in garbage collection costs as well as improving our environment.
All these bamboo chopsticks waste can be processed to create new developed materials, offering opportunities for small and medium-sized manfucaturers to get involved. Chopvalue gives second life to all those chopsticks, the company has created different kind of furniture and accessories from that material such as coasters, hexagon shelves, tabletop, side table, or tiles.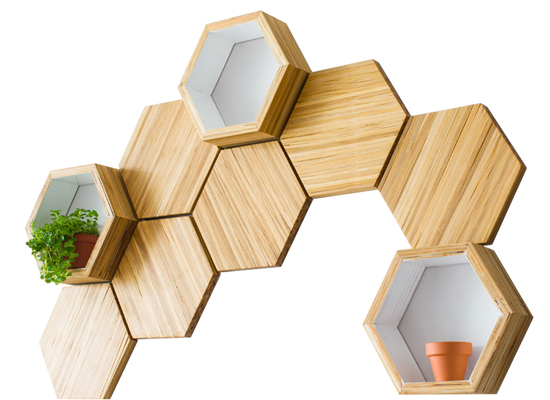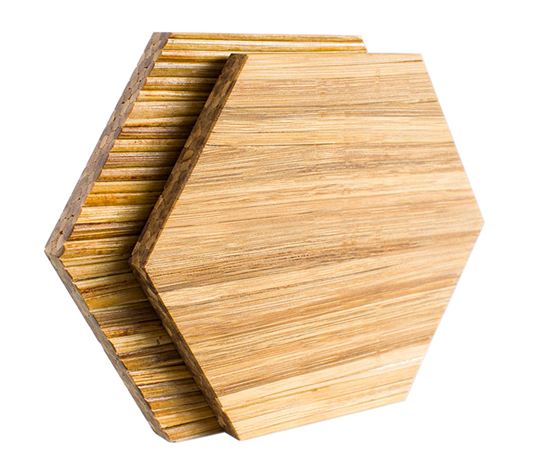 Ellen Eco Leather Storage Ottoman features elegant round design that would fit contemporary and modern home décor. Featuring three solid wood legs, this ottoman is constructed with eco leather, basically it's made from recycled leather, polyurethane for softer feel, and fabric. These eco materials offer ecological and economical value with sacrificing the look and feel of real animal leather.
This round shaped furniture offers you an attractive storage solution, keep all your stuff organized in the living room, such as remote controls, magazines, and books. As a seating platform, this ottoman offers cozy and comfy spot to hangout with family and friends, not to mention the attractive nailhead details add modern touch to the overall design. This ottoman comes with flip over lid. There are four color options to suit your existing décor: black, cream, crimson red, and espresso.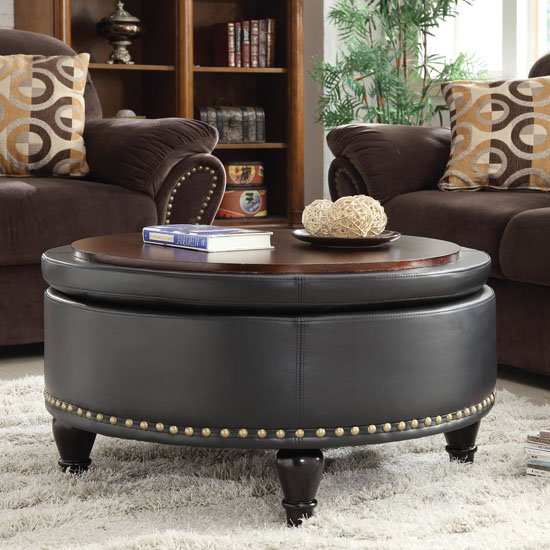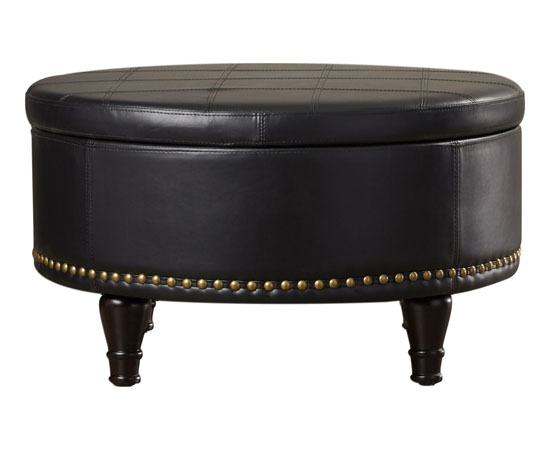 Gardening is a fun hobby, but for some people, bending for too long can be hard on their back and knees. Deluxe Tractor Scoot with Bucket Basket can ease the pain, you can work from a seated position at the same time, that position would minimize strain on back and knees. This is a versatile and steerable scoot with principles of go anywhere and do anything, a super stable rolling scoot that allows you to work in the garden from a comfy seated position. Heavy duty frame can support up to 400lbs weight, the seat can be adjusted from 16-inch to 19-inch high.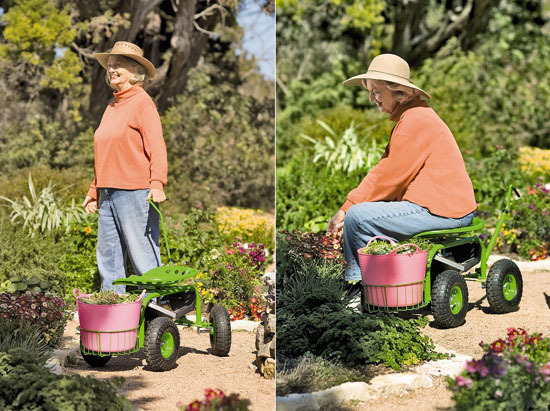 Ready for pre-order, Root Wood Nesting Table Collection is perfect as a pair or individual. These gorgeous accent tables feature beautiful deep grain of salvaged root wood, especially when you have modern and contemporary room décor. The company uses unique techniques that have been perfected over generations, they can transform gnarled stumps of Shan Mu fir trees into this exquisite work of art, thanks to those expert carvers. Once the table's done, they set atop tapered oak legs. Don't worry about our environment, this furniture is made of all things left behind by logging operations, just in case you don't know, the removal of these stumps would help newly planted seedlings in the area for faster growth. So it's an eco-friendly table collection. [CLICK HERE to get more details of Root Wood Nesting Table Collection]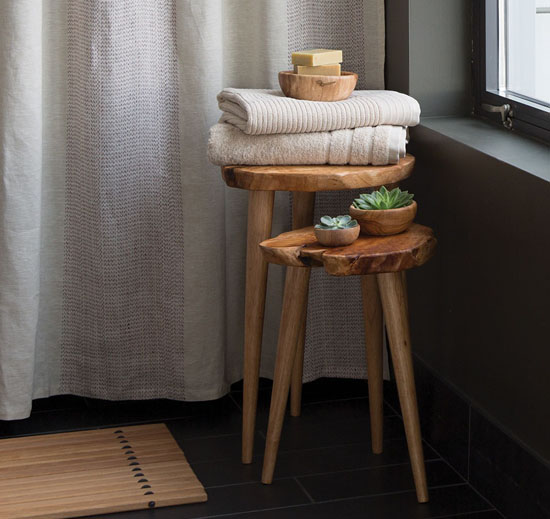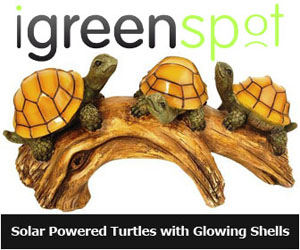 Our Recommended Partners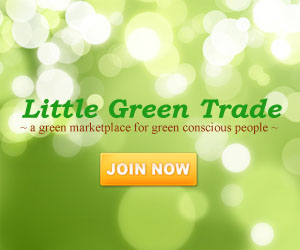 Advertise with us
Archives
Recent Topics Searched