Another iconic building is going to be built in Malaysia. This is not surprising, since they do have two of the tallest buildings in the world, the Petronas Twin Towers. The design of Precinct4 is very unique, based on traditional Islamic architecture, marine-inspired structures, and radiating block of bioclimatic architecture.
The architect's goal (Hijjas Kasturi Associates, Malaysian architects) was to design buildings that tell of its place of origin which is culturally modern, Islamic and tropical in nature. While the designers goal (Studio Nicoletti Associati) was to provide a model for sustainable residential design that was inspired by the city's unique landscape which includes an expansive artificial lake. The biggest inspiration came from the sea and the entire development resembles a fleet of ships.
It is also said that the buildings will source from alternative energy and are expected to produce 50% less CO2 emissions than similar residential projects.
Designer : Studio Nicoletti Associati via Inhabitat
This USB device is very eco friendly by using bamboo as its material. Bamboo itself is a fast growing resource, which make it an ideal natural resource to create your daily gadgets because you don't do any harm by taking away greenery from it. Designed by Gernot Oberfell, this Bambus flash drive is having capacity of 2GB, great green gadget concept.
Designer: Gernot Oberfell via designzen
Another great news for electric car lovers, zero-emission Tesla Roadster has announced that its electric sportscar has started a regular production. Which mean, soon, you'll be able to drive electric sports car that have perfomance 210+mile range between battery charges. Very exciting indeed, especially with the price tag under US$100,000/car, you can also start your reservation for 2009 model.
From : TeslaMotors
Finally one of most talked about electric city car, Th!nk, goes to showrooms. This car concept revealed at the 2008 Geneva Motor Show, with two-seater and top speed of 65 mph, great vehicle for just round the town. Th!nk city car will need 10 hour charge from any domestic power outlet.
From : Th!nk
The idea behind this concept is to make user waste water that coming out of your washing machine. We do use around 150 litres of water for a washing machine, after that … why don't we use it again before the water finally go down the drain ? "WashUp" is integrating washing machine with toilet, which mean, it can store wasted water in the toilette-flush tank for us to use when flushing. This also can be a solution for small living space, combine your washing machine and your toilet in the bathroom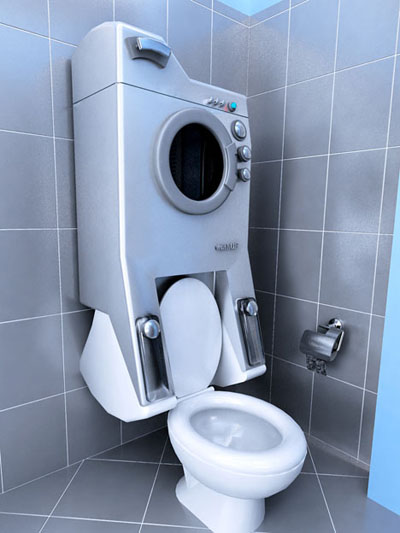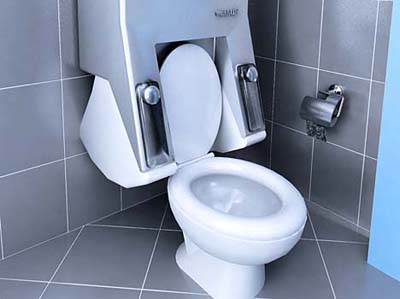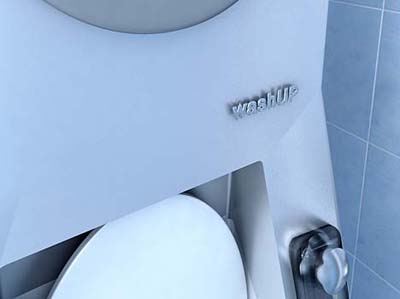 Designer : Sevin Coskun
There's only one certainty in life: we will all die someday. In our society there's a trend towards cremation. Cremation however demands for specific solutions. Therefor we've created a cremation coffin with integrated urn in order to appeal to the specific functional needs and emotional circumstances of a cremation funeral.
Most coffins on the market are too expensive for cremation and aren't made for burning. Our cremation coffin however is fully executed in ecological materials (corrugated board, papier-much and wood), is budget-friendly and easy burnable. As a result, the cremation process itself goes faster having both an economical as well as an ecological benefit.
On top of the coffin there's a memory capsule. The urn is executed in stainless steel and has the shape of a sandglass of Time heals all wounds. The urn withstands the cremation process during which it will be coloured through the heat, to give it a personal patina.
From : MaximalDesign
By choosing recyclable materials for your dog toys can also help our environment. These ball and bone come from planetdog.com, made from non-toxic, rubbery, and recyclable materials put to waste by other manufacturers, the result is a very adorable toy for our dog(s).
Made from recyclable materials, this definitely green kitchen. The main materials of this kitchen consists of wood, aluminum, glass, stainless steel. Valcucine wants to provide us with better products and at the same time eco friendly, those materials are 100% recyclable. So if you have decided to join the force of keeping our earth green, perhaps this kitchen can be one of your new ideas when you decide to re-decor your house.
Giant Bike introduced Twist Freedom Dx which look like a regular bike, but don't get tricked by its surface. This bike is actually an electric bike which has torque sensor that monitors your pedaling and controls a 250-watt DC motor located in the front wheel. The source of power comes from two lithium ion batteries which can help you ride the bike up to 75 miles/120 kilometers.
This is great innovation as cars alternative, Giant, the manufacturer hopes that it will be popular in developing countries. Available in May 2008 with $2000 as its price tag.
Our Recommended Partners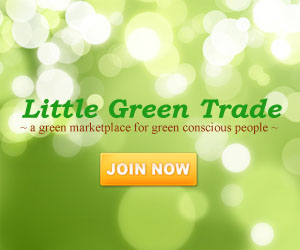 Advertise with us
Archives