Driving our cars on a daily basis lets us contribute large amount of CO2 to the environment and of course costs as a lot. As gas prices goes higher and higher, people came up with the blade that will lets us save from gas consumption and carbon emission. With a cost of $200, the blade works almost too good to be true. Money back is guaranteed in just a few months of use. This really sounds good, however its not yet guaranteed that the blade will keep to its promise, as we have been into various products that does not work as what they have claimed.
Source : BladeYourRide
Eco-electric is a new product that will teach us about water conservation and will educate us on how to use the resources that are just around us without spending even a single centavo. The eco-electric has a turbine pod that semi filters and generates electricity from a grey water that exits the house. This product is composed of four major parts like the sensors, interface turbine pod and compost unit. The most exciting part of this product is that this is free and works in conjunction with government based carbon emission device. I just hope that this product will soon be available in our place even for a fee.
Wind turbine is a great product to have in our homes. It can generates free energy that eventually turns into an electricity for our daily use. Normally turbines are huge and need big spaces. Well, this is not the case with the Energy Ball, it is just a small yet beautifully designed, and generates more energy than any other personal wind turbine available in the market. In addition, the energy ball is super quite which an advantage especially at night. This cute and effective wind turbine has the ability to generate the energy that we need even with just a very slow wind.
via io9
The Tower of wind in Tokyo is a man made island Japan that takes 30 years in the making. It is a ventilation facility of Japan that is also serves as a midway point between the Tokyo Bay Aqua-Line and that connects Kisarazu City and Kawasaki City. People normally see this facility only through a window while boarding on a plane or through Google satellite view. This Tower of wind in Tokyo is also known as the Kaze-no-to. Many are wondering if this facility is a government owned or is a secret den by somebody else. Well, whatever it would be, the only thing I see is that it is a great facility with a good purpose.
Source : Digital World Tokyo via Dvice
Now skateboards can be used for making steps. Check out this unique way of making steps in your house with the help of skateboards decks. These steps look much better than the normal flat ones. Skateboards are built with a concave across the deck and for these steps, the owner has put only concave skateboard on the edge and at the backs so that your foot does not catch on the front edge. The decks seem to cup your foot once you step on them. This is an innovative concept to use your waste or unwanted skateboards.
Source : Roarockit via HomeDosh
It is nice to know that an all-electric car is now available for use already. This can already be the answer to our high rocketing prices of gas. The Hinterland1 is an all-electric car deigned by Matin Aube of Creative Unit. Aside from being an eco-friendly car, it has a super sleek design that is fashionable and will definitely noticeable on the road. Using the Hinterland 1, you will not only save from gas, but will be fashionable on the road as well. Since this car is a four-person car, you can enjoy the ride with your friends and families too.
Hotels are now also becoming earth friendly and are starting to use sustainable products. Just like the wooden hotel cards that are made by a Colorado based company called the Sustainable cards. The cards are very elegant in appearance and are fashionable as well. Cards are 100 percent sustainable too and they are from renewable sources. They have lower shipping weight, less production impact, and a seven-year history. Join the eco-friendly campaign now and be the one of those Wooden Hotel Cards user. I would be glad if this product will be available in our place, and I am going to be one of the proud users of it.
Source : Sustainable Cards via Got2BeGreen
Items with "Eco" word in their product name is now cannot be counted by hands anymore. Just like the new Ecofan that is introduced and made from Canada. It is a self-powered and off the grid fan that works via Seebeck effect in order to produce its own electrical power for the fan to power on and move warm air throughout the room. It is place directly on top of the wooden stove and uses the difference in temperature to create power through its thermoelectric module. The ecofan's appearance may not be very attractive but the function it has is perfect for those eco-friendly people we have all around.
Instead of throwing the empty plastic drink bottles, designer Shelley Spicuzza managed to recycle it to create an attractive and creative lamp. You can choose to get together bottles of the same colors to make it more elegant in appearance especially if the ones you are using are the clear ones. However, the colored one can also give you the right amount of color that you need without using the colored lamps. Shelley's design is easy because the central part of the lamp is a sphere that has holes wherein you can screw in the plastic to the threaded holes to create a lamp that everybody will surely love.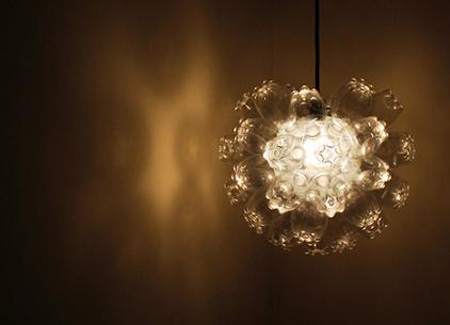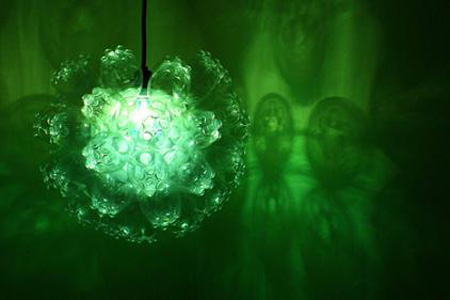 A good place to get together with friends or families is the right definition for Art.Rainbow. A solar powered rainbow's end replica is supper attractive with the attractive colors that it has. This product is build for the multi-hued get-together throughout the day and even if they will extend it at night. During the day, the art.rainbow gives the right shade and protection from the sun while at the same time gathers they right amount of solar energy that can be used to light up and get rid from darkness when the night comes, thus make every people enjoy the art.rainbow during the day and even at night.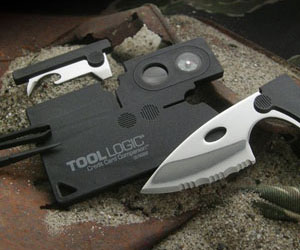 Our Recommended Partners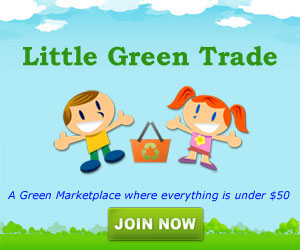 Advertise with us
Archives