Storage can be the most important thing to have in a house. Here is where we put our unused items like the pillows, blankets or some small items that we really intend not to use and just preserve it. However, some houses do not have enough space for storage area. The bamboo table will be the answer on this type of houses. It has a featured removable top cover to let you place your to be stored items inside the bamboo table and cover it with again with its cover and use as a table. Such a nice idea right there from Pfeifer Studio.
Futuristic and sleek is what you can see with this new 2-seater Apera. Its eye catching design is not simply a design and for some car show. The Aptera's aerodynamic design is for its efficiency. This eye-catching car is currently in production and is expected to cost about $30,000, and the all-electric version of it has ranges of about 120 miles per charge. The Aptera is expected to be on the roads within the year and its 300mpg hybrid version will soon to follow in 2009. If you are planning to own one of this high-end car, the company is now accepting reservations to those who are interested in owning an Aptera.
Refrain from using your old black lacquer of the 80s, and switch to the current eco-friendly one now. Yes! You heard it right; an eco-friendly lacquer is now available to give your furniture an attractive polishing without bringing in any harm. It has been tested and used already to various products like the Bamboo Salad Suite Deluxe from VivaTerra, the Cain Collection bench from Branch Home, which is obviously looks simple. However, you can add some beauty into it by applying some smooth sheen of clear or colored lacquer. The Lacquered Rattan storage box by some Vietnamese artisans from Ten Thousand Villages brings out the beauty of their product by using the eco-friendly lacquer too. Other tested products are the Log Bowls and the colorful Curvy Servers.
Producing water using the steps of the human visitors is truly a good idea. This idea came from Nam, which led them into creating the Human Pump that measures 12-meter wide in the form of a boardwalk, which is designed to be placed in areas with heavy foot traffic like those within the school or market route. The details are not yet clear, however, the concept is the pump will collect some kinetic energy from the human step and the stored energy will eventually let the pump produce some water to the surface. This pump will surely help everyone to have a lean and affordable water in the future.
Another electric car is about to hit our busy roads in 2012. The Venturi Volage of Michelin has a new breed of in-wheel technology called as the Active Wheel Technology. The entire active suspension, electric motor and brakes of the Venturi is fitted as much as possible within the wheel envelope, which will definitely frees up some space for this slim and lightweight carbon-fiber chassis that weighs only around 2,369 pounds. What's more impressive about this car is that it is fully electric with a top speed of about 160mph and has a range of 200 miles. In addition, the Venturi also has the sleek design that will surely amaze everybody's eyes.
Have you ever come across this type of unusual furniture made up of sustainable harvested wood? These wooden furniture series is designed by Brent Comber, a Canadian designer using wood and this concept features branches which have been bundled together and cut into geometric forms. This type of design will always give you a feel of tree in a modern form. This design gives a notion of crushed or shattered glass. There are different shades of furniture including wooden chairs, lampshades with small holes drilled in the side to let light through. This furniture can be a wonderful piece of art for home décor.
Economical and Fashionable Street light is what the lighting company Philips want to provide with their new Light Blossom. This light will replace our traditional yellow street lights. The Light Blossom has wonderful and attractive design that adds up the beauty of our busy streets. In addition, the Light Blossom is a solar and wind powered lamppost that moves to get enough power as the day goes by. During the night, the Light Blossom's LEDs beam will only turn lights on when and where needed through proximity sensing, and will glow at its minimum level when no one is around. However, when somebody passes by, the Light Blossom will glow to give the passers-by a comforting light.
Lighting up your lamp will never be as easy as this new Krank by Efrain E. Velez. Designed with a desire to wanting to help save the earth, the Krank is made from recyclable aluminum parts that obviously made the Krank a perfect choice for you green themes home. The Krank works the same with a traditional hand drill, wherein one can easily has as long as 40 to 60 minutes of wonderful bright light by just simply applying the classic magnetic induction by doing some drilling action. This product is expected to be out in the market by spring of 2009.
Reducing energy usage has always been an issue to almost every household worldwide. Everyone wanted to save from energy especially now that gas prices are sky rocketing and energy is also affected and move on together as the gas prices rises. To help us achieve in saving energy, the Ecobee Smart thermostat is created. A cool thermostat will manage your heating and cooling system and will hook up to your home's Wi-Fi in order to fully integrate into your utility system. This thermostat can be easily installed and with its touch screen display, you can easily adjust your heating and cooling settings. With the help of the internet since it is integrated with your Wi-Fi connection, you can easily get update as well.
Public seating is fun especially during break time while having some fun chat with friends and colleagues. This is also one of the common pastimes for most of us. Inspired by this activity, Dominik Schwartz – a student at the Free University of Bolzano under the faculty of design, has created the Typoase. It is a publix xeating facility that is made from wood and stone topped with grass that make it look refreshing. If you will have to take a look of the Typoase from above, its benches spell out the word TIME. The purpose of the Typoase is to provide public seating wherein people can have a chance to sit and have a short break.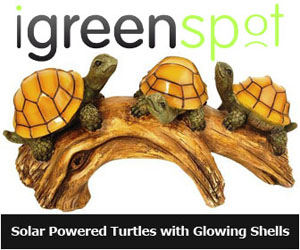 Our Recommended Partners
Advertise with us
Archives