This solid gold ladybug looking like concept car is the latest electric concept car from Nissan. The Nissan Nuvu concept car stands out in at the Paris Motor Show and is considered as the coolest one. This cute 9-foot minicar is green in nature with its quiet electric motor and recycled raw materials. The car is estimated to be out in the market at around 2015. However, with its fashionable and elegant look, for sure many would love to own one of this car right now. In addition, this car has a comfortable chair for the driver upfront, a passenger seat and a space for your kids or groceries.
Alkaline batteries are commonly known of being hazardous. It is not advisable to throw it anywhere and must be kept away from children. With this idea, designer Sungwoo Park and Sunhee Kim have created the Energy Seed. A super efficient LED lamp will light up your dark ways at night. This LED lamp will make the most out of your thrown alkaline battery, which is a good idea of saving energy and keeping the environment safe. However, it is still important to find a permanent disposal area of your hazardous corpse of alkaline battery, though letting the LED lamp drain out your alkaline battery is really a good way of saving energy.
via HardwareSphere via YankoDesign
Pendant lamps add up the beauty or homes had during the night. However, with Nori Morimoto's eco friendly Forest Pendant Lamp, it will not only give our homes the nice and warm light at night, but rather it can also be a nice sculpture during the day. The forest pendant lamp can be used with CFL bulbs of not more than 60 watts. Forest is a hardwire pendant lamp, it comes with two canopies, and it got a 2feet drop length. This lamp is perfect for modern and stylish homes, and contemporary business establishments in rural areas with eco-friendly theme.
Source : Nori Morimoto via 2modern
IKEA's mini blue bag is just one of the a wonderful discoveries I have ever see. This bag is one of the best eco-friendly bags I have ever seen. When you will use it as a laundry bag, I suppose this is a waterproof one. Moreover, if you will say for gardening, what I know about the material used in this bag is that, it's a user friendly one. Finally, to those who will use this bag for moving purposes, this bag is super durable, especially that it comes up with a double straps. One good thing about this bag is that after using the bag for your desired purpose you can reuse it.
Golf Refugees, one of the first of a new breed of indie golf brands is now producing t-shirts and polo shirts that are made from carbon neutral organic cotton certified by The Soil Association. This simply means the Golf Refugees will only be manufacturing their product using renewable energy generated from wind and solar power alone, which is a great idea for the community. They will not only provide green, eco-friendly and fashionable shirts, but they will help save the earth as well. As per Carbon Trust's calculation, Golf Refugees' men's large shirts cut off about 89% carbon emissions, which is great news.
From : Golf Refugees
Renault is all set to save energy with its latest concept car known as ZE (Zero Emission). This concept car incorporates innovative aspects such as optimum range achieved by lithium-ion battery powered 70KW electric motor, use of heat-reflective paint and exterior mirrors with low energy cameras. There is a green affect inside the car because of acid green tinted glasses. The linear display outside the car door shows the amount of charge left in the system so that the driver knows the situation before entering. Renault uses polyurethane gel bumpers designed to soak up minor knocks and protect pedestrians.
Tonke Campers is a modern day eco friendly caravan. Why modern friendly? because, it is made of mahogany polish carefully to reveal its natural elegant look. Inside the Tonke Campers are porcelain sinks and chrome faucets. You can enjoy the outside view clearly with its flat, clear, and bright windows. Solid wood doors have its safety glass, not molded or tinted plastic, which will let you enjoy viewing the wonderful views outside. Tonke Campers are available for rent to those people in the Europe only. To those who are living outside Europe this caravan is expected to be of high prices.
Electronic gadgets like mp3 players, mobile phones, digital cameras, and more other hand held gadgets that are then luxurious items are now becoming one of the most essential items an active person must have. In order to continuously enjoy all of the gadgets that we have, all of them must be fully charged all the time that lead to a tendency of letting those chatgers to be constantly plugged in and are hanging to the walls, which are obviously consumes more electricity and causes fire hazard as well. Inspired by this problem, Johanna Strand and Asa Elmstam have designed a table that at the same time is also a charging station. Eight plugs are inside the box-like table and each has their own switch. The table has a green chord that indicates reduced energy consumption.
Lamps generally add up the warm feeling we have in our homes. They can be in a form of chandelier, pendant lamp, hanging lamp, lampshades and so on, and most them cost high enough for people of lower class to afford. However, Viva Terra had introduced the recycled metal globes. As the title suggests, it is a hanging lamp made of recycled metal. The lamp has an elegant and fashionable look to the extend that one would never think it is made up of recycled material. Offered in three sizes, the recycled metal globes is available in small, medium and large sizes.
via GreatGreenGoods
Another concept car is designed and this is the B0 concept. A concept car designed by Italian design Studio Pininfarina together with Ferrari and Bollore' a French battery maker. The B0 is using a hybrid energy storage solution that consists of a 30kWh lithium-polymer battery, and estimated to have a battery pack life of 125,000 miles. Limited production will start in late 2009 and soon will hit the road. Aside from being an eco-friendly car, the B0 also has the best look among other concept car. It has a modern, elegant and futuristic look that everyone will surely stare once started to take on the roads.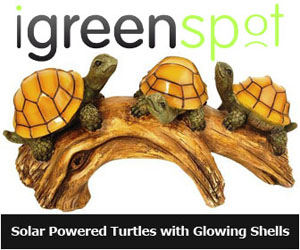 Our Recommended Partners
Advertise with us
Archives