Browsing articles in "Traveling"
Electric fan is the only thing I know to ease the warm feeling temporarily. I never knew there was this thing called the portable air conditioner. Thanks to the internet for educating of such appliances. This portable air conditioner is good for those areas that are small enough to have an air conditioner unit. Aside from that, the portable air conditioner can be of big help to save energy. It is a waste of energy cooling the whole place just to make your current place comfortable. By using a portable air conditioner, cooling only the place where you are, does obviously conserves energy. [Click here for more details about Portable Air Conditioner]
A new five-star resort for Star Island in the Bahamas will be the new destination for eco-friendly traveler. The resort's energy is self-sufficient with their power coming from solar, wind and micro-hydro generators. Inside the resort, travelers can see LED lighting and geothermal HVAC, and they have the rainwater harvesting system that provides water for the whole resort. The system has up to 100,000 gallons of water a day, which is then purified and stored underground. The resort is 10 minutes travel by boat from Harbour Island, and guests can enjoy outdoor activities like diving, sailing, and deep-sea fishing. It is located on 35 acres of land, and is designed in favor of native species.
Source : StarIslandBahamas via Inhabitat and JambleMag
O-Range Travel Bag with integrated new flexible panel Solar charger system. Take your mobile electronics anywhere. A clean convenient way to recharge and run your portable toys, far away from any power outlets. O-Range travel bag is ideal bag pack solar charger for devices like cell phones, MP3/MP4 players, digital cameras, PDA, DVD players, GPS and other… The solar system convert sun's rays in electricity to charge integrated Lithium battery unit. From battery unit you recharge (day and night) your electronic devices.
Many of the used containers are just being disposed off. But as time goes by, many more and more people have discovered the method of recycling used containers, and it includes artists that decided to put their masterpieces in shipping containers. Since moving arts exhibition is expensive, artists decided to put it that way with their own efficient transport infrastructure, and move it around the world.
Container Art is an urban short termed and adaptive art exhibit. It is a work of local and global artists in containers spread around town. It consists of different work of modern art in each container from different mix of artists from different cities. It's an interactive container connecting people from different place through art.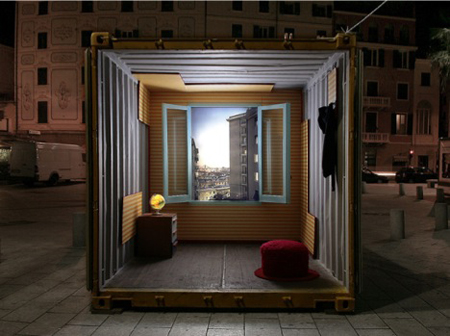 via TreeHugger
If you are a traveler and care about our lovely earth, bring EVO with you. EVO is a recording device which provides information such as location, time, direction, and atmospheric pressure. Evo device also captures still and moving pictures with audio, you can wear it as pendant if you don't like carry it everywhere.
The idea of Evo is based on the needs of capturing your moment with environment, connecting and experiencing again as personal history or sharing it with others. And the common frustration with capturing our travel experiences is the number of devices one needs, as well as the time and energy it takes to manage the content. These insights, often overlooked by producers, can lead to the products' premature end life which then contributes to the accumulating e-waste world wide.
Evo works with a GPS receiver, enables the recorded files to be referenced with geographic information so, not only is the information valuable at the time of experience, but opens up wonderful possibilities for re-experiencing the personal media in a dynamic map based software environment upon return.
An understanding and consideration other wide range of environments and activities within those plays a key role in determining manufacturing processes and technological components:
– Formed anodized aluminum casing was chosen for its light weight, protective and scratch resistant qualities
– A series of 'O' rings seals the two shells together ensuring water resistance and offering soft tactile qualities
– A CMOS photo-sensor combines the image quality of CCD technology with compact size, adaptability and energy efficiency
– A poly-led (polymer light emitting diode) display offers high brightness, high contrast, and a fast response time suitable for displaying video
– Minimal moving parts for longevity and durability
Designer : Sarah Hay
Designed by Joel Lim, this backpack is able to generate a substantial amount of electricity to power/charge electronic devices on the go. And at the same time to have a solution for the negligence in having a first aid kit among hikers, due to the lack of space. This is a great news for hikers or individuals looking for an alternative way of charging their electronics, at the same time doing their part for the environment and staying green.
Alppac would come in handy when the user has set up camp and would like to explore the surrounding area. It's a lighter alternative to carrying the entire backpack,and comes with it's own charging compartment too. Alppac also has first aid box inside of it. It's design doesn't vary much from what you see in the market, but there are some changes like the use of transparent pockets instead of the conventional cloth ones, to provide easy identification of equipment.
Designer : Joel Lim via EcoFriend
Our Recommended Partners
Advertise with us
Archives