Browsing articles in "Outdoors"
A good place to get together with friends or families is the right definition for Art.Rainbow. A solar powered rainbow's end replica is supper attractive with the attractive colors that it has. This product is build for the multi-hued get-together throughout the day and even if they will extend it at night. During the day, the art.rainbow gives the right shade and protection from the sun while at the same time gathers they right amount of solar energy that can be used to light up and get rid from darkness when the night comes, thus make every people enjoy the art.rainbow during the day and even at night.
This recyclable shelter is called the Recover Shelter, designed by Matthew Malone, Amanda Goldberg, Jennifer Metcalf and Grant Meacham. Everybody can benefits its 100 percent recyclable feature. Another feature the recover has is that its structure's ridges can be used to collect some drinking water when the rain pours because it is made of a non-toxic polypropylene. The recover also has no harmful leaching or out gassing to contaminate the users or the environment. One more feature of the recover is that, it can be covered in local materials for insulation, and can be transported at the same time on the same trailer, and the most interesting of all is that, it can easily set up in minutes.
Laura Sink from The Art Institute of Pittsburg has just created the innovative and conceptual product called the Nature Levo. It is a small, vertical-axis turbine with a primary purpose of catching wind from any direction. This creatively shaped stationary object can be installed to any existing structures like the telephone pole, flag pole, chimney mount, or in your usual backyard. Created for Novomer Plastic, the Natura Levo has a necessary steel bearings, adjustable cylinder mount, and small housings. This product is perfect for today's generation of learners. It will teach our young learners to be aware of the things that can help us save the earth naturally.
Laura Sink says :
Natura Levo is a small wind, vertical axis wind turbine. It is a 66″ tall turbine that contains two non-traditional blades that can catch wind from any direction. These blades are fastened within a unique steel component which also houses the tapered bearings allowing the blades to spin with little friction. The center axis is a beautifully formed stationary shape that mounts to existing architecture. The intended architecture can be anything ranging from a telephone pole, to an old chimney mount, to a flag pole in a residential back yard. Natura Levo is intended to harness energy from a renewable energy source while co-existing with its natural surroundings. Natura Levo should be so beautiful that it raises awareness of natural energy by admiration of its design.

Natura Levo is made primarily of Novomer plastic, with necessary steel bearings, adjustable cylinder mount, and small housings. The steel components are machined, and with the exception of the housings, these are standard forms. The remaining steel pieces would be machined in 3 separate entities and welded together. The axis is Novomer and injection blow molded; the blades are a bit more involved. They would be formed in 4 pieces and snapped together. The nature of the rotation would strengthen the fastened segments by using the natural force. These 4 pieces would be injection molded.
via Tuvie
Take the advantage of saving on your monthly power bill by installing the motion-activated wedge LED light in your homes. It can easily detect motion up to 25 feet, and can activate up to 300 times when fully charged. Installing is never a problem with this LED light, because it an easily be installed on any flat surfaces. When installing the light, one must have to make sure that it gets direct sunlight during the day so that it can have the right amount of energy to use during the night. One greater thing about it is that it has 3 rechargeable AA batteries included in the package. [Click here for more details about EarthTechProducts]
The Kinderlite is a disposable campfire created by Philip John Luscombe from the Northumbria University's School of Design. Created for exhibition at the Museum of Modern Britain's (MOMB) "2050 retrospective exhibition on the years 2008-2038", the product is invented for those who know nothing about survival techniques for them to appreciate the qualities of a campfire. I myself did not know the purpose and qualities of having a campfire. This is maybe because I am not into mountain climbing and camping. However seeing this cute and maybe easy to operate campfire, I may now know the essence of having it, and will eventually learn to appreciate it.
Official Text :
The Campfire Frame and Starter Box were part of a product range developed by Kinderlite to satisfy a market desperate to experience the raw thrill of outdoor living. Living lives saturated by technology and longing for something more 'real', the young market of 2018 was eager to uptake outdoor pursuits, go on wilderness holidays and reconnect with primordial practices. Kinderlite products have ever since been helping people overcome a lack of confidence and knowledge to answer the 'call of the wild'.
From : Philip John Luscombe
All of us wanted to have green and fresh looking surroundings. However, many of us decided not to have it because of the need in time and the cost for the maintenance it may need. However, with New Grass, this is not a problem anymore because traditional sod grass will now be replaced with artificial lawn. The new grass will give you the same comfort and beauty as the traditional sod grass does. In addition to that, the new grass will drastically cut your water bill. With the use of the new grass, you will not only experience a green environment but also, it will keep money on your pocket with water bill you have saved.
Recycling your milk containers is a good way of doing your part in saving the earth, and making it an attractive table lamp and lantern is another benefit that we can get. The Milkit is what I am talking about. It is a table lamp made of recycled milk bottles. Designed by Alexandru Adam and Steen Koch, the nature inspired graphic designed Milkit comes along with cords, sockets, fittings and more. The Milkit is available at Play Design. It's your prerogative to produce milk bottles of different sizes. Aside from being a table lamp, it can also be a pendant lamp, which is very elegant as well.
Nature lovers such as the mountain climbers, hikers and more normally use tents. They use tents not only for their temporary shelter but also they used it as mats, bags, covers and even coats. However, none of them is using a tent made of recycled materials. This is what the manufacturers Nemo and Big Agnes are introducing in the spring of 2009. With Nemo, they will introduce their 2-person OZ – a three-season tent made of recycled materials and is freestanding. On the other hand, The Salt Creek from Big Agnes is another two and three person tent made from recycled materials.
via Keetsa
Energy will never be a problem anymore with the new Sun Table. Place the sun table outside during the day to have it charged, and use it during the night. Perfect for your laptops, cellphones, lights, radios, water purifiers and more. You do not have to worry about the table in different weather condition because, it s designed for weather-resistant and ease of use, and all the electronics are designed for outdoor use. The table is designed for sustainability. Aside from that, it is also is a non-polluting source of energy and can be disassembled for recycling. A charged battery of the table is capable to power a laptop of more than four hours.
The Corona solar light has a photovoltaic cell that will transform sunlight into energy during the day. This cute and attractive light can easily installed and disassembled anytime, because it does not use any screw whatsoever. The light's LED will automatically start to glow as the sun started to set. You can simply set it to the ground, install it on your walls, or simply put it in your tabletop. Save from you energy consumption and be earth friendly by using the corona solar powered outdoor lighting system. It's not just fashionable but also an earth friendly one. Will definitely own one if I got a chance of having them.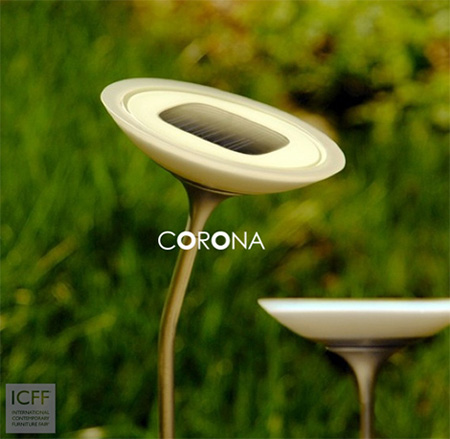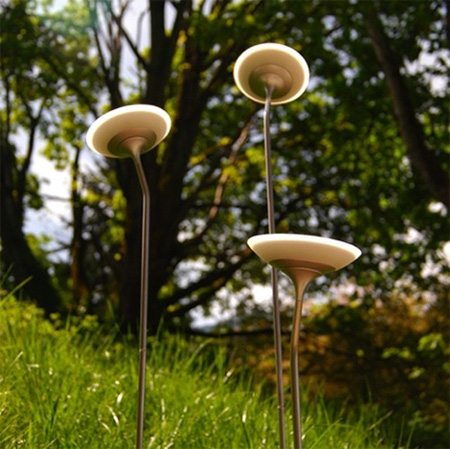 Our Recommended Partners
Advertise with us
Archives