Browsing articles in "Outdoors"
Inflatable lamps are just other unique products of the creative minds of the designers. With this lamp, you can easily illuminate your poolside, garden, outdoor terrace and more. I find it also perfect for parks, outdoor bars, and restaurants. Inflates in less than ten seconds, I am everybody would love to have this fashionable and user-friendly inflatable lamps. In addition, these lamps are available in various colors and can be easily transported by just deflating it and inflate when used. With its shape that resembles of an onion, these inflatable lamps from parade design will not only illuminate your nights but will also give you a refreshing atmosphere.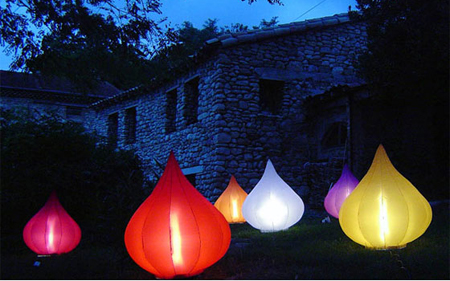 Source: Frais des Bois
Lanterns are perfect in keeping our surrounding looks attractive and refreshing. However, it may take a lot of energy since they have light on it that adds its beauty. Moreover, energy it takes will never be a problem anymore because Soji has already created solar-powered lanterns. Available in various designs and colors, these lanterns are perfect for outdoor use especially now that Christmas is coming, this can also serve as a part of your Christmas décor particularly the lantern issue. Colors available are too many for you to choose from, and for sure you will find one that will suit your needs and personality.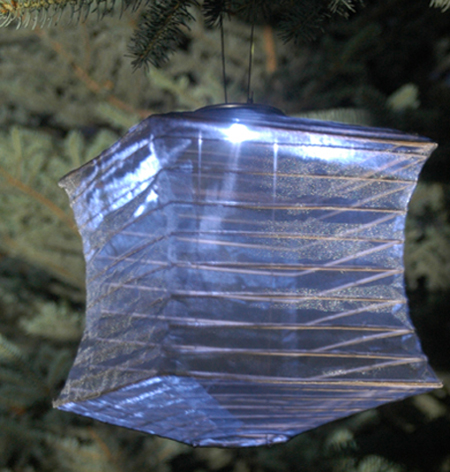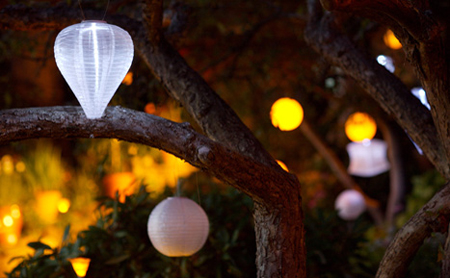 Swings are fun to ride in especially if located in some open areas like parks or garden. It so nice to feel and breath the fresh air we have while enjoying the back and forth movement of the swing. However, Enea Studio will make your swinging experience more fun and earth friendly with its new design called the leaf swing. As the name suggests, the leaf swing has a design that resembles of a leaf added with white paint that made the swing looks attractive and elegant. With this new design, you can now feel more eco-friendly and enjoy more swinging with the use of a leaf.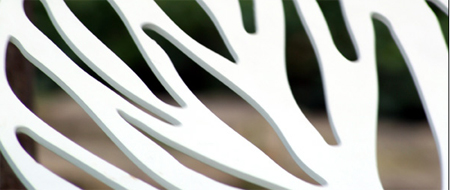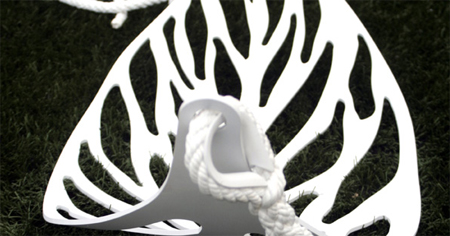 Working out daily is fun and refreshing. It makes you feel great, light and will make you fell active all day long. In addition, doing it in public places with the use of public outdoor fitness equipment can be more fun and energy efficient. In this way, you will not only be physically fit, but rather earth friendly as well. Why you can be an eco friendly with this public fitness equipment? Simply because it does not uses any electricity to function. What is nicer with that equipment is that, you can use it free of charge. It's now time for you to go out have fun and be fit.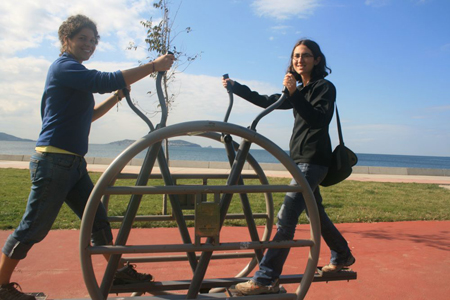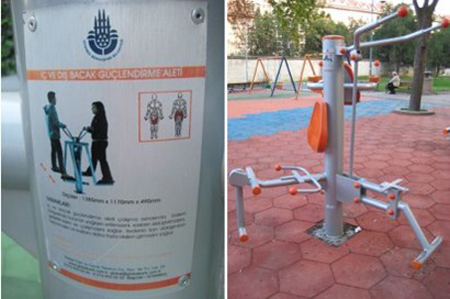 Source: Deniz Sport via greenUPGRADER
Made of sustainable materials, the visitor's bench by Frank Gehry has been designed for the World Company building in Tokyo. The bench is not just great because of the sustainable materials it is using, but rather it has an exceptional look that will surely invite every visitor to sit in. The bench is perfect for the largest fashion house of Tokyo, because of its elegant and fashionable design. This wonderful design of Frank Gehry is just another proof that being an eco-friendly person does not need to compromise the latest fashion and design and live in an old-fashioned way. With the visitor's bench, you can be hip and eco-friendly at once.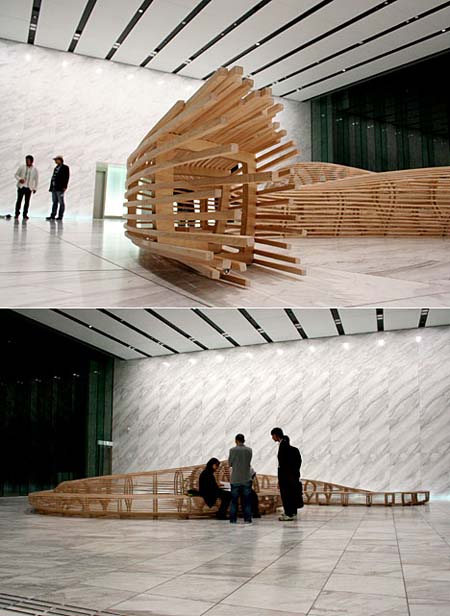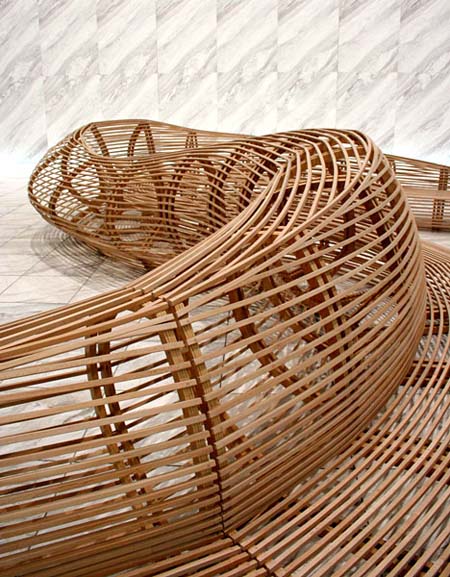 Economical and Fashionable Street light is what the lighting company Philips want to provide with their new Light Blossom. This light will replace our traditional yellow street lights. The Light Blossom has wonderful and attractive design that adds up the beauty of our busy streets. In addition, the Light Blossom is a solar and wind powered lamppost that moves to get enough power as the day goes by. During the night, the Light Blossom's LEDs beam will only turn lights on when and where needed through proximity sensing, and will glow at its minimum level when no one is around. However, when somebody passes by, the Light Blossom will glow to give the passers-by a comforting light.
Public seating is fun especially during break time while having some fun chat with friends and colleagues. This is also one of the common pastimes for most of us. Inspired by this activity, Dominik Schwartz – a student at the Free University of Bolzano under the faculty of design, has created the Typoase. It is a publix xeating facility that is made from wood and stone topped with grass that make it look refreshing. If you will have to take a look of the Typoase from above, its benches spell out the word TIME. The purpose of the Typoase is to provide public seating wherein people can have a chance to sit and have a short break.
Alkaline batteries are commonly known of being hazardous. It is not advisable to throw it anywhere and must be kept away from children. With this idea, designer Sungwoo Park and Sunhee Kim have created the Energy Seed. A super efficient LED lamp will light up your dark ways at night. This LED lamp will make the most out of your thrown alkaline battery, which is a good idea of saving energy and keeping the environment safe. However, it is still important to find a permanent disposal area of your hazardous corpse of alkaline battery, though letting the LED lamp drain out your alkaline battery is really a good way of saving energy.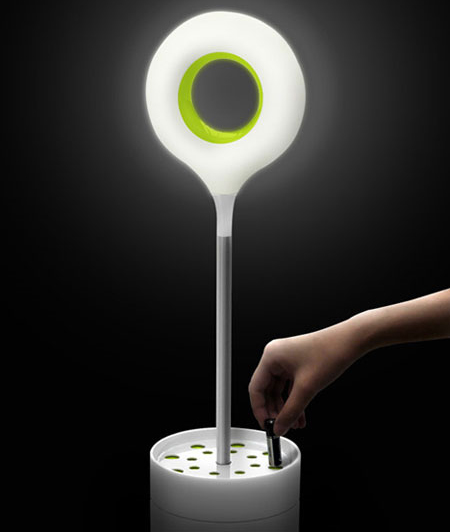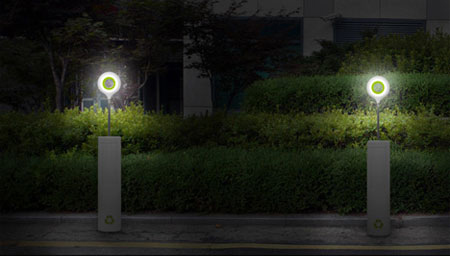 via HardwareSphere via YankoDesign
When disaster strikes, many of our folks became homeless in anyway, and those homeless victims need some comfortable shelter to live in. This situation made the designer Rafael Smith came into the idea of the Uber Emergency Shelter. Very easy to install, and has a solar panels that can accommodate a small refrigerator and illuminates the whole shelter. The materials for uber emergency shelter can be easily shipped on a compact form, and assembles easily too. The only downside it has is that, it can be a bit shaky to materialize especially in an uneven area. In addition, the price of this shelter can be a big question. Will it be affordable enough as an evacuation area?
LED lights are now commonly used in almost all lightning needs. Designed by Niklas Löfber, the spiral is an outdoor lightning solution that uses wind to generate electricity required for its daily use. It composed of four main parts, which are the pillar, generator, LED, and translucent plastic shade. Lighting up the Spiral is not hard because it can generate electricity even with a very slow wind. The spirals design is very elegant that will surely ads the beauty for every plazas and amusement parks that will surely let every park goers enjoy. If the nature will not be able to generate electricity, a battery with a corresponding charger can also be installed in order for the spiral to continuously produce light.
Our Recommended Partners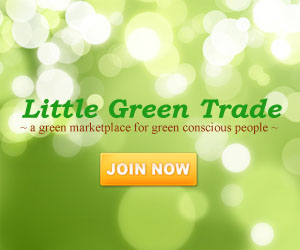 Advertise with us
Archives